Reading time:
7
mins
Vanilla wines are – you guessed it – wines with vanilla notes. These vanilla flavored wines can either be produced as a result of ageing in oak, or by the addition of vanilla extract to the wine. But how does vanilla flavor work in wines, and what are some good vanilla wines to try? Read on to understand everything about one of the most common flavors in wine.
Wine and vanilla: the lowdown
First thing first – it is actually quite common for wine lovers to add vanilla flavoring to their wines, in a bid to add a twist to their home-brewed reds. Similarly, manufacturers are known to add vanilla bean to wine to impart that luscious vanilla flavor. Because at the end of the day, who actually dislikes vanilla? 
A more traditional way of making vanilla wine is by what's known as oaking. This method has been around since the times of the Roman Empire, and it's responsible for the production of most of the 'vanilla' wine notes that we know and love.
There are a huge range of different vanilla wine varieties, ranging from whites like chardonnay and Royal Tokaji to reds like Marsala and Zinfandel (more on these later).
Where Does the Vanilla Flavor in Wine come from?
Vanilla in wine comes from one of two methods – vanilla extract (less traditional) and oaking (the more traditional, understated vanilla notes in wine). We are more interested in oaking, because vanilla extract wines do not have much of a process to them – they simply involve the addition of a solution made from the macerating and percolating of vanilla pods.
Oaking means vanilla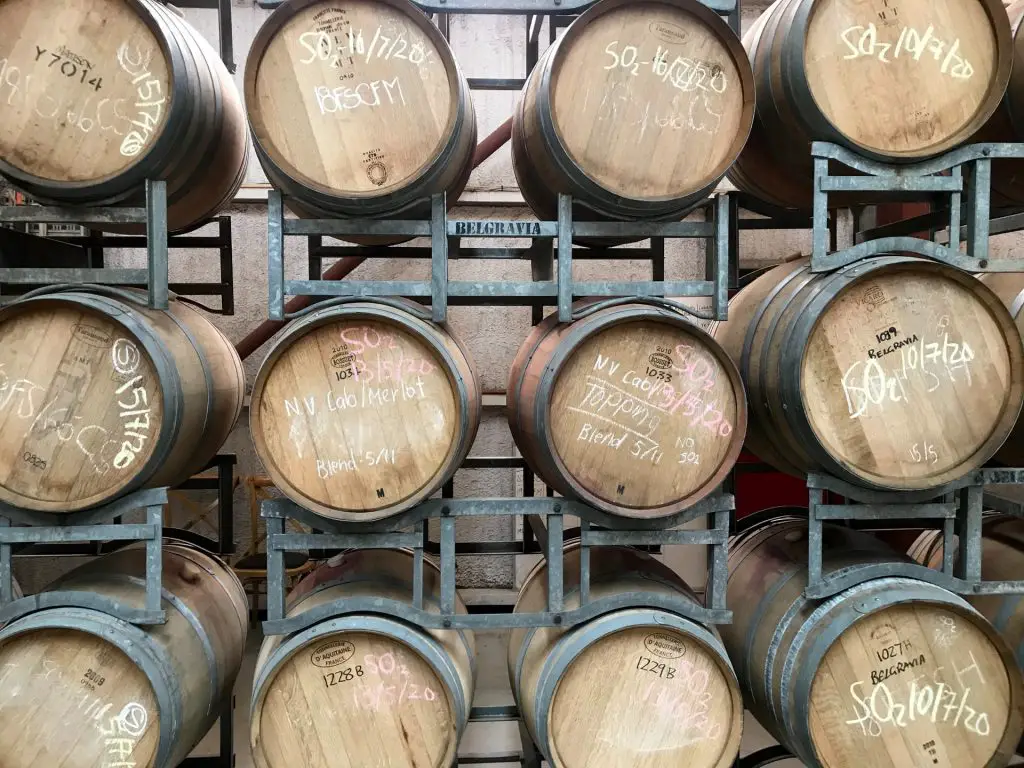 Oaking, however, is a process that has been around for quite some time. It involves the ageing of wines in barrels made from oak. This process influences wine characteristics like structure, quality, and flavor. And this is precisely where the vanilla flavor in wines comes from. The science behind this is in the chemical compound found in oak – vanillin. This compound naturally occurs in oak and is more pronounced when it is toasted (during the production of wine barrels).
The intensity of the flavor depends on the type, size, and age of the barrel used to oak the wine. A smaller barrel of 200 liters will give a more intense flavoring to the wine than a foudre of 1000 liters. Also, newer or younger barrels give more flavoring than older ones. As a result, the intensity of vanilla wine notes differs from manufacturer to manufacturer.
Another method used by manufacturers to synthesize the presence of vanilla in their wines is oxidation. Controlled oxidation triggers chemical reactions that create aromas and flavors like vanilla.
This method is not commonly used because, when it is at a fault, it can damage the entire wine batch. If the wine is exposed to air for too long, it tends to lose vibrancy in both color and flavor. White wines begin to brown and reds lose their ruddy hue and become orange. Hence, the preferred way to add vanilla flavoring to wine is by oaking.
What Quality does Vanillin Add to Wine?
Vanillin improves the complexity and intensity of wine by giving off a concentrated vanilla flavor with an aroma that's very strong, defined, and easy to discern.
Vanillin also gives wine structure. It imparts a creamy and smooth mouthfeel to both red and white wines at moderate concentrations.
Can You Add Vanilla Extract to Wine?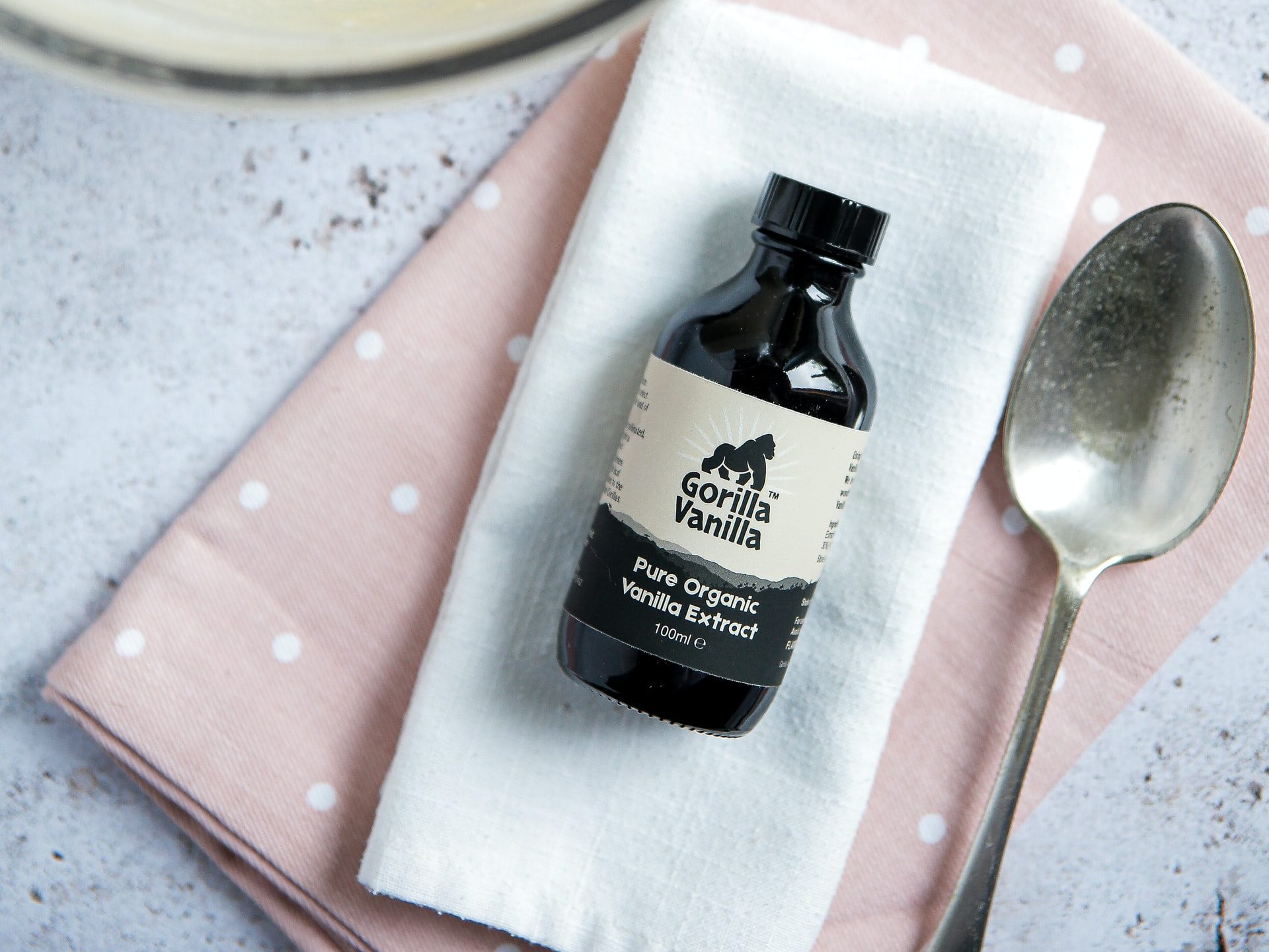 If you're like me, in that you like to indulge in homemade winemaking from time to time, you've probably wondered if you can add vanilla extract, or vanilla bean, to your wines in a bid to mimic famously manufactured vanilla wines like Rioja. The simple answer is – yes. You can. But it's not as simple as adding seasoning to turkey. There are rules.
First, you need to wait until the wine is completely fermented before adding the vanilla extract. Some even suggest you add the extract during bottling, indicating that it must be added at the tail end of your winemaking process. 
Also, make sure to bottle in dark green bottles, because vanilla flavor is destroyed upon exposure to light.
There are some commercial wines that do exactly this – Silk Vanilla Wine is a blend of different vanilla extracts and flavors with wine. While it may not be right to call this wine, strictly, it offers a very real definition of 'vanilla wine'!
White Wines with Vanilla Notes
Just like red wines, white wines can be oaked as well. This oaking forms the signature vanilla with which these wines are known for. Here are some of the best white wines you can enjoy for their vanilla notes.
1.

Chardonnay

Made from green-skinned white grapes, this hugely popular white wine is of two types – oaked and unoaked (see: Chablis vs Chardonnay). And, as you might have guessed, our attention is on the oaked variety.

Oaked chardonnays are rich, dry, and full-bodied, with flavours varying from citrus (which we've also covered in a guide to citrus wine) to tropical. The oak, however, imparts additional flavors of vanilla, baked pastries, coconut, butter, and even caramel. Their acidity ranges from medium to low and their texture can be described as creamy and smooth.
2.

Sauvignon Blanc

Sauvignon Blanc is a white grape variety used to make highly acidic dry white wines. It is light-bodied with tasting notes of honeydew, white peach, and passion fruit.

Just like chardonnay, the taste of sauvignon blanc is heavily affected by its climate. Cooler regions bring out more earth and citrus flavors, while warmer climates accentuate tropical and tree fruit flavors.

When exposed to oak, the hints of vanilla really come to the front, as well as custard, toast, and a touch of spice. 
3.

Late Harvest Royal Tokaji

Tokaji is a Hungarian wine known around the globe as one of the most delicious sweet wines. It is a pale gold color wine made from three late-harvested grape varieties –  Furmint, Hárslevelű, and Yellow Muscat  – and is packed with delicate aromas of exotic fruits and spice like vanilla, as well as peach, apricot and melon.

It is light and refreshing on the palate with an excellent balance of acidity, a silky texture, and a clean, long, crisp finish.
Viognier is a dry, full-bodied, oily white wine. It is very similar to chardonnay because both are full-bodied and are typically oaked to give that creamy texture and vanilla note. The difference, however, is in their aromatic prominence.
Viognier smells like stepping into a perfume shop. It is literally called the perfumed version of chardonnay. This is due to its flowery notes of rose petals, tangerine, and perfume.
Red Wines with Vanilla Notes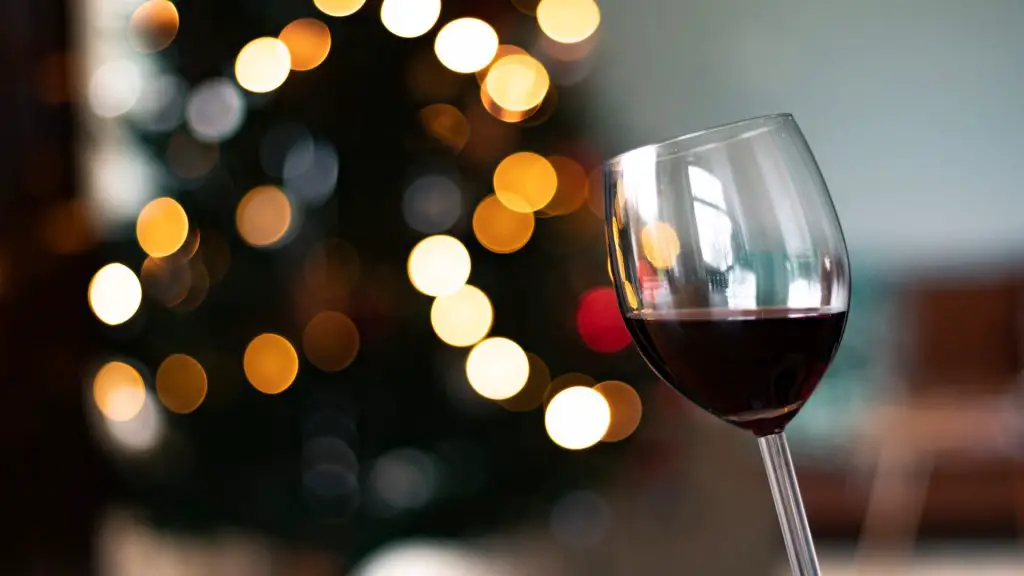 Red wines with vanilla notes are also very prominent on the market. Reds tend to be well-structured, highly-tannic wines, and ageing in oak – the process which imparts the vanilla flavor – accentuates this quality. It triggers chemical processes that make the wines taste smoother, less astringent, and creamier. Furthermore, the tannins in the oak leech into the red wine, giving the wine a balanced tannic structure to increase its shelf life.
A by-product of this aging process is, of course, the addition of flavor compounds such as vanilla by the oak. Without further ado, here are some delicious red wines with vanilla notes.
1.

Zinfandel

Zinfandel grapes are dark and black-skinned with Croatian origins. They are used in making light-bodied, sweet red wines with a relatively high ABV. Though light, Zinfandel's high alcohol content and acidity make this wine variety taste bold on the palate.

Zinfandel wines give fruity notes like raspberry, blackberry, cranberry, and spicy flavors such as coffee, tobacco, and black pepper spice. When aged in oak, Zinfandel wines can have fabulous vanilla notes.

Want to know the difference between Zinfandel and its Italian cousin, Primitivo? Find out in our complete guide to Primitivo wine. If you want to know even more, check out our investigation of the rosé made from this amazing grape, the infamous White Zin.
2.

Malbec

Malbec is a purple wine variety used in making highly acidic full-bodied red wines. It has fruity flavors like plum, with high levels of tannin. This heavy tannic structure gives Malbec wines their dry mouthfeel.

When Malbec wines are aged, their tannic structure becomes more balanced and the wine becomes smoother and softer on the palate. This ageing process also gives the wine a vanilla flavoring that adds to the robustness of a good Malbec.

Malbec is similar to Shiraz, and both wines can contain vanilla notes when aged in oak barrels.
3.

Marsala Wine

Marsala wine is a sweet fortified wine made in Sicily, Italy, and is famed for its uses in Italian-American cooking, hence dubbed 'the cooking wine'. It has a higher alcohol content compared to most red wines, because it is fortified with brandy.

Marsala wines exhibit nutty and sugary notes and flavors of vanilla, honey toffee and walnut. It is a very sweet wine, so if you're looking for a bottle that really brings out the vanilla flavor, this is a good bet! 
Food Pairings with Vanilla Wines
Sweet vanilla wines like Tokaji and Marsala make excellent dessert wines. The vanilla flavor, together with their individual fruity and nutty hints, accompany the heavenly sweetness of desserts like tiramisu, banana bread, vanilla pudding and so on. When pairing vanilla wines with dessert, think about what you would enjoy with a delicious bowl of vanilla ice cream.
Vanilla wines also pair brilliantly with spicy Asian cuisines and the lighter spice of the Mediterranean. Try a falafel or chicken shawarma pairing, for a subtle treat. The sweet and spicy nuances of oriental dishes like Gaeng Prik Si Krong Moo and Murgh Kari (an Indian chicken curry) also complement the sweet, creamy texture of vanilla wines.
A Christmas Classic: Mulled Wine from Vanilla Wine
Carols, gingerbread, a good 'ol freshly prepared mulled wine, and you are ready to kick back and enjoy the Christmas holidays. Mulled wine – a traditional Christmas beverage – is often made from red wine and other various spices.
Red wine is essentially the base ingredient of mulled wine, so it's important you choose your wine carefully.
You want to go for a full-bodied red that can carry all the spices thrown at it and one that can withstand a little bit of heat. Most importantly, you want to choose a vanilla wine. Vanilla complements spices excellently. The resulting drink is sure to deck the halls of your palate with a honeyed, rich, and spicy tasteful experience!
For more unique flavors in wine, check out our guide to cherry wines!