Reading time:
7
mins
Citrus wine refers to wine made out of citrus fruits, but it can also mean white wine with tasting notes of citrus. It's the wine you have with your cheesecake, that delicious French cheese platter with figs, or on its own on a warm summers night. 
Citrus wine is the wine of gods. After all, minotaurs celebrated the night are always surrounded by citrus trees – at least in pictures.
The first to drink a glass of citrus wine was surely the Greeks of antiquity. Today, however, we associate it with French and Californian wine. There's two sides to citrus wine:
wine made out of citrus fruits – orange, grapefruit, mandarines, lemon and lime; and
white wine with floral acidic notes – the fresh lemon taste of Alberiño or the grapefruit notes of Gewürtztraminer and Sauvignon Blanc. 
Citrus White Wine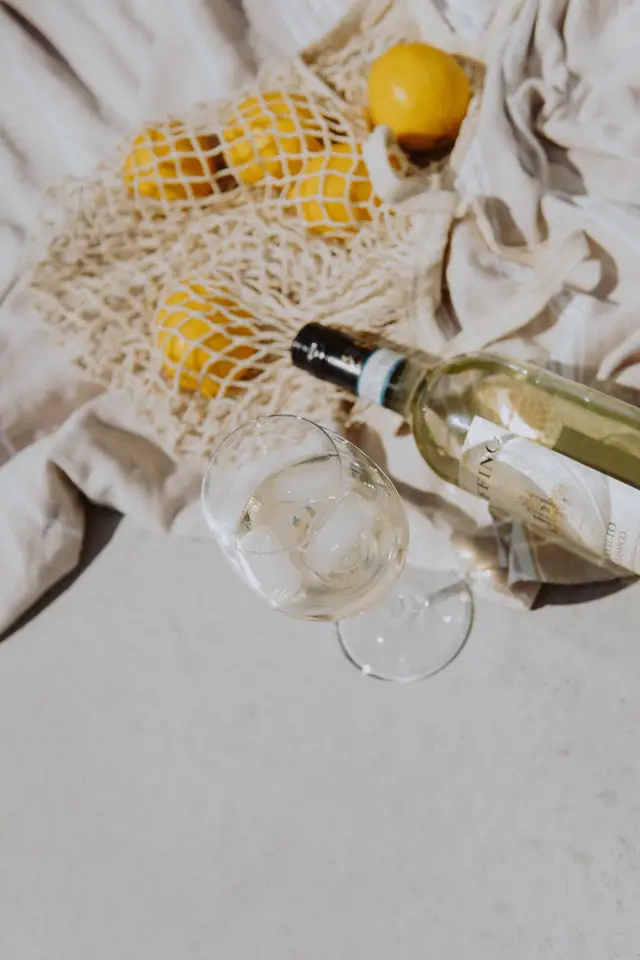 So how come citrus notes are so common in white wine and not in red? It's mostly because of taste. We find white wine great when it tastes fresh, acidic and mineral. When it comes to reds, we'd rather have the sweet acidity of cherries. Perhaps it's a matter of word choice: when you're selling wine you want it to sound tasty and a bitter red wine just doesn't quite do it.
Red and white grapes also have different harvesting seasons. The later the winemakers harvest the grapes, the sweeter – and thus less acidic – is the wine they make. More often than not, winemakers harvest red wine grapes later in the year than white wine grapes.
It's also to do with the make-up of the soil – the so-called terroir. For our taste buds, minerality and acidity go hand in hand. If you make wine out of a grape that grows on high altitudes where the soil has more minerals, we'll taste more citrus notes. The higher the altitude and the more minerals there are in the soil, the closer you get to lime notes. On the opposite side of the spectrum you'll find grapes that are harvested later or that get more sun. These acidic notes come closer to the taste of grapefruit or tangerine.
Citrus Notes Selected throughout History
As we've been carefully selecting vines for generations after generations, we've changed the actual genotypes of the grapes. Take, for example, a vine that's traditionally grown on mineral-rich soil or in high altitudes. This vine has been cultivated to be as sweet as possible even in these conditions. Now plant it in a valley instead, where the soil is fertile and organic. What happens? You'll get a wine that's even sweeter wine with hints of acidity – something close to a ripe orange. In fact, orange wines (white grapes macerated on the skin) often taste like orange for a similar reason. Orange wine makers plant their vines in sunny, mineral-rich places and harvest the grapes late in the season. This gives orange wine that very combination of mineral, acidic and sweet that reminds us of oranges.
Acidity in White Wine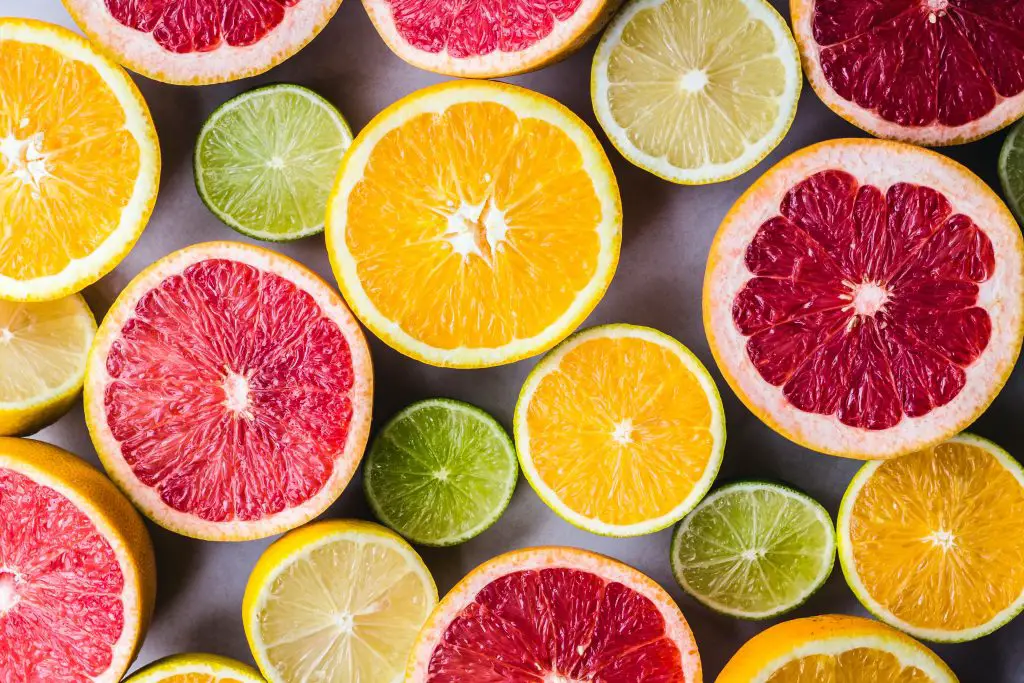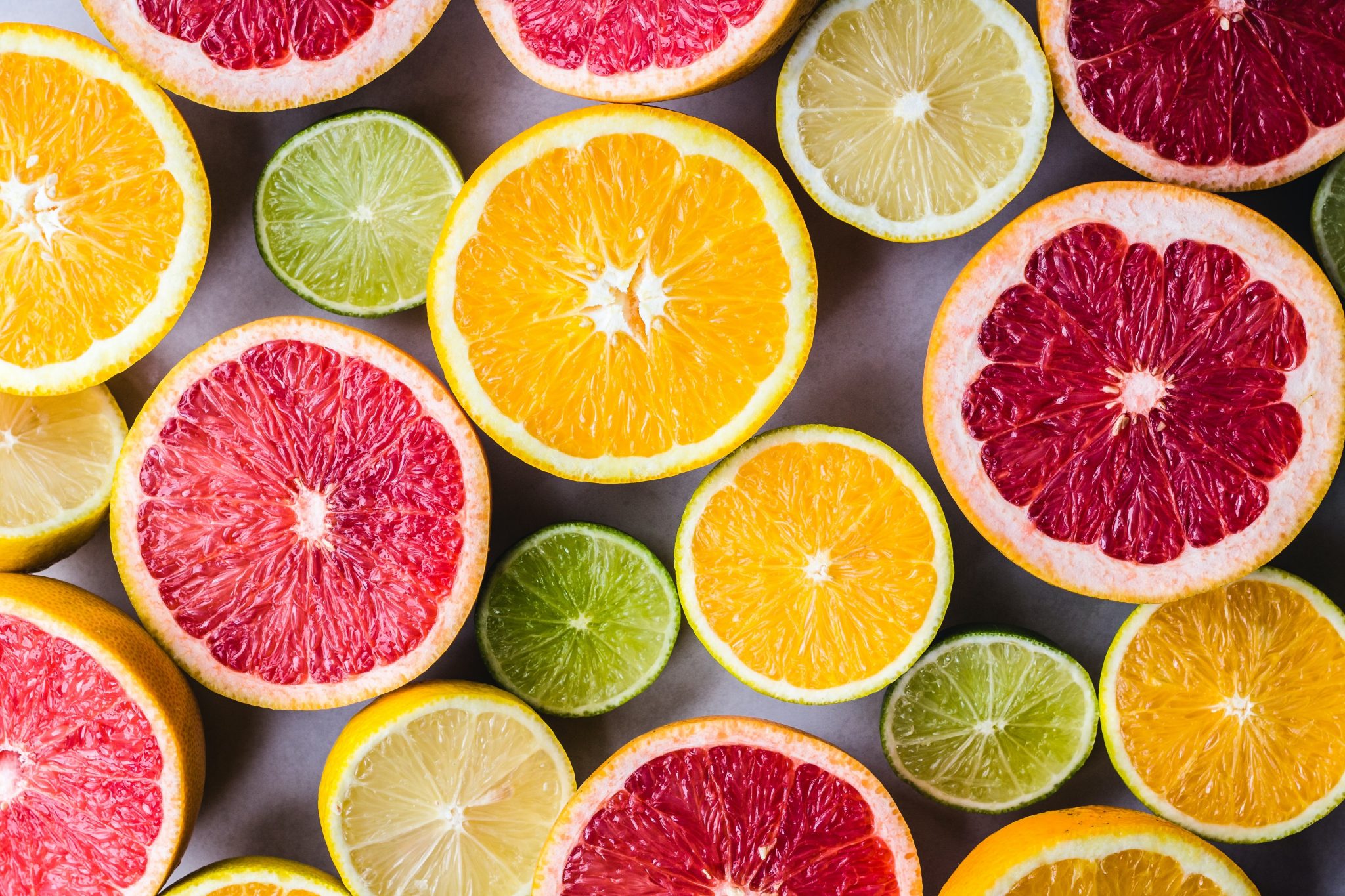 Acidity in white wine comes from the minerals of the soil and the tartness of the grapes. The tart flavor comes from the early pre-ripening grape harvest season. What we taste, however, is based on the amino acids present in the wine. Here's where the vineyard and the farmer comes in. The longer the wine is maturated after harvesting, the more the amino acids are broken down. This makes less acidic wine, which is why younger wine that goes straight from fermentation to bottle tend to be very acidic – like vinho verde for example.
Similarly, the longer we let the photosyntheses of the plants do its magic (basically, the energy of the sun creating sugars in the form of glucose and fructose) by leaving them to ripen, the less acidic wine we get. An in-between version here is the taste of green apple. Green apple notes are very common in white wine. You'll get this taste from the unripe green grapes that are grown in valleys and fertile land. 
Some red wines, especially light red wines, can also have a hint of green apple on the nose. If you're ever in Southwest Germany during harvest season you'll smell the sour, fresh smell of young wine everywhere. Trying these wines, you'll also get floral, acidic notes.
Sauvignon Blanc, Gewürtztraminer and Moscato
An interesting case here is the Sauvignon Blanc, one of the most globally spread white grape varieties. It's rich in so-called methoxyprazine compounds, which in plain terms means that it doesn't taste ripe. In wine, we may call this kind of citrus wine taste 'high in acidity with floral notes of lime'. In biological terms, however, we're very susceptible to the taste. It's being able to tell that something tastes acidic that's helped humans avoid eating unripe fruit since prehistoric times. Why is that so important? Because unripe fruit are harder to digest. So even a hint of methoxyprazine gives our brains the same signal as if there was a lot of it. This gives the wine a fresh, light taste – perfect if you're still hungover but opting for a glass of white anyway.
On the other side of the spectrum we have Gewürtztraminer with a longer harvesting period. This sweet dessert wine with floral notes is rich in citronellol – which lemon is also rich in. This makes it quite an unusual citrus (tasting) wine. The unique combination of sweetness and fresh acidity makes it a perfect pairing for a sweeter cheese platter as the acidity complements strong blue cheeses. Moscato wines, too, pair perfectly with cheeses for the very same reason: sweetness combined with citronellol, making Moscato a classic wine for cheese pairing.
Citrus Wine Cocktails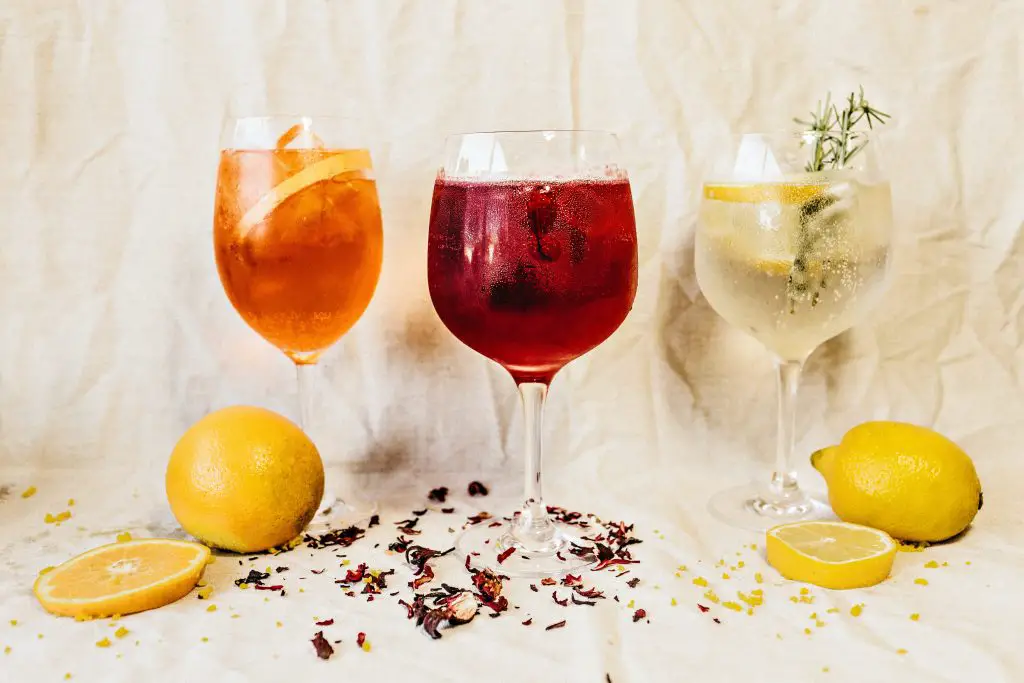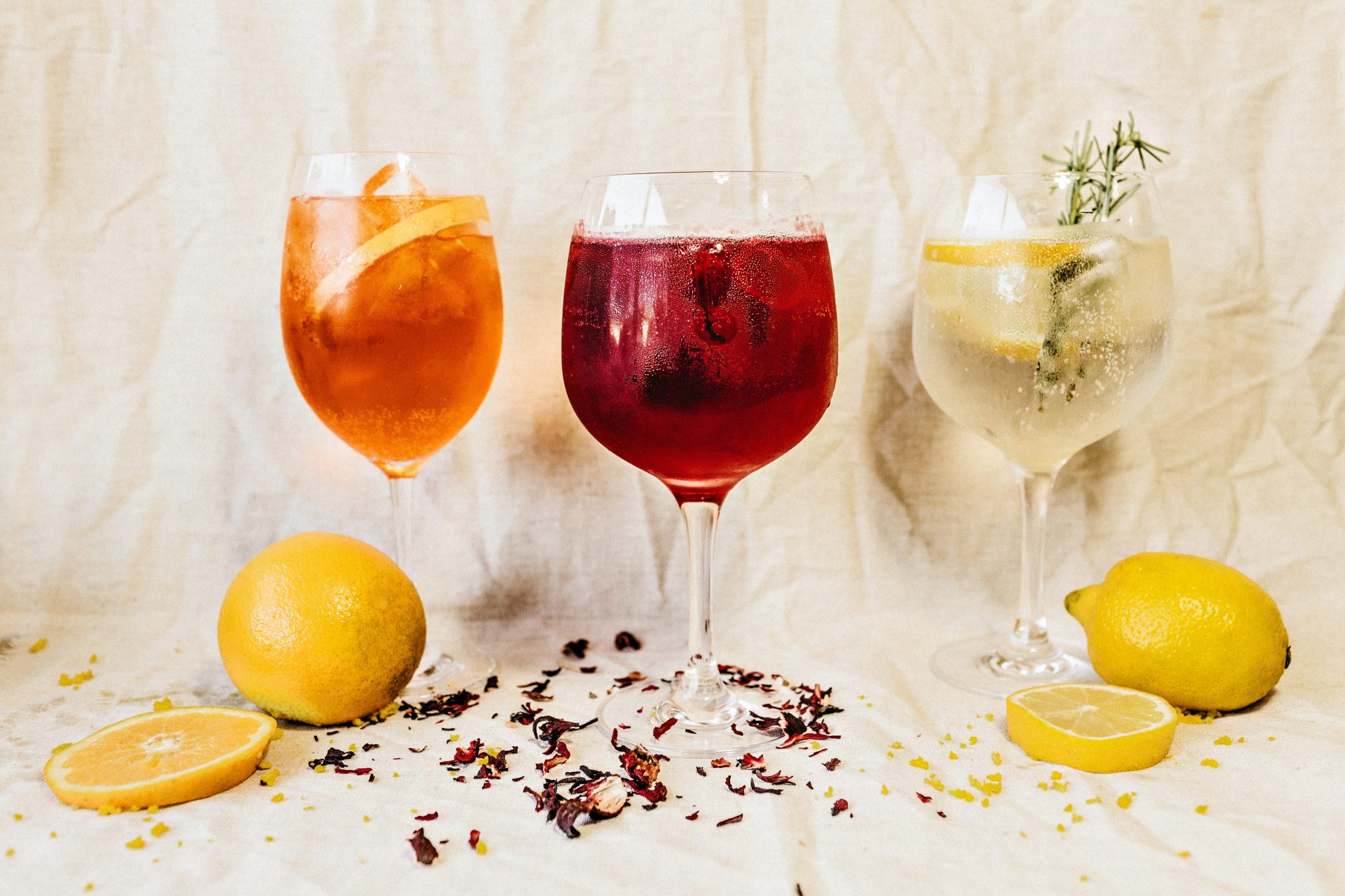 You can substitute citrus wine for regular white wine in just about any cocktail you can think up. That will give you not only a unique taste, but also lower the alcoholic content. Here are our top picks.
Spritzer, Citrus Wine Aperol and Sangria
The flavor of acidity is so strong in grape varieties that are known for their citrus flavor. So think twice before you make a spritzer or aperol with these wines. Yes, they're great! But the question is: how many citrus fruits do you need so it's not too sweet and not too sour? Taste while you mix.
Citrus Wine Aperol
If you're using aperol, the liquor is going to make it sweeter so it goes great with a citrus flavored wine. Just make sure to add a slice of orange and not a slice of lemon to your glass. 
Citrus Wine Sangria
If you're making a sangria on the other hand, adapt which citrus fruits you use to how acidic your wine tastes. There's no better way to measure this out than pouring a glass for yourself while you're making it. If you want to be on the safe side and you think your wine tastes really acidic, just use more sweeter citruses in your sangria, like orange and tangerine, and tone down the lemons and limes.
Citrus Wine Spritzer
Similarly, if you're making a citrus wine spritzer – my ultimate drink of choice on a hot afternoon in the Italian countryside – change your proportions of wine to spritzer depending on how acidic your wine tastes.
Wine Made out of Citrus Fruits
We make plenty of wines by fermenting citrus fruit. In fact, we've probably made wine out of citrus for as long as we've made it out of grapes. You can even brew this at home, although the fermentation process is hard to control and the alcohol level will, more often than not, be low.
Oranges, Mandarines, Lemons and Limes
Lately there's been quite a few vineyards in California and Florida, like Florida Orange Groves Winery, that have become specialists in citrus wine that tastes fresh and sweet at the same time. Do check out their wines, because the wine from here is nothing short of mouth-watering.
These wines are not traditional wines per se, but a middle-ground between cider and wine, although their alcohol level can be quite high – up to ca. 12%. Surprisingly, perhaps, they also tend to be sweeter than white wine with citrus notes, as the fermentation process needs quite a bit of sugar added to the citrus fruits.
Although you can pair citrus wine with fruits, cheeses, and seafood, you'll make the most out of it if you're drinking it on its own. The flavor tends to lean more towards the subtle roundness of oranges, so it's easily to overshadow it with the stronger flavors of your pairing. The perfect drink before dinner, in other words, or a few hours after.
Citrus Wine Pairing
If you want to pair citrus wine, whether the wine is made out of citrus fruits or if it's got a lot of citrus notes, a safe bet is always dishes with citrus. Pairing citrus wine with chicken cooked in lemons or oranges, or with seafood salads is a common choice. However, there's plenty of room for experimentation when pairing food with citrus wine. 
The citrus flavour is good at cutting through spicy dishes, making sure the wine and the food compliment each other rather than one overshadowing the other. Good pairings for light wines with citrus notes are Mediterannean dishes such as a falafel wrap or a chicken shawarma. If you like to feature chilli in your cooking, pair it with a citrus wine. If you're serving octopus, try a heavier Sauvignon Blanc – you can find some medium-bodied varieties from Chile and Venezuela – so that it compliments the thick flavor of the octopus. 
I would always recommend to start a dinner that features several courses with a Galician Albariño, as the fresh, mineral taste of this grape variety gives you a wine that's easy to drink and works well with most appetizers. Another good way to think about it is that citrus wines tend to work as great palete cleanser, perfect for the cheeseboard you're serving before dessert.
Want to know more about unique notes and flavors in wine? Check our guides to fig wine and wine with vanilla!