Reading time:
8
mins
Whether it's a takeaway situation or that delicious smell of paprika, cumin and turmeric is coming straight from our oven, chicken shawarma deserves to be paired with a good wine that turns your evening from good to better. Here's our guide to pairing this Middle Eastern classic with the most suitable wines: from local Lebanese wines to crisp white wine offerings.
What is Chicken Shawarma?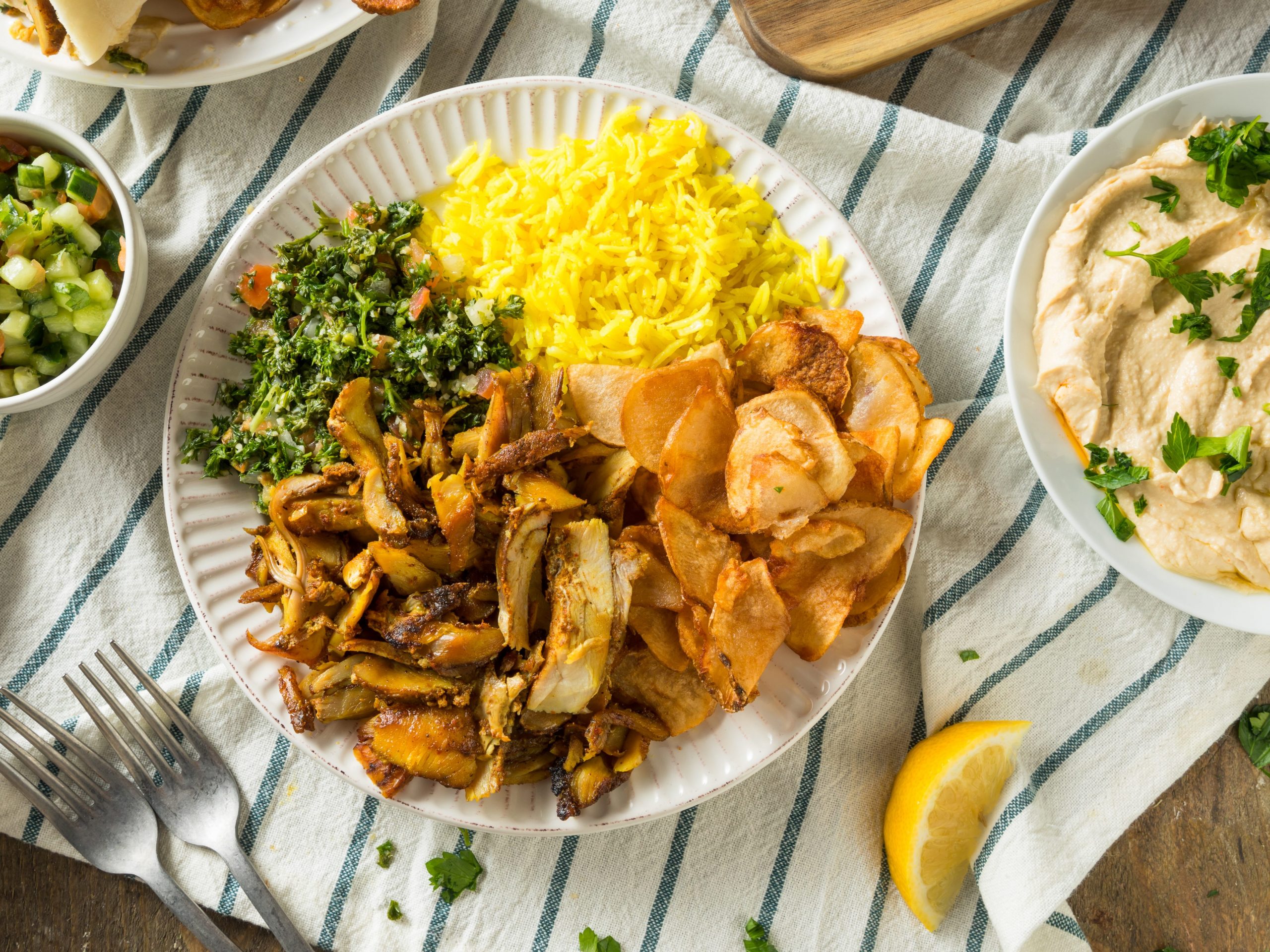 Chicken shawarma is similar to Greek souvlaki, but it is traditionally prepared in a slow roasting rotisserie or spit. The name of the dish, shawarma, comes from the Turkish word cevrime, which refers to the continuous turning of the vertical spit. Since its inception in the 19th century Ottoman Empire, it has travelled far and wide. Today, chicken shawarma and its twin lamb shawarma are some of the most popular street foods in the world.
If you're a fan of souvlaki, check out our ideas for pairing Greek food with wine!
After slow roasting the chicken, slice it in thin slices to prepare your chicken shawarma. To give your dish its signature Middle Eastern flavor, season with cumin, cardamom, cinnamon and turmeric. You can serve your shawarma in a wrap or with pita bread. Some even prefer pairing it with rice and fresh salad. In the Middle East, you'll often see the shawarma served with fries or rice, pickles and garlic sauce. Nadiya Hussain's healthy chicken shawarma recipe pairs the dish with fresh a broccoli slaw. 
A great addition to a bigger barbeque party or a family dinner, chicken shawarma is guaranteed to bring curious noses into your kitchen. The smell alone is unbelievably delicious! But what about pairing wine with chicken shawarma?
Middle Eastern Wines with Middle Eastern Food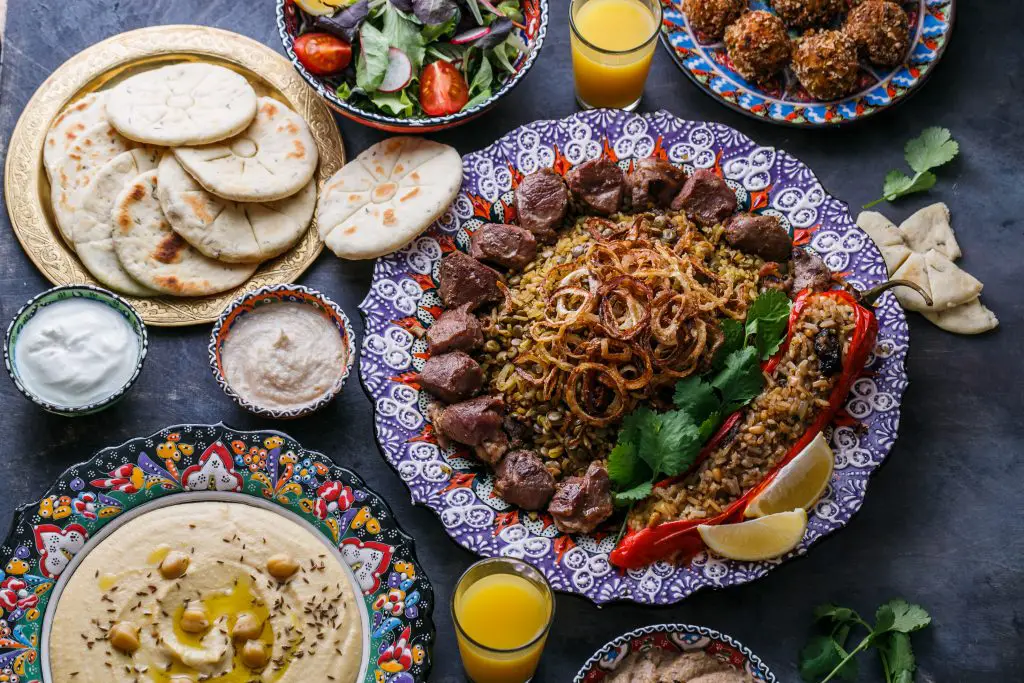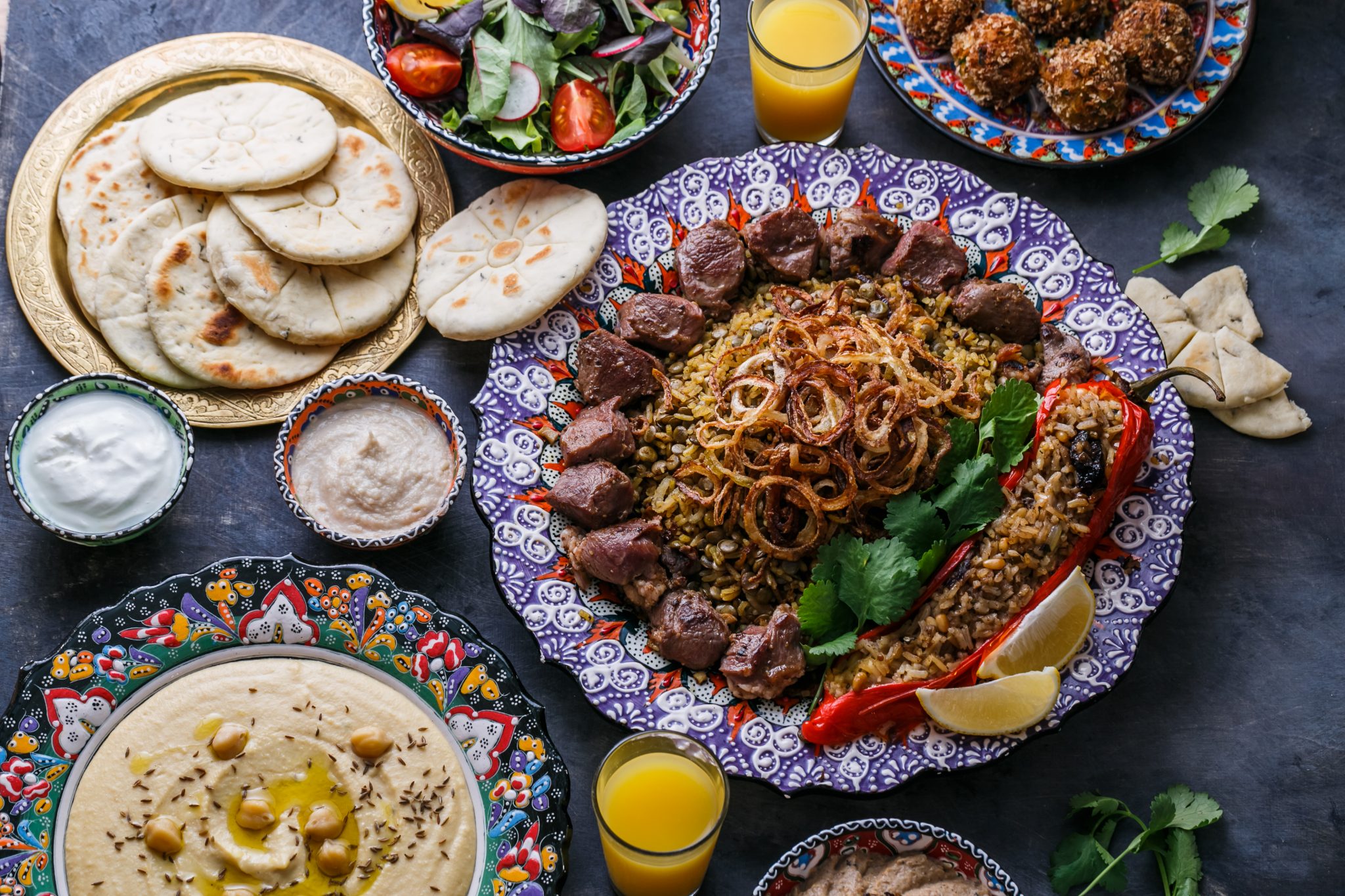 Pairing Middle Eastern wines with Middle Eastern cuisine is most exciting. The warm and earthy flavors of baharat, sweetness of dates and honey… Middle Eastern food brings a rich tradition of cooking meats and vegetables that offers a huge variety of pairing possibilities. At the Eastern extremities of the Mediterranean wine region, you can find enclaves of vineyards with a long tradition of wine-making. These wines make great companions to local dishes. As this region comprises most of the Islamic world it is rarely associated with producing alcoholic drinks. However, there are some very notable wine-making areas near the Levant that you should pay attention to.
The Syrian wine-growing region has struggled during the devastating war of the past few years, but Turkey's wine-making is still going strong. This remains true despite the heavy taxation on alcohol production in the country. Chateau Kalpak by the seaside town Şarköy, and Suvla Winery in the Gallipoli peninsula are just two of the currently active wineries. Both offer unique, award-winning ranges of white, rosé, and red wines. Pick an aged bottle of 2010/2011 Chateau Kalpak BBK for a local wine pairing with your homemade chicken shawarma if you're after something exquisite.
At the eastern end of the Mediterranean wine-making region lies Lebanon, which boasts hundreds of years of wine-making. In fact, Lebanon is one of the oldest wine areas in the world. Wine production in the world-famous Bekaa Valley boasts traces of wine production dating back to 7,000 BC. Despite a recent history of conflict and turbulence, the country continues to produce hundreds of thousands of cases every year. Here you can find incredible rosés with refreshing acidity and Bordeaux-style red wines with spicy qualities. A great example is the fortified dessert wine Nectar De Kefraya – most enjoyable after a Middle Eastern feast.
How to Pair Wine with Chicken Shawarma: Aged or sweet wines with Spicy foods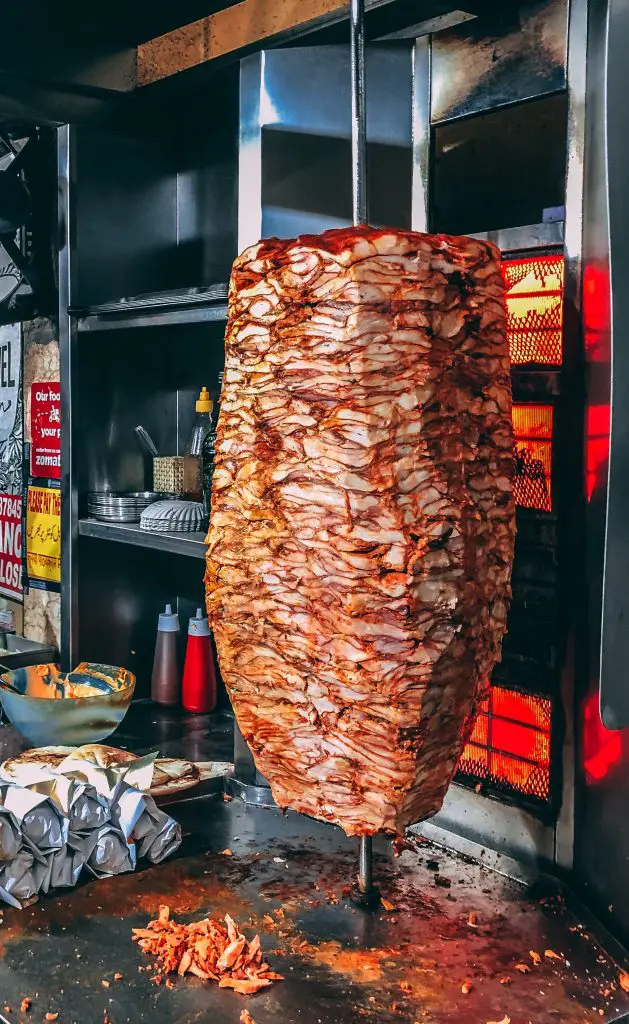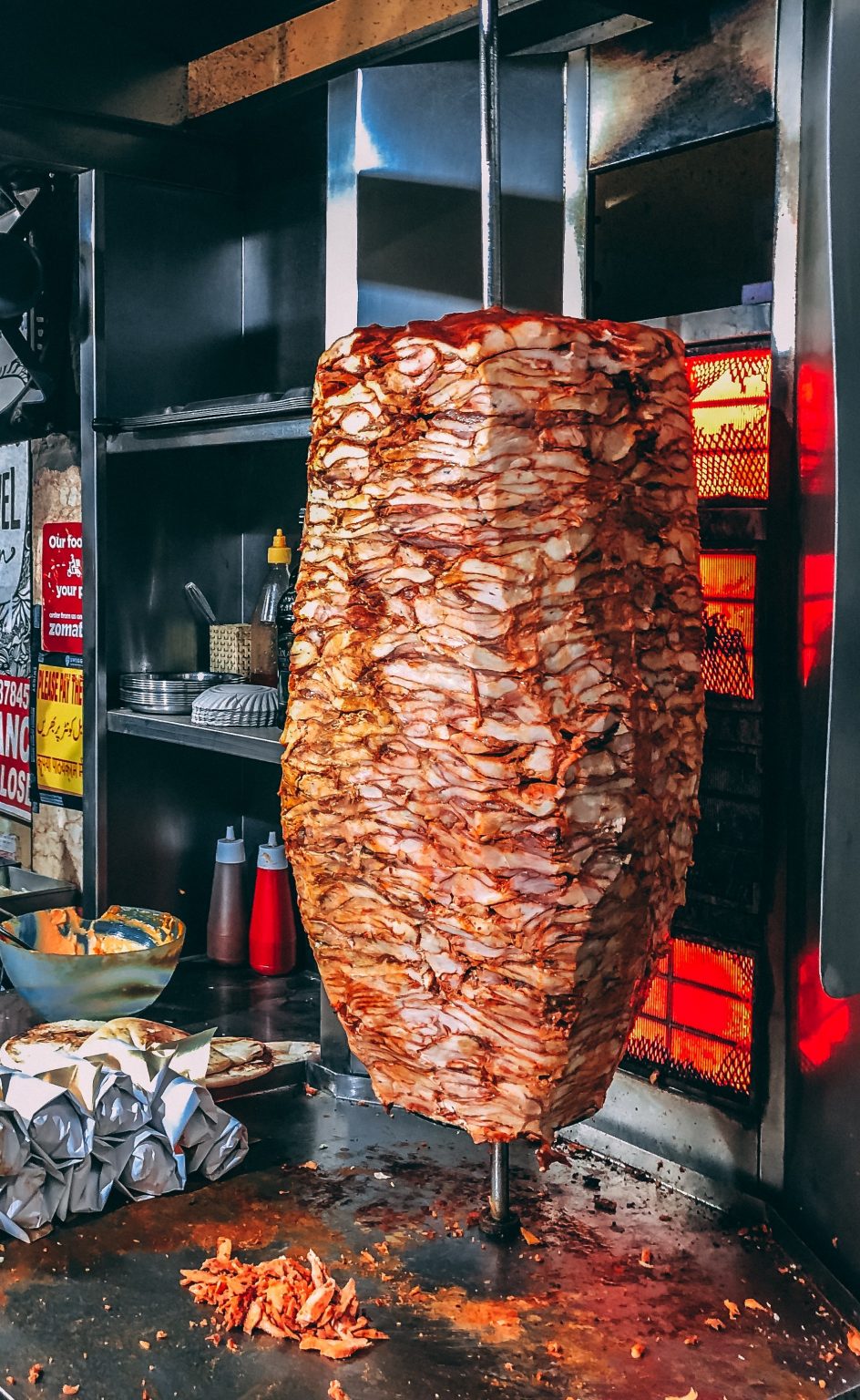 You can't pair wine with street food, I hear you say. To that I respond: you can do whatever you want! Pairing wines with non-Western dishes might be a more recent phenomenon, but it's guaranteed to make your dinner memorable. The complexity of spicy dishes makes wine pairing rather complicated but fear not, here are our top tips.
Working with the spices in the dish will make the wine pairing work beautifully. Instead of choosing options from wines that go well with chicken, you want to enhance the earthy taste of cumin. Another way to think about pairing wine with chicken shawarma is to consider options that balance the spiciness. 
Sweetness in wine offers a balancing act to the umami-style spiciness of shawarma dishes which can be achieved with sweet and fruity wines, which give a nice contrast to smoky and earthy flavors. Lighter, spicy or fruity reds can accompany spicy dishes harmoniously without making the flavors overwhelming.
Local wines often complement the local cuisine. The food and wine of the Levant is no exception. Middle Eastern dishes generally go very well with Lebanese, Turkish and even Greek wines. A tip for your travels is to make sure to buy local wine when trying out local dishes. This way, you will support the local growers as well as make your dining experience a tad tastier. 
Pairing Chicken Shawarma with Red Wines
Some think that pairing chicken with red wines goes against the age-old allegiance between white wine and chicken. However, the gentle spice nuances in chicken shawarma pair best with a lighter red wine with spicier notes. Getting the right balance between the heaviness and richness of chicken shawarma and the lightness of the wine is important. This is what will nudge you in the direction of low to medium-bodied reds.
The basic rule with spicy food is to avoid high tannic and alcohol options such as Cabernet Sauvignon or Shiraz. Tannic wine paired with spicy food can make the notes bitter and high alcohol content enhances the heat of the dish, which may or may not be what you're after. Another feature to look out for is a good level of acidity, which works well with spicy dishes and brings a lovely whiff of freshness.
Simple Reds with Chicken Shawarma
Beaujolais vineyards make simple reds that are easily paired with spicy food. That's because their slight mineral twang and low tannic qualities don't overpower the subtle taste of chicken shawarma. This youthful French wine, nicknamed bojo, comes from a non-snobby region that favors natural wine-making. Natural Beaujolais wines make a lovely pairing with street food. Other low to medium tannin reds with a good acidity level as well as fruity notes are Barbera, Zinfandel and Carignan varieties.
An easy thing to remember about pairing spicy food is that spicy notes complement spicy food, which is so simple yet so unintuitive for many. For this purpose, Malbec or Tempranillo wines are good congruent pairings, especially if your chicken shawarma has a good share of smoked paprika. Similarly, aged Xinomavro reds have spicy notes that pair very well with richly flavored dishes.
Pairing Chicken Shawarma with White Wines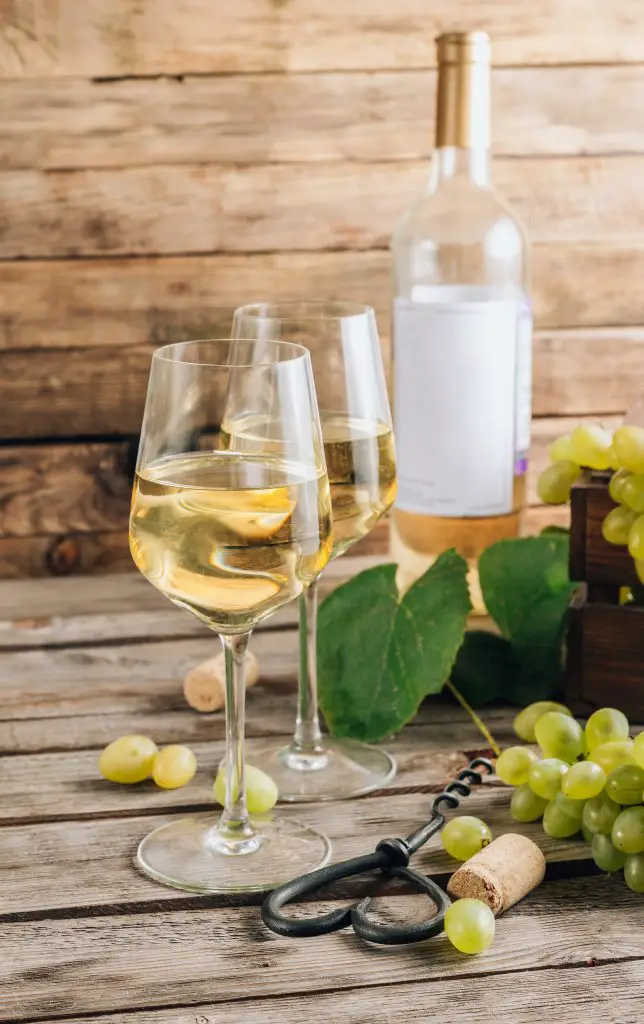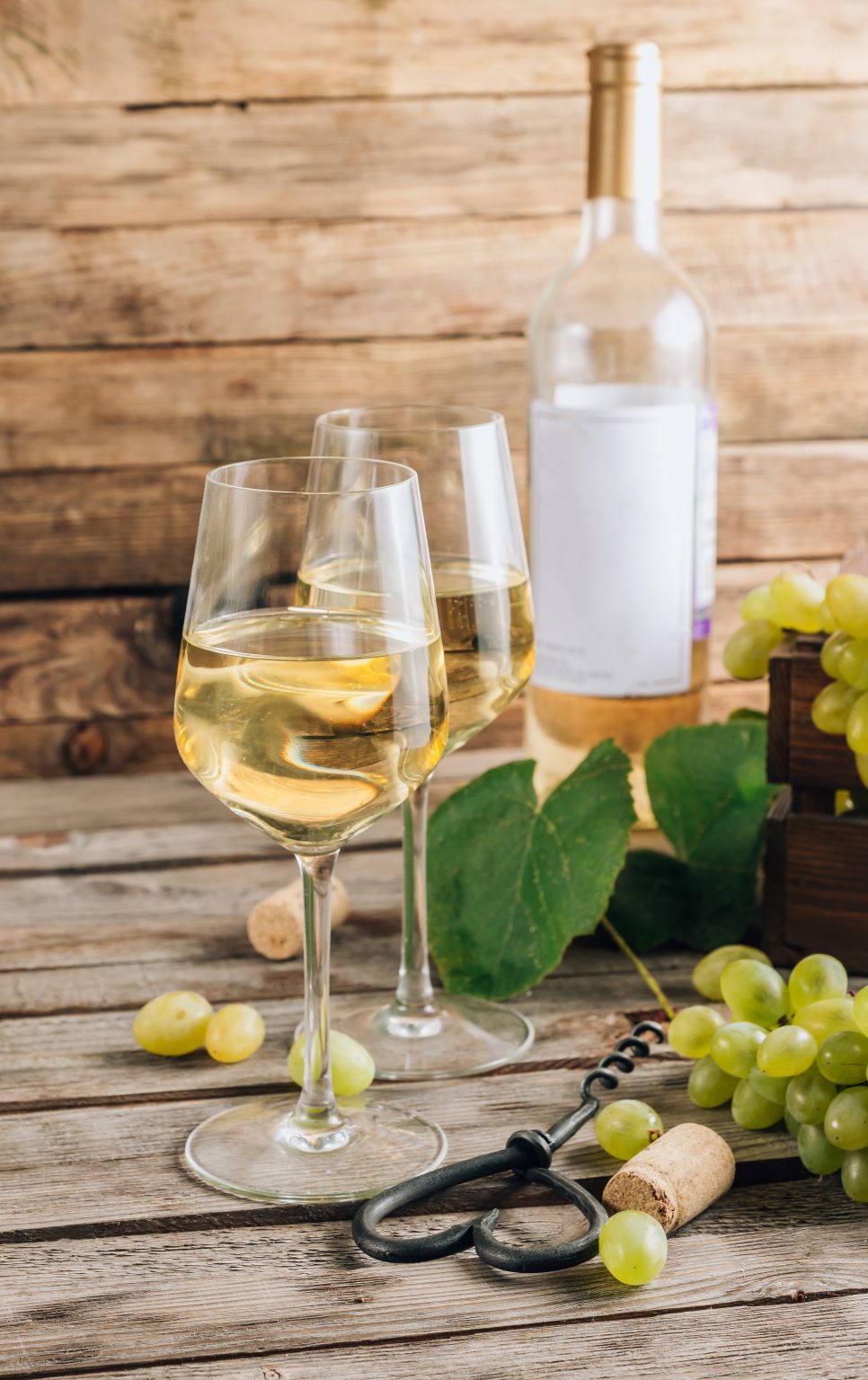 Crisp is what comes to mind when pairing white wines with spicy and rich foods. This type of acidity brings up the delicate flavors of chicken shawarma. It also provides a welcome contrast to the complex, earthy and fatty flavors of the dish. 
You can't go wrong with a sweeter, fruitier white wine as sweetness pairs well with the spicy, complex flavors, offering a harmonious, complementary balance. Aromatic and off-dry whites are similarly suitable for spicy food, such as an off-dry Riesling, for example.
A fruity option for a complementary pairing to consider is the Spanish Albariño or its Portuguese brother, known as Alvarinho. These young aromatic wines cut through the richness of chicken shawarma, offering a pairing high in acidity and minerality.
Gewürtztraminer is another excellent off-white to be paired with a spicy dish. Despite its high alcohol content, a milder chicken shawarma benefits from Gewürtztraminer's sweetness and hints of cinnamon. The brightness of this German wine balances any Middle Eastern meal, and chicken shawarma is not an exception.
A white wine to avoid with chicken shawarma is the oaky Chardonnay. It won't live up to the expectations of freshness necessary for this pairing as many of these wines lack in acidity. As long as freshness is kept in mind, white wines offer a good selection of options for pairing with this spicy dish.
Pairing Chicken Shawarma with Orange Wines – adventurous pairings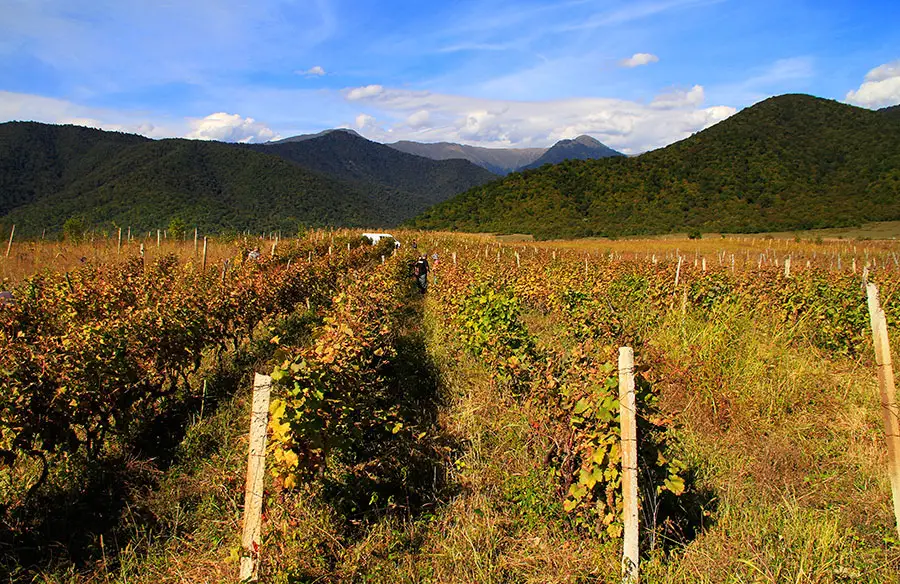 Coming from the most ancient way of making white wine, orange wines have become increasingly trendy. They have claimed their space in the hearts of those who favor natural wines, even though not all types of orange wines fit this category. Orange wines tend to have an aromatic quality and umami flavors, which makes them an excellent pairing with chicken shawarma. Why not try something different as pairing a street dish with wine is already a bold move?
Historically, traditional orange wine production comes from Georgia. Here, this amber or light orange drink has earned a protected cultural heritage of humanity protection by UNESCO. The traditional method includes a longer maceration on the skin using white grapes and is similar to how red or rosé wines are made. 
This might be a surprise if you're expecting a fruity, fresh white, but orange wine is lovely with food. It offers excellent support to the spices of a chicken shawarma, and a most exciting pairing that I can't recommend enough.
1.

Albariño

This variety of white wine grape from Spain turns into light, refreshing wine with high acidity and peachy aromas of citrus and apricot. Albariño's freshness offers the best pairing with chicken shawarma as it balances the complexity of a spicy meal and gives you a complementary, sweet flavor to make the nuances of the dish stand out. I recommend a bottle of Lagar da Condesa O Fillo da Condesa 2019, Albarino from Rias Baixas, Spain.
The Beaujolais region makes red wines drinkable even for those who tend to prefer white. The Gamay grape's low tannic quality makes a light-bodied red with a good level of acidity. I particularly recommend reds from Brouilly cru, as this vineyard makes wines with aromas of berries such as blueberry and raspberry that make a beautiful pairing with any Middle Eastern dish with a spicy profile. Pick up a 2017 bottle of Mommessin Cote de Brouilly for a first try.
3.

Lebanese red blends

Going by the rule of favoring local wines, these Lebanese red blends are guaranteed to make an interesting, complementary pairing with those earthy flavours of cumin and paprika. This option is for one of the less affordable wines we recommend but for a special evening, it is most definitely worth it.
4.

Orange wine: Paleokerisio

Orange wines, or 'skin contact white wines', are a trendy, unique option that works well with street food. The longer contact with the white grape in the fermentation process brings fore aromatic flavours that you can't find in white wines. Greek wines offer great pairings with food from the levant and the orange Domaine Glinavos' Paleokerisio from 2019 is not an exception, boasting aromatic and lightly sparkling qualities and a subtle sweetness.
5.

Xinomavro

This Greek red wine grape comes primarily from the sunny uplands of Naousa or Amyntaio in Greek Macedonia. The lighter-bodied red Xinomavro makes a great pairing with chicken shawarma in their high acidity and notes of fruits and berries. Xinomavro rosés are similarly great additions to a Middle Eastern meal with the crisp bubbliness and fruity notes.
For a vegetarian alternative, the food of the Levant offers a wide variety of dishes: falafel, halloumi, sweet potatoes and roast vegetables, among other delicacies. In a street food situation, a great option may be to go for a falafel wrap instead of a chicken shawarma. The wines listed above would work to pair, especially the orange wine for a bolder pairing, but there's quite a few more wines you can opt for to pair falafel with wine.
My number one suggestion for a falafel meal is a young Sauvignon Blanc. This crisp, fresh white complements the herb-rich dish with its acidity and softens the taste of garlic. Acidity in wines also helps to balance salty flavors, which makes it a good feature to look out for when pairing wines with street food. I recommend giving the colorful Prisma Sauvignon Blanc from 2020 a go. Its mango, mineral and citrusy notes will make a seamless combination.