Reading time:
5
mins
Octopus is a firm favorite in the Mediterranean diet, but what pairs well with octopus? Well, It has a fairly neutral flavor, which means it's great for pairing with a rather large variety of wines. Whether it's a bold Portuguese Baga or aromatic Gewürtzraminer, there's always a great octopus wine pairing to wash down the delicious varieties of flavor you get with this dish. Check out these six ways of pairing traditional octopus dishes from around the world with our bespoke wine suggestions.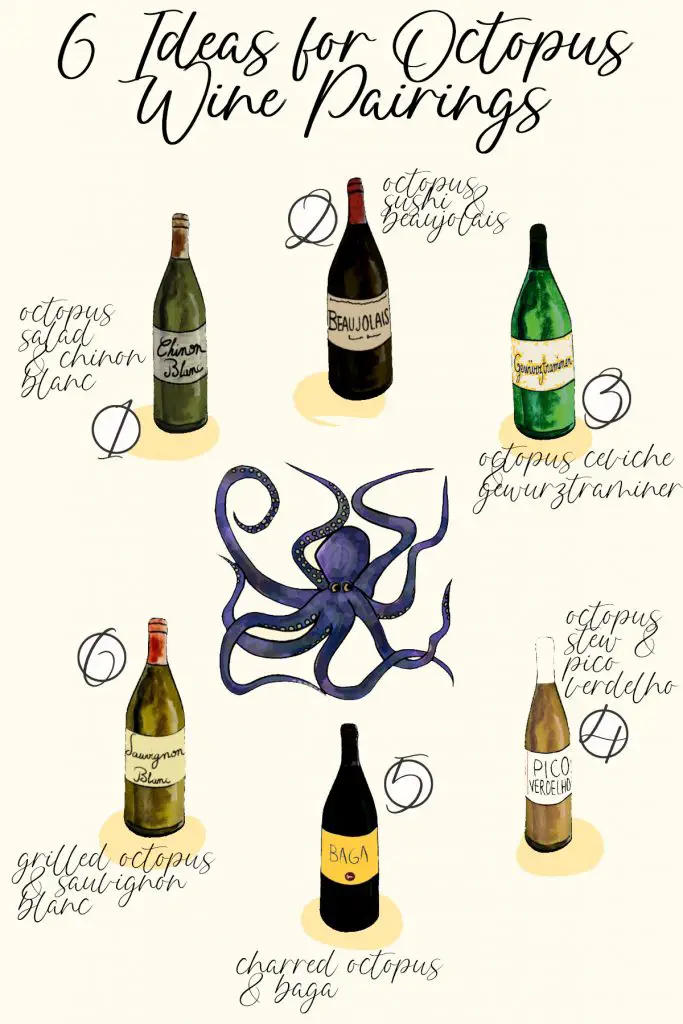 This article contains affiliate links, so if you find a wine you like through our site, we'll get a small percentage of your purchase. We will always only choose our favorite wines to link to.
1. Grilled Octopus
Wine Pairing: Sauvignon Blanc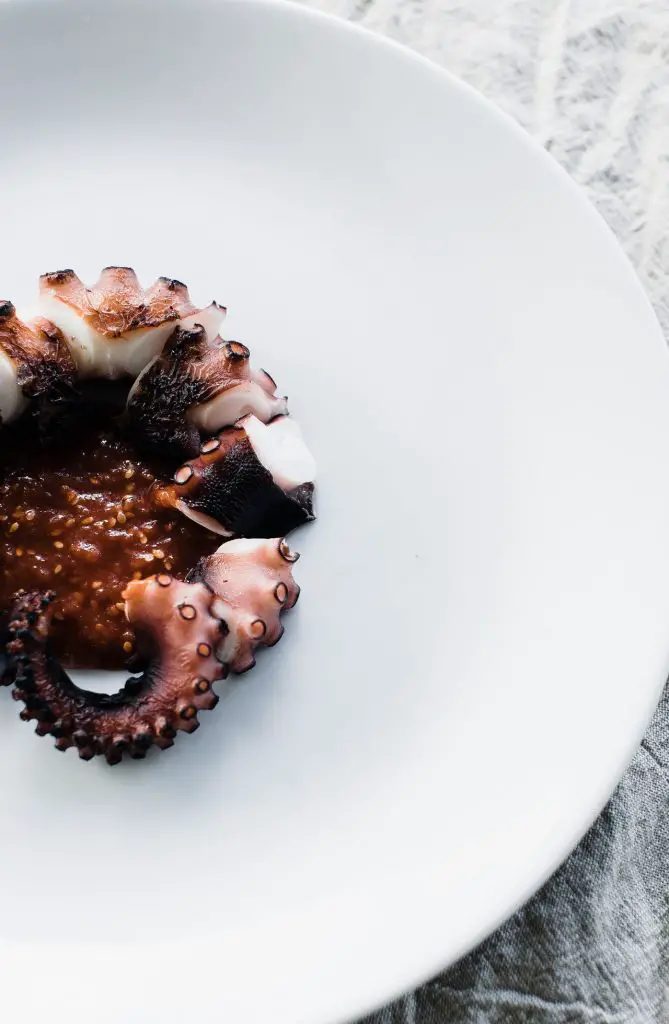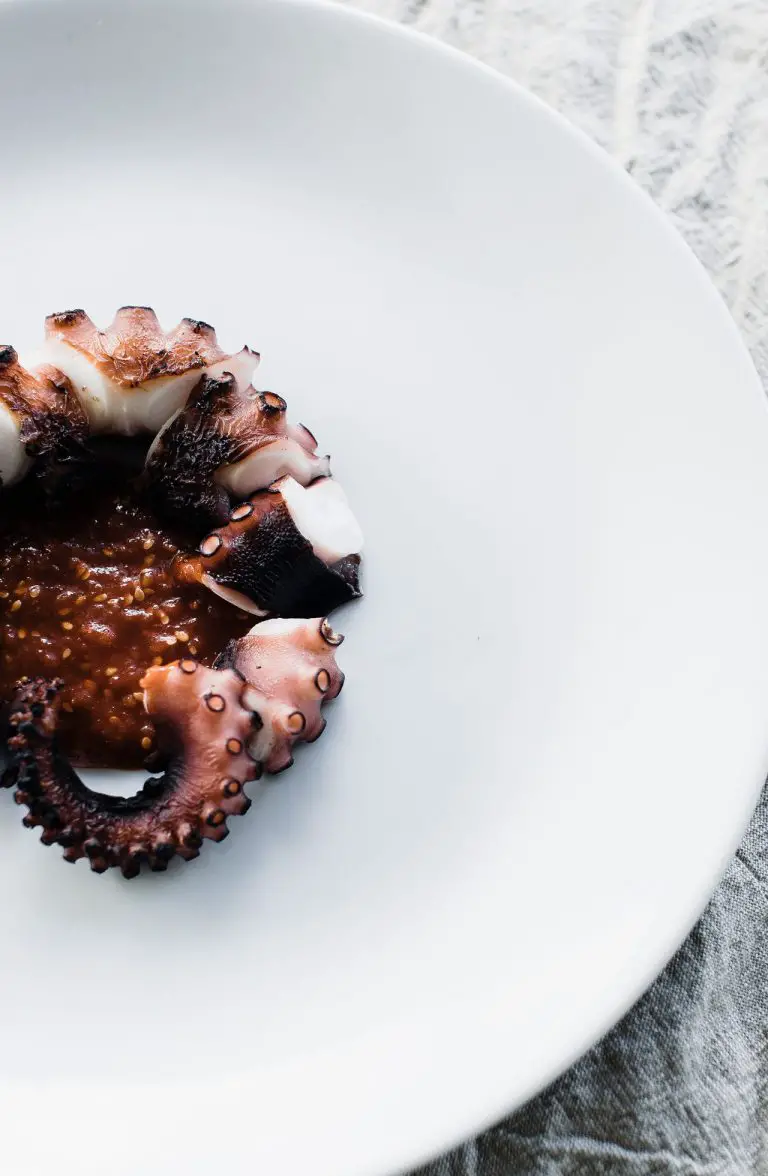 On the grill is one of the simplest yet most sumptuous ways to prepare this dish. Served with a drizzle of good olive oil, a sprinkle of fine sea salt and a touch of lemon, it really doesn't get much better than this!
So, what to pair with the delicate taste of octopus? A wine with depth, strong flavor and plenty of acidity to cut through the flesh of the octopus is the best option. If you prefer whites, then an Italian Sauvignon Blanc is a great choice that's big on flavor while retaining a long finish on the palette.
In the United States, nothing beats the Sauvignon Blanc from Napa Valley. Try a bottle of Rutherford's Napa Valley Sauvignon for only 23 USD from the low hills of Alpha Omega and Grgich.
2. Octopus Salad
Wine Pairing: Chinon Blanc
An octopus salad is typically dressed with an acidic vinegar sauce, so it's important to balance this out with a fresh wine to maximize the flavor. With a fresh kick from vegetables like red bell pepper and onion marinated in good quality olive oil, a crisp white is the best pairing, especially when enjoyed in the sunshine! 
Whilst Chinon in the Loire Valley does not produce vast amounts of white wine and is more famous for their reds (such as the 2019 Pascal et Alain Lorieux Chinon Theleme), the whites you can find here are typically composed of the chenin blanc grape (note the subtle difference!). They have a soft, dry and fresh flavor and an exquisite taste. We'd suggest sampling the Chinon Blanc from Couly Dutheil, which is characterised by its zesty palette and unique herbaceous aromas to balance out the fullness imparted by the olive oil.
3. Charred Octopus
Wine Pairing: Baga
A crisp, refreshing red is a great pairing for charred octopus, because it can cut through that tough, smokey flavor. The Baga grape variety from Portugal, grown in the Bairrada wine region, brings a fresh kick of acidity with its coastal Atlantic influence, and makes for a fantastic match with charred octopus.
If you're looking for a quality bottle that doesn't break the bank, Luis Pato (the pioneer credited with restoring the Bairrada region to its current well-regarded reputation) offers a natural wine that is 100% baga. With no additions made in the cellar and minimal oaking, you're getting the true variety of flavor and crisp acidity that comes from the versatile Baga. It's a great pairing with a meaty seafood dish such as charred octopus – it will finely balance the smokiness whilst also introducing a new depth of flavor with its fruity palette. Baga typically has a medium to long finish, so it's never lost in the meatiness of the octopus.
4. Azorean Octopus Stew
Wine Pairing: Pico Verdelho
Azorean octopus stew is not a dish for the faint of heart. Hailing from the small central Azores island of Pico, the dish is composed of large cuts of octopus cooked in a thick and hearty tomato sauce. With cinnamon, bay leaf and tabasco flavors characterizing this stew, it's important to find an acidic wine to cut through the richness.
Given its island heritage, we couldn't think of a better wine to pair this with than a Pico Verdelho. A Pico white is often defined by a fresh and salty mineral aroma that is reflective of the terroir in which it is grown. 
If you're looking for a great pairing, we'd suggest the 100% Verdelho from winemaker Bernardo Cabral. Its unique tropical fruit aroma of grapefruit and peach offers a great depth of flavor to match the richness of Azorean octopus stew.
It's probably the ultimate pairing in this list… especially with some crusty bread to mop up every last bit of juicy flavor!
5. Octopus Sushi
Wine Pairing: Beaujolais
Unlike typical sushi, octopus sushi is usually cooked, so its flavors are all about richness. This means you'll need a wine that is able to balance the full and fatty flavors in equal measure.

A light-bodied red means that its tannins don't overpower the delicacy of the octopus, but still manage to compliment the meatier flavor. A Beaujolais is typically made from Gamay grapes, and offers a refreshingly crisp and slightly earthy aroma that matches wonderfully with octopus sushi that's cooked, without being too overwhelming on tannins. Normally medium-bodied and high in acidity, we suggest serving it slightly chilled to max out the taste. A news critic favorite is the 2020 Domaine du Clos du Fief Tradition from Juliénas. 

If you're looking to get your hands on a good bottle that also has some aging potential, we'd recommend the Fleurie 2018 from G.Descombe, which is characterized by unique earthy and mineral notes whilst still offering a fresh cut of acidity.
6. Octopus Ceviche
Ceviche is a dish in which the seafood is 'cooked' in an acidic citrus juice. Whilst this creates a distinctive (and delicious) zingy flavor, it does make it slightly difficult to pair with wine. That doesn't mean we don't have a suggestion, though. Of course we do!
We'd suggest pairing octopus ceviche with a wine that is both acidic and aromatic. In the case of Gewürtzraminer, a floral bouquet and hints of spice add an extra level of depth to the wine, and help to balance the acidity of the ceviche dressing.
The aromatic intensity of Gewürztraminer makes it a great counter-balance to the spice you might expect from a ceviche (especially one dressed with jalapenos!) A Gewürtzraminer has similar qualities to lime, so its no surprise that this aromatic variety is a great pairing.