Reading time:
8
mins
Cherries. These delicious bright red fruits are loved by baking fans. They are often used as a finishing touch to improve the aesthetics of our foods and give it a dash of vibrant flavoring – especially in whipped cream desserts, for example. But did you know that they can be used to make sumptuous cherry wines?
Cherry wine is real
It's true – cherry wine is a thing. And no, we're not talking about Lakewood cherry juice. We are talking real wines made from real cherries. Some might call it blasphemous to say that cherry wine is wine. But we want to debunk this myth. Wines are made from all sorts of fermented fruits, and not only grapes.
In light of this, we can define cherry wines simply as wines made from the fermentation process of the cherry fruit (next time you are with your wine-loving friends you can use this as trivia to score some points).
Cherry wines are real. And they are just as delicious as a bottle of red wine made from grapes like pinot noir. Maybe. At the same time, there are also normal grape wines that have a hint of cherry flavor integrated within their taste profiles. More on that later.
Cherry wine is not only a delicious drink – it can also be healthy. And, depending on the sweetness, cherry wines pair excellently with a range of foods including desserts like tiramisu and spicy cuisines.
A History of Drinking Cherry Wine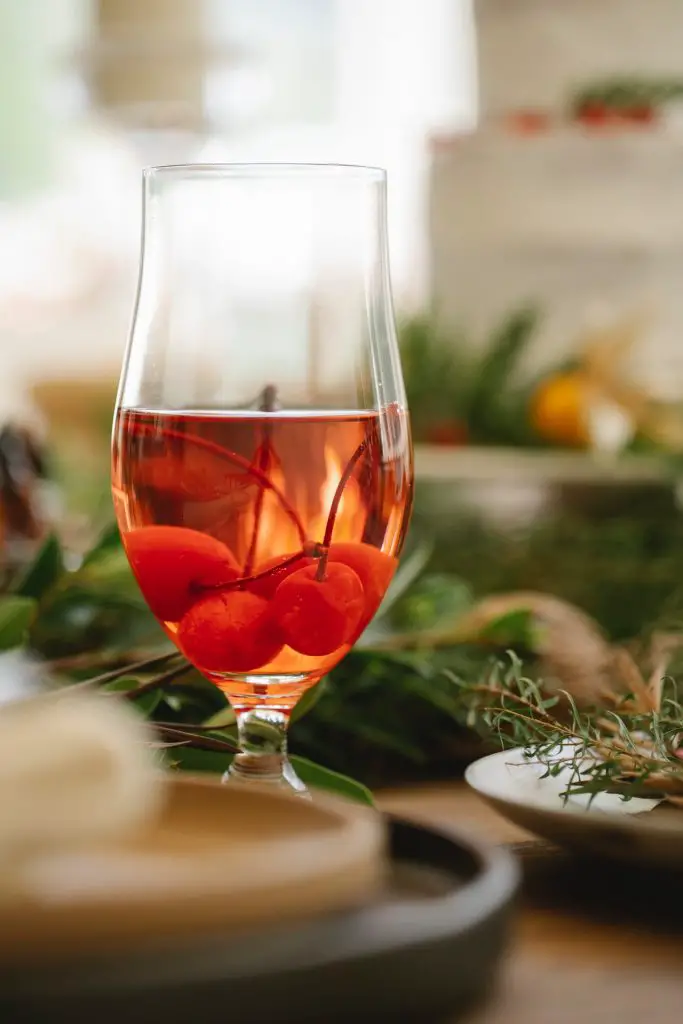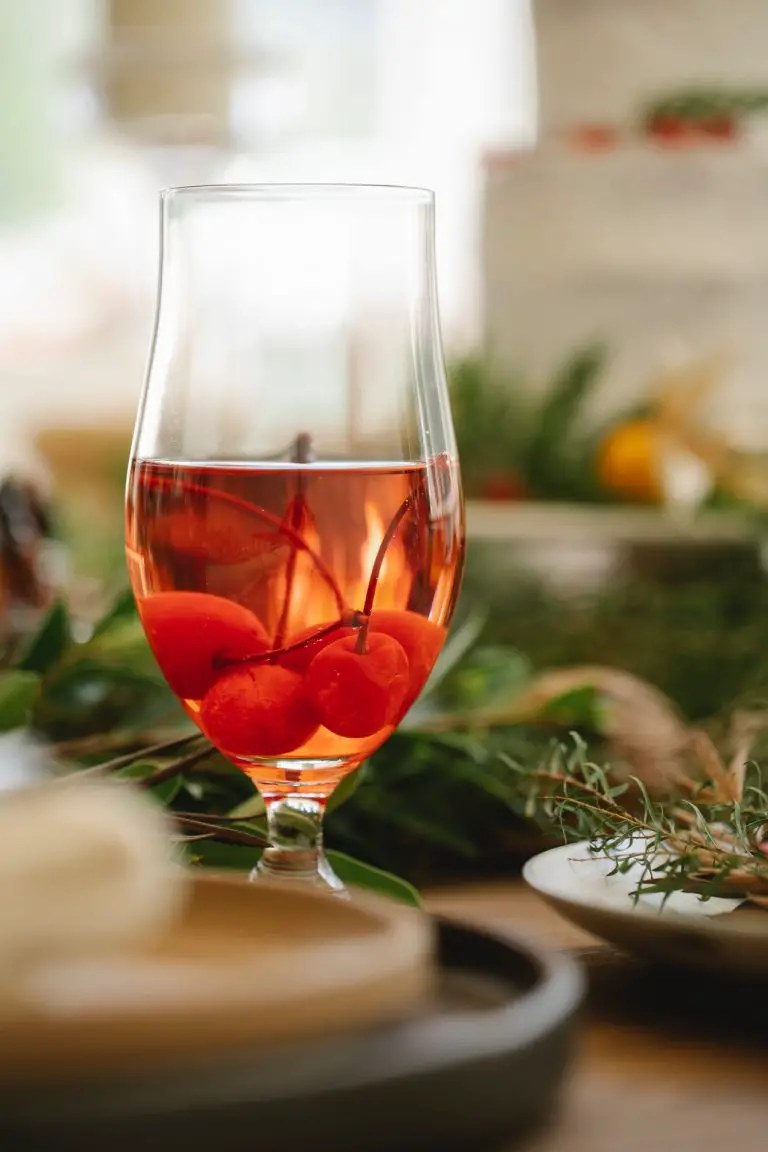 So we've established that cherry wine does exist as a drink. We understand your sentiments towards cherry wines, because it wasn't until very recently, in 2006, that these wine varieties were allowed to ship from their state of origin across the globe. But cherry wines have actually been in existence since the Great Depression.
Prohibition and rationing meant that Americans had to get creative with what they had. Thus came the birth of cherry wines. Initially homebrew, these bright red fruit wines have evolved to account for over 25% of wines sold by Michigan wineries.
Michigan Cherry Wine
Michigan is recognized as the birthplace of cherry wines – the cherry farmers in the great lake state were the country's first cherry winemakers in the 1980s. Ever since then, Michigan has taken it upon itself to propagate the gospel of cherry wines by producing delicious bottles year in, year out, and shipping them across the globe. Other Midwestern and Northwestern states like Oregon have joined the trend, producing their own cherry wines for this emerging market. 
To wrap up our history class, the popularity of cherry wines is growing. Initially, cherry winemakers could not meet up with the demand, so they sourced cherries from neighboring states. To mitigate against this and improve the yield of cherries in Michigan, a coalition was formed, dubbed the Michigan Association of Cherry Producers. This board looks after the interests of cherry growers in Michigan, and enables Michigan cherry wine to continue to be produced.
How is cherry wine produced?
There are several varieties of cherries, but for simplicity's sake, we will group them into two categories – sweet and tart. 
Sweet cherries are generally bigger, darker, and sweeter than tart cherries. This cherry variety is extremely sweet and is grown in semi-arid regions of California, Washington, and Oregon. They are high in sugar, so are suitable for direct eating as well as for making cherry juices. But they are low in acid, making them unfit for winemaking on their own. 
Sour (tart) cherries, on the other hand, are more acidic and, as such, more tolerant of the humid continental climates of Michigan, Pennsylvania, and Wisconsin. Their high acidity makes them perfect for winemaking.
The best of the best cherry wines, however, are made not solely from tart cherries (which is possible, by the way) but from the matrimony of both the sweet and tart cherry varieties. The resulting mixture is a well-balanced wine with just the right amount of acidity and a pleasant flavor profile to boot.
The ratio of sweet to tart cherries in the mixture influences the sweetness of the cherry wine. When there is more sweet tart in the must, the wine comes out sweet. When this is reversed – that is, the tart variety is more than the sweet – the wine comes out as dry or off-dry. Tart cherries alone can be used to make cherry wines as well. These wines have high acidity and are refreshing on the palate.
What are the best cherry wines?
There are several good cherry wines out there, but here are the ones we personally handpicked based on quality and taste.
This cherry wine is really quite sweet, and it is made from the righteous blend of sweet and sour cherries.
This semi-sweet wine is another top-notch cherry wine made from the Montmorency dark cherry variety.
This is also a semi-sweet wine that features a blend of pinot noir and black cherries, creating a romantic bottle perfect for special occasions.
This wine is 100% made from cherries. It is a blend of dark sweet cherry and sour cherry. The resultant wine is fruity in flavor with a hint of ginger.
This wine is pretty amazing. It is a cherry wine featuring a blend of the two cherry types – sweet and sour – and then fortified with Black Star Farms' special cherry brandy.
Pairing Food with Cherry Wines
In terms of food pairings, cherry wines are somewhat uncharted territory, so it might be difficult to know exactly what food they pair well with. But one thing you should know about cherry wines is that they pair with almost any dessert. 
Cherry wines paired with desserts like tiramisu literally feel like adding a little bit of cherry on your treat. It is a good pair with tiramisu because cherry wines pair well with chocolate – dark, milk or white. 
You need to be cautious with desserts though. Too much of everything is bad, or at least doesn't always turn out good. Fruity pies with cherry wines are like a strawberry on strawberry jam – it doesn't really make sense. The cherry wine is already fruity enough and a fruity pie on top is, well… a bit of an overload. 
Besides dessert, cherry wines can also pair well with main dishes, especially form Asian cuisines. Go with the drier varieties of cherry wine for this. 
There are also red wines with cherry notes like the ones mentioned above, and these pair exceptionally with meat like chicken, BBQ pork, roasted duck, glazed ribs, and my own personal favorite – a well-cooked steak!
Does Cherry Wine have Health Benefits?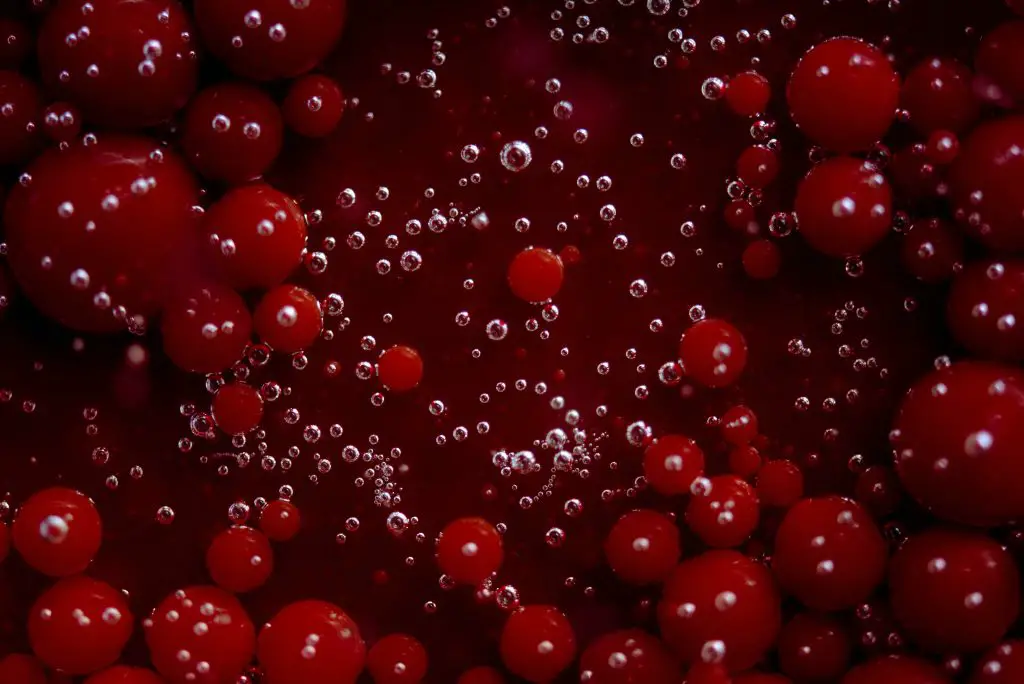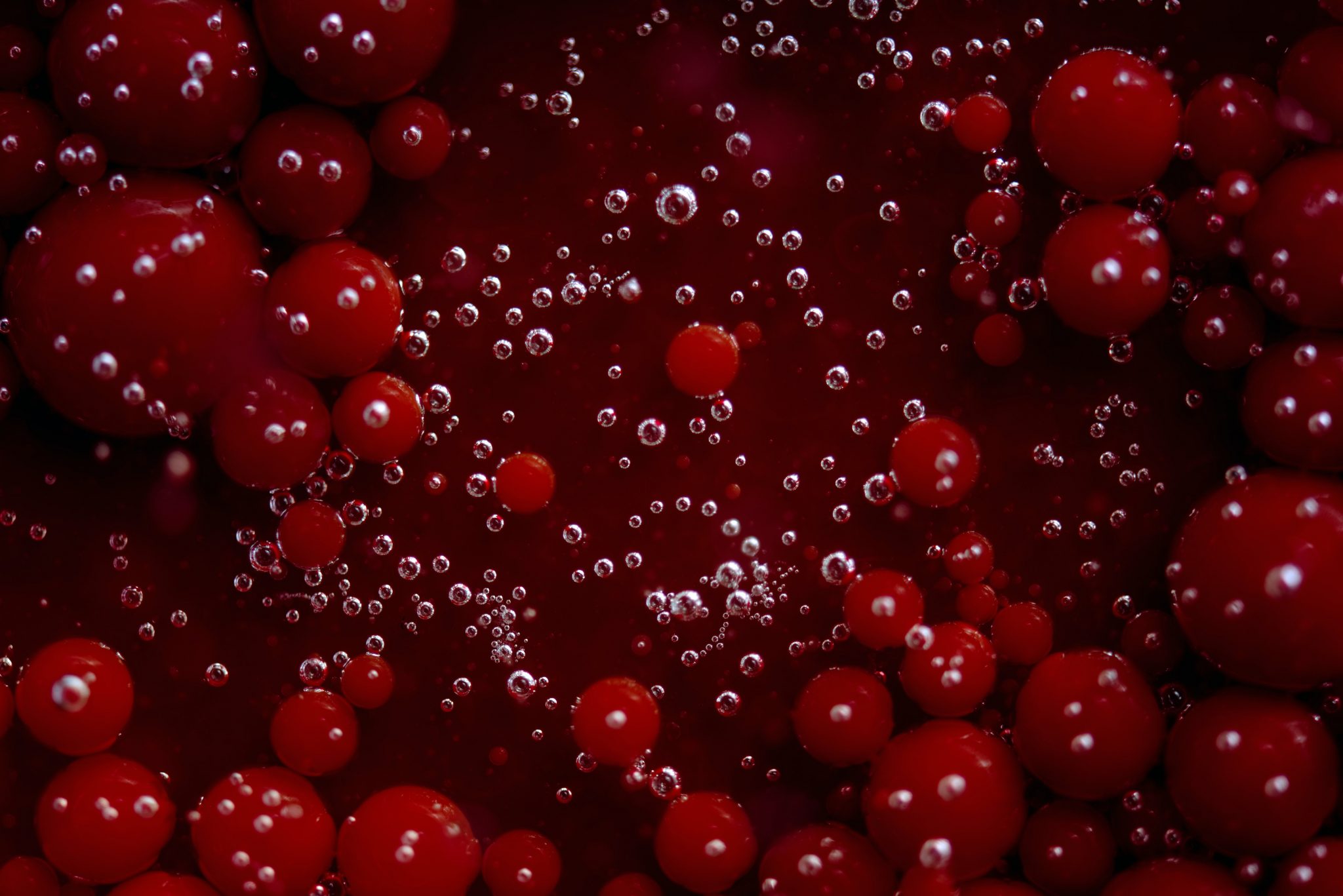 The saying 'life is like a bowl of cherries' makes a lot more sense with the advent of cherry wines. Not only does this metaphor depict pleasantness and sweetness, but it has also morphed to mean good health. So, in hindsight…
"good health is like a bowl of cherries; or rather, a glass of cherry wine!"

– The Wine Wiki
Cherry wines are not just known for their quality and delicious taste – they also reward drinkers with several health benefits. Its base fruit – cherry – is ranked one of the healthiest fruits on the planet, and is chock-full of vitamins and minerals that are essential for healthy living. Here are some of the benefits of cherry wines:
They are full of antioxidants
Cherries, ergo cherry wines, are full of antioxidants that protect your cells against free radicals, which may play a role in heart disease, cancer, and other diseases.
They help manage diabetes
Cherry wines can be sweet, but unlike processed sugars or sugars from other fruits, they have little to no risk of increasing the level of glucose in the blood. In fact, cherries help promote healthy glucose regulation.
They are good for the heart
Cherry wines have anti-inflammatory properties which help improve cardiovascular functions. They also decrease the formation of plaque in the arteries.
They help lower cholesterol
Research shows that cherries and their derivatives (wines and juices) can lower the cholesterol LDL in the body. This cholesterol is bad cholesterol and is responsible for a majority of sudden heart attacks.
They improve sound sleep
Cherry wines help improve both the quality and quantity of sleep. This is due to the presence of melatonin (a hormone responsible for the regulation of our circadian rhythm) in cherries.
They can help with arthritis and associated factors
Cherry consumption has been found to provide relief to arthritis patients. They also significantly improve associated skeletal inflammatory conditions like gout.
They help with blood pressure issues
Researchers have found that drinking cherry wines and juice is as good as taking drugs to reduce systolic blood pressure. They can help stabilize the blood pressures in hypertensive patients.
How to serve cherry wine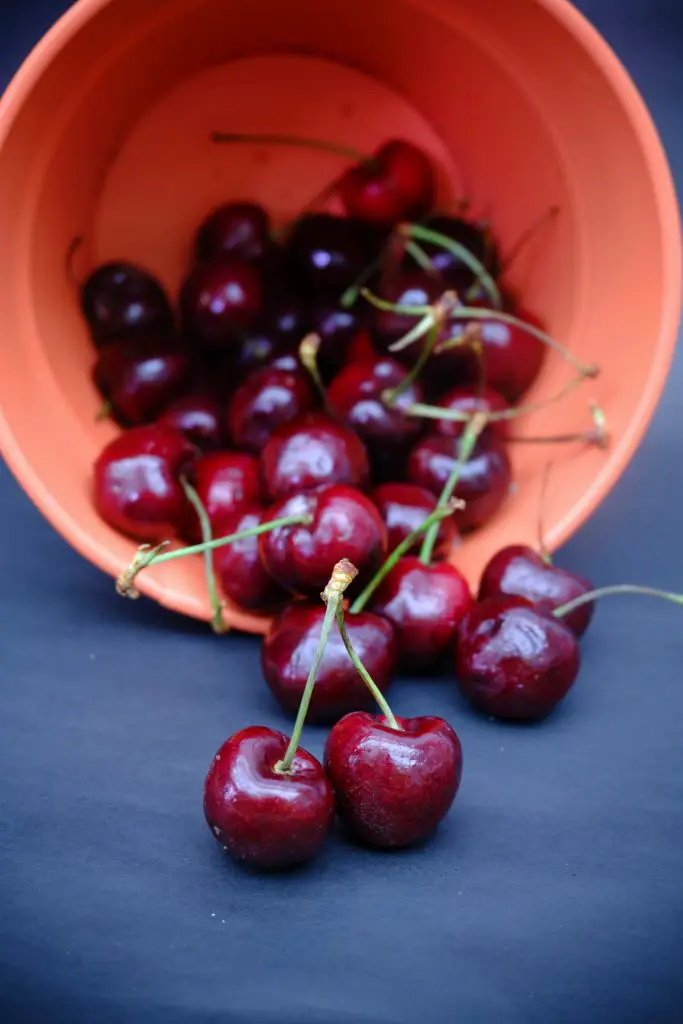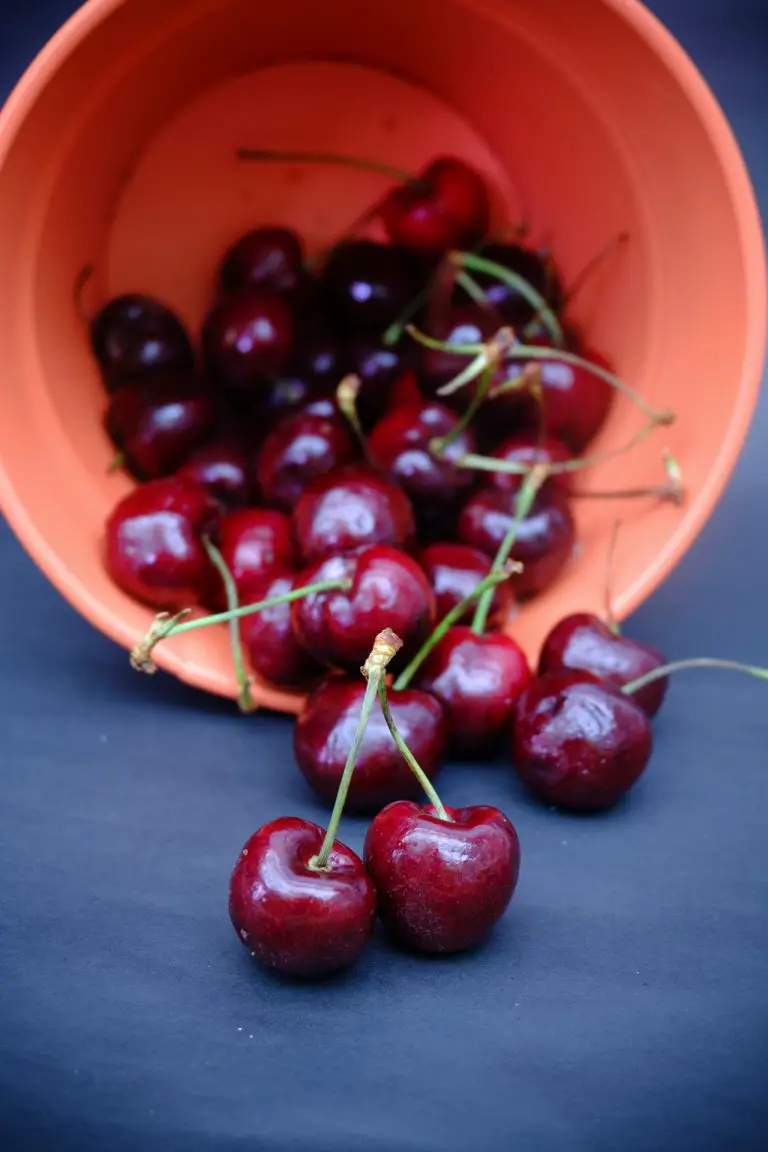 The temperature at which a wine is served has an immense impact on its taste and quality. Just like most fruit wines, cherry wines are best served and enjoyed chilled. Due to their relatively high acidity, cherry wines should be served around 48 ℉ (9 ℃) to 53 ℉ (12 ℃). If cherry wine is warmer, it becomes flabby. That's why we also advise serving cherry wine with narrower white wine glasses – it won't get warm as quickly. 
When it comes to red wines with cherry notes, however, you can serve these in your typical wide red wine glass. It is important that red wine glass is wide to allow for swirling and oxidation. That way, the cherry note, and other individual notes in the complex taste profile of the red wine, can be enjoyed to their fullest.
Red Wines with Cherry Notes
Besides speaking about cherry wines proper, there are also plenty of classic red wines that simply features notes of cherry, if that's what you're after. Here's an overview of some of the best.
Wines get a great deal of their flavors from their primary or base fruit, but complex wine-making processes yield more complex taste profiles, with the finished product incorporating a range of notes, aroma, and flavors. As such, cherry notes can be found in some wines – especially red wines. Examples of red wines that carry notes of cherry include, but are not limited to:
Brunello di Montalcini: A red wine from the Sangioevese grape, admired for its strong tannins and acidity. The taste of Brunello is very reminiscent of late summer harvests. Apart from cherries, this wine is very floral and gives tasting notes of other red fruits as well as leather, licorice and hazelnut. Young and aged Brunello di Montalcino are often distinguished. While you'll find more cherry notes in the young wine, the aged has a taste of dried cherries and is much softer on the palate. This is the perfect choice if you're looking for something more full bodied, with a discreet, subtle taste.
Barolo: Often defined as one of Italy's greatest wines, Barolo has made a name for itself among the wine-drinking community. It is classified as a Denominazione di Origine Controllata e Garantita (DOCG) wine and is often referred to as the king of wines. It's a classic, dry wine made from the Nebbiolo grape. When you take a sip of Barolo, you immediately notice distinct flavors of cherry and chocolate, with flowery nuances. Some say that, when aged, it also has aromas of tar and truffles. That's for you to decide.
Chianti: This wine is made in the Chianti region of Italy. Unlike most wines in this list, Chianti is not made from one single grape, but from the combination of several (although there are some made entirely from Sangiovese grapes). There are two classifications of Chianti wines – Chianti DOCG and Chianti classico – and both are known for their dry taste, cherry notes, and full body. If you are having a hearty Italian dish and are looking for cherry notes in your wine, you can't go wrong with a good bottle of Chianti.
Pinot noir: The celebrity of all wines. It's in every cellar, tasting house, and restaurant. If you drink wine, there's almost a 100% chance you have slurped some of this dry red wine. It exhibits a ruby red hue and pairs with a wide range of foods including ducks, mushrooms, and salmon, as a result of its smooth taste and bright flavors of cherries and berries. As with most red wines, pinot noir can be aged in oak to give more complex, secondary flavors of vanilla and spice.
Beaujolais: Beaujolais nouveau is a wine produced in the Beaujolais region of France. This light-bodied red wine is extremely aromatic, and some even describe it as having a bubblegum nuance. It is actually just a very fruity red wine, having red berry flavors hot on cherry, but also raspberry and cranberry. Like most light-bodied red wines with high acidity, this French wine is best served with grilled meat or chicken. It also pairs well with salads.