Reading time:
7
mins
Tiramisu is an eclectic tasting experience that is at once light and filled with a creamy, chocolatey, coffee sensation. But which wines should you drink with tiramisu? Read on for our guide to tiramisu wine pairing.
What is tiramisu?
Everybody knows tiramisu, the classic Italian dessert featuring a biscuit made from sponge cake batter (savoiardi, also called lady fingers) soaked in coffee and liquor, and then layered with whipped cream made from eggs, sugar and mascarpone cheese. The final touch is an unsweetened cocoa powder topping. 
Tiramisu's layered structure brilliantly combines the sweetness of whipped cream, the delicate flavor of mascarpone cheese, and the bold, dark hint of coffee and cocoa. The unique taste profile of this Italian dessert classic makes it open to a number of wine combinations, most notably Spanish Cava and Albariño, and the Italian Vin Santo and Brunello di Montalcino.
Tiramisu is the one dessert that breaks several limitations in dessert-and-wine pairing, offering not only delicious sweet wines by virtue of being a dessert, but as a way to enjoy a delicious bottle of white or sparkling wine. 
How to pair wine with tiramisu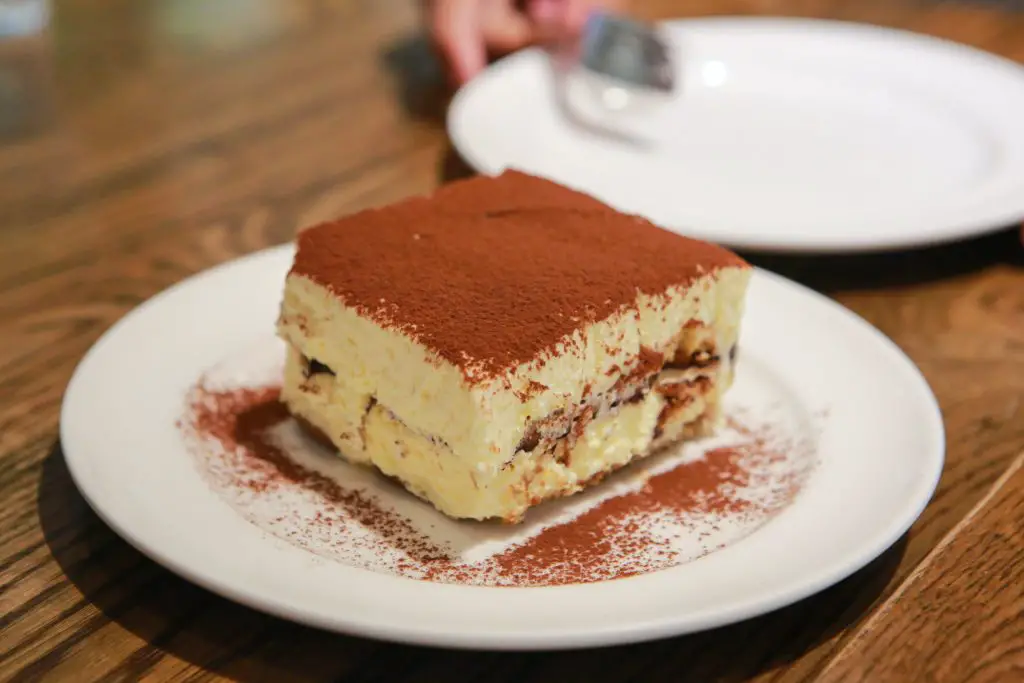 When it comes to pairing food or dessert with wines, there are two ways to go about it: complementary pairing and congruent pairing. In complementary pairing, we are looking to harmonize certain elements of the wine with the flavor components of the food. With congruent pairing, however, the idea is to pair wines with elements that will enhance the taste of the dessert – supporting them, rather than copying them.
For a congruent pairing, we'll be looking at sweet or dessert wines with similar flavors to tiramisu, while for the complementary choice we'll be pairing the creamy goodness of tiramisu with the mineral and citrus notes of some white and sparkling wines. 
Sweet wines with sweet desserts
Thankfully, the taste profile of tiramisu is such that it allows for flexibility – but even with flexibility comes caution. When pairing tiramisu with wine, you first need to remember that it is a dessert, and not get caught up in the different nuances of this Italian dish so as to forget its identity – a dessert. As a dessert, it works wonderfully with a sweet dessert wine. 
A fruity dessert wine works best here: it is congruence with the sweetness of the whipped cream that makes up the dessert. It also pairs excellently with the coffee and chocolate notes from the espresso and cocoa powder respectively.
Another way to pair tiramisu is with white wines – the complementary way. The whipped egg whites of the tiramisu makes it a light and bubbly dessert. As a result, a delicate wine with mineral notes, such as a good Riesling wine, is the instinctive choice.
Wine Wiki tip: one of our favorite Riesling wines is Spätlese – considered among the best in the world and an ideal partner to tiramisu.
Wines with strong acidity also pair well with tiramisu. The creaminess of mascarpone cheese does well in being counteracted with a sharp acidity, cleansing the palate and giving a refreshing taste to the otherwise potential heaviness of the dessert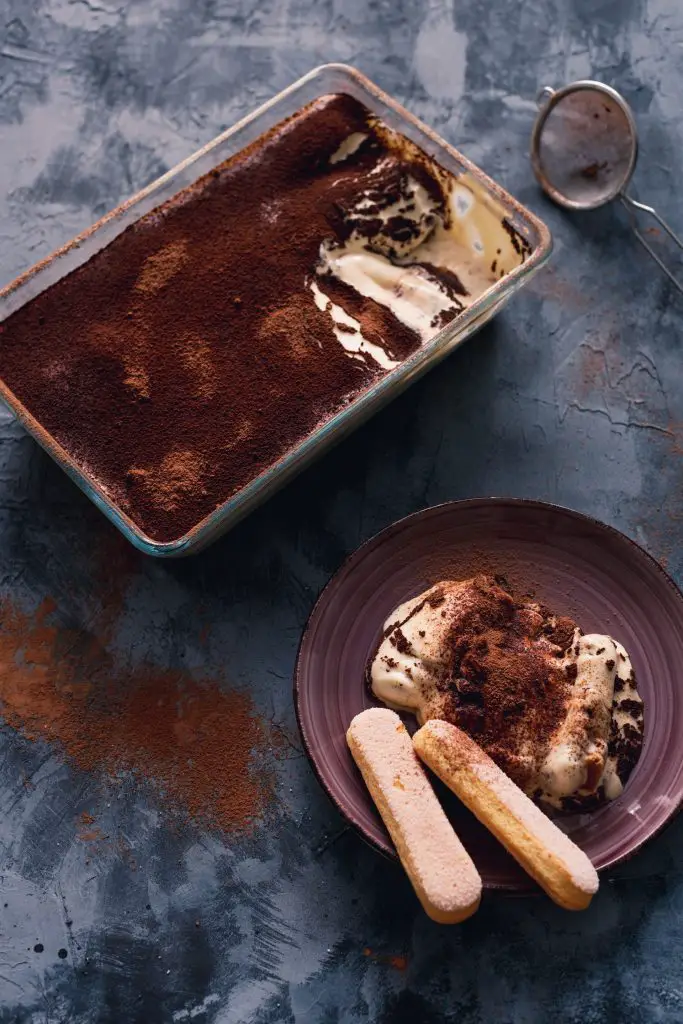 Another point to keep in mind is the fattiness of the whipped cream in tiramisu. This calls for an equally structured, concentrated wine – which is why a light sparkling red works wonders. Although red sparkling wines are a bit of a rarity, there's a few Portuguese red sparkling wines that really do the trick. Red sparkling wine, in contrast to white sparkling wine, tends to be more structured – like the tiramisu itself – while keeping the light, complementing acidity. In other words, a red sparkling uses the combined method of pairing tiramisu – perhaps the best option of them all if you're after a middle ground.
Pairing Tiramisu with Sweet Dessert Wines
In classical wine pairing, the rule of thumb is that a wine paired with a dessert should be sweeter than the dessert itself. Therefore, it is a no-brainer that sweet wines will feature in our suggestions as a complementary combination. 
Sweet dessert wines serve to echo the full sweetness of tiramisu while balancing the bitter, bold coffee notes. Here you'll find Muscat, Vida Blanc, and Vino Santo to be most delicate combinations, with the South African late harvest wines being the perfect match if you've got a sweet tooth. 
If you'd like a sweeter wine that does not match up to the full sweetness of dessert wines, opt for more full-bodied wines. Good combinations here are Cabernet Franc, Cabernet Sauvignon, and Pinot Noir. The vanilla notes of these wines, which is a result of their being aged in oak, complement the sweetness of this Italian dessert. In fact, one of the secrets to making tiramisu is to add a bit of vanilla sugar, since the taste really complements the chocolate, creamy and coffee flavors of the traditional recipe.
Similarly, sweet wines with cherry notes do wonders together with tiramisu. It is like adding cherry on top of a whipped cream cake… literally! Only this time, our cake is a mouth-watering Italian dessert and the cherry is a bottle of delicious red.
Another obvious pairing is with chocolate wines. The chocolate notes of chocolate wine, which also tend to have secondary flavors of light creamy vanilla and cherry, give a sweet but not too sweet pairing to your tiramisu. Moreover, the chocolate notes of the wine accentuate the chocolate and coffee flavors – the very flavor combination that gives tiramisu its world-wide fame.
Pairing tiramisu with sparkling wines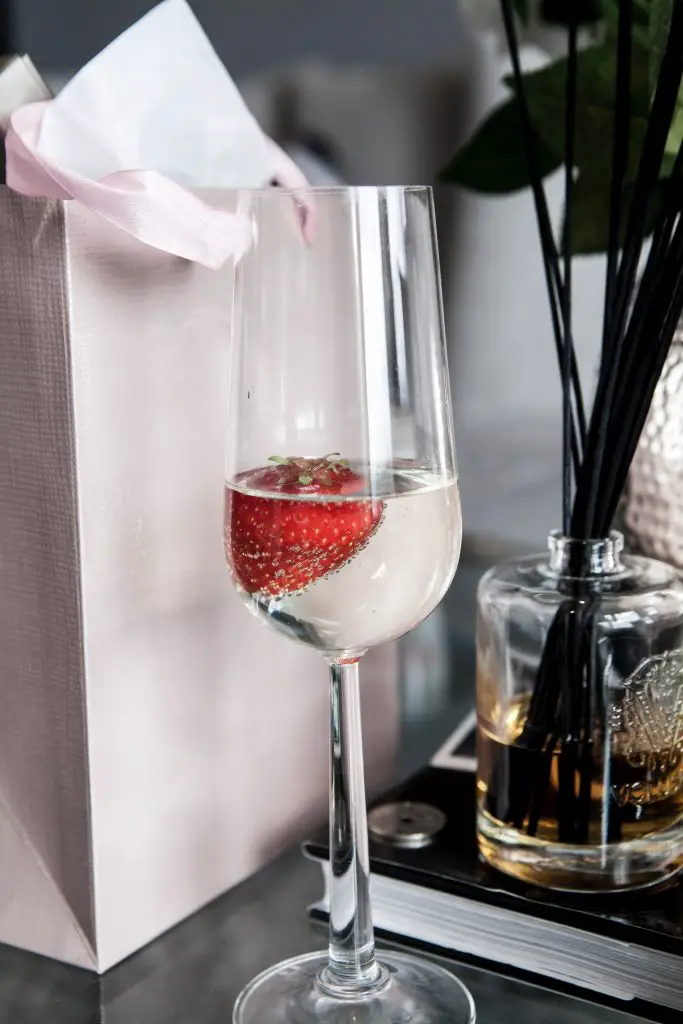 Sparkling wines are often reserved for special occasions because of their refreshing taste and celebratory bubbles, but they can add sparkling fireworks to this creamy Italian classic.
The essence of pairing sparkling wines with tiramisu is to enhance the texture of the dessert: the whipped cream and eggs make it something of a heavy dessert version of a delicious sparkling wine.
Sparkling wines also pair excellently with chocolate because, by texture, chocolate has a silky smooth feel that the bubbles counteract. It takes the heavy minerality and high acidity of sparkling wines to contrast that rich, smooth texture of chocolate with intense flavor. Spanish cava works brilliantly here, due to its high minerality and citrus notes.
In addition, sparkling wines and chocolate both have a long aftertaste. Talk about a match made in heaven!
Pairing tiramisu with white wines
When pairing white wines with tiramisu you're looking for a contrasting flavor. It's similar to when we're adding lemon to a heavy, salty dish: the salt and the acid balance each other, doing a little flavor dance on the palate.
This same concept applies when pairing white wines with tiramisu, so look for options with higher acidity and minerality, such as white wines from Portugal, and wines from high altitudes.
The logic behind this pairing lies in the mascarpone cheese involved in the making of this Italian dessert. It is common to add lemon to cheese, for example, and the age-old rule of wine pairing is to pair cheeses (whether in dessert form or instead of dessert) with wines that are high in acidity.
In addition, tiramisu has a delicate bubbly quality to it as the mascarpone, cream and eggs are whipped, giving yet another reason to complement the dessert with the crisp minerality of white wines. 
The best wines to pair with tiramisu
1.

Vin Santo

Vin santo, often referred to as the holy wine, is an Italian dessert wine. It is full-bodied, extremely sweet, and has aromas of dried apricot, caramel, and honey. 

It is the perfect dessert wine to pair with tiramisu: its unusual sweetness balances and completely levels out the bold tasting espresso in the dessert. There is also the Greek option of vinsanto, written together, which is equally sweet but boasts a complexity that mirrors its terroir in the volcanic island of Santorini.
Cava is a light-bodied sparkling white or rosé wine with striking citrus flavours, pronounced minerality, and crude acidity. Grown in the mountains of the North of Spain, its sparkling refreshing taste is coupled with the minerality of high altitudes, making it a safe option for your tiramisu pairing.
The refreshing, tart taste of the Cava contrasts with the silky sweetness of the dessert, giving you an intense, tasteful experience.
Moscato is like the miracle baby from the holy matrimony of sweet wines and sparkling wines. It is sweet, fizzy, and has fruity notes of peach, apricot, and citrus. If you're after the middle ground of all these suggestions and the one to opt for a more unique pairing, this is the perfect wine for tiramisu. 
Albariño is a light-bodied, dry, white wine with relatively low alcoholic content and refreshing acidity. It has aromas of peach and citrus with notes of grapefruit, lemon peel, apricot, and sweet melon, endowing a fruity hint that counteracts the coffee-and-cream flavor of tiramisu. You can pick up a Portuguese Albariño for a very reasonable price!
5.

Brunello di Montalcino

Brunello di Montalcino is a sweet, fizzy, full-bodied wine with notes of wild berry, chocolate, licorice, espresso, and leather. 

A good bottle of Brunello can be like eating chocolate dipped in cherry pudding. Combine this with an excellent tiramisu and you have yourself a Shangri-La of sweetness on the tastebuds – it brings the chocolate and espresso flavors of the dessert to the fore, to say the least.

The Wine Wiki tip: try a 2016 Palazzo Brunello from Tuscany, Italy for the most luxurious pairing with tiramisu.
Liquor pairing with tiramisu
Tiramisu breaks barriers when it comes to wine pairing. You're not only restricted to wines; this wonderful Italian dessert is open to alternative pairings with liquor, too. 
You need to be cautious here, because the higher alcohol content and complex flavor profiles of liquor can overwhelm the delicate overtones of the dessert.
We suggest fruit-based liquors like brandy, cognac, and amaretto. These have notes resembling those you'd typically find in wines that compliment tiramisu: citrus, apricot, peach, and apple. 
Moreover, their alcoholic content is relatively moderate, so they won't numb your palate to all the exciting flavors of your favorite Italian dessert.