Reading time:
16
mins
There are many great ways to finish a hearty and delicious meal, but the finest one of them all must be to complement it with a glass of Italian dessert wine. After all, Italians' love for all things sweet makes it no surprise that the Italian dessert wine options are so impressive. Your main choice is between sweet red and rich white wines with each variety featuring a uniquely characteristic taste. As a rule, Italian dessert wines are sweeter than the dessert they're paired with and are ideal options to be served with pastries and puddings, a plate of cheese, nuts, and fresh fruits.
There are a number of different ways to produce a great Italian dessert wine. Winemakers can stop the fermentation process early, give the grapes a longer ripening time, or dry the grapes after harvest. The producers dry the grapes either on mats (for ca. 40 days), or by hanging them up for almost half a year. The raisin-sweet grapes are pressed and left to ferment in oak barrels before being bottled. As a rule, sweet wines have a lower alcohol content and a higher quantity of residual sugar. This is what classifies the wine as sweet rather than dry. 
Italy gives us some of the finest dessert wines available on the market thanks to the unique production methods from a long history of winemaking and particular climate. The warm climate and sunny days make a perfect ground for the grapes' sweetness to be maximized. The sweetness is balanced by the acidity and minerality of the Italian terroir with its proximity to both mountains and sea. An excellent grape for the climate is Moscato in all its varieties: easy to grow and easy to drink, Moscato wines give you a great first taste of Italian dessert wines.
Depending on where in the country the grapes are grow and the production methods used, the grapes attain different characteristics. Italian dessert wines can be divided into five major groups based on their sweetness, taste and aroma: sparkling dessert wines, lightly sweet and richly sweet dessert wines, sweet red wines and fortified wines. They are best enjoyed in small glasses, the way you enjoy a glass of Scotch. 
The Italian dessert wine tradition & Passito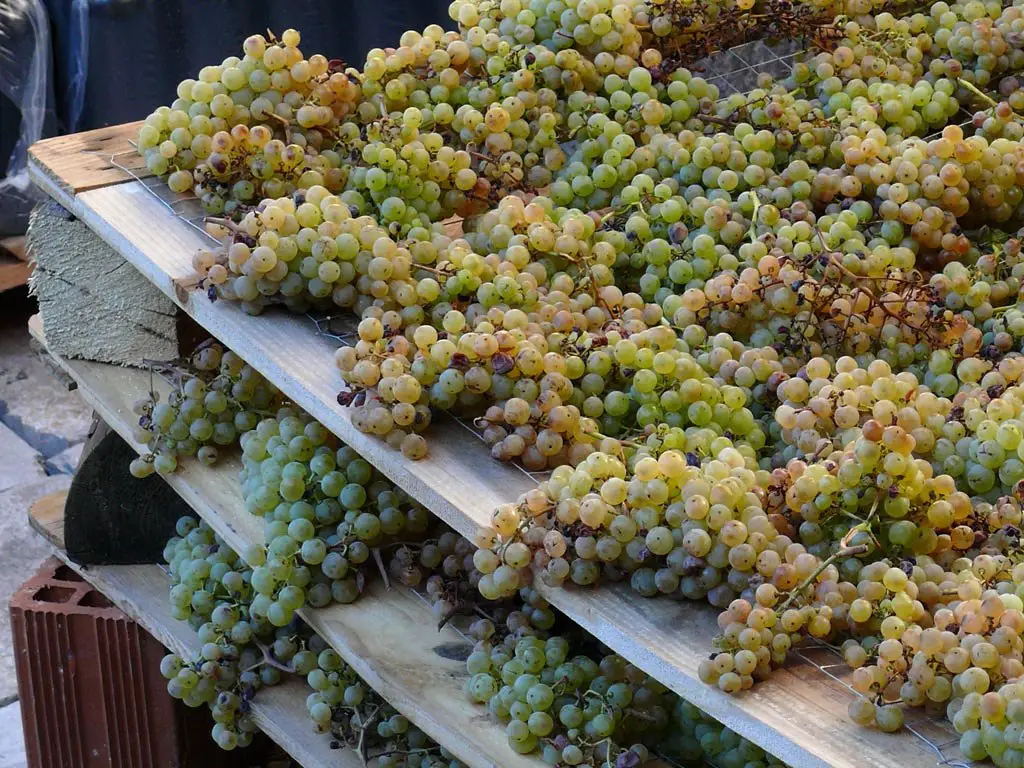 Let's start with the most famous dessert winemaking tradition of Italy: Passito. This is the Italian version (and name) for a raisin or straw wine. These wines are made by pressing partially dried grapes, resulting in concentrated flavors and sugars. Thanks to the lower water content, raisins are sweeter than grapes. That's why half-dried Passito grapes give us a buttery, sweet dessert wine. The wine-making process of Passito has a long tradition in the warm climate of the Veneto region in northern Italy. Historically, carefully selected ripe grapes were laid out on straw mats on terraces under the sun's rays for about ten days. Today, the straw mats are often replaced by plastic nets or portable racks. The soft winds of the region makes the grapes dry out evenly under the sun, giving us a Passito of the highest quality.
The Passito process results in the sweet to very sweet white wines, the Italian straw wines. As the process is quite laborious and requires grapes of the highest quality, these wines tend to be rather expensive and make for a great gift. Some of the finest (and most popular) Passito wines from Italy are made in Valpolicella wineries in the Verona region, but there are quite a few other alternatives on the market such as Passito di Pantelleria DOC.
1.

Passito di Pantellaria

From the southernmost part of Italy, this sweet Passito wine is an Italian dessert wine made from the famous Muscat Blanc à Petit Grains (also known as Muscat of Alexandria) grapes. A rich wine with high alcohol percentage, it is perfectly paired with fruit tarts and crostata, as well as herbed cheese and foie gras.

The wine comes from the Mediterranean Island of Panyelleria, just between the coasts of Sicily and Tunisia. Pick up a reserve of Donnafugata's Ben Rye from 4-5 years ago for honey and fig notes and a long finish.
2.

Arcass Passito

Made from white Arneis grapes, Arcass Passito is quite rare and pairs incredibly well with biscotti and chocolate. A late harvest dessert wine, it is usually aged for a year in wooden barriques. This gives it a solid and slow taste of chocolate notes. The name is of interest here, as it comes from a traditional sport from the hills of Piedmont where a ball is sent to the very end of the other team's field. Locally, it speaks to the immense pride of being able to get back (or throw back!) when nearing defeat.
2.

Aleatico dell'Elba

Aleatico dell'Elba is a dark Passito wine from the island of Elba. Personally, I find it to be one of the most interesting Italian dessert wines. It is made from a variety of Tuscan Black Moscato grapes and is characterized by a full body and potent flavor. Aleatico is best paired with a local cake called schiaccia'briaca, which is prepared with some of the wine itself, as well as raisins, dry fruits and pine nuts.
Verona's Passito style: The regional speciality of Italian dessert wines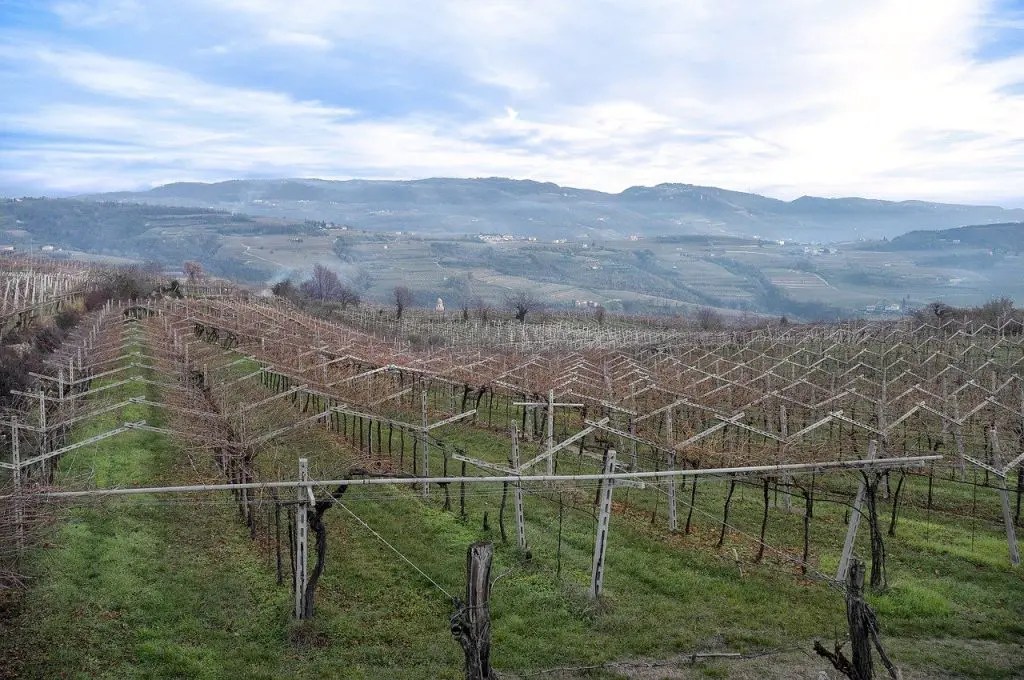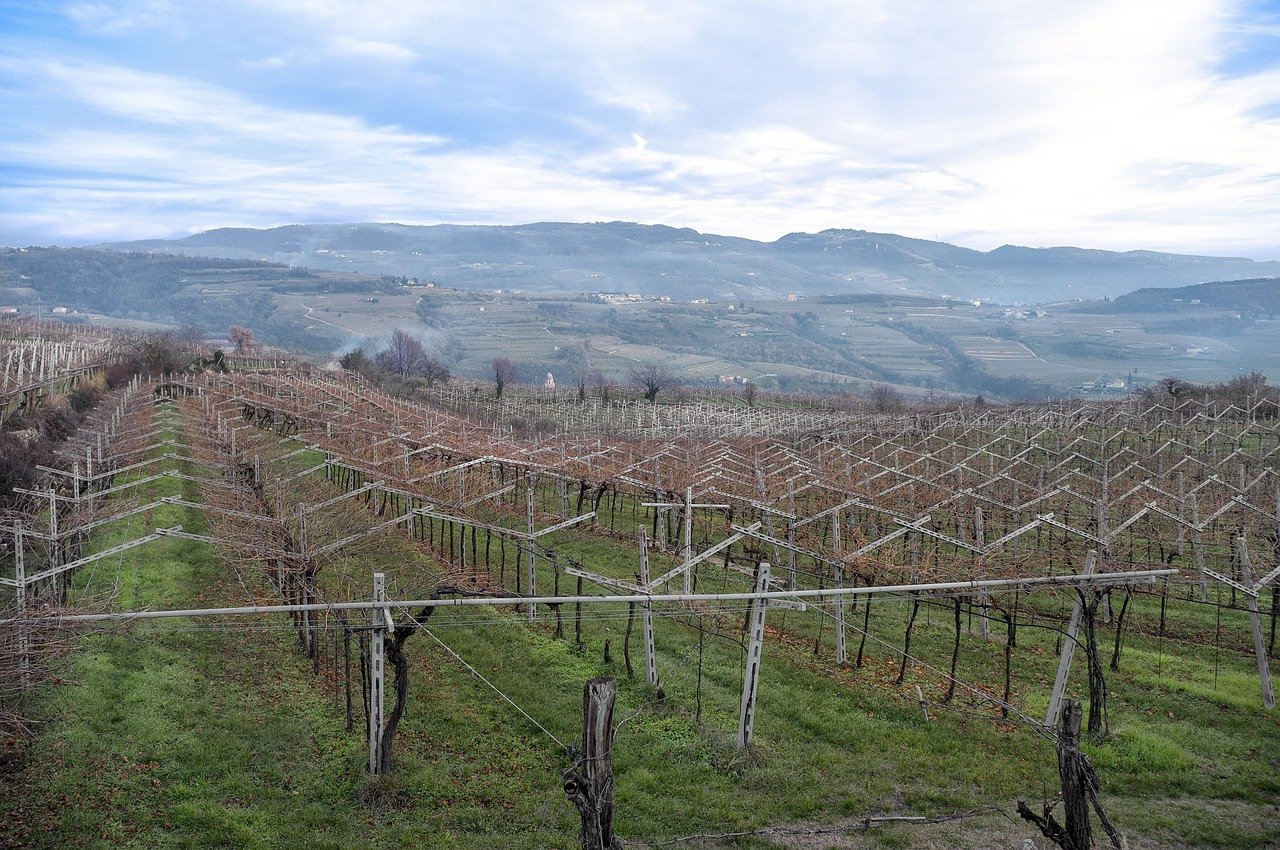 In the region of Verona, Passito has not one but two traditions, quite distinct from one another. Made from the same semi-dried red grapes, Amarone della Volpollicella and Recioto della Valpolicella are two distinct wines. Amarone is a drier wine and Recioto a sweeter variant. The difference comes from when you stop the fermentation process: stopping the fermentation early results in Recioto, a sweeter wine with higher levels of residual sugar. Amarone is the winter alternative to the summery Recioto. On paper, Amarone not classified as a dessert wine but a good alternative to it as it, too, features quite sweet notes. A third wine, Ripasso della Valpolicella, is made by adding Amarone to Recioto della Valpolicella. This is a sweet dessert wine with a higher alcohol content.
So what's so special about the Valpolicella region? It is one of Italy's top DOC's (Denominazione di Origine Controllata), located East of Lake Guarda in the Verona province and famous for its Corvina grapes. The area is characterized by a mild to cool continental climate, influenced by the proximity to the lake, the Alps, and the Adriatic Sea. The unique location of the Valpolicella vineyards gives the grapes direct sunlight and constant breeze – perfect for Passito production. This also allows the Passito wines to reach a higher alcohol level, up to 15%. The region is also known for other winemaking traditions, giving us light and fragrant table wines with moderate alcohol levels (approx. 11%).
1.

Recioto della Valpolicella

Recioto della Valpolicela is a sweet red Italian dessert wine with high levels of residual sugar, which is set to ferment dry. It is best paired with locally produced pastries and cherry desserts from the Veneto region. The wine can also be paired well with spicier savoury dishes.
2.

Ripasso della Valpolicella

Ripasso is a new style of wine, produced as the pomace of the grape skins and seeds from the Recito and Amarone fermentation is added to Valpollicella wine batch for a period of long maceration. The result is increased alcohol level and body of the wine, with more complexity and flavor. Ripasso wines are easy to pair with red meat, hearty risotto and pasta, as well as with aged cheese.
3.

Amarone della Valpolicella

Amarone della Valpolicella, or just Amarone, is a strong wine that serves as a great alternative to dessert wine in the winter. Included in the Italian DOCG list, Amarone is a rich red wine as its name suggests (ultra-bitter in Italian). It is made from Corvina grapes that have been partially dried, Rondinella grapes, and other red grape varieties in the Verona province. Amarone features an intense taste and richness with notes of coffee beans and milk chocolate. Its body is full, its acidity ismoderate and the alcohol level high (minimum 14% but easily significantly higher). This strong wine is often considered as a fortified wine despite rarely being combined with stronger liquor. Instead, it is the Passito method of vinification that increases the alcohol content. This also maintains the acidity-to-sweetness balance of the wine.

Today, Amarone is made using yeast strains that ferment the high sugar content in the wine into alcohol. The grapes that are used for the production of Amarone are the last grapes to be harvested in Valpolicella. The sugar concentration then increases. It can be increased even further by a desiccation process. This is when the grapes are kept in drying rooms for a period of up to four months. By the end of this period, the grapes contain less than 25% of the water at harvest, leading to a higher alcoholic content and sugar concentration.

After aging for several years in large wooden barrels, this gives us the dessert wine alternative for the winter months. With rich aroma notes and chocolate flavors, you'll be able to distinguish dried figs and raisins in this complex wine. For pairing Amarone, try roasted meats, Parmigiano cheese, and walnuts.
Sweet Red Wines from Italy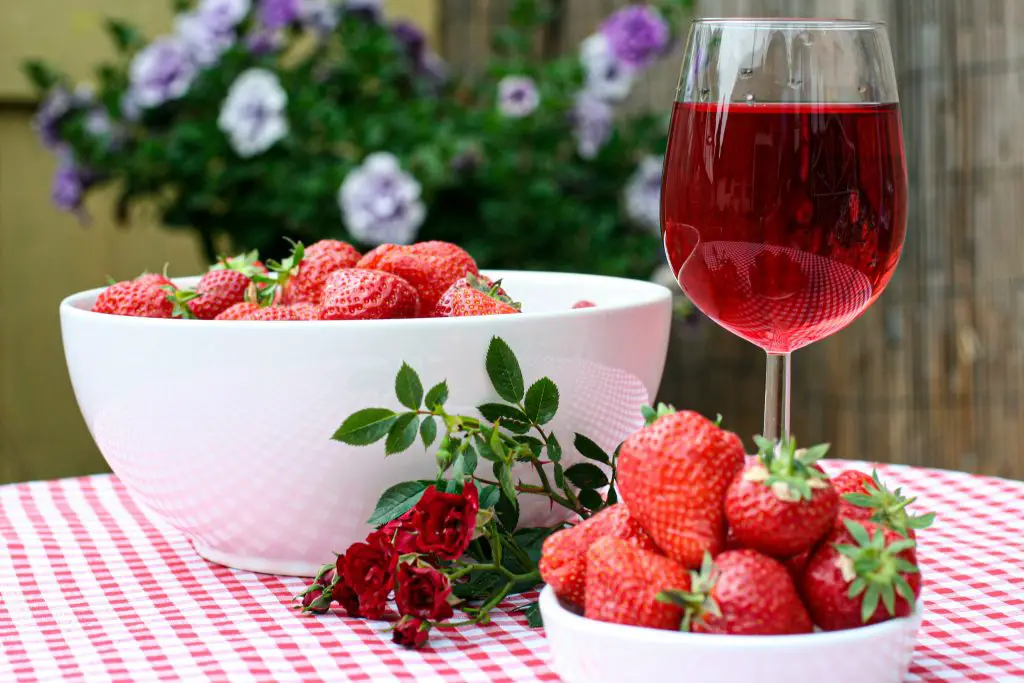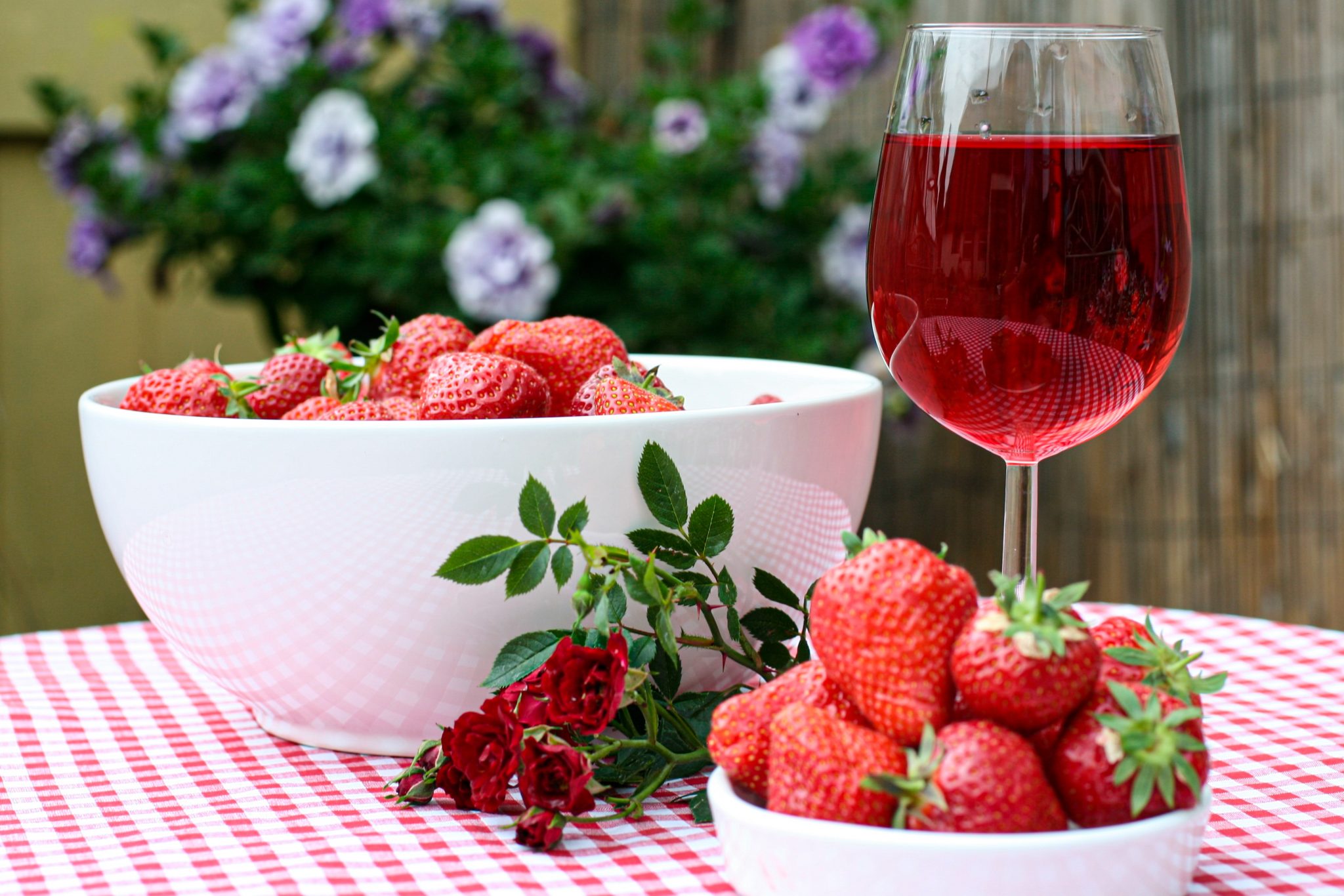 A sweet red wine or a sweet dessert wine? The choice is not always too obvious, and neither is the difference. As a rule, dessert wines tend to be more exclusive (and therefore expensive!). They are often produced with a careful harvesting, selection and vinification processes. Wine makers that produce dessert wines take immense pride in their particular production method. This makes Italian dessert wines all the more exclusive and unique. Sweet wines are on the other hand a less solidified category. Italian sweet wines can therefore vary in quality and production, sometimes even containing additional sugar. 
Both sweet and dessert wines are a great place to start for those who are new to the world of wine. You can read more about the difference between the two as well as their peculiarities in our guide to sweet wines. When looking at Italian wines, however, we're best off spending some time with both sweet and dessert wines. As long as it works as a dessert, it's worth considering. Opt for a sweet rather than a dessert wine if the delicious syrup texture of dessert wine is not for you. That said, here are my personal sweet red wine favorites from Italy: 
1.

Brachetto d'Acqui

Brachetto d'Acqui comes from the Piedmont region in the North of Italy. It is made from a red grape variety with an extensive aroma of red berries and some floral notes. This gives the wine a balanced acidity and sweetness with ultimate precision. If you're after something light and would prefer a sweet rather than a dessert wine, Brachetto d'Acqui is the perfect choice. Featuring a low alcohol percentage, it's a great wine for the mid-to-late summer. This sweet wine ideally paired with fruity desserts, summer salads, or a plate of French creamy and soft cheese served with late summer fruit jams. 

A fortified wine from Sicily, Marsala is often considered a dessert wine. However, depending on the method of production, Marsala wines range from dry to sweet. There are also some examples of Marsala that are not fortified and as such the styles, color and texture of the wines differ immensely. Traditionally a white fortified wine, you can also find some red varieties. These are made by combining red and white grapes local to the Sicilian terroir. Red Marsala wines are rarer and tend to be somewhat more expensive. But they are also more exquisite and best enjoyed in a small glass after a heavy dinner. 

If you're after a classic Marsala, on the other hand, your choice is a fortified white wine from Sicily. It's harvested very late and then combined with brandy, resulting in a sugar-sweet semi-strong liquor. Featuring an amber color and a heavy aroma, classic Marsala wines works greatly as an accompaniment to the classic Italian dessert cannoli or a pungent cheese from France. The alcohol percentage hovers around 17% and it's perfect both for cooking curries (the best reduction choice for making chicken masala!) and as an addition to heavier desserts such as tiramisu. 
3.

Trebbiano

Trebbiano is white grape variety that is widely planted in Italy. The grapes are used for the production of table wine, but more often for making brandies such as Cognac and Armagnac. The wine produced from Trebbiano grapes is fruity and fresh and should be drank young. It is best paired with light desserts. It has a thinner body compared to Chardonney and a bit sharp taste. Trebbiano wines to try include Trebbiano d'Abruzzo Trebbiano di Aprilia, Trebbiano di Romagna and Trebbiano di Capriano del Colle.
4.

Dolcetto

Dolcetto grapes grow on the hilly area of Monferrato in northwestern Italy. The wine produced from Dolcetto grapes are fruity and soft with a deep red color and intense aroma of walnuts. They have low acidity and are best to be enjoyed at three-four years of vintage. Dolcetto wines pair best with pasta and light home-cooked dishes.
Sweet white wines from Italy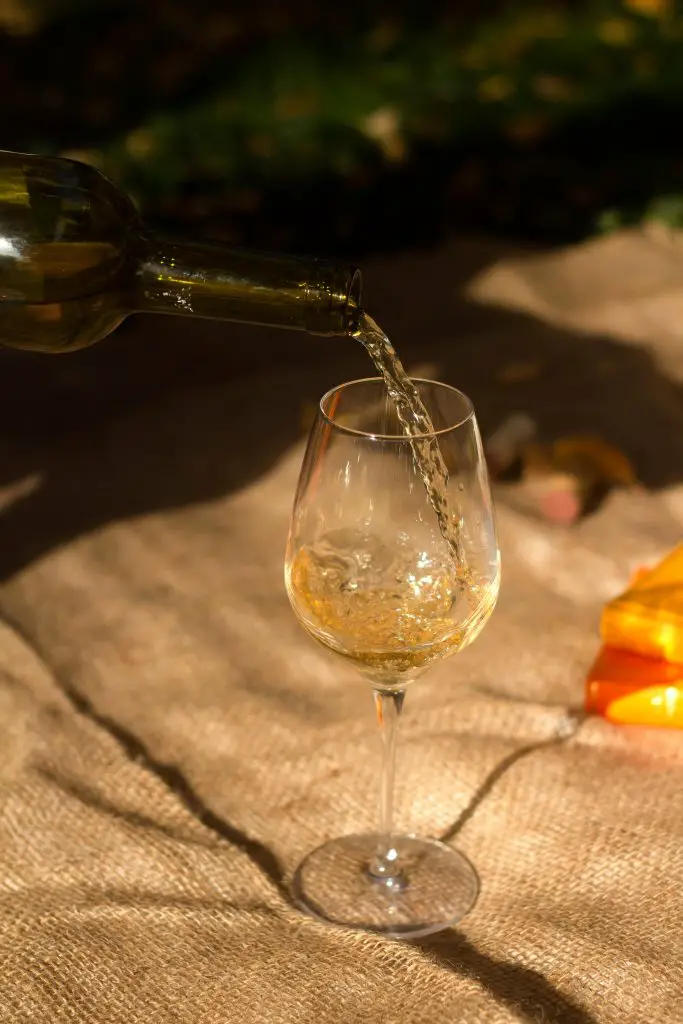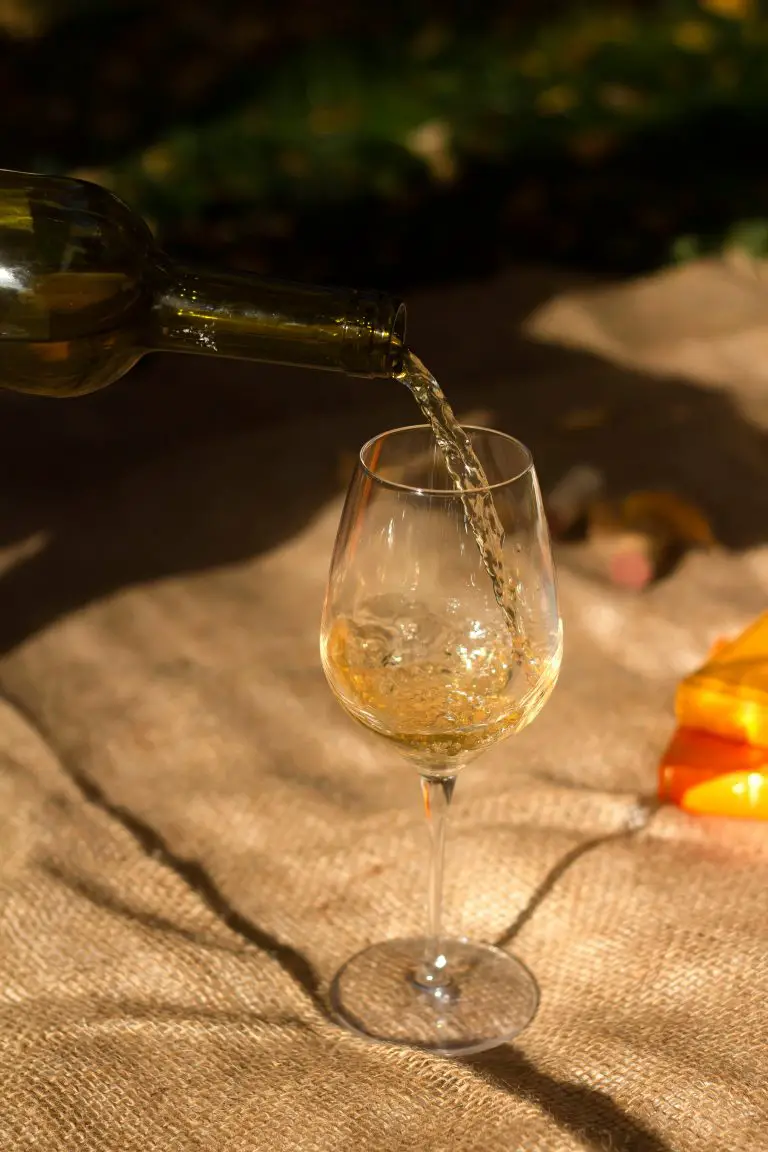 Interestingly, sweet Italian wines often vary in color, making this distinction of sweet/dessert and red/wine/rosé rather complicated. As we've seen with Marsala wine, traditionally white but sometimes – more exclusively – as red, several other wines in this list can be both white and red. Vin Santo, for example, can be made from at least three different grape varieties and feature a wide range of sweetness ratio.
1.

Vin Santo

Known as the "holy wine", Vin Santo has been produced in Italy since the very beginning of the Roman Empire. This Italian dessert wine has eleven(!) different DOCs in Tuscany, one in Chianti and at least two more in Marche and Trentino. As such, it varies greatly, and can be anything from red to white to rosé, although it is more often aged than not and made in the style of Passito.

The most common grape combination for Vin Santo is of Trebbiano and Malvasia, although sometimes Sangioevese is added too. In general, Vin Santo wines have a great balance of sweetness and acidity, and a golden color that's coupled with a rich aroma and a long, sweet taste. As the style varies greatly from producer to producer, look for the aging (the longer it's aged the more vanilla and chocolate or cherry notes you'll taste!) and the blend on the bottle of your choice. 

An absolute treat and my personal favorite is a Chianti Vin Santo from Fèlsina. A golden Vin Santo with an almost endless finish, it features a very subtle balance between acidity and sugar while firmly being a dessert wine without doubt. A long aged in oak barrels gives this wine coppery notes that are a great addition to the peachy and tropical fruit aromas. It's ideally served with Cantucci biscuits or pecorino cheeses and honey.
2.

Loazzolo

Loazzolo is a rather rare Italian dessert wine of a straw yellow color. It features violet and rose flavors, and an intense fruity aroma with hints of mint and melon. Loazzolo is particularly interesting for aspiring wine connoisseur as it is grown in the DOC region just South of where Moscato d'Asti is produced. As such, it features some of the qualities of Moscato and is the perfect choice for those who'd prefer something sweeter and fruiter than the northern Moscato. 

READ MORE: Find out all about the difference between Moscato and Riesling in our guide.

Technically a Passito wine, Loazzalo is not classified as Passito: the grapes are semi-dried in the end of the harvest while still growing. This is thanks to the presence of a fungus, botrytis, which pricks the grapes allowing for a higher concentration of sugar. Enjoy a small glass after dinner with a creamy dessert – try it with a frozen cheesecake for your next celebration.

The finest wines from the Piedmonte region are Forteto della Luia Piasa Rischei Loazzolo, Borgo Maragliano Loazzolo Vendemmia Tardiva, and Izolabella della Croce Solio di Valdiserre Moscato Vendemmia Tardiva Loazzolo (my personal favorite!).
3.

Recioto di Soave

Finally, one of my absolute favorite Italian dessert wines, Recioto di Soave. Made from dried Garganega grapes (thereof the name recioto), it has a golden yellow color, a full body, and notes of ripe summer fruits and honey. As a full-bodied dessert wine, you're best off saving this for the end of a dinner paired with heavy reds, rather than for the summer months. Pair it with sharp cheeses and heavy desserts, and you'll find the perfect ending to a roast dinner.
Sparkling and Spumante sweet wines from Italy: Moscato d'Asti and Prosecco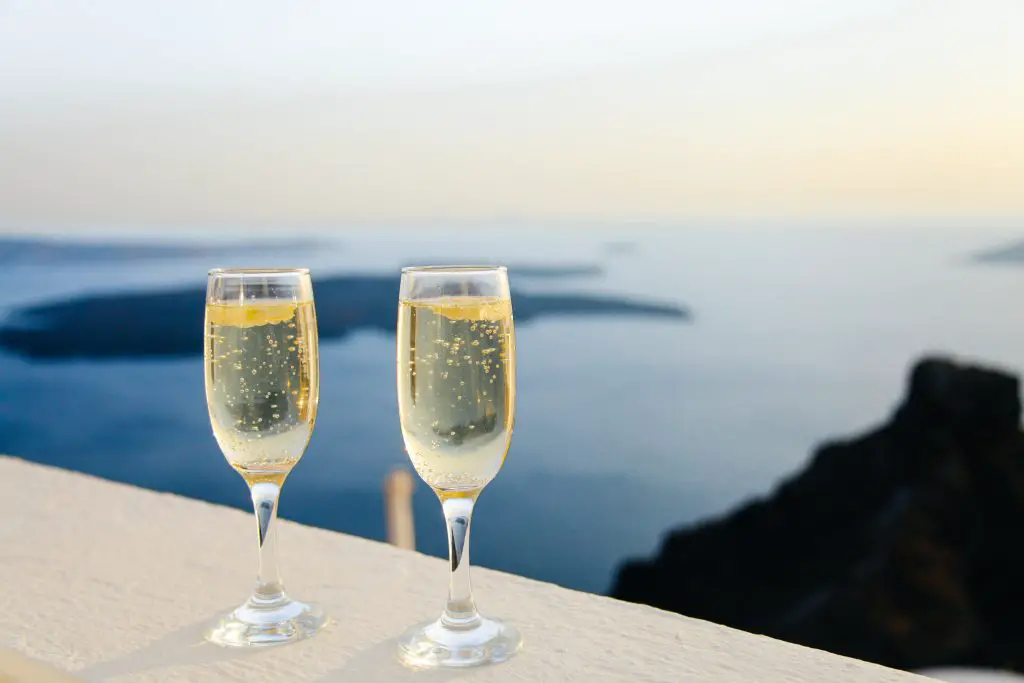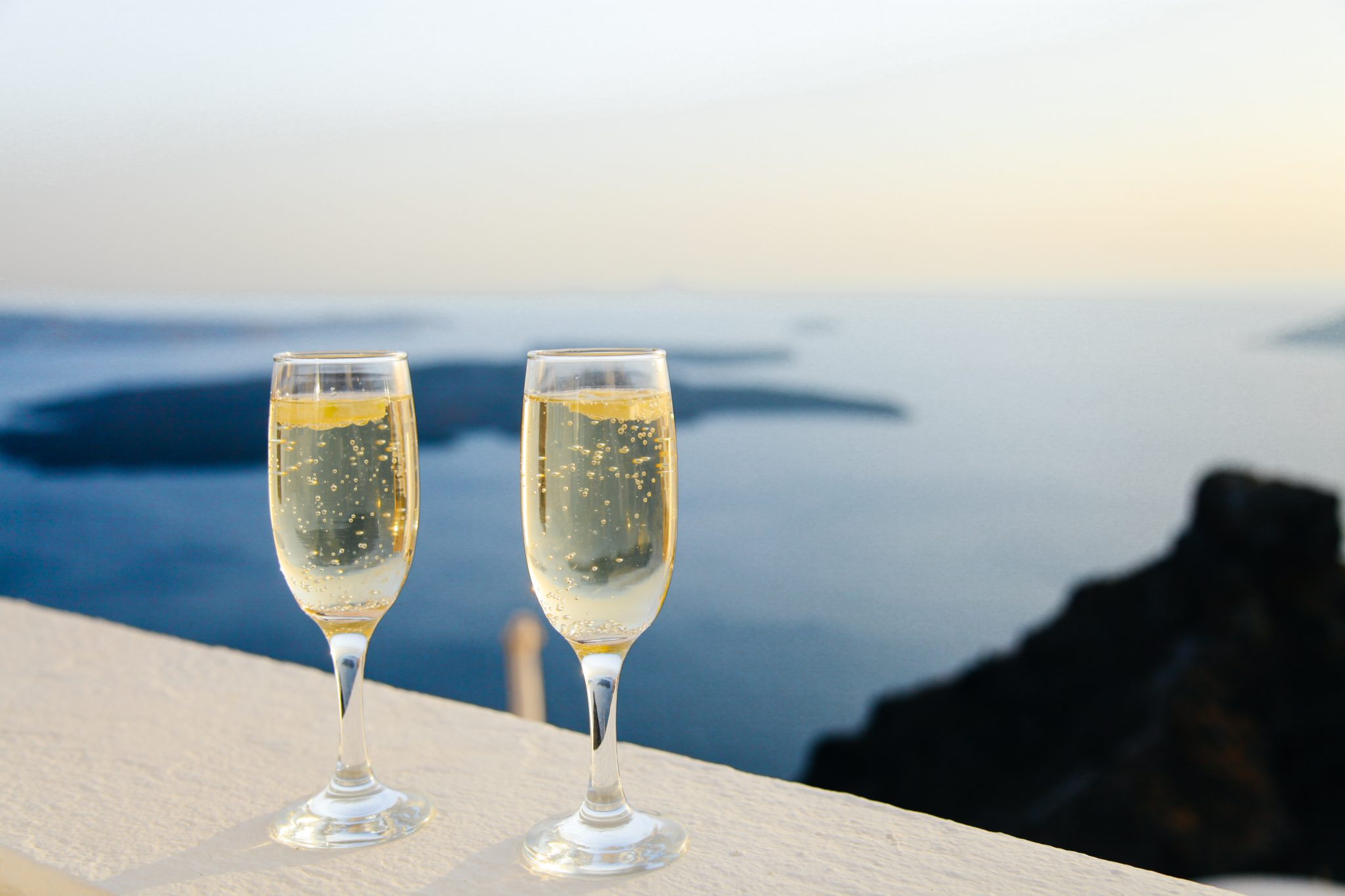 While Moscato d'Asti and Prosecco are quite sweet, the high acidity and the carbonation in the sparkling wines make them taste less sweet than they actually are. These wines are not Italian dessert wines by definition, but are often enjoyed at the end of a meal – or when you're just after something sweet for an afternoon on a terrace.
Moscato d'Asti is a semi-sparkling dessert wine, made of Moscato Bianco grapes that grow in the cooler North Italian climate. The wine has notes of tropical fruits and is best paired with fruity desserts such as citrus tarts, panna cotta, Crème Brule and cheesecake. It also pairs well with roasted chicken and with light salads, fish fillet or mature burrata.
2.

Lambrusco

Often called the best red sparkling wine, Lambrusco comes from the region of Emilio-Romagna and is a light wine with a low alcohol content. It is characterized by its deep color and herby aromas. You're best off pairing Labrusco with prosciutto and desserts with black fruits, or to enjoy it on its own on a hot summer's day.
3.

Prosecco

Prosecco is probably the most famous sparkling wine from Italy. Half-dry or medium-sweet, it comes from the Prosecco grape in the Veneto region. While you can choose how sparkling a Prosecco you'd like, from sparkling to semi-sparkling, the wine has a low alcohol content (approx. 11%) and is the perfect choice for any celebration. 

Often compared to Champagne, Prosecco is lighter and more aromatic, and gives hints of apricot and peach on the palate. Serve as is on its own or with gelato, bring it to a party, or use it in a cocktail of Bellini or Mimosa. 
Italian dessert wines from Tuscany and the Tuscan islands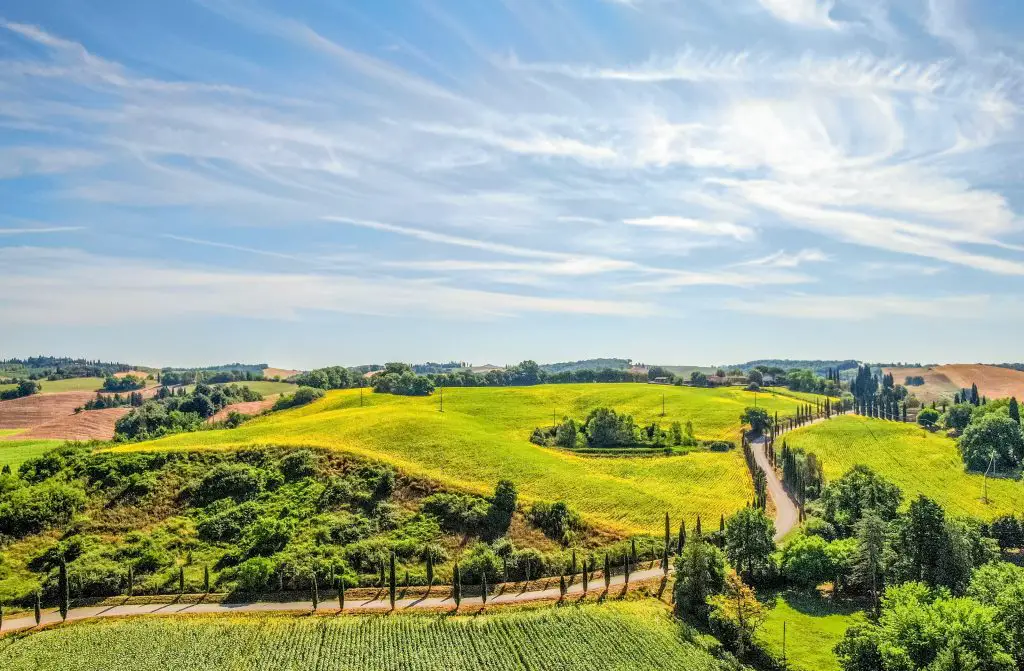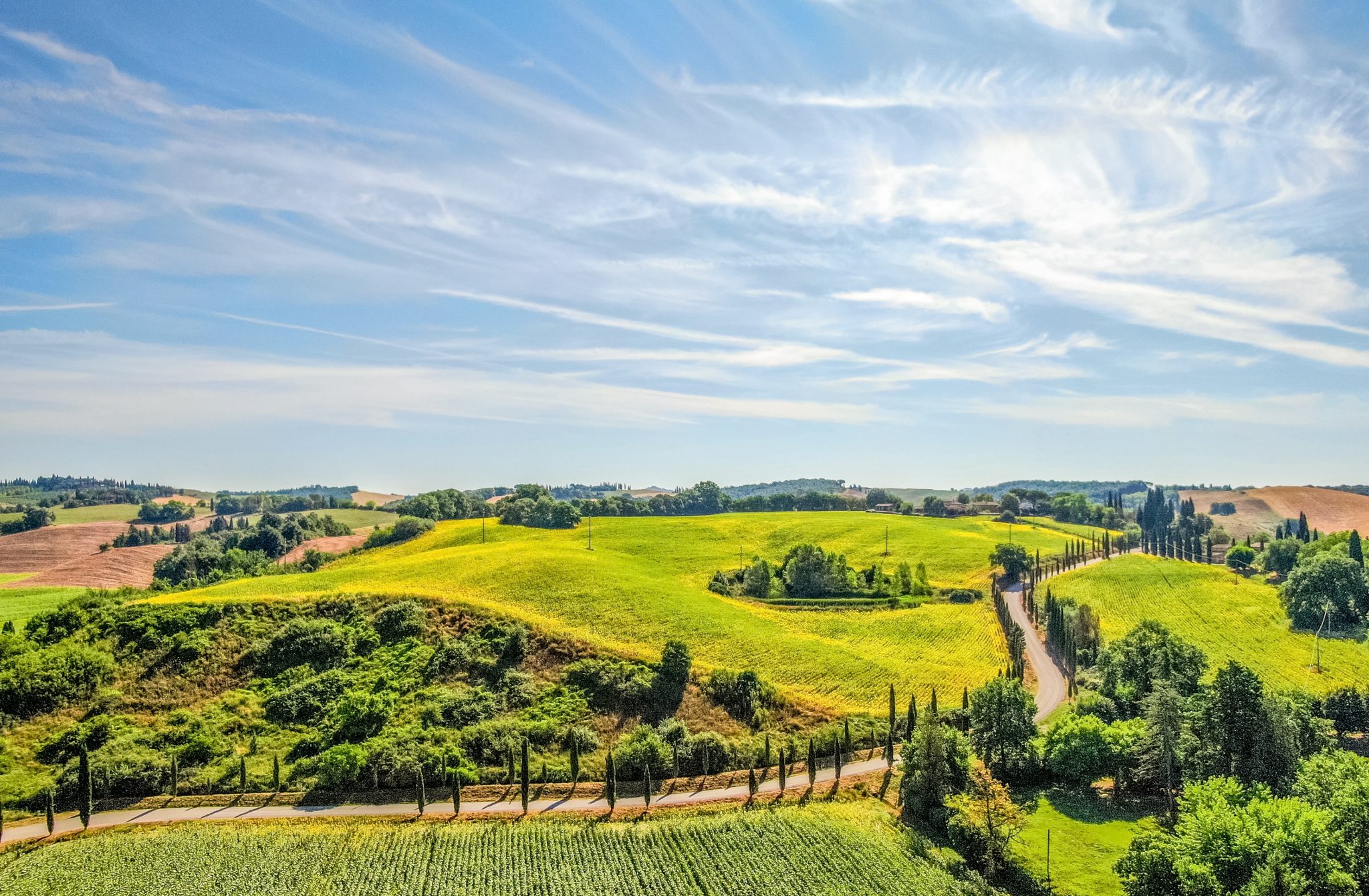 There are a few Italian dessert wines from Tuscany that simply should not be missed and deserve their own section. We've covered Passito di Pantellaria already, but there are some other Tuscan varieties that deserve further attention. The region is, after all, one of the most unique and fertile regions of Italy. The region is well-known not only for its wine although Chianti from Tuscany has gained world-wide fame – but also for its white truffles and high-quality pork (Chianina).  
1.

Vin Santo di Montepulciano

A Vin Santo wine from Tuscany, Vin Santo di Montepulciano has a dark yellow color and features notes of vanilla, caramel, almonds and fresh fruits. It goes perfectly well with Cantucci biscuits, cheese and dried fruits. A great option comes from the wine cellar of Borgo Tre Rose. Borgo combines three white vine varieties – Trebbiano, Malvasia and Grechetto – aged in barrels for three or more years. 
2.

Moscadello di Montalcino

Moscadello di Montalcino is a lightly sparkling dessert wine similar to Moscato d'Asti. It's sweeter than its Asti cousin, although not quite as sweet as Loazzolo. Easily recognizable by its straw yellow color, Moscadello has been produced since the 17th century. It is light and pleasant to drink on its own or paired with Siena almond biscuits. It features a honey arome and fruity notes, and is very well-balanced. Its production varies, so if you're after something on the sweeter end, look for a still Passito version.
3.

Ansonica del Giglio

Ansonica del Giglio is made on the Giglio island. It comes both as a sweet Passito wine and a drier version. With a light yellow to golden color, Ansonica del Giglio is made from Biancone, Procanico, Moscadello and Malvasia grape varieties. With a delicate mineral taste, the sweeter version features high alcohol levels and a fruity aroma. This wine is best enjoyed with the sweet Easter bread Sportella Riese. It also pairs well with light meals such as shellfish, fish, and chicken-based dishes, as well as with vegetable soups. The perfect sweet lunch pairing!
An Italian dessert wine from Cinque Terre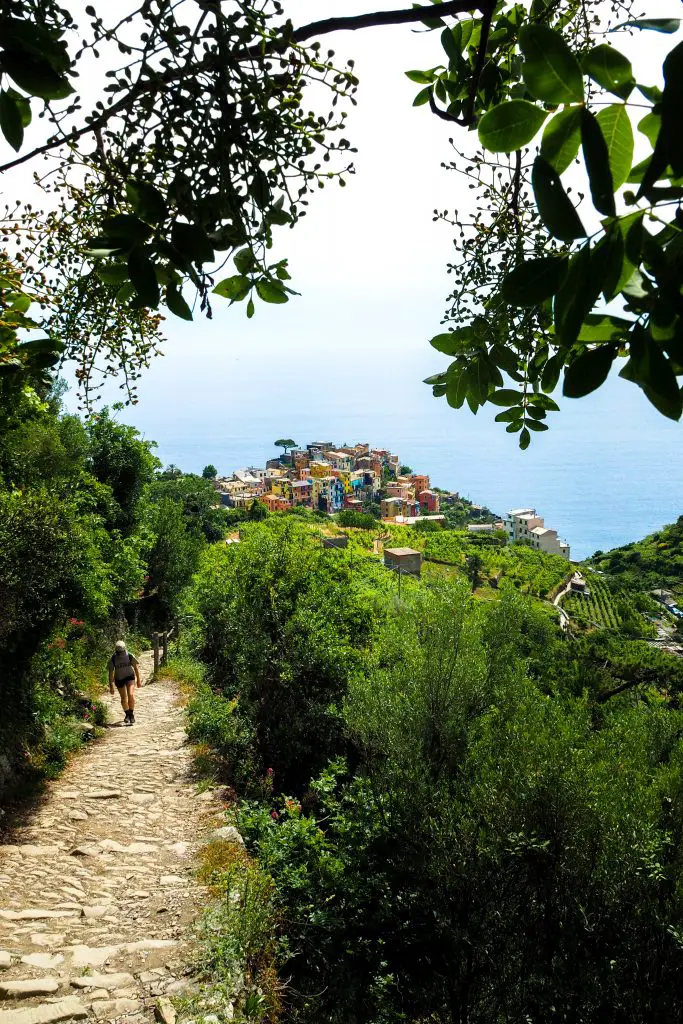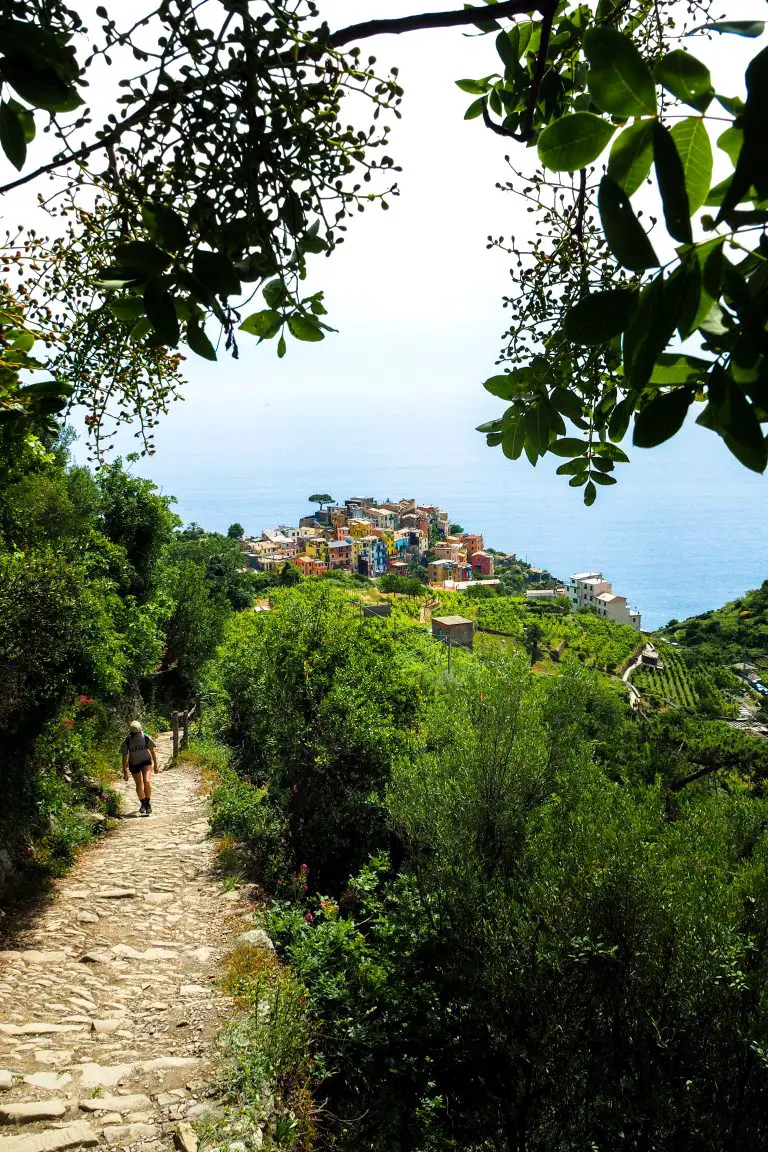 1.

Sciacchetrà

The most delicious and popular Italian dessert wine from the steep Mediterranean cliffs of Cinque Terre is Sciacchetrà. A honey-colored dessert wine with a delicate taste, Sciacchetrà is made out of Bosco grapes combined with Vermentino and Albarola. This wine is characterized by light and fruity notes and is produced with the Passito method. The grapes are dried in the sea breeze for 40 days, pressed and finally stored in the old stone caves in the cliffs. Thanks to its honey, herbs, hazelnut, and apricot flavors, Sciacchetrà pairs best with heavy pastry desserts. It can also be paired with Panettone and the classic pandolce genovese.

The vinification method is rather complicated and the yield is low: from 45 pounds of fresh grapes you get no more than 15 pounds of dried grapes, resulting in just one bottle of this special wine. Wine makers that produce Sciacchetra have spent a long time perfecting the production, giving us expensive and exquisite bottles that work perfectly as gifts. Make sure to say that it's a bottle to keep as it improves with age – 10-25 years later you'll have a most delicate and full taste of one of Italy's most incredible wines.
Italian dessert wines from Umbria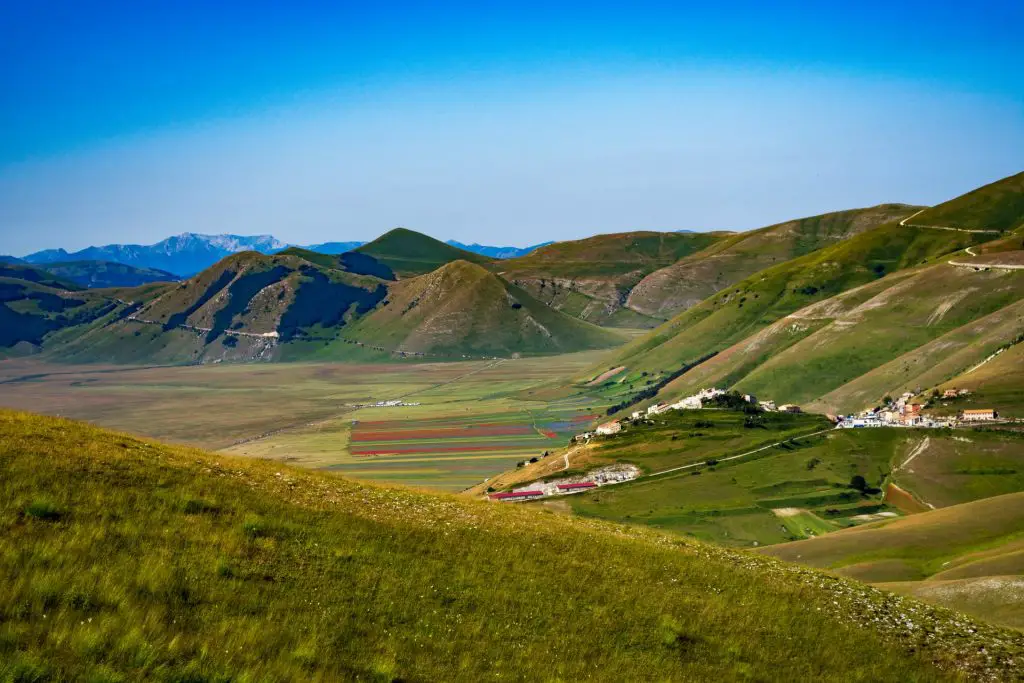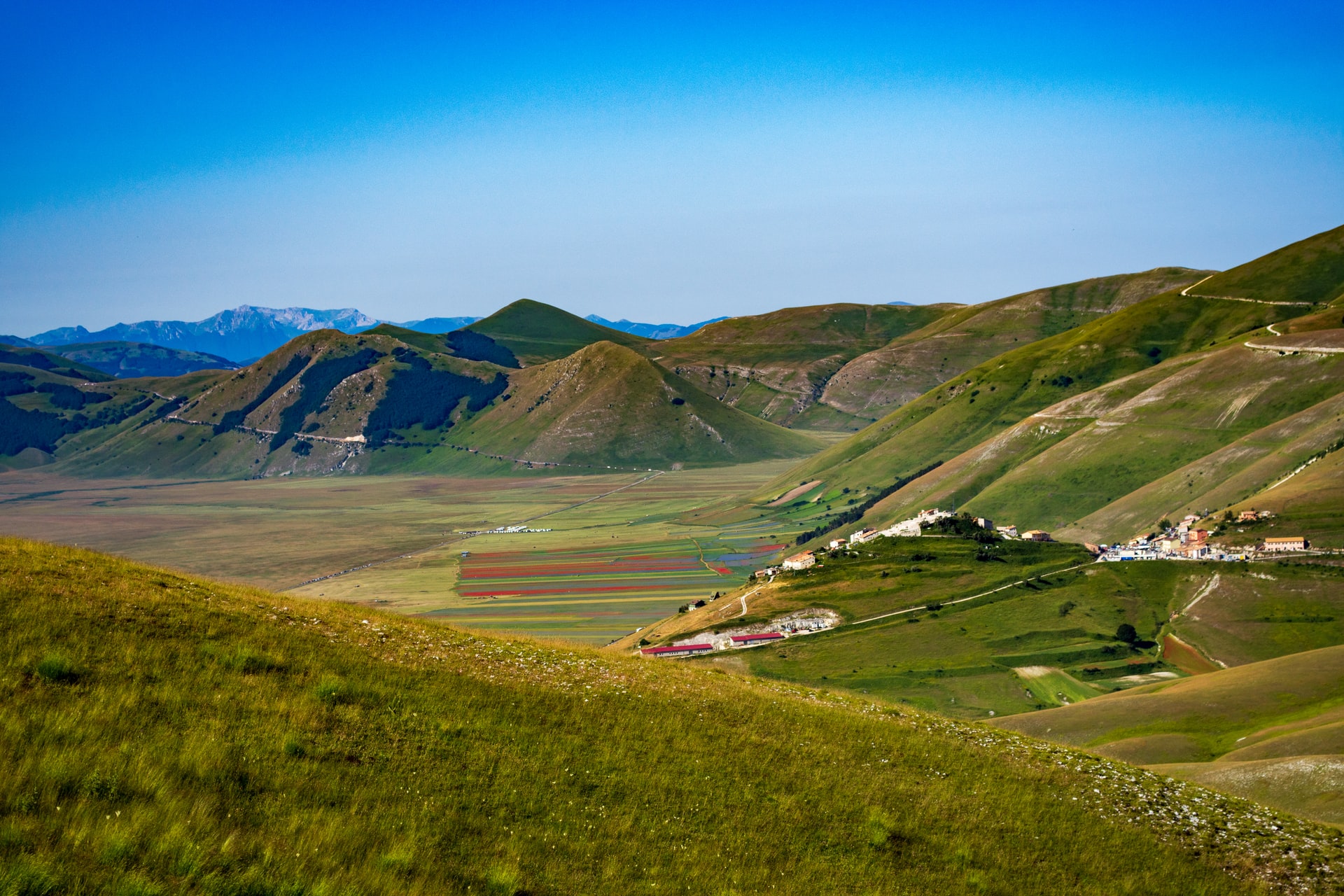 The dessert wines that come from the Italian region of Umbria are in a class of their own. The Umbrian wine makers make the most of the warm climate and the hilly region. The grapes are often left to dry either on straw under the generous sun rays or in the dark to reach different levels of sweetness and flavors. As such, sweet Umbrian wines are often made with a Passito style. The most popular are Sagrantino di Montefalco and Vin Santo from Trasimeno. Both go well when served with some biscotti after a hearty dinner.
1.

Sagrantino di Montefalco

Sagrantino di Montefalco is a made from Sagrantino grapes around the Province of Perugia in Umbria. It has DOC status since 1979 as part of Montefalco DOC wines and then gained DODG status in 1992. There are two popular DOCG wines: the dry red Montefalco Sagrantino Secco wine which ages in oak barrels and improves with time, and the dessert red wine Montefalco Sagrantino Passito. 
2.

Vin Santo di Trasimeno

Vin Santo di Trasimeno is another pleasant sweet wine from the region of Umbria. It has an intense scent with notes of dry fruits and honey. The wine is full-bodied, with a warm copper color and is best paired with cheese and desserts.
Pairing Italian Dessert Wines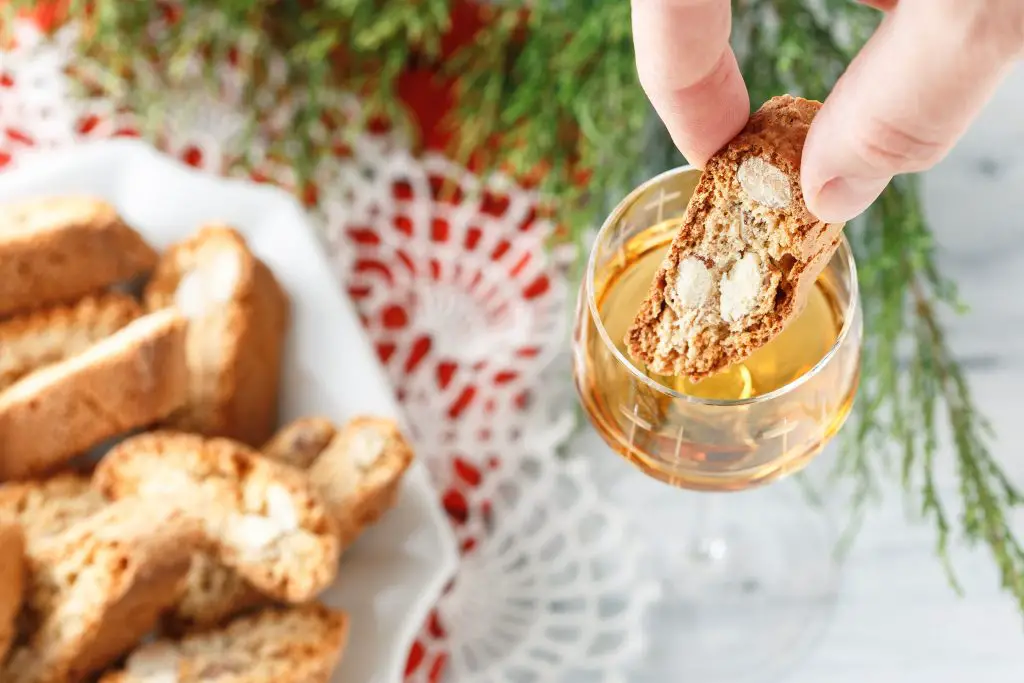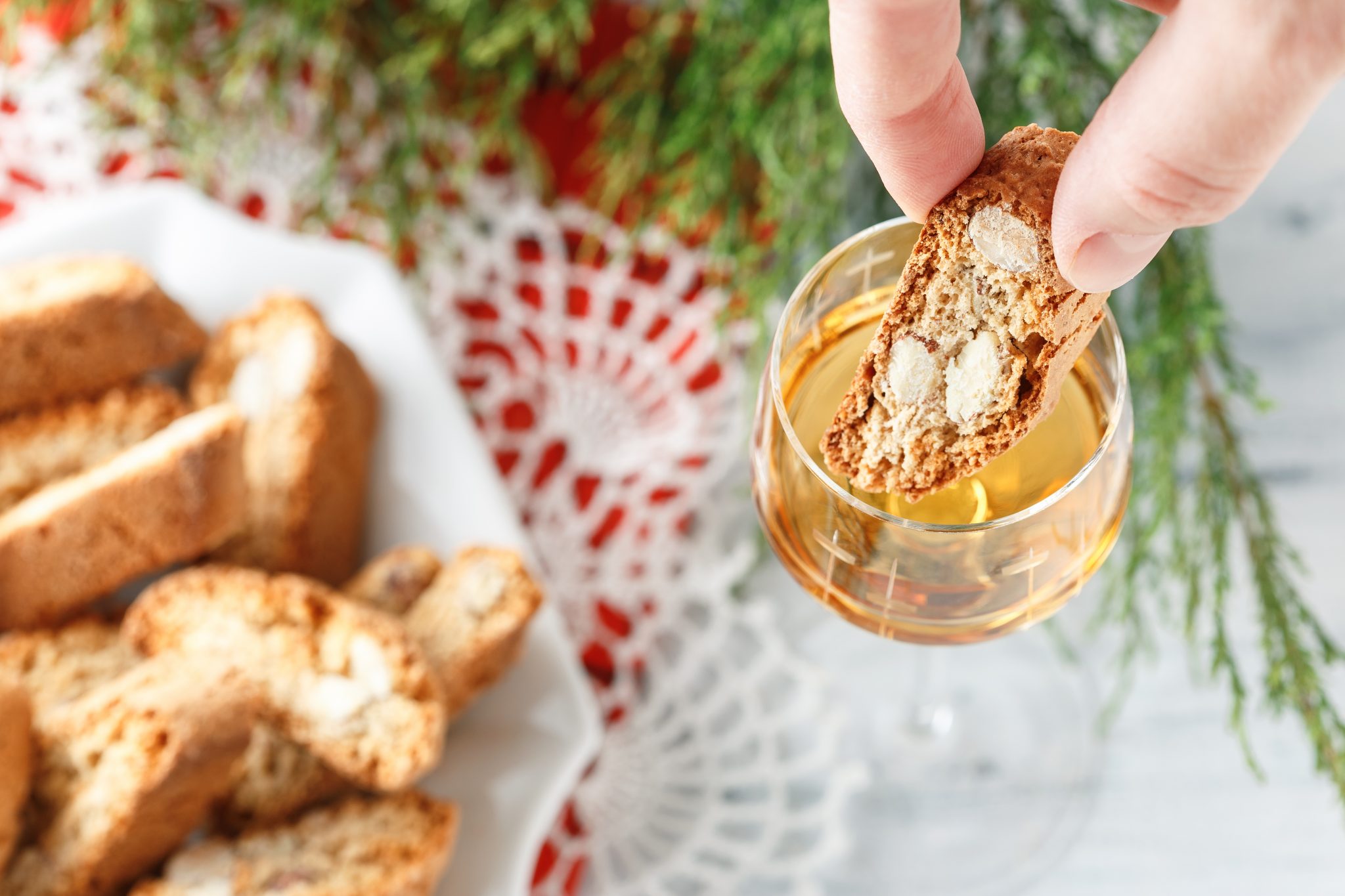 There are many possible pairings of Italian dessert wines. A rule of thumb, however, is to either pair dessert wines with desserts, on their own or with spicy dishes. The heavy palettes of Italian dessert wines make them perfect with heavier dishes or cheeses, but are rarely a good option for chocolate cakes. Try pairings with ripe fruits, pies and fruit tarts, pannacotta and pastries, or cheesecakes and ricotta puddings. You'll also make a good option when pairing creamy desserts such as crème brûle and tiramisu, or with strong aged cheeses like stilton and gorgonzola.
The sweet Italian wines are best to be served at a temperature between 10-18° in small glasses with a long narrow shape. It is always advisable to allow the wine to breathe before served, opening the bottle several hours before is a good start to allow its flavours to develop.
Italian Dessert Wine with Tiramisu
Tiramisu is among the best-known and loved Italian desserts. Its intense and creamy nature and its ingredients require careful wine pairing. The best choice are sweet sparkling wines with a higher alcohol percentage that usually pair well with chocolate. Good examples are the red Sangue di Guida wine from Oltero Pavese, the Puglian Primitivo Passito, the Sagrantino Passito from Umbria or the Sicilian Nero d'Avola Passito wine. Another good pairing is Marsala wine. For other pairings with this delicious dessert, check out our complete guide to pairing tiramisu.
Italian Dessert Wine with Biscotti
The finest Italian dessert pairing with biscotti are Tuscan versions of Vin Santo. Its intense and well-balanced flavors of sweet caramel and hazelnuts makes it the perfect companion to biscotti. Vin Santo and biscotti is, moreover, often served for a welcoming drink and snack. This combination even has its own name, Cantucci e Vin Santo. 
Other Italian Dessert Wines: A list
Malvasia di Casorzo
Sangue di Giuda  
Passito Ramandolo
Verduzzo
Picolit
Verdicchio dei Castelli di Jesi
Montefalco Sagrantino Passito 
Phileno Passito
Moscato di Siracusa
Malvasia delle Lipari