Reading time:
14
mins
Famous for a sweet flavor of orange blossom, nectarine and peaches, Moscato wines have been gaining popularity in recent years. What was once considered a cheaper alternative, is today the perfect match for wine lovers looking for lighter-bodied, sweeter wines with a slight fizz and delicate floral notes.
What Characterizes Moscato Wine?
The Moscato grape is one of our most ancient grape varieties. Today, there are dozens of different varieties of Moscato wines and grapes. That's why it's quite hard to give a general characteristic of 'Moscato'. That said, Moscato wines tend to feature a light fizz and a delicate sweetness. The natural sweetness of the grape combined with a wine production that includes stopping the fermentation process early, gives us wines with a significant content of residual sugar. Therefore, Moscato wines are very popular as dessert wines.
Moscato wines pair amazingly with food, tend to have a low alcohol content, a light palate and come at a reasonable price. You can also distinguish Moscato wines by their aroma – floral, spice, and honey.
The grapes range in color from green to dark red, and many Moscatos are various blends of different Moscato grapes. The oldest and most popular grape of the Moscato family is Moscato Bianco. This grape is, however, one of dozens of Moscato varieties. Where its grown, too, affects the taste. Most Muscat wines come from Alsace in France, Piedmonte in Italy, the United States or Australia, but Portugal and Germany are also big on these wines.
Moscato Wine Highlights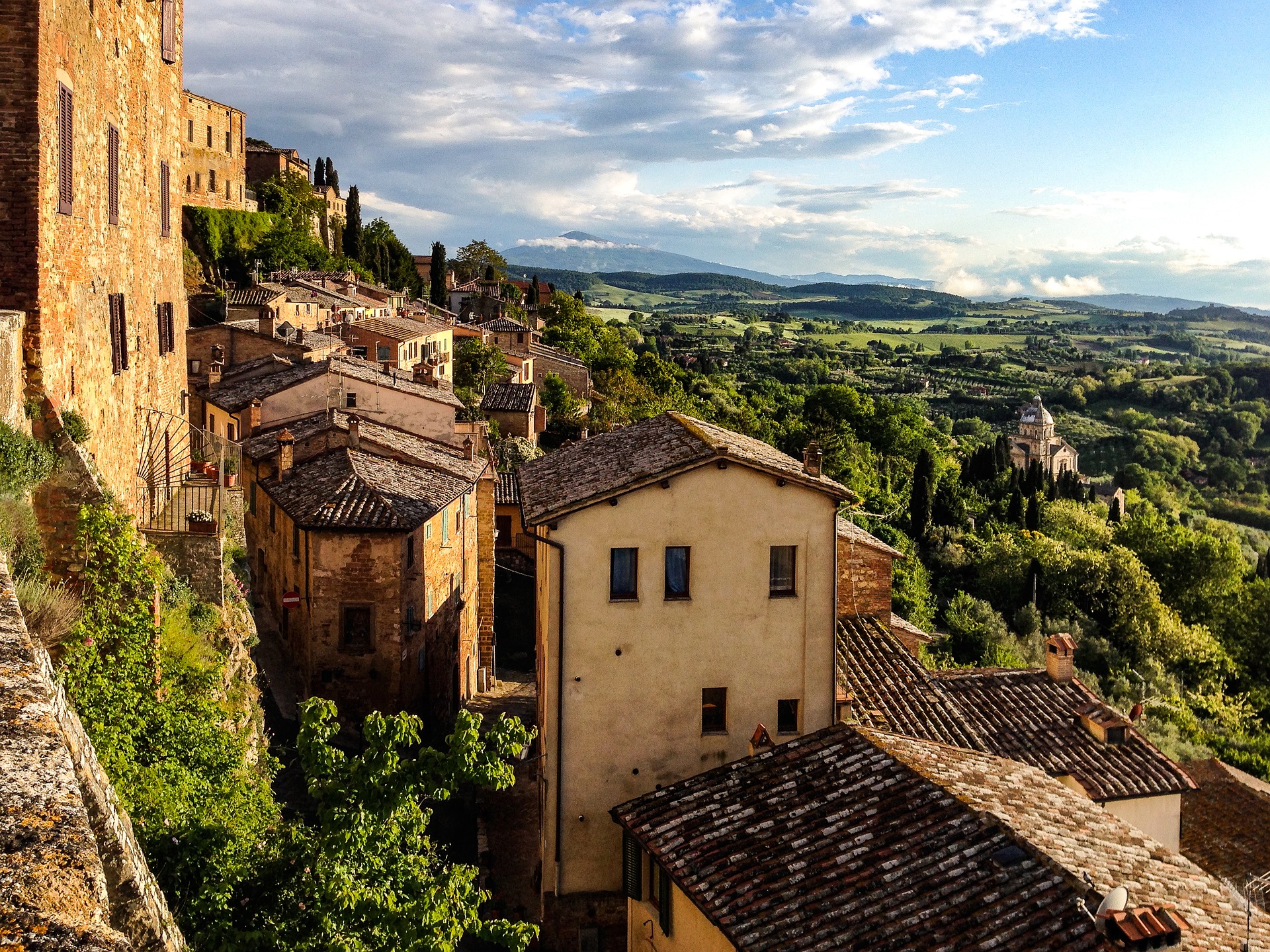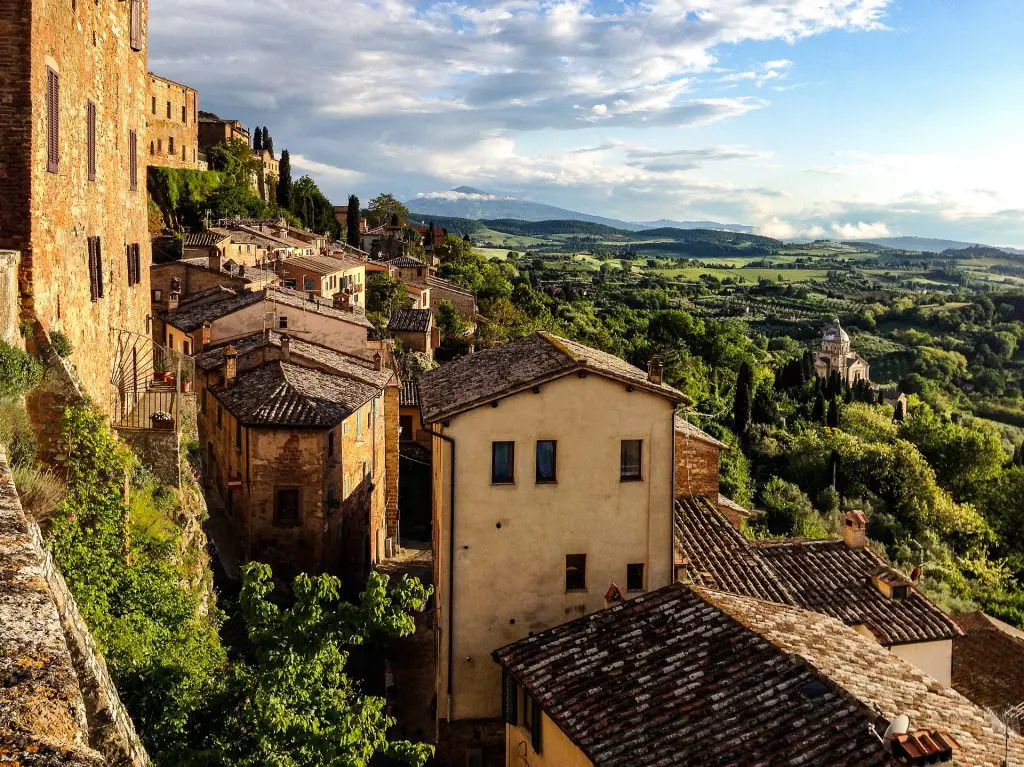 My favorite Moscato wine comes from Montepulciano. Here, winemakers age red Moscato wines that boast a deep red color, medium to full body, and notes of fruit, chocolate and vanilla.
Moscato d'Asti is, on the other hand, the most popular Moscato wine. This queen of Muscat is a semi-sparkling white wine with an earthy aroma. It's a DOCG (regulated) wine from Piemonte in northern Italy. The sweet, sophisticated flavor and low alcohol level of Moscato d'Asti makes it a perfectly balanced dessert wine. 
Another Moscato wine that stands out is Moscato Rosa. Perhaps the sweetest one of them all, it is a very light wine with a strong flowery aroma and raspberry and strawberry notes. Its characteristics vary from region to region, but it tends to be a still or lightly-sparkling sweeter wine with low alcohol content.
Technical information
| | |
| --- | --- |
| Sweetness | medium sweet to very sweet |
| Acidity | low to medium |
| Alcohol | low: 5-10% ABV |
| Fruit | ripe peaches, orange and citrus fruit, tropical fruit |
| Aroma | lush fruitiness and pleasant, lingering finish |
| Residual sugar | 70–130 g/L depending on the vintage character |
The History of Moscato Wine
There are many theories about where the Moscato grape originates. According to some sources, the Muscat grapes date as far back as the Persians and ancient Egyptians! That's in the period of early antiquity, between 3000 and 1000 BC. There's even a legend about Cleopatra drinking Muscat wine, and writers as Columella describing Muscat grape varieties as sweet and with musky aroma – apparently, attractive to bees.
Other scientists think differently, however. The father of ampelography Pierre Galet believed that the Muscat varieties family was cultivated during classic antiquity. According to this theory, it was the Greeks and Romans who first grew Moscato in 800 BC-600 AD.
The first official mentioning of the Muscat grape was in the Latin works of the English scholar Bartholomeus Anglicus, somewhere in the 1230s. Curiously, this book describes the Muscat wine as wine extract from muscat raisins. In other words, a popular production method for late harvest dessert wine.
The Story of the Name 'Moscato'
The stories about where Muscat got its name are as numerous as the theories behind its origins. Most wine connoisseurs believe that the name comes from the Persian word muchk, similar to the Greek word moskos / Latin muscus. Today, the Italian version of the word – mosca (fly) – is associated with the fruit flies that circle the grape. Some go even further, associating Muscat grape with the city of Muscat on the Gulf of Oman or with the Greek city of Moschato, southwest of Athens.
Most Popular Moscato Grapes


1.

Muscat Blanc

Muscat Blanc, also known as Muscat Blanc à Petits Grains or Moscato Bianco, is a white grape variety. It's the Moscato grape that winemakers grow the most, and the one used to make Moscato d'Asti as well as many Moscato whites and blends. The grape variety originated in Greece, but is now grown all over the world: in Italy, France, the US, Austria, Germany and Australia.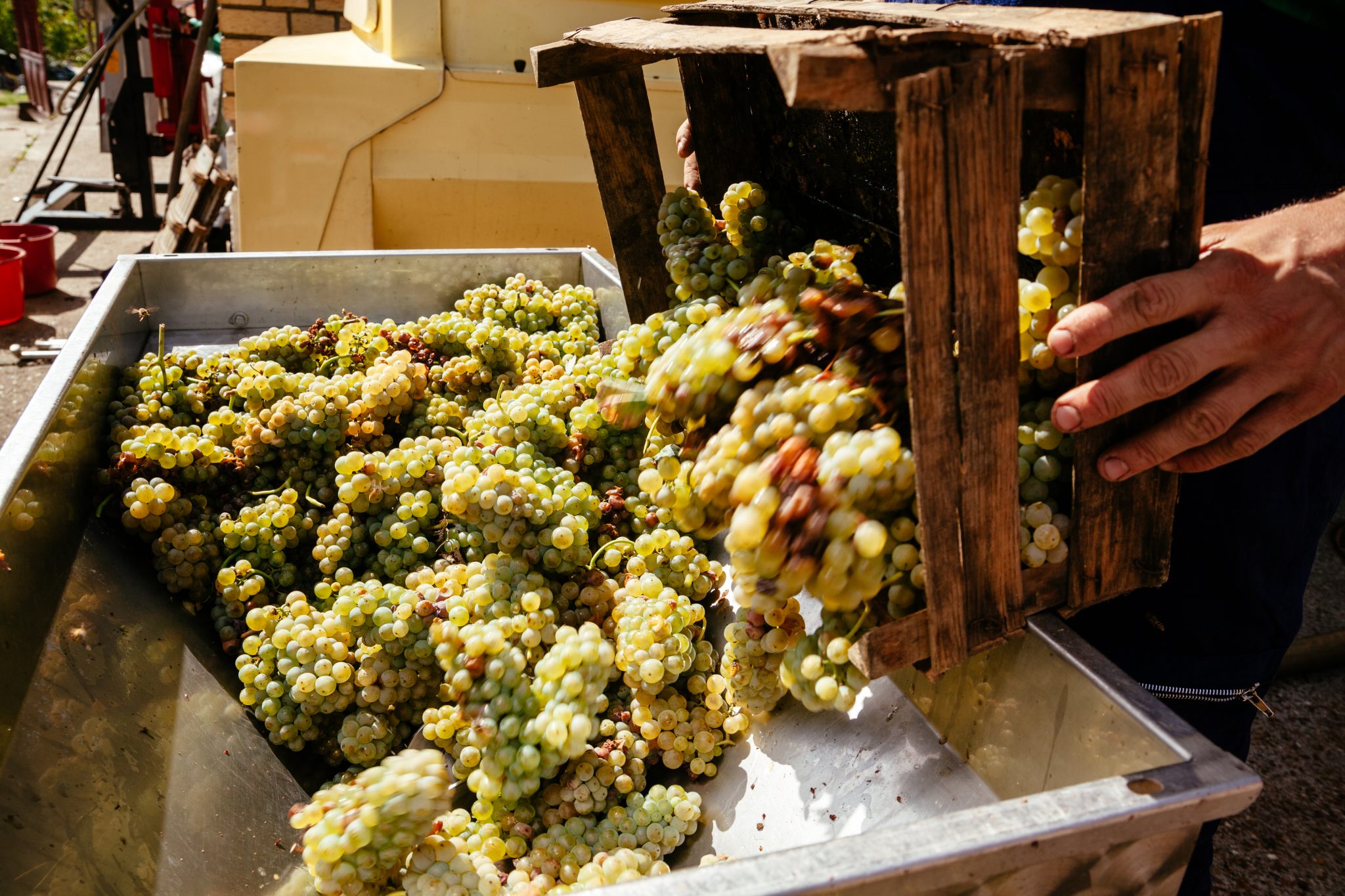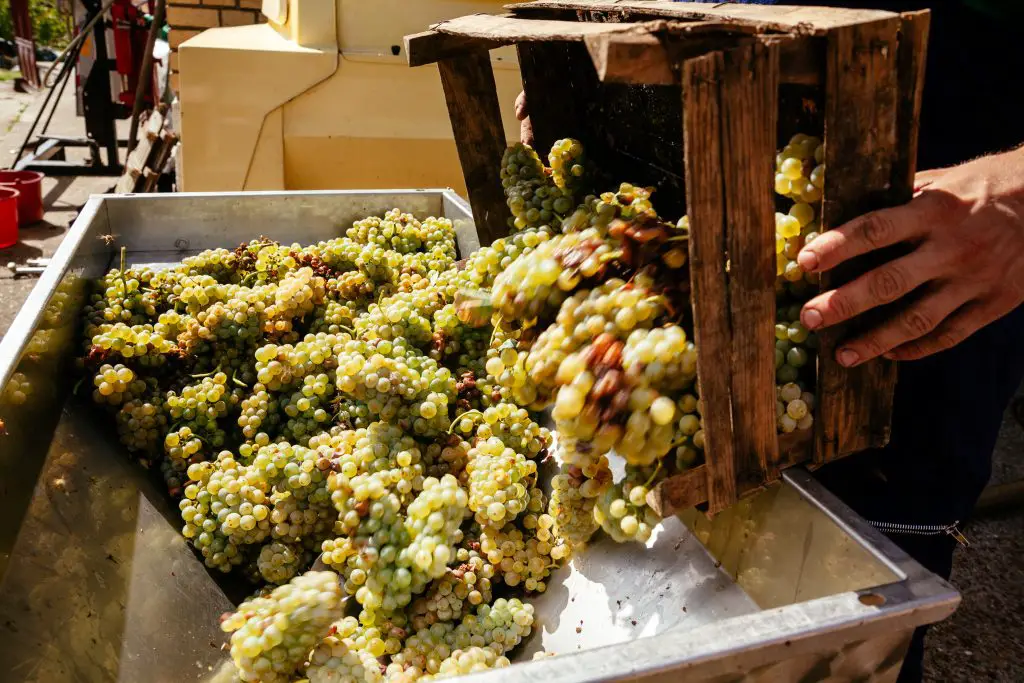 2.

Muscat of Alexandria

Muscat of Alexandria is a white wine grape, just as Muscat Blanc. As you may guess from its name, Alexandria, the Ancient Egyptians were the first to grow this wine. As legend has it, even Cleopatra drank Muscat wine made from this grape!

The last time Muscat of Alexandria was modified seems to have been in 2000 BC. This makes it one of our most ancient grapes, even in Moscato terms. The grape grows best in very warm climates, and is now grown only where its very hot. You'll find Muscat of Alexandria vineyards in Lemnos, Greece, in Calabria and Sicily in Italy – where it is known as Zibibbo – and on the South coast of Spain. Some vineyards also grow it on the Canary Islands, in Australia and in South Africa.
3.

Orange Muscat

Orange Muscat has several names: Fleur d'Orange(r) in France, Moscato Fior d'Arancio in Italy. Both names refer to the orange blossom of the vines rather than the color of the grapes. Sometimes, you'll find the grape in France and in Veneto, in northern Italy. However, it's most common in Oregon and California in the United States. The American vineyards growing Orange Muscat cultivate older vines imported from France.

Orange Muscat comes from a successful crossing of Muscat Blanc and Chasselas. While it can be made into a sweet wine, Orange Muscat can also be a dry table wine. However, regardless of the sweetness level, this wine has a strong aroma of – you guessed it – oranges.
4.

Moscato Giallo

Moscato Giallo, Yellow Muscat, is the Italian version of Muscat Blanc. The two grapes are not the same, however, although the characteristics are very similar. The deep-yellow Giallo grape grows in the north of Italy as well as in Croatia, where it's called Muškat žuti. It works best for very sweet passito dessert wines, that you can read more about in our guide to Italian dessert wines.
5.

Muscat Hamburg

Muscat Hamburg, also known as Black Muscat, is the darkest grape in the Moscato family. Other names include Golden Hamburg, Black Hamburg, Muscat de Hambourg and Moscato di Amburgo. Deep-red in color, Muscat Hamburg is a 19th century crossing of Muscat of Alexandria and Schiava Grossa. Typically a lighter table wine, Californian and French wineries also use the grape to make an aromatic dessert wine.

The grape grows easily in most climates and you can find it across the globe. For example, you'll find Muscat Hamburg in the States, from California to Washington, in Vancouver, Canada, in Eastern Europe as well as in China – where it's becoming increasingly popular. Interestingly, Muscat Hamburg was crossed with Raboso Piave about a hundred years ago, creating the rare Moscato variety Manzoni Moscato.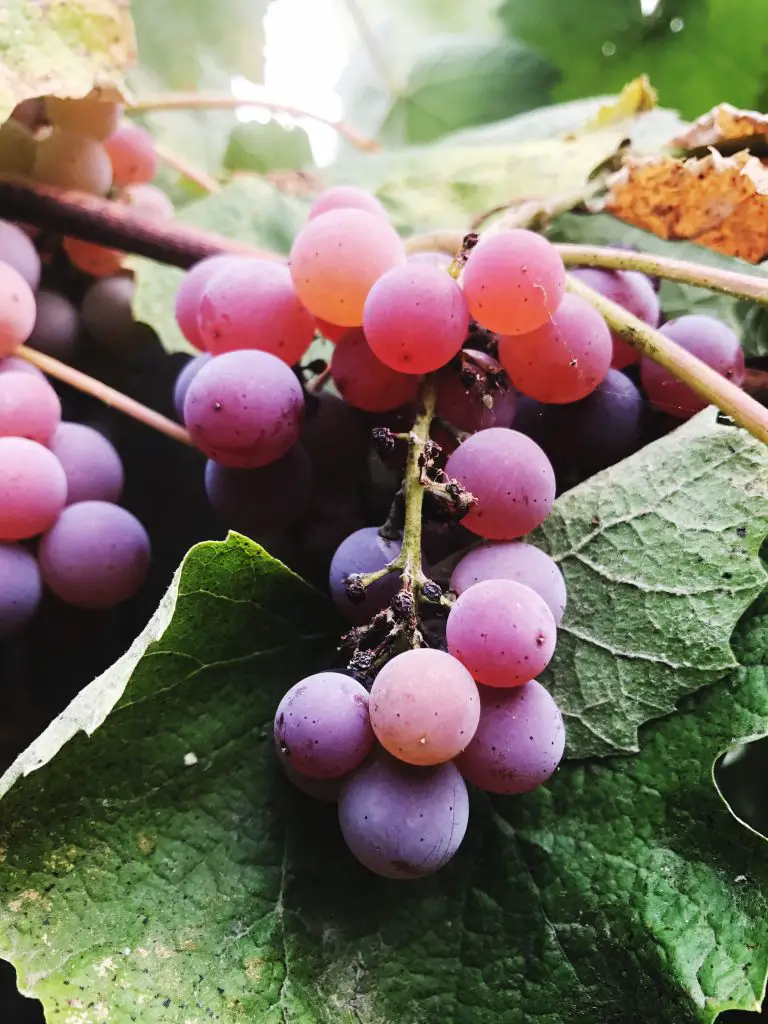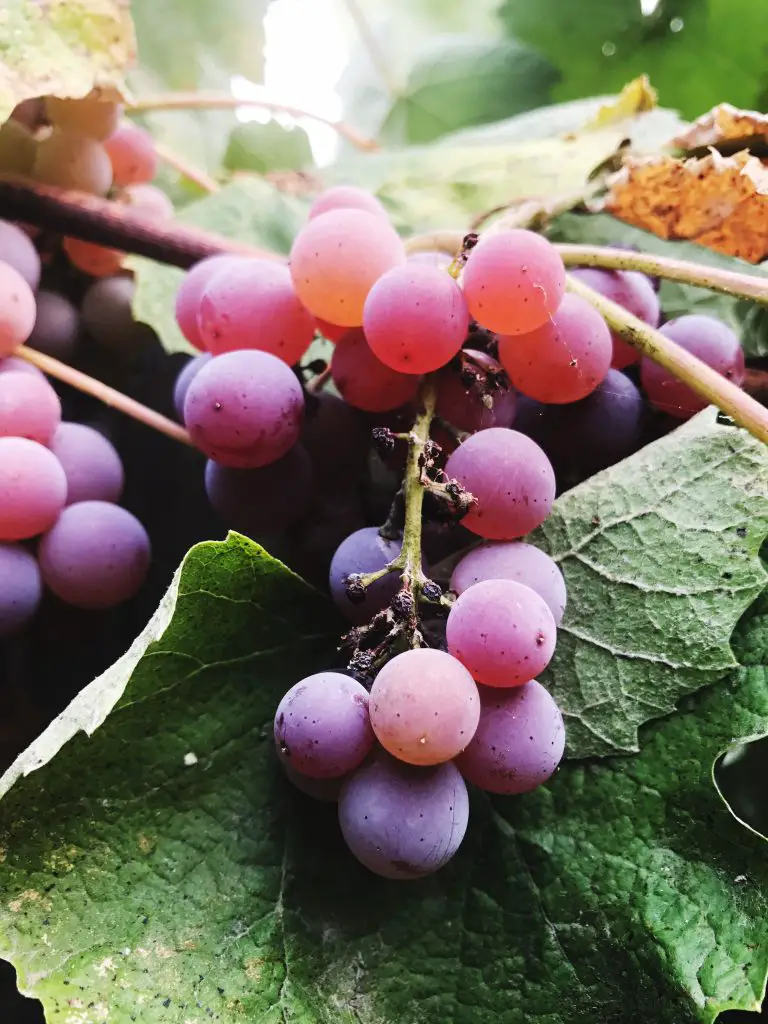 Muscat Ottonel is the palest grape variety of the Moscato family. It differs significantly from other Moscato grapes in taste and residual sugar as it is the earliest to ripen. Wines made from Muscat Ottonel are more flavorsome and feature a well-balanced sweetness. They offer a gentle aroma, a low acidity and a low amount of alcohol. These wines are most delicious to enjoy on their own.
7.

Muscatel Roxo

Moscatel Roxo, or Muscat Rose à Petits Grains, is actually a pinkish variety of Muscat Blanc grapes . There's quite a confusion around the name of this grape. Sometimes, it's called Red Frontignac or Moscato Rosa – which is also a variety of its own. Moscato Rosa is, however, darker in color: a step between Muscatel Roxo and Muscat Rouge à Petits Grains, which is an even darker Moscato grape. All three are used to make white wines.

Moscatel Roxo is the primary grape in Moscatel de Setúbal, a fortified Moscato wine from the Setúbal wine region in Portugal. It's also used in the famous Muscat d'Alsace – the French Moscato blend of Muscat Blanc, Muscat Ottonel and Moscatel Roxo.
New World vs. Old World Moscato
Being versatile, Moscato grapes grow in many wine regions and in various climates all over the globe. They're very popular in Italy, Portugal, Alsace/Elsass region by the French-German border, as well as in the United States and Australia.
Due to actual climate differences, the Old World Moscato is more restrained, with lighter body and lower content of alcohol. In general, the wineries in the Old World also tend to have more restrictions and regulations to follow. They are therefore considered more expensive and 'traditional' but have less potential to develop into something new and exciting.
It's therefore no surprise that the New World Moscato is characterized by being very varied. It also grows in hotter climates and has a fuller body, higher alcohol content, and bolder fruit flavor. 
5 Main Types of Moscato Wine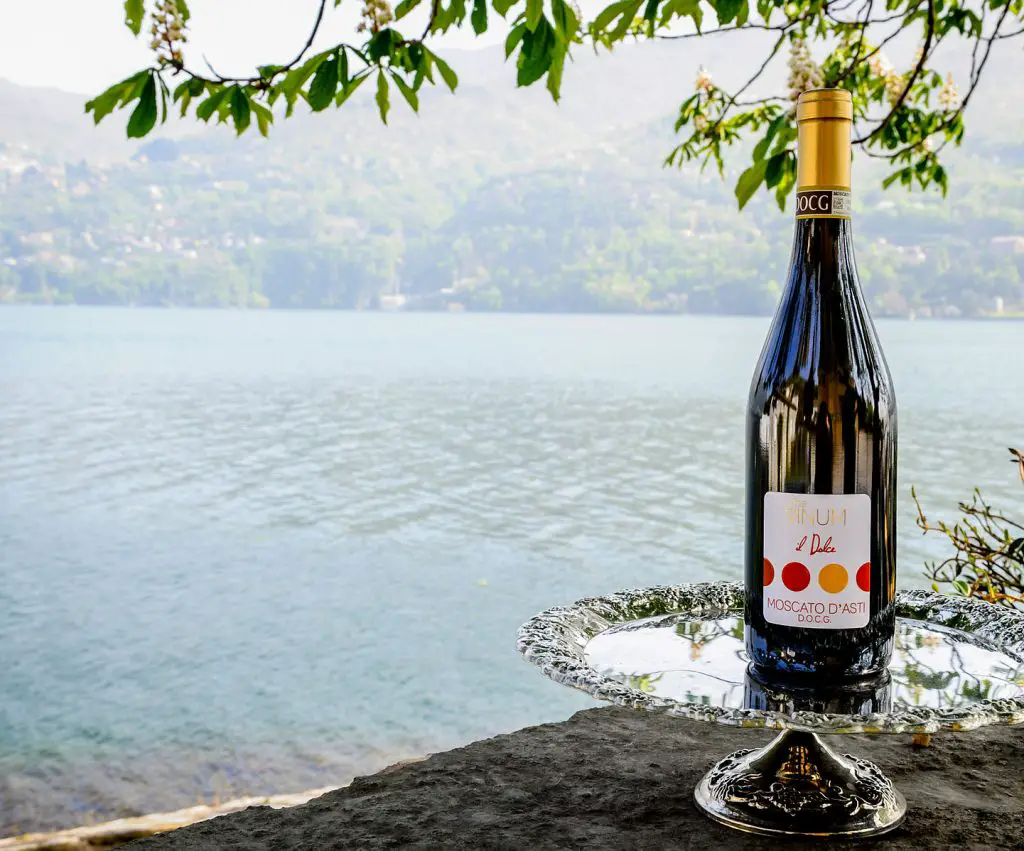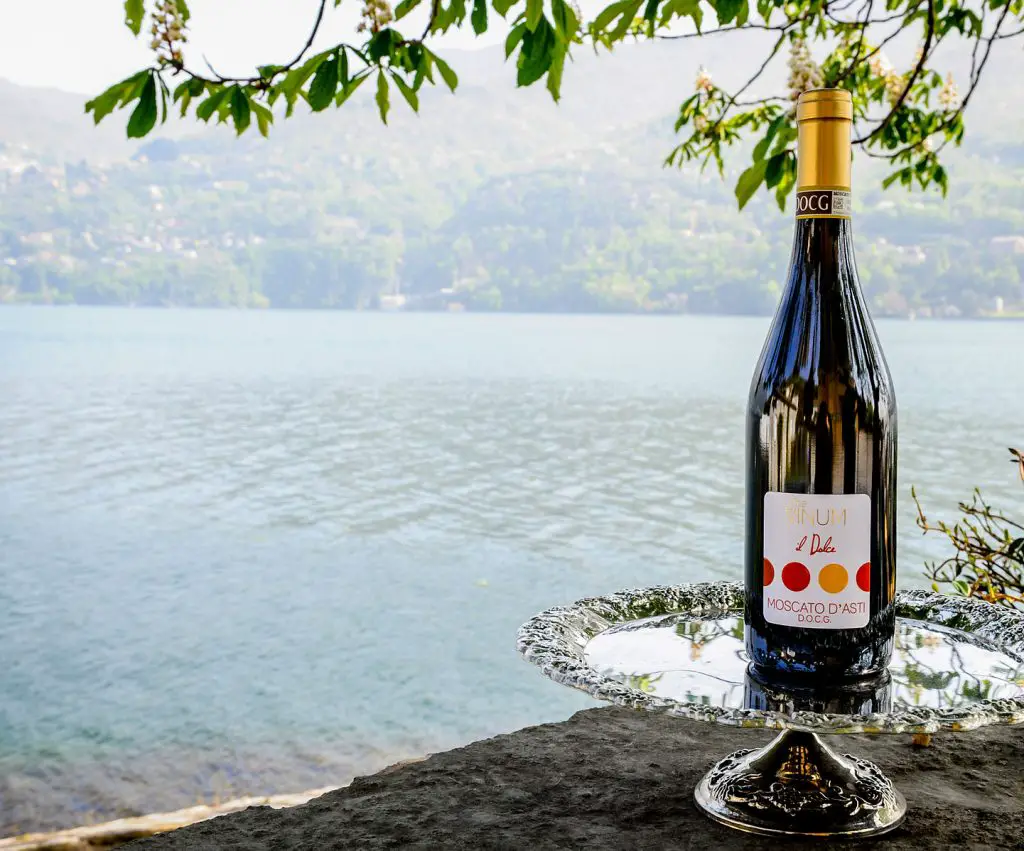 Proud owner of a top DOCG classification in Italy, Moscato d'Asti is a delightful semi-sparkling white wine. It is produced in small wineries in the northwest region of Piedmont in Italy. Made of the Moscato Bianco grape, this sweet wine reveals an earthy aroma, a low level of alcohol and a superb flavour. Moscato d'Asti is a light-bodied dessert wine of straw yellow colour, an ideally balanced and lightly sparkled wine. It brings to the palate a taste of ripe peach, pear, and honeysuckle.
Moscato Rosa, also known as Pink Muscat, is a delicious and sexy medium-sweet to sweet wine with low alcohol content which is often compared to Champagne. Moscato Rosa grapes are grown mainly in north-eastern Italy, but they can also be found in other parts of Europe, in the United States and in Australia. Moscato Rosa wine could be still or lightly-sparkling dessert wine with a salmon pink colour and a pleasant bubbly finish. It has a fruity flavour of red berries, peaches and apricots, and an intense aroma of jasmine, oranges and sweet pomegranate. 
Moscatel de Setúbal from Portugal is typically made in two major regions of the country – the Douro Valley and the Setubal area. Quite similar to Port, Moscatel de Setúbal wine is aging in wood barrels before being bottled. It can be made from single vintage grapes or as a blend of several vintages. The wine is fortified, characterized by a balanced acidity, a high degree of sweetness and rich fruity flavors of apricot, melon and tangerine with notes of caramel and raisin. 
4.

Red Moscato

Red Moscato is most commonly known as Black Muscat and is, in fact, a very rare grape. In taste it combines the very best from Black and Orange Muscat grapes. Featuring the classic Moscato taste and aroma, its flavors are a delightful combination of ripe peaches, wild fresh berries and cherries. To get a feel for its exclusive taste and flavor, imagine black Ceylon tea with the smell of roses.
5.

Brown Muskat

This is a special, dark variety of Moscato Bianco used for the production of a fortified dessert wine in Australia. Locally, the Brown Moscato is also known as liquor Muscat. It is produced from Muscat à Petits Grains Rouge grapes. As a fortified wine, it is highly alcoholic, sweet and – you guessed it – dark.
3 Moscato Wine Variations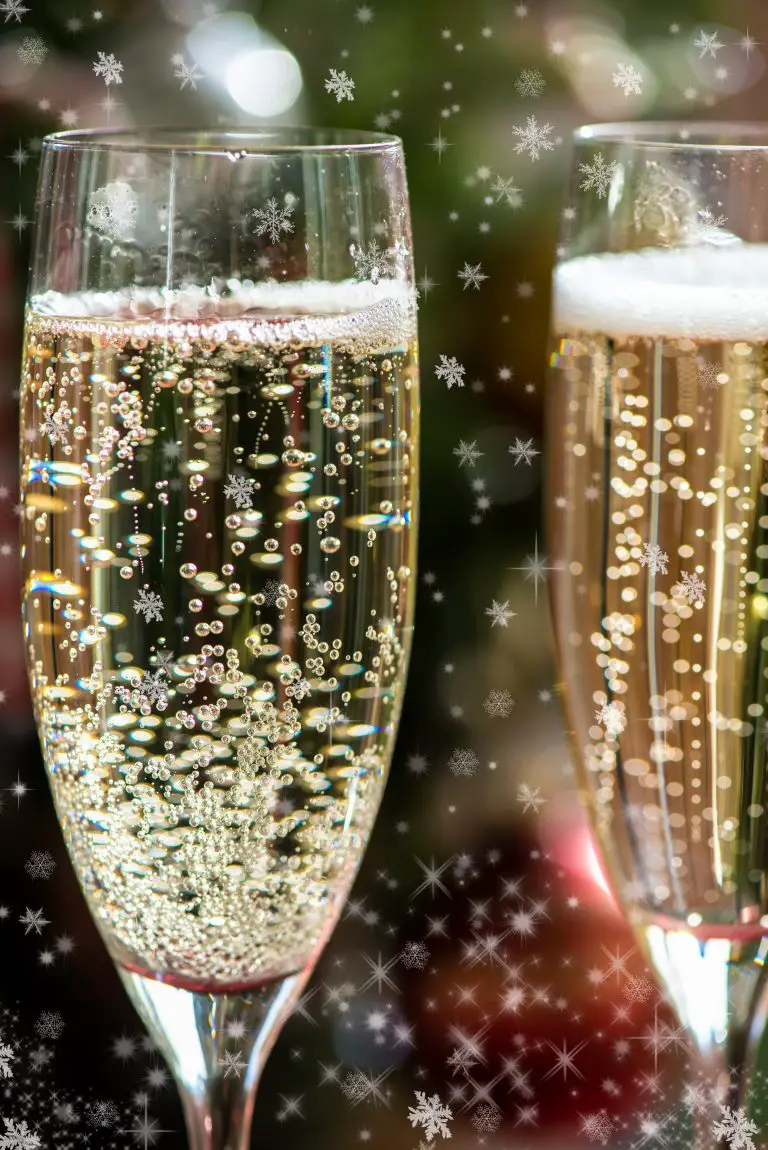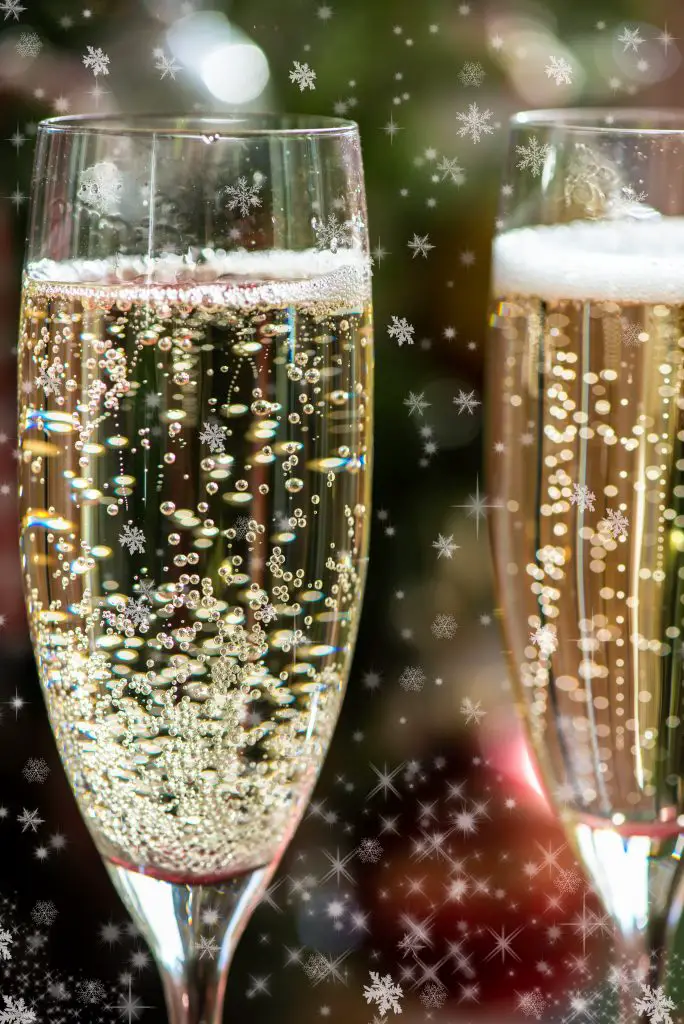 Apart from the grape variety, there are three other categories that can be used to differentiate Moscato wine. Namely: sparkling Moscato, still Moscato and dessert Moscato. They often overlap, but trust me – it's the easiest way to keep all the varieties apart. The finest Moscato for each wine lover depends not only on your taste, but also on the food pairing and when you'd like to enjoy it.
Sparkling Moscato Wine
Sparkling Moscato, often called spumante (sparkling) or frizzante (semi-sparkling), is typically made from Muscat Blanc grapes and is mainly produced in the Asti Province in Italy. It has a sweet bubbly finish and intense aroma. The alcohol level is low, approx. 5-6% ABV. The sweetness of these wines (it's sweeter than still Moscato wines) is balanced by its light mineral taste and mild acidity.
Still Moscato Wine
Made from Muscat Blanc or grapes typically used for Moscatel, such as Muscat of Alexandria, still Moscato wines have a higher alcohol content than most other Moscatos. At its highest, it reaches 12% ABV unfortified. It is characterized by a sweet fruity aroma and a semi-sweet flavor. Great still Moscato wines to try are the Spanish Moscatel and the Austrian Muskateller. 
Dessert Moscato Wine
Dessert Moscato is usually made from the sweetest Moscatel grapes such as Muscat of Alexandria or Orange Muscat. Unlike still and sparkling Moscato, these wines usually age well in oak barrels. You'll find that the best dessert Moscato wines come from Southern France and Spain, the US (from California in particular) and Australia. These wines are characterized by a low alcohol content, a pleasant nectarine and honeysuckle flavor as well as a high degree of residual sugar. Among the finest Moscato dessert wines to try is the exceptional Moscatel de Setúbal from Portugal. 
The Best Moscato Wines
1.

G. D. Vajra Moscato d'Asti 

This classic Italian Moscato d'Asti wine has a delightful fizzy taste and a great fragrancy. It features the classic Moscato notes of lychee, ripe pears, gentle rose petals and honeysuckle. This is no surprise as G. D. Vajra is among the most respectable producers of Moscato d'Asti wine in the popular Piedmont region. The winery is famous for its long history, incredible farming practices and nicely crafted bottles.
2.

Saracco Moscato d'Asti

An alternative to G. D. Vajra is Saracco Moscato d'Asti with its fresh fruit taste of juicy peaches, pears and berries. The Moscato d'Asti from Il Conte Stella Rosa is a very similar wine, much because of the DOCG regulation of the wine region. The delightful semi-sweet taste of Il Conte Stella Rosa Moscato d'Asti makes it an ideal pairing for a spicy main course. To sum it up: you can never go wrong with a bottle of Moscato d'Asti.
3.

Sutter Home Moscato

Sutter Home Moscato is a cheap alternative preferred by those who are new to wine (if you are, check out our guide to sweet wine for beginners!). Its sweet taste and balanced acidity also makes it an easy pairing with salads or desserts. Just like White Zinfandel that was first created by Sutter Homes, it's amongst the cheaper wines.

A very similar wine is Skinnygirl Moscato. Sweet and full of flavors, it's joyful, easy to drink on its own and easy to pair with light snacks. The alcohol level of these wines is considerably low, which makes them a great choice for those that are new to wine.
4.

Sant'Orsola Moscato d'Asti

Sant'Orsola Moscato d'Asti is a fantastic sparkling wine from the Piedmont region in Italy. It features a medium body, fresh and light taste of mango, peach and pineapple and the low alcohol content of 5.5%. The Sant'Orsola winery offers a splendid combination of frizzante and spumante wine making styles. The spumante Moscato has great floral notes of honeysuckle, white blossoms and floral petals, while the still Moscato reveals more classic Moscato notes of citrus.

This delicate wine pairs ideally with aperitifs and creamy fruity desserts. It can mark a pleasant start, as well as a nice finish to a warm summer evening. 
5.

Innocent Bystander Pink Moscato

Innocent Bystander Pink Moscato is produced in Yarra Valley in Victoria, southern Australia. This wine has a pale pink color and pleasant flavors of juicy citrus fruits, apples and berries. Just like Sant'Orsola, it features a low alcohol content of 5.5%.

Imagine an aroma of mandarins, Turkish delight and violet paired with a plate of blue cheese, pears and walnuts – and that's your perfect Innocent Bystander pairing. You can also try a baked brie, a goat cheese salad or some fresh fruits.
6.

Trimbach Muscat Reserve

Trimbach Muscat Reserve comes from the Alsace region in France. It's a dry and very aromatic wine, with a significantly higher alcohol per volume – a whole 12.5% – as high as Moscato wines get. Trimpach Reserve features darker fruit flavors: tangerine, grapefruit, and apples; and an aroma of gentle white flowers because of the oaking. It pairs very well with pate or soft cheeses, as well as with Pad Thai(!). The wine is somewhat similar in taste to other wines from the Alsace region such as Riesling and Gewürztraminer. In my opinion, this is one of the best wines to have as an aperitif.
Pairing Moscato Wine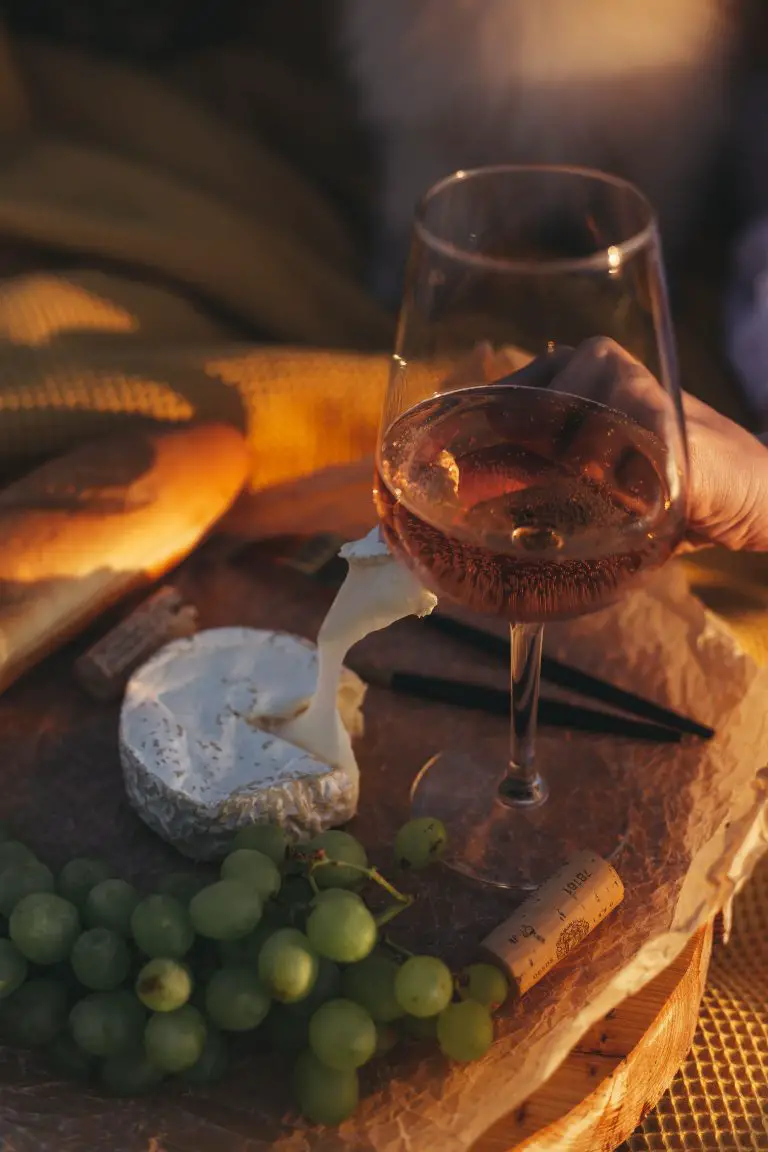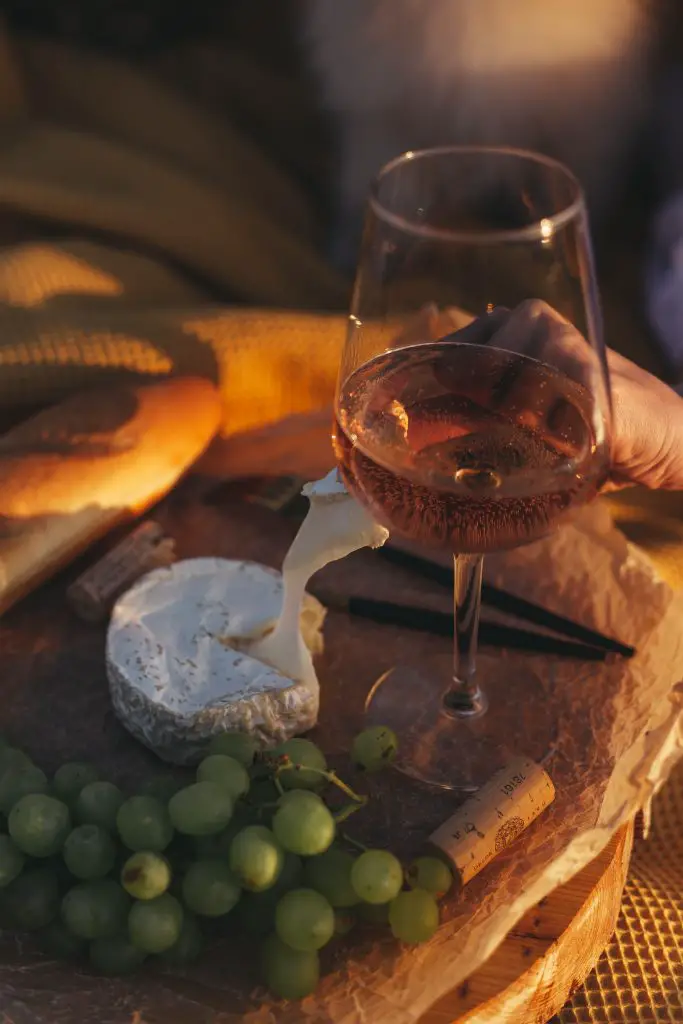 As easily drinkable table and dessert wines, the Moscato family is very open for a wide range of different combinations and pairing experiments. Typically on the sweeter side of the spectrum, they're equally ideal as aperitifs and along desserts at the end of the evening. Serve therefore your Moscato of choice alongside sea food such as octopus dishes, light meats, spicy and aromatic Asian meals, fruit and cheese platters, fruit tarts and creamy desserts.
Cheese and Moscato is a classic pairing, but it's not without its finnesses. Go for a French chèvre or another creamy cheese at the end of your dinner. Cheeses with sharp flavours and smelly aroma should be avoided, while light and fresh cheeses such as soft goat cheese, brie, crescenza and gorgonzola make a good match with the sweet hints of apricot and peach in the Moscato wine. A good idea is to add fresh figs and nuts to bring out the more complex Moscato aromas.
Moscato Wine with Desserts
The sparkly Moscato is good on its own, and yet its distinctive aroma only reveals itself in full when paired with the right desserts. Among the best combinations are a generous serving of tiramisu, a peach tart or a warm berry pie. Another great Moscato dessert pairing is a buttery pastry.
Moscato Wine with Greek and Middle Eastern Cuisine
Moscato wines pair impressively well with Greek and Middle Eastern cuisine. For these pairings, go for lighter Moscato wines such as a sparkling Moscato d'Asti or a classic Muscat Blanc. Pair these with a Greek salad, some hummus and yoghurt dips. You can also go for a falafel pairing, or with chicken shawarma from the glorious Middle Eastern cuisine. A glass of wine will definitely give freshness to a juicy, well-prepared souvlaki, too.
Moscato Wine with Spicy Food
The sweet taste of Moscato wines and their low to moderate acidity make them ideal pairings for spicy food and cured meat dishes. This is because the high salt or spice content of these dishes balances well with the sweetness of the Moscato wine. Vietnamese, Thai (especially Thai red curry!) and Chinese meals go well with all Moscato wines. On one hand, the dense aroma of these regional dishes balances the sweetness of Moscato; which, on the other hand, balances out the spiciness of the ginger, chili peppers and cinnamon.
Alternatives to Moscato Wine
Moscato differs from all other wines in three main aspects – its aroma, its tendency to be fizzy and its low alcohol content. However, there are several possible and suitable alternatives to this lovely wine. 
The semi-sweet Riesling wine is a good alternative to Moscato. It features a light to medium body, high acidity, 8-9% ABV and a lovely aroma of nectarines, peaches, green apples and jasmine. Riesling wines are perfectly paired with medium spicy Asian dishes, fish and chicken. It should come as no surprise that the largest producer of Riesling in the world is Germany, where Riesling taste the most full of minerals and is made with the most care.
If you want to know the difference between Moscato and Riesling, check out our article on this topic by clicking on Riesling above.
Prosecco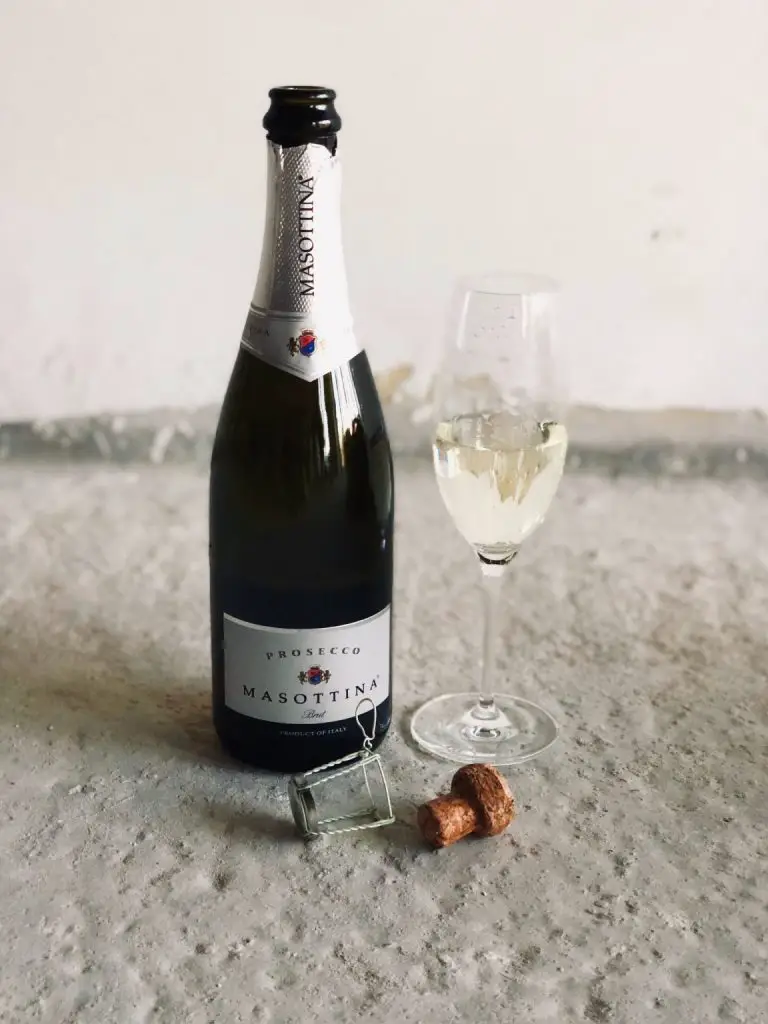 Prosecco is the most famous Italian sparkling white wine under DOC and DOCG rules. It comes from the north-eastern part of the country – more specifically from the Veneto province and the Valdobbiadene region. This semi-sweet delicious wine has a lower alcohol content, 10-11% – which is higher than most Moscato wines anyway. Prosecco is served chilled and usually drunk young. However, it can also be aged for up to seven years which makes it much more exclusive. 
Prosecco has intense aromas of pear, yellow apple, white peach and apricot. It's fresh and light, and pairs naturally with antipasti, spicy Asian food, and cured meats.
An interesting fact is that since 2020, the strict DOC rules also allow a Prosecco in a rosé variety, where the Prosecco grape is blended with up to 15% Pinot Noir wine. Delicious!
Traditionally produced in the foothills of the Alps, Gewürztraminer is a pink grape similar to Pinot Grigio, which grows in cooler climates and is known for its intense floral aroma. Today, this grape variety is very popular in Hungary and Romania, in Slovenia, Croatia and France. It's so similar to Moscato, that some even say that Gewürztraminer is its grown-up variant! 
Your best off enjoying Gewürztraminer wine young and chilled. It pairs well with Moroccan and Middle Eastern dishes, dried fruits and nuts, has a higher alcohol content and a lower acidity compared to Moscato.