Reading time:
7
mins
Moscato d'Asti is a semi-sparkling white wine, made from the Moscato Bianco grape. This wonderful Italian wine has a sweet and sophisticated flavor, an earthy aroma and a low alcohol level, making it a perfectly balanced dessert wine. Its name comes from the musky aroma of the Moscato grape, which also produces Muscat Ottonel, among others, and this its most characteristic quality. 
One of the top DOCG classification in Italy, Moscato d'Asti wine is produced in the northwest region of Piedmont (Piemonte in Italian): primarily from the province of Asti, but also from the smaller provinces of Cuneo and Alessandria. It is the most popular of Moscato wines, and some even consider it the definition of Moscato – even though it is only produced in Italy. However, many different types of Moscato exist, including Moscato Rosa, Muscat Ottonel and Moscatel de Setúbal.
An interesting note about this wine is that it is almost exclusively produced in small wineries and comes in a limited number of batches. The variety is characterized by small grains that ripen early and need continuous care, which only adds to the exclusivity of Moscato d'Asti. The same grape is used for the production of various other wine styles: dry and light, sweet and sparking, or rich dessert wines with honey flavors.
Appreciated by wine experts and amateurs alike, a glass of Moscato d'Asti wine is pleasant to drink on its own as an aperitif and pairs well with light fruity desserts.
Characteristics of Moscato d'Asti
Technical information
| | |
| --- | --- |
| Sweetness | Slightly sweet |
| Acidity | High |
| Alcohol | 4.5 – 6.5% |
| Fruit | Sun fruits such as peaches, apricots, and pears, oranges and lemons |
| Aroma | Sweet, floral and fragrant |
| Residual sugar | 90 – 100 g/L |
A light-bodied wine of straw yellow color, Moscato d'Asti undergoes only one fermentation process after its early harvest. This results in a low alcohol percentage and slight sweetness, making it a dessert wine first and foremost. It is also half-sparkling – a combination of sweetness, acidity and fizz that brings out the best of a fruit salad and other light desserts. The low level of alcohol content, too, makes this a great pick for both the beginning and the end of a dinner party. This also makes it a suitable choice for beginners to sweet wine.
This fragrant wine is characterized by fine persistent foam and incredible aroma of juicy, sun-ripened fruits like peaches, apricots and pears, lemons and mandarin oranges. It further reveals hints of white blossom and linden. The flavor is delicate but intense, which makes the wine greatly enjoyable.
The history of Moscato d'Asti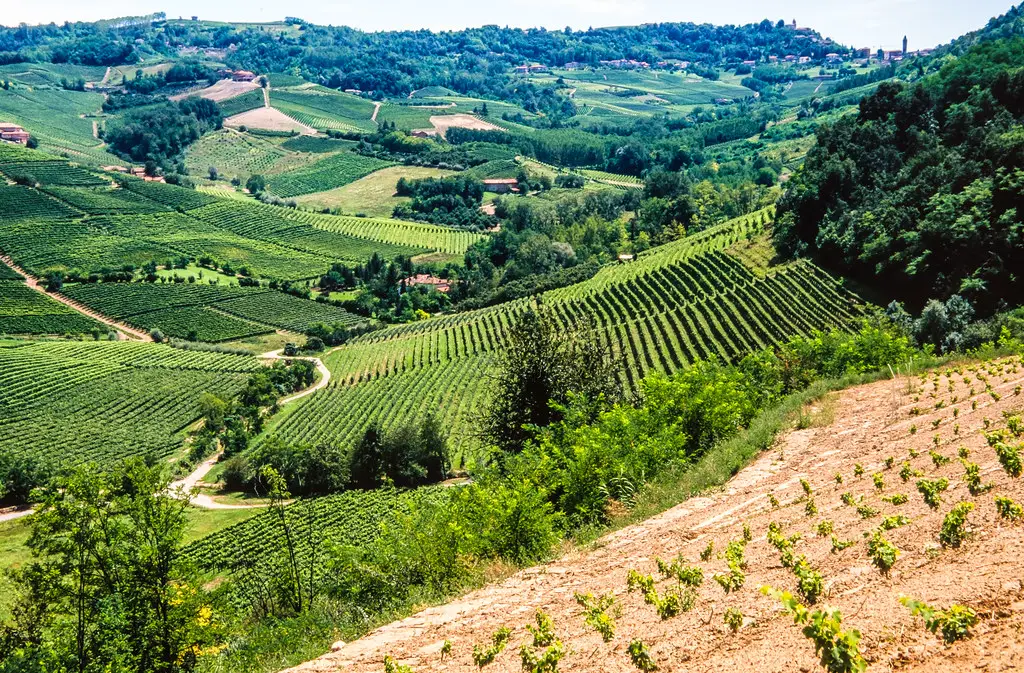 Moscato d'Asti is made from one of the oldest grapes in Italy – Moscato bianco, also referred to as Muscat Blanc à Petits Grains. The grape variety has been part of the Piedmont area for many years: its first record dates back to the 13th century with modern production starting as early as the 1870s. 
Because of its sparkling style and low alcohol levels, Piedmont winemakers used to make Moscato d'Asti only for their own enjoyment – the low levels of alcohol allowed the wine to be drunk at lunch time without interfering with the winemaking in the afternoon! Later, the special Piedmontese tradition of long dinners brought Moscato d'Asti popularity both as an aperitif and digestif drink to cleanse and stimulate the palate with its high acidity.
Increasingly popular, Moscato d'Asti received a DOC classification in 1967, and a DOCG in 1993, but the area where it can be produced remains very limited. Nowadays, you'll find the Moscato d'Asti wine producers on the hills south of the town Asti, in an area covering just 50 square kilometers. There are approximately 50 communities from the provinces Asti, Cuneo and Alessandria that take part in the winemaking process of this fresh and fruity wine. 
The vinification process
The climate of the southern hills of Asti are essential for the creation of Moscato d'Asti. It is the cooler region of Piedmont, where the sandstone and limestone soil give the grape enough hydration to highlight the delicate grape flavor. The vinification method, too, is known as one particular to the region, and it's called the Asti vinification process. Here, the grapes are harvested when the sugar content is at its highest, early in the season, and then pressed – gently but fast to keep the floral aroma and high acidity. Afterwards, the collected must is chilled almost to freezing point in order to stop the quick process of fermentation and keep the natural sugars in the wine. Before bottling, the wine is filtrated, resulting in a captivating golden color.
It is believed that this vinification style was created by a man called Giovan Croce, back in the 16th century. He was the owner of a vineyard in Turin, and very interested in experimenting with wine processes to produce sweet wines. Today, Moscato d'Asti production process differs from the production style of any other sparkling wines, its fizzy quality being produced only from the controlled grape fermentation at low temperatures in the pressurized tanks. 
The regulations allow for Moscato d'Asti to retain 4.5% – 6.5% alcohol levels, and not more than 2.5 atmospheres of pressure. This results in the aromatic and slightly sparkling wine of high-quality and delicate sweetness that is produced to be enjoyed fresh and young, so pick the most recently harvested bottle you can find! 
What is the difference between Asti Spumante and Moscato d'Asti?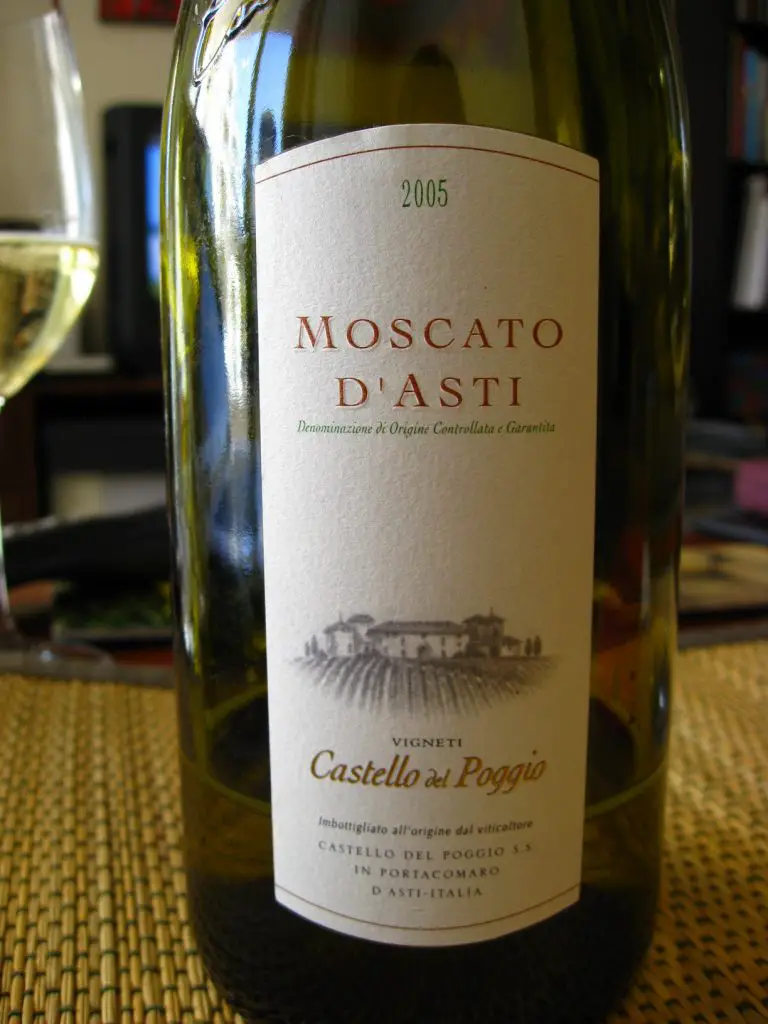 Moscato d'Asti is not the only wine made out of the Moscato bianco grape in Piedmont: the region produces some of the finest wines of this grape variety under the name Asti DOCG. The two most iconic wines under this name are Asti Spumante (often called just Asti, or foaming Asti) and Moscato d'Asti (fizzy Asti). They both impart an impressive aroma, but use different vinification methods. Both wines are reminiscent of the finer pleasures in life – full of aroma and sweetness, and featuring a wonderful fresh floral taste, they are ideal to enjoy on their own or served with cheese or desserts. 
A sparkling wine, Asti Spumante DOCG has an internal pressure of up to 5 bars, and an alcohol level of 6-9%, slightly higher than Moscato d'Asti. During its production, a lower level of residual sugar (or post-fermentation sugar) is left in Asti Spumante, making the bubbly Asti wine less sweet when compared to Moscato d'Asti.
What sets Moscato d'Asti DOCG apart is that the fermentation process is stopped by a drop in temperature – it is cooled down. This makes a semi-sparkling wine with a lovely sweetness and alcohol levels of around 5%.
Both wines are subject to the same controls and DOCG status, which increases the quality and protects the product – so do try out both for your next Sunday lunch!
The best Moscato d'Asti wines
The Italian region of Piedmont is famous for the production of a number of wines. Among these, robust Barolo with its deep red colour and light Moscato d'Asti with its golden color and fresh aroma stand out the most. The best Moscato d'Asti wines are produced by the small wineries Castello del Poggio, Massolino, Villa Rinaldi, Michele Chiarlo and Paolo Saracco. The best Moscato d'Asti examples to try are: 
1.

Nivole Moscato d'Asti

Nivole comes from the Michele Chiarlo winery, which features a higher acidity, a white blossom flavor, and peach aroma coupled with a pleasant sweetness. If you're after a Moscato d'Asti to pair with your finest Italian cheeses, this is the choice for you.
2.

Sourgal Moscato d'Asti

A production from the Elio Perrone winery, with a fizzy feel and sweet creamy taste. Being one of the sweeter Moscato d'Asti wines, it's the best choice when serving pannacotta or cheesecake.
3.

Saracco Moscato d'Asti

Saracco emanates from the Paolo Saracco winery. It's ideally balanced, with a gentle fizz and notes of tangerine and peach. One of the most complex examples, Saracco is great with more flavorsome desserts and chocolates.
4.

Sori Gramella Moscato d'Asti

The Elvio Tintero winery produces this fruity delicacy, which immediately gives off an aroma of ripe apricot and peach. The fruitiest ones of our examples, Sori Gramella is a great accompaniment to cheeses, fruits and tarts, giving a pleasant and cheerful atmosphere to the end of the evening or picnic by the lakes.
Moscato d'Asti Pairings
The traditional pairing of the light, sweet and semi-sparkling Moscato d'Asti is appetizers such as cured meat and prosciutto or desserts and fruits. You're best off with light and fruity desserts, such as cheesecake, pannacotta or citrus tarts. You can also make a fine Moscato cheese pairing, such as with Gorgonzola.
A less traditional pairing that works equally well is with Asian dishes. The high acidity and light sweetness makes this wine a great accompaniment to spicy food with a sweet tone, such as green and red Thai curries, or Cantonese dishes with chicken and duck.
Naturally, Moscato d'Asti is also good on its own on a hot summer evening, and is best served chilled between 38–50ºF in a classic white wine glass or a beautiful tulip-form sparkling wine glass.
Related and alternative wine varieties
Asti 
Asti, or Asti Spumante as mentioned above, is made of the same grape – Moscato bianco – and in the same region – but it is in fact it is a different wine altogether. If you'd like something that's less sweet and more fizz, then Asti is a better choice for you. 
Lambrusco
Lambrusco is a delicate Italian white wine with a gentle fizz and fruity taste, featuring hints of lemon and apple. It has a low alcohol level, similar to Moscato d'Asti, but is less sparkling and higher in acidity. Lambrusco pairs best with seafood, pasta and various desserts, so if you're looking for something for your main Italian course, go for Lambrusco.
Prosecco
Prosecco is a sparkling or semi-sparkling Italian wine, served chilled as an aperitif. It is drunk young and has approx. 11% of alcohol. The higher alcohol content, complex body and a significantly higher sparkling level makes it a wine with a more distinct flavor that is widely produced and exported worldwide. Prosecco's crisp aromatic flavour of pear, apple and peach makes it a wine ideal to drink on its own, too. It is also employed in various cocktails, such as mimosas and bellinis. 
Pet Nat
Pet Nat wine is fizzy and light, and usually low in alcohol. It pairs very well with a plate of cheese and fruits, but is most often enjoyed on its own. This unusual wine is as exclusive as the Moscato d'Asti, but gives you a higher acidity and fizziness. A unique vinification process sets it apart, where the fermentation process is stopped not by freezing, as with Moscato d'Asti, but by placing the bottles in a cold river! One to try for an exclusive evening with a complex flavor that suits the winter months as much as the summer.
Riesling
The aromatic Riesling wine has a delightful aroma of orchard fruits such as pears and apricots, golden colour apples and nectarines, with a hint of jasmine. It is high in acidity, and the only wine in this list without the sparkling character. If you enjoy Moscato d'Asti but are looking a wine that isn't sparkling, this is the wine for the occasion. Just like Moscato d'Asti, it suits equally well as an accompaniment to spicy dishes.
READ MORE: ever wondered the differences between Moscato and Riesling? Find out in our guide to Moscato vs Riesling.