Reading time:
8
mins
Moscato Rosa, also known as Muscat Rosé à Petits Grains or simply Pink Muscat is a very rare wine grape – but an incredibly delicious one. Most widespread in Italy, the US and Australia, Pink Muscat is your best pick for a lightly sparkling rosé. However, it is also used to make both red and white wine, giving us the pleasure of a sweet light wine with vibrant berry flavors. 
A pure Moscato Rosa is light and sweet, with a strong flowery aroma and red berry notes of raspberry and strawberry. You can find it under a range of different names, such as Muscat Rosé à Petits Grains, Muscat a Petits Grains Roses, Moscatel Roxo, Rosenmuskateller, Muskat Ruza Porecki, Pink Muscat and Red Frontignac.
MORE WINE: Want to know more about Moscato wines? Check our complete guide to what Moscato wine is!
This pink Muscat grape variety has small berry-sized grapes with a dark blue skin color, despite what the name suggests. The name refers instead to its rose aroma, and the red berry fruit flavors of 100% Moscato Rosa wines. The grape is a variation of the popular Muscat Blanc à Petits Grains, differing primarily in color and aroma. Born in the sunny lands of the Greeks, it is today primarily grown in northern Italy. Along with the Muscat Blanc à Petits Grains and Muscat Ottonel, this grape variety is also included in the premium Muscat d'Alsace: a French blend of Muscat grapes.
Characteristics of Moscato Rosa Wines
| | |
| --- | --- |
| Sweetness | medium sweet to sweet |
| Acidity | low |
| Alcohol | approx. 9% ABV |
| Fruit | strong fruity flavor of cherries, raspberries, peaches and pomegranates |
| Aroma | intense flowery aroma |
| Residual sugar | approx. 70g/L |
Moscato Rosa is a still or lightly-sparkling medium sweet to sweet wine with low alcohol content. Similar to its white counterpart, Moscato Bianco, Pink Muscat usually makes as a sweet dessert wine with a bubbly finish. It has an intense aroma with hints of sweet pomegranate, tart berries and juicy cherries. At a blind tasting, you can recognize it by the fruity flavor with notes of red berries, apricot, peach, oranges and jasmine. 
The story of Moscato Rosa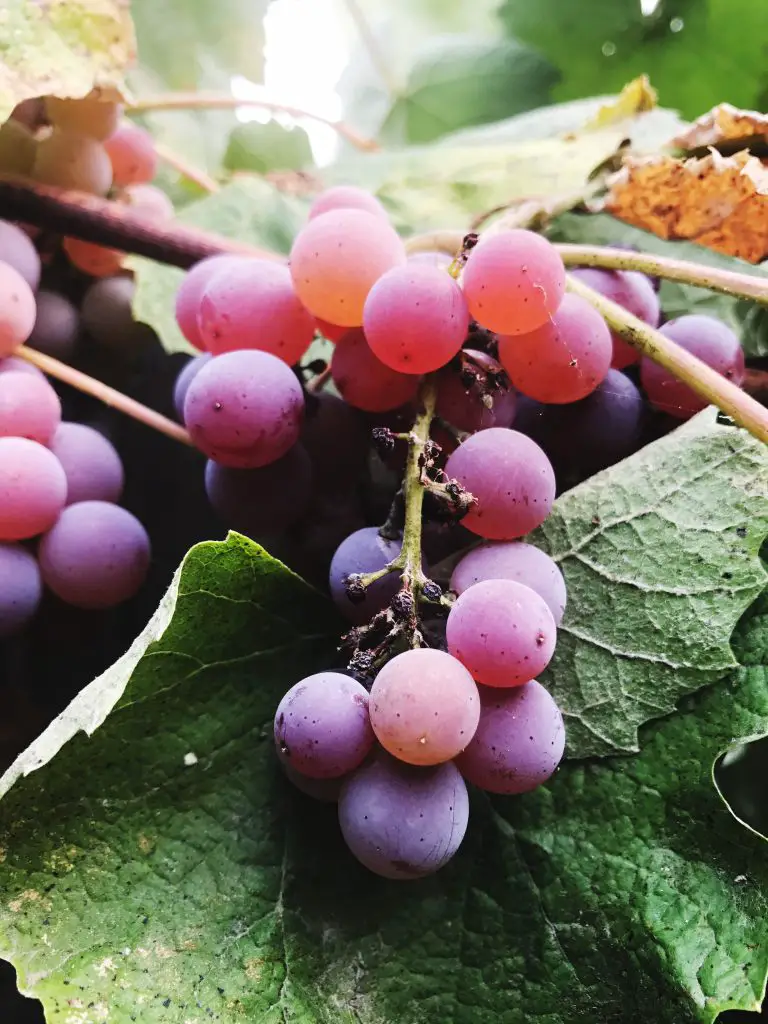 The history of Moscato Rosa starts many many centuries ago. Historically, Moscato Rosa was first cultivated in Greece. However, some researchers now believe it may have originated in Croatia. Today, Moscato Rosa grapes are primarily grown in north-eastern Italy, in the beautiful region of Trentino Alto-Adige. That said, you can also find it in other parts of continental Europe, as well as in Australia and the United States.
Several Italian DOC wines as well as the French Muscat d'Alsace are made out of Moscato Rosa. However, the grapes are quite laborious to produce, which is why they're quite rare. How come, you may ask? Because the grape's skin is very thin and its fruit set (that is, how quickly it ripens) is inconsistent. This means that wine producers have to be very careful in protecting the vines and get the harvesting right on time. The small berries, too, make it a laborious grape to grow. 
What is Pink Muscat?
Pink Muscat is a different name for the Moscato Rosa rosa grape. In Australia and the US, however, "Pink Moscato" refers instead to a rosé made from a blend of white Muscat Blanc à Petits Grains wine with some added red wine, often Merlot. Many wine experts look down on this method of rosé production – similar to how White Zinfandel is often frowned upon. Nonetheless, many of these wines have become quite popular and are a cheaper alternative than the more exclusive Pink Moscato rosé which gets its pink color from the maceration process. Pink Moscato is, in other words, a rosé wine made out of either Moscato Rosa or out of a blend of Moscato Bianco and a red wine grape.
Curiously, Moscato Rosa grapes can also result in still white aromatic wine. These white wines often come from the Weinviertel region in Austria. It has straw yellow color, dense taste with incredible finish, expressive fruit aroma and muscat notes. A white Moscato Rosa matches perfectly with the Asian cuisine meals – especially with curries. Try a 2018 bottle of Waberer Roter Muskateller, a white sweet wine for the perfect taste.
The vinification process of Moscato Rosa wines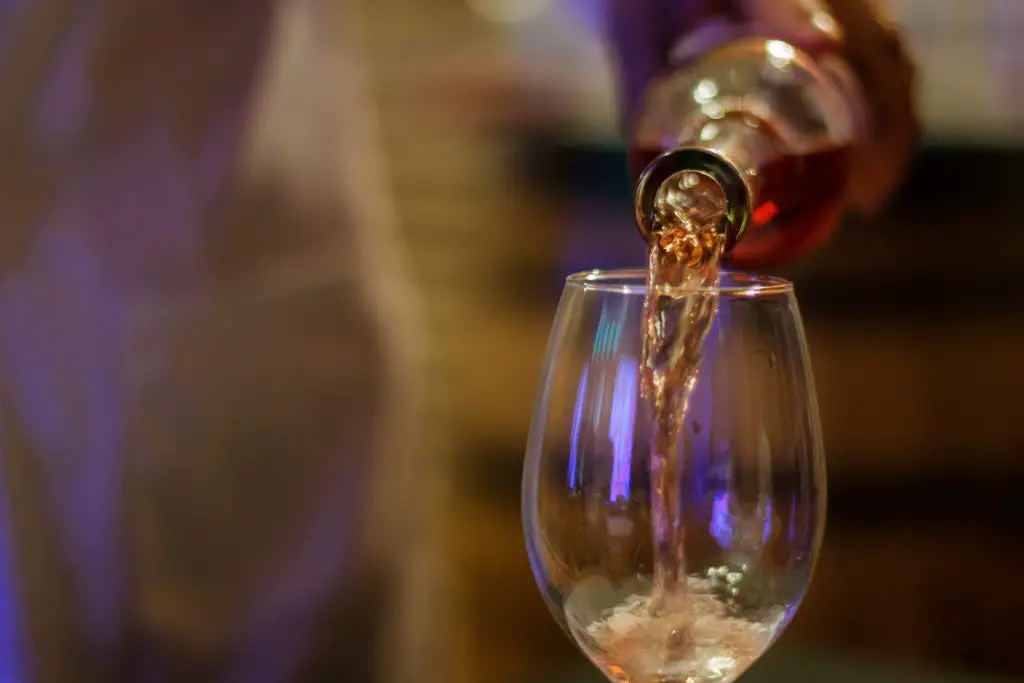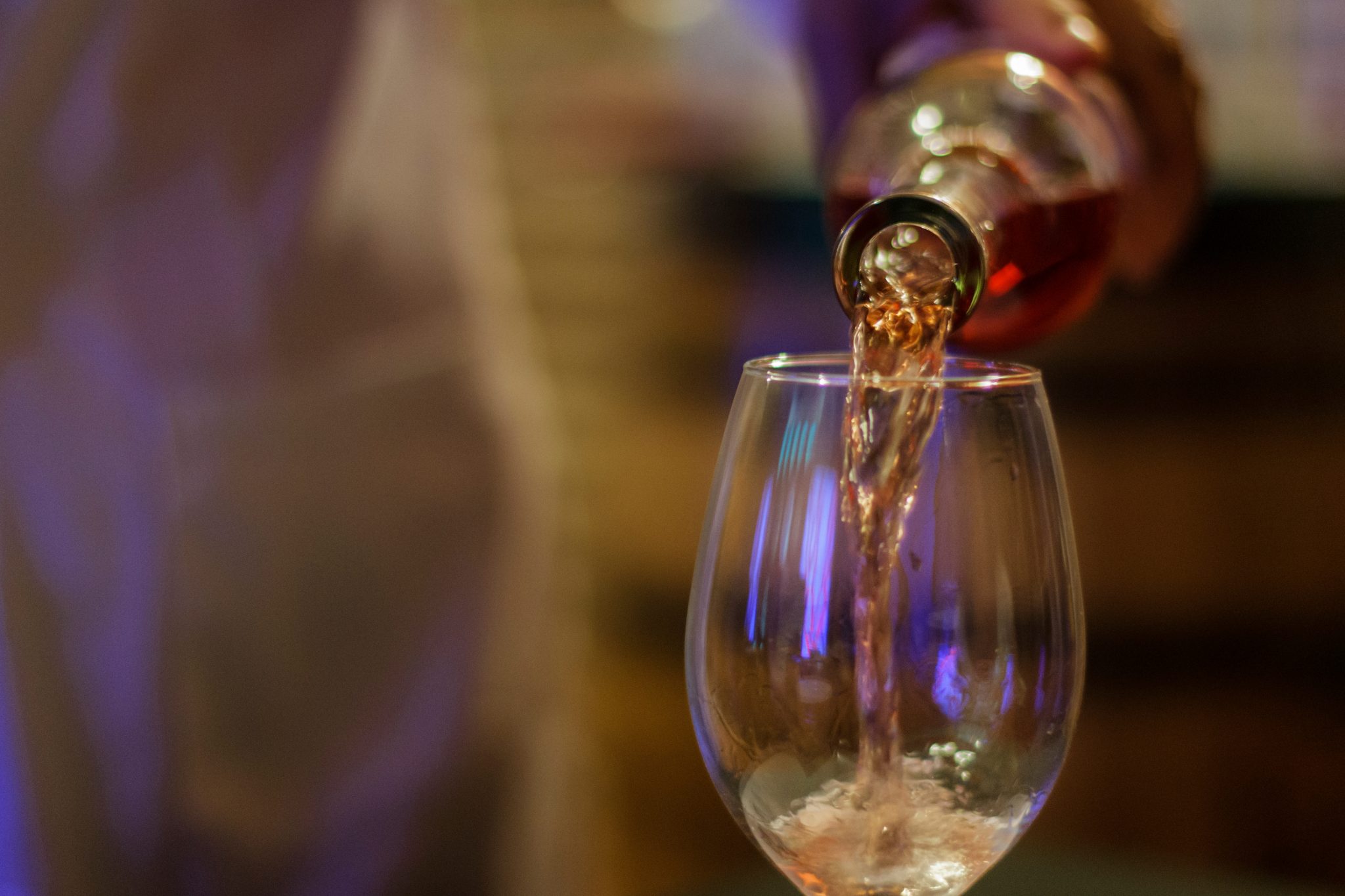 It isn't only the name of Pink Muscat and Moscato Rosa that can be confusing. The characteristics and vinification process of Moscato Rosa can also differ substantially. Put simply, wine makers use these grapes to make red wines, rosé and dessert white wines. They can be still or lightly sparkling, and tend to be sweet – but it all depends on the vinification process.
The two main production methods of Moscato Rosa are the French and the Italian methods. The French method starts with softly pressing and cooling the harvested Muscat Rosé à Petits Grains grapes. Thereafter, the winemakers add a sugary syrup to start the fermentation process. The result is a wine with optimal sweetness for the finest expression of the Moscato grape character: characterized by fruity notes of peaches, strawberries and berries and has a refreshing and creamy finish.
In Italy, there are two main methods of making wine from the grapes of Moscato Rosa. The first is the passito, which we've written about in our guide to Italian dessert wines. In short, the passito method is when you air dry the grapes on straw mats, pressing them first when they're half-raisins. This concentrates the sugars, so you don't need to add any sugar syrup. It is the pressing and maceration methods that then determine if the grape juice becomes a rosé, white or red wine. The other method involves a late harvest, made extra complicated by the irregular ripening of the Pink Moscato grape. Late harvest pink moscato wines tend to be the most expensive ones. You can recognize them by their refined taste, flowery notes and a long finish.
The best Moscato Rosa wines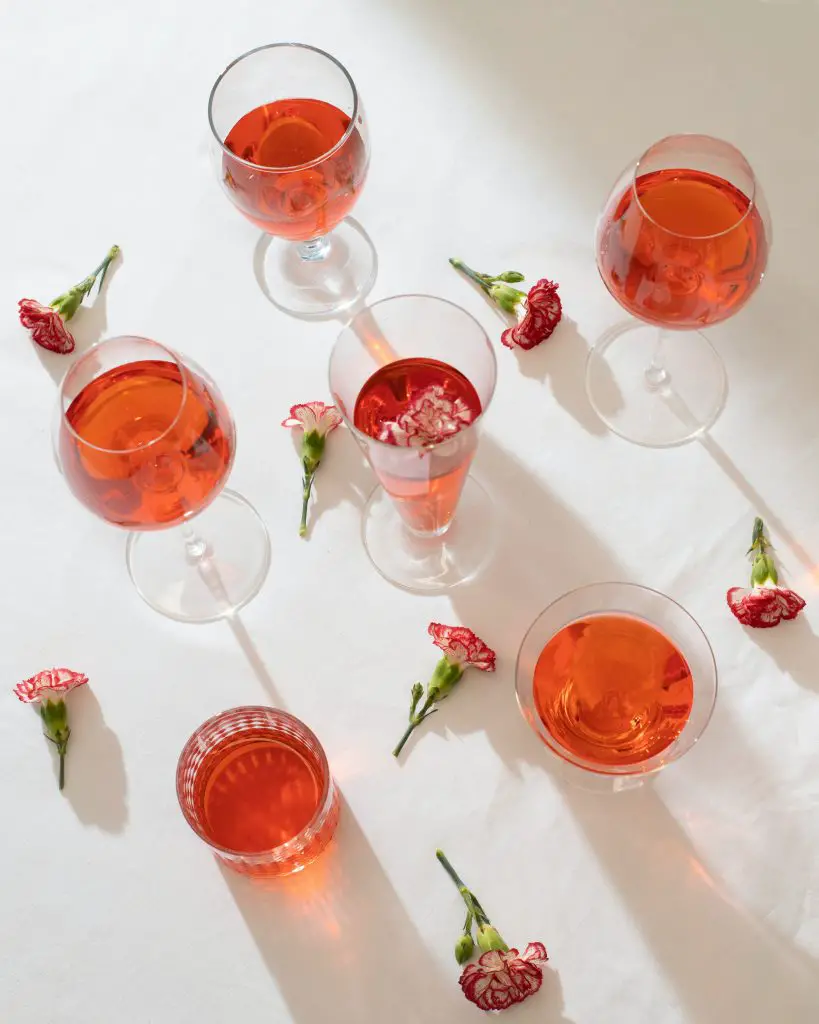 The right Moscato bottle of wine has a fruity taste and is refreshingly light. This makes it ideal for a brunch party or to finish off your fancy dinner. A good bottle of Moscato Rosa is easy to find and not that expensive if you know what you're looking for, although a late harvest pink moscato goes for about 50-70 USD. Here are some of the finest examples of Moscato Rosa from different parts of the world…
1.

Lambrusco

Lambrusco is the most popular wine made out of Moscato Rosa. Originating from the regions of Lombardy and Emilia-Romagna, Lambrusco is an Italian low-alcoholic wine. It comes in different varieties such as dry, semi-sweet, and sweet. Serve this deliciously light wine with aged meats, salty cheeses, and fruit-based desserts. 
2.

Skinny Girl Moscato

The light Skinny Girl Moscato is delightfully sweet Italian wine. Slightly sparkling, this wine has fruity notes of peaches, pears and mango. It is an ideal aperitif before dinner for spicy entrees, and a great pair for a tasty dessert or a plate of fruits and cheese. 
3.

Sutter Home Moscato

The juicy and sweet Sutter Home Pink Moscato is a refreshing wine from California. It features a light vanilla and berry aroma, and is characterized by the sweet fruity flavor of peaches and strawberries. This wine pairs very well with tarts and cakes and tastes as nothing less than a drop of the Californian sun in a bottle.
4.
Holm Oak Pig & d'Pooch Moscato
Pig & d'Pooch Moscato comes from Tasmania, Australia. It is famous all over the world for its refreshing taste, and is hailed for a classic musk and floral aroma combined with exotic spice flavours. Pick up the award-winning bottle from 2020 for a great pairing with fresh berries, tarts and fruity desserts.
Pairing Moscato Rosa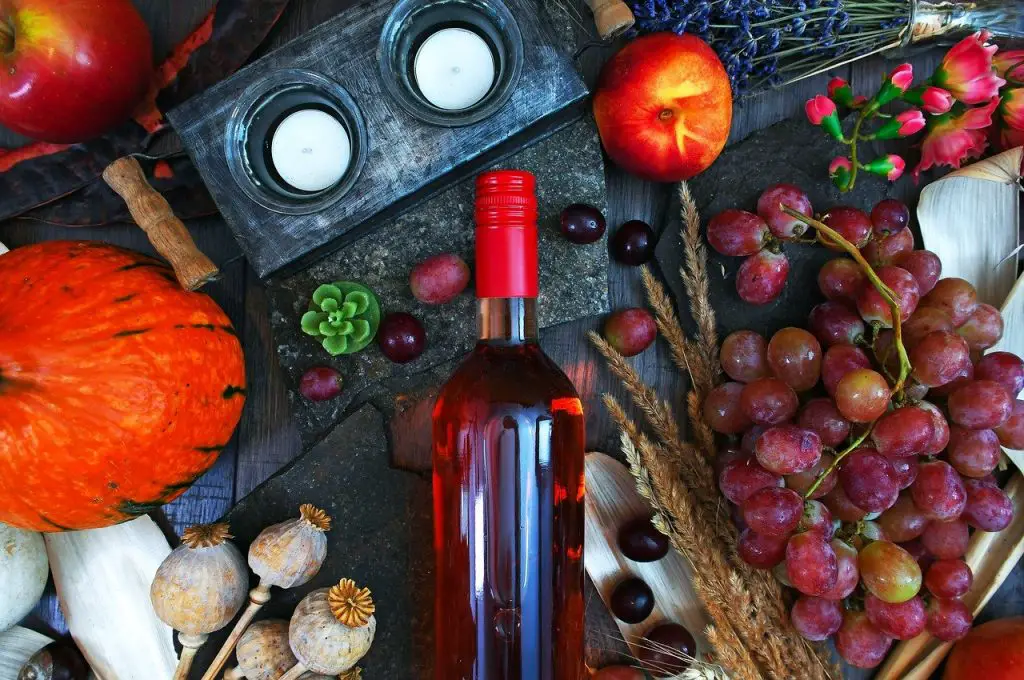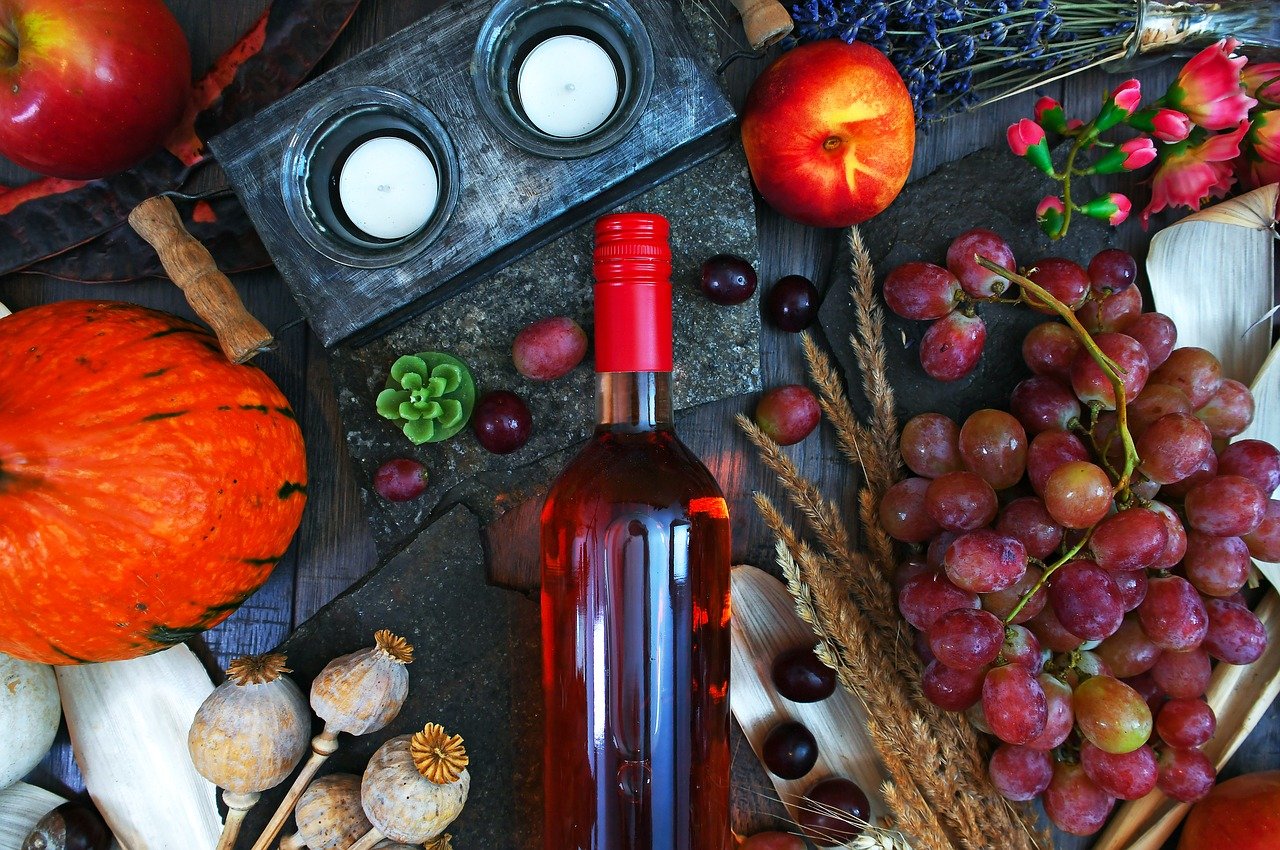 The great secret of pairing food and wine is about finding the right balance. The same holds true for the sweet Moscato Rosa wine, which is ideally paired with foods of opposite flavour – salty, spicy, bitter and sour. Its lower alcohol content and sweetness allows the food flavors to fully reveal themselves. 
Moscato Rosa wine makes a great combination with chicken shawarma and Thai larb, Indian curries, chicken wings, as well as fresh tzatziki salad. Other good combinations are with Vietnamese and Chinese dishes, or with cheese as we've written about in our guide to pairing cheese with Moscato. A personal delight is to pair Moscato Rosa with cherry pie, bringing out the best of the red berry notes of the light wine. 
Get yourself a bottle of Moscato Rosa on a hot summer day, or serve to your dear and near ones as a chilled aperitif or with fresh strawberries. Bring a glass with you to the dining table, paired with some spicy appetizers or with the soft cheeses you're serving for brunch.
Related wine varieties
Pink Moscato has a fresh taste and a great look, and it was only a matter of time before it would become famous on social media. According to Holm Oak vineyard, the wine makers behind the Australian Pig & d'Pooch, there's 103,000 mentions of the #pinkmoscato hashtag on instagram. If you're after something less …pink… you can try out a Moscatel wine from Sétubal in Portugal. Another good option is Pinot Grigio, which is in some ways similar to Moscato. Or pick up one of my favorite five alternatives: 
1.
Moscato d'Asti
The golden colour of this semi-sparkling wine is the first thing that catches the eye, yet its earthy and musky aroma is what keeps the attention. This wine is famous for its sophisticated sweet taste, gentle bubbles, well-balanced body and low alcohol level. Moscato d'Asti is the most recognizable wine produced by Muscat à Petits Grains, popular to be served as an aperitif or with dessert.
MORE WINE: Read all about sparkling Moscato d'Asti in our guide!
2.
Moscato Bianco
This wine is also made with Muscat à Petit Grains and comes in two varieties – still or slightly sparkling. Its aroma is a combination of grape and floral aroma, with mild hints of musk, while its taste is sweet and fruity. Pair with a plate of cheeses, to fully enjoy its complex taste and aroma.
3.
Moscato Giallo
Moscato Giallo is a still wine from the Trentino Alto-Adige region. This is also where Moscato Rosa grows, so the wines from these grapes are quite similar. A Moscato Giallo wine has a golden colour and a spicy aroma of grapefruit and cinnamon with some floral hints. Choose a passito produced Moscato Giallo for the perfectly balanced flavor of this sweet white wine.
4.
Moscato di Pantellaria
Moscato di Pantellaria takes its name from a small island between Sicily and Tunisia. This island is also home to the production of this sweet wine made from Muscat of Alexandria grapes. A beautifully amber colored wine, Moscato di Pantellaria is a still white wine with an aroma of apricot.
5.
Moscato Canelli
Moscato Canelli wine is an easy-to-drink white wine made from Muscat à Petits Grains. It is very popular in California and can be either still or sparkling. My favorite is the 2020 Muscat Canelli Mendocino, produced by the family owned winery Husch Vineyards in Anderson Valley. Lightly aged, it is bright, smooth and most similar to the Pink Moscato thanks to their shared characteristic of flowery notes.