Reading time:
5
mins
Frozen grapes harvested in the middle of winter, crushed and stored in a small, expensive bottle: that's ice wine. It has a residual sugar level closer to tawny Port than to the classic German riesling it's sometimes made from, which is down to its unique production method – ice wine grapes are picked and crushed at around -12°F.
Harvesting ice wine is a delicate balancing act, with the grapes being left on the vine until the peak of winter, when temperatures drop to well below freezing. Only then, in the dead of night, is when the ice wine harvest begins.
What is ice wine?
Ice wine is a sweet delicacy wine produced mainly in Canada and Germany. It's usually served as a dessert wine, either with food or by itself. Ice wine is somewhat of a treat in the world of sweet wines, mainly because of its novelty, but also because of the difficulties involved with the ice wine harvest (more on that later). 
There are two reasons why ice wine is so sweet:
1. The grapes are left on the vine until well after the September harvest. By picking grapes in the freezing temperatures of December, ice wine is an extreme form of late harvest wine; the grapes dehydrate over time, which concentrates their sugar content as they gradually lose water. 
2. Freezing the grapes allows for the easy removal of any remaining water. It makes sense – harvesting frozen grapes in the middle of winter means that any of the grape's remaining water content is also frozen, as ice. And if that ice can be removed fast enough during pressing, you're left with pure grape without any water, meaning the natural sugar content is extremely high.
How is ice wine produced?
Ice wine is produced in the middle of the night, in the dead of winter. When the ice wine harvest comes around, growers are constantly checking weather forecasts to be able to seize the optimal temperature for picking grapes, which is around two continuous nights of -12°F. At this temperature, the grapes are frozen enough to remain frozen throughout picking and pressing, but not so frozen that the press cannot crush them, or that the weight suffocates the yeast. 
This leaves a time-frame of just a few hours in the middle of the night for the grapes to be handpicked and pressed. As you can imagine, finding labor to do this at short notice is no easy task; grape pickers have to be assembled in the early hours and endure freezing conditions, sometimes night after night, as they work through the harvest while temperatures are still optimal (this video gives you a good idea of the ice wine harvesting process at the Inniskillin Estate in Canada).
Because of these laborious production circumstances, ice wine yields are usually quite small – and this is reflected in the price point!
How expensive is ice wine?
Considering everything that goes into making ice wine, and the fact that it can only be produced in certain parts of the world, ice wine can be very expensive. in fact, back in 2006, one bottle of Canadian ice wine sold for $30,000 – a hefty sum that challenges some of the dearest French Champagnes. 
Not all ice wine requires you to remortgage your house, though – you can pick up a bottle for less than $100, with some mid-range Niagara Peninsula wines costing only $30. Ice wine is usually sold in small, gift-sized bottles, which makes it prime buying for special occasions! 
Ice wine by country
While there are small ice wine operations in Central and Eastern Europe, the US and Japan, there are two countries that dominate the production of ice wine globally: Canada and Germany.
Canadian Ice Wine
Canada is the biggest ice wine producer in the world, and between the 96 ice wine producers in Canada, about 90% of them are located in the Ontario region. 
Canada's 'liquid gold', as it has come to be known, follows a strict set of rules and conventions, much like the appellation laws of European wine-growing regions. Among them are stipulations that production must be monitored by a VQA (Vintners Quality Alliance) agent, that it must be produced from a list of pre-approved grapes, and that the average sugar level of the juice mustn't exceed 35° Brix, which is an indicator of sugar levels in grapes.
All of these strict regulations contribute to the high price point, making authentic ice wine a sought-after rarity amongst connoisseurs.
German Ice Wine
It can be cold in northern Germany, too. There, ice wine is known as Eiswein, and it's been around in some form since at least 1830, when winegrowers near the town of Bingen noted that a wonderfully sweet must could be obtained from frozen grapes.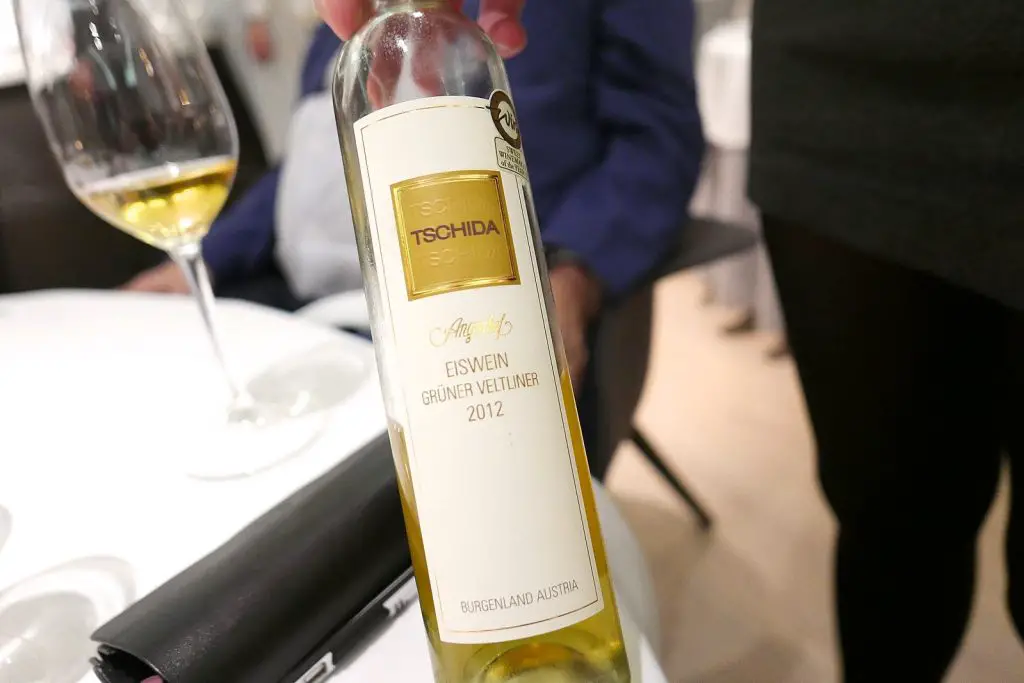 The process and temperatures involved in German Eiswein are roughly the same as for its Canadian counterpart, but producers in Germany are seeing less and less ice wine produced each year; because of global warming, the optimal temperatures for ice wine are becoming less frequent in Germany. In 2021, however, 152 estates in Rhineland-Pfalz reported still having grapes on the vine in preparation for the possible ice wine harvest, which is a huge improvement on the preceding years.
Grapes used in ice wine
While the harvesting process for ice wine is rigid, and held to strict consumer standards, the range of grapes that can be used to produce ice wine is actually quite loose. 
The major grape varieties used are Riesling and Vidal, but other varieties include Pinot Gris, Chardonnay and Gewürztraminer. It's these kinds of grapes that give ice wine its notes of citrus, apricot and tropical fruit. However, there are some red and sparkling ice wines available on the market – this strawberry-scented ice wine from Inniskillin is made from Cabernet Franc!
Pairing food with ice wine
Food pairings are never straightforward with dessert wines, especially with wines as sweet as ice wine. It makes sense to serve ice wine alone, as a dessert course, but it can also be paired with rich and creamy desserts; consider a tiramisu pairing with its coffee and mascarpone undertones, or a luxurious tray of chocolate and cranberry goat's cheese truffles.
A slightly more experimental idea is to pair extremely sweet wine with spicy food, in order to refresh the palate after the shock of intense capsicum and spice. Consider matching ice wine with a spicy Thai red curry for optimum tastebud tingling!
More on German wines
Header image photo credit: Dominic Rivard, Flickr, licensed under a CC-BY 2.0 license.