Reading time:
5
mins
If you've ever set off on a mission to grind your own Thai curry paste, you know how much work goes into the kaleidoscopic consortium of flavors and spices in a good Thai curry. The conventional Thai curry wine pairing is a light-bodied red wine, like Primitivo, Pinot Noir, or perhaps a Malbec-Syrah. But the complexities of Thai curries provokes a range of interesting pairings for the more adventurous gourmet.
How to pair wine with Thai curry
The first characteristics of Thai curries that come to mind are herbal aromatics, spicy flavors and a fresh, slightly sweet finish. Wine pairing, then, can go down one of two routes. The classic pairing for wine and spicy food is a light-bodied red, such as Pinot Noir or a very light Shiraz, such as one from Australia, which work especially well when the wine comes with a fruity finish. The low-alcohol, fruit-driven nature of these choices can temper the raging spice, and help to keep the flavor structure of the wine intact.
However, spiciness is not the only characteristic of a good Thai curry. A more judicious pairing would focus on the incredibly herbal aromatics and citric sweetness forged within a good Thai curry paste, while keeping the spice intensity of the dish in mind. This is where fresh, fruity white wines can do a great job.
Thai Spices
Lemongrass, shallots, galangal and kaffir lime leaves are just some of the ingredients that impart that unmistakably Thai character to the curry. Pay attention to the proportions and differences in these ingredients between different types of Thai curries, because understanding and matching these flavors is key to an expert Thai curry wine pairing.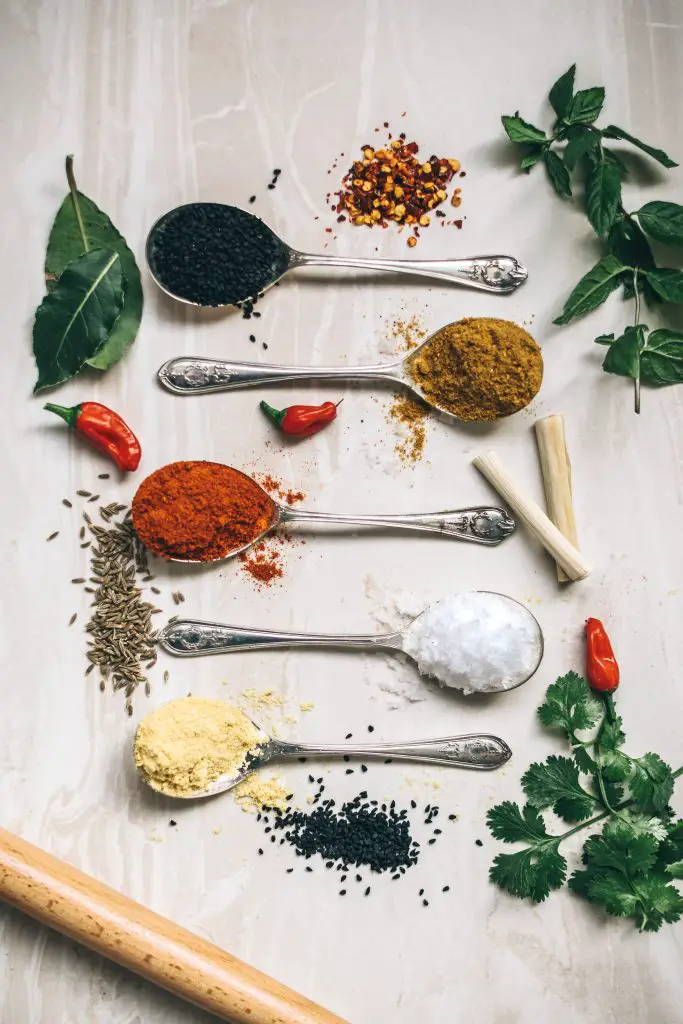 Another factor to pay attention to is the presence, or lack of, meat used in the cooking. Chicken, beef and prawns all pray prominent roles in the most popular types of Thai curry, and so any wine pairing must also take this into account.
Recommended reading: Jerk Chicken Wine Pairing: 5 Unique Ideas
Thai Green Curry Wine Pairing
Gewürztraminer is the best white wine for Thai green curry. Green chilies impart a very sharp spiciness which can cut through the flavor structures of many white wines, but the bold aromas and high-alcohol content of Gewürztraminer is a formidable match for even the spiciest of Thai green curries.
In a similar vein, you could go down the route of looking to white wines with a sharp acidity. There are an array of Portuguese white wines from the Vinho Verde and Douro wine regions renowned for their fresh, crisp Atlantic Ocean acidity, which are perfect for scoring the sharp green chilies in a Thai green curry.
If you'd prefer a red wine pairing for Thai green curry, though, consider the trifecta of shallots, galangal and kaffir lime leaves that take center stage in good Thai green pastes. These ingredients bring a unique sweetness around the palate, and the red wine you choose should be able to match this. With that in mind, the best red wines for Thai green curry are young, southern Mediterranean red wines like Rioja or Tempranillo, which tend to be lower on tannins.
Thai Red Curry Wine Pairing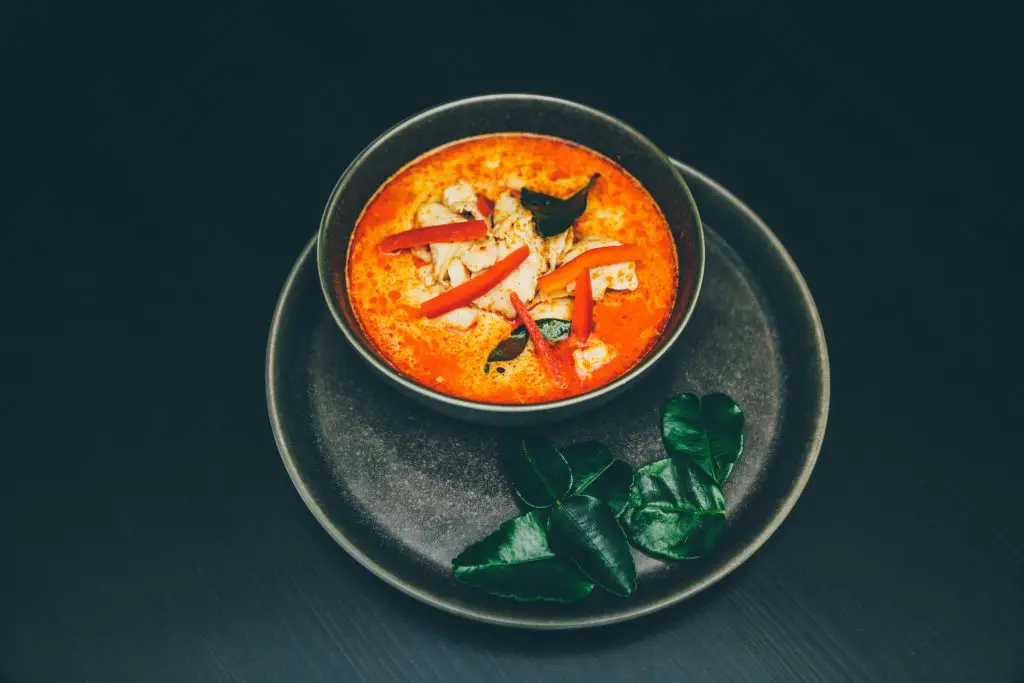 The Thai red curry is among the more intense of the three curries listed here, mainly due to the paste being heavy on red chili. Thai red curry is the classic spice: burning tongue, sweat on the brow and reaching desperately for water.
There is no water to hand, though, only a chilled bottle of slightly sweet white wine. The best wines for Moscato d'Asti, or perhaps a German Riesling: just make sure that the wine contains enough sweetness to coat the palate and act as a counterpoint to the burning red chilies. And of course, serve chilled – an hour in the fridge before dinner should do the job.
Thai Red Curry and Primitivo
The more interesting suggestion for pairing with Thai red curry is red wine. The best red wine for Thai red curry is Primitivo, which is light and low in tannins, but has an extremely robust flavor structure with bold aromatics and fruit flavors to boot. Combine this with the crisp, concentrated acidity imparted by the climate and soil of southern Italy, and Primitivo really is a winner for sitting at the table with a Thai red curry.
If you're unable to get your hands on primitivo, a bottle of its closely-related cousin, zinfandel, should do the job. However, you must make sure that the zinfandel you buy isn't overly sweet – often synonymous with cheapness, unfortunately. A sweet zinfandel will confuse and overpower the palate when combined with the complex spice and flavors of a Thai red curry – not a good idea!
Massaman Curry Wine Pairing
Massaman curry cuts back on the chilies, but adds spices more commonly found in Indian cuisine, creating a more laid-back ceremony of cumin, turmeric and coriander. The addition of coconut milk and bay leaves makes for a curry that sits on the more mellow side of Thai cuisine – at least when compared to the fiery intensity of the green and red curries above.
My suggestion would be to pair with a high-alcohol red wine, which will actually heighten the spicy notes in a massaman. I find that coconut milk, bay leaves, cumin and coriander make a delicious addition to the ensemble of ingredients usually found in Thai curry pastes: they do, however, have the effect of crowding out the endorphin-inducing spicy notes, which, in the case of Massaman curry, most likely come from the addition of fish sauce. With all that in mind, consider merlot, sangiovese or montepulciano – but be ready for a more unconventional wine pairing experience!
You could also look to a wine with citrus notes, because massaman curry is heavy on lemongrass and ginger. Citrus will act as a perfect complement, and bring a touch of freshness to the whole tasting experience.
In terms of white wines, we recommend a crisp, floral Grauburgunder; this white often contains hints of spice, especially when aged for longer, which can really give that final touch to a great Massaman curry.