Reading time:
5
mins
What type of wine is Riesling?
Riesling <pronounced reez-lingh> is a German white wine grape popular around the world for its fruity aromatics, light-bodied complexion and natural acidity. Riesling wine makes for a great introduction to white wines but is also, and perhaps uniquely, a preferred choice of wine experts and sommeliers alike. What makes riesling so special? Read on for the complete lowdown on this versatile German white wine grape. 
What does riesling wine taste like?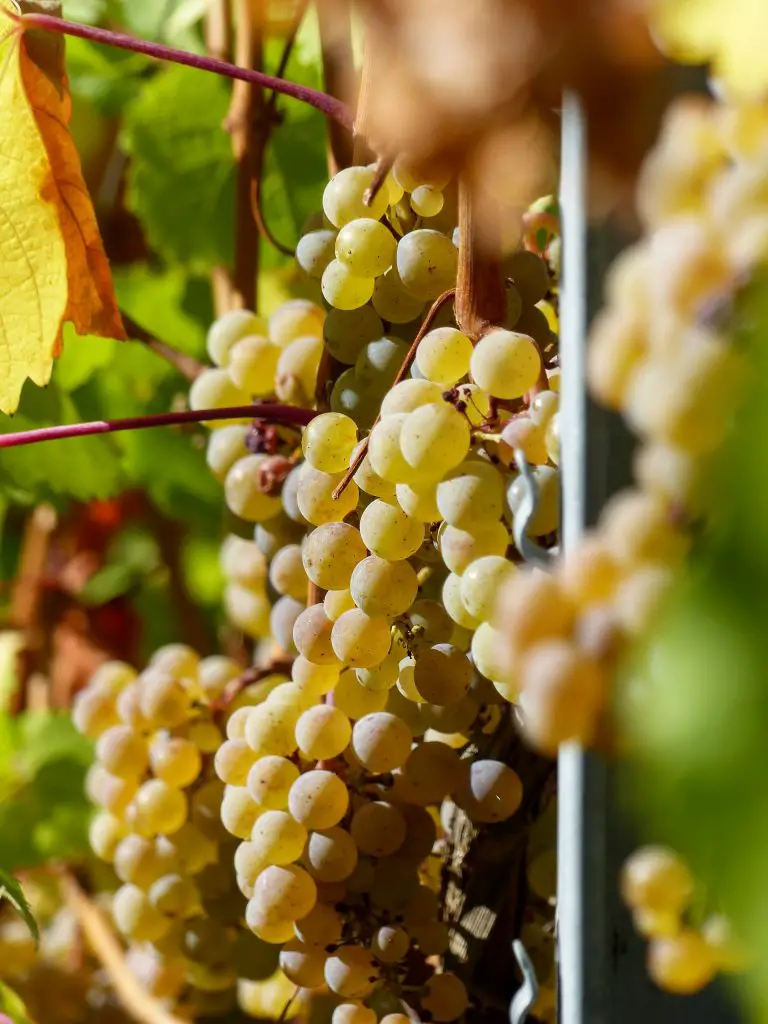 First and foremost, riesling is a light and naturally sweet wine, which has done a world of favours for its reputation as an accessible, yet complex, refreshment. It is immediately floral with notes of nectarine, peach and lime. 
Riesling grapes tend to be naturally sweet, even more so when harvested later in the season, which also has the effect of balancing the moderate levels of acidity present. Riesling is less sweet than Moscato, though, making it versatile as a wine to be paired with both main courses and desserts – another unique characteristic of this German wunder grape!
A bottle of riesling is typically lower on the calorie content for a white wine, containing around 110 calories per glass, but this varies between different producers. In terms of alcohol, Riesling also clocks in lower on the gauge, usually (but not strictly!) around 8-9% ABV. 
Tip: with the exception of fortified wines, sweet wines do tend to be lower in alcohol. Want to know why? Check out our complete guide to sweet wines to find out. 
How do you serve Riesling? 
You can take this as a rule: 90 minutes in the refrigerator for riesling. It is light and acidic, so it should be served cold and fresh to really bring out that incredible bouquet. Aim for somewhere around 47°F (8°C) and you'll be on the right track. Once out of the fridge, fill the glass about a third of the way up, swirl, sniff and enjoy. 
Technical information
| | |
| --- | --- |
| Sweetness | sweet |
| Acidity | medium-high |
| Alcohol | 8-12.5% ABV |
| Fruit | medium |
| Aroma | pear, nectarine, lime, peach |
Where is Riesling produced?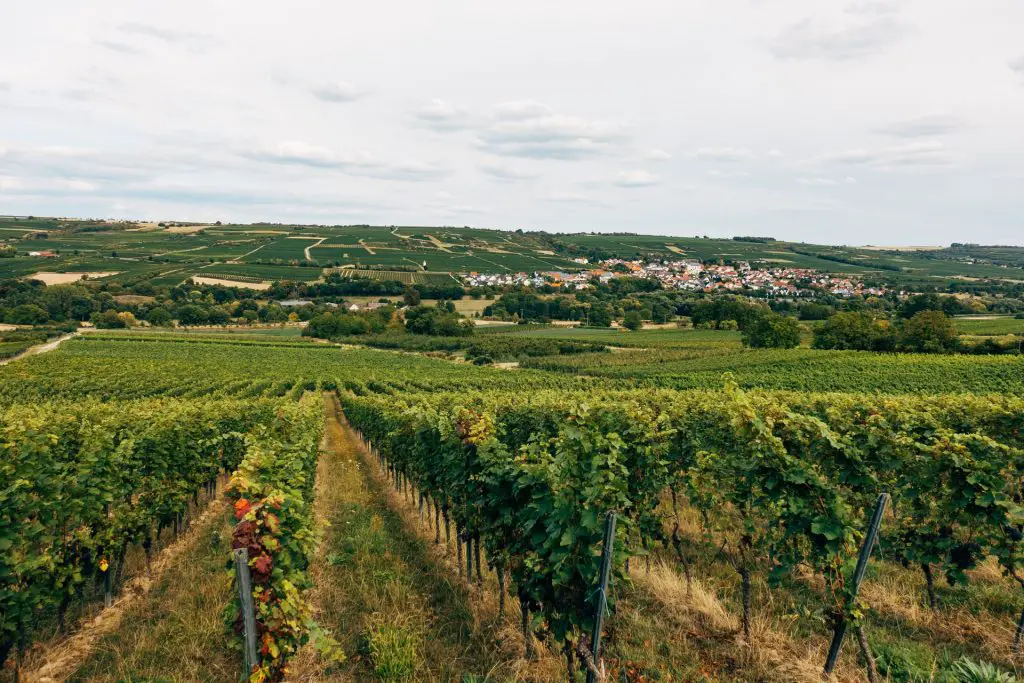 Riesling is synonymous with Germany, particularly the Nahe, Rheingau, Mosel and Pfalz regions, where riesling vines take up nearly a quarter of the total vineyard area. It's well-known that these grapes express terroir incredibly well, because it's also grown in Alsace (a French-German border region), Austria, New Zealand, Australia, Canada and the US. 
Most rieslings are sweet, but this isn't the rule: non-German European varieties, as well as a lot of the US-grown rieslings, are produced quite a bit drier. They are also higher on alcohol content, reaching up to 12.5% ABV in some cases. There are sparkling rieslings, too, known as sekt, and this fizzy fare is a much-loved choice for parties or gatherings in Germany. 
One of the reasons why riesling can hold its ground as a higher-end wine is because of its extraordinary potential for ageing – in the bottle itself, that is., rather than in oak. Most supermarket shelf bottles will have been aged for a couple of years at most, but the special thing about riesling is that you can age it for 40 years or more with truly excellent, and sometimes peculiar, results. It is not uncommon to find sumptuous notes of petrol, smoke and beeswax in very old rieslings. All this ageing potential makes it a delight for sommeliers when matching riesling with food.  
Riesling Wine Pairings
When thinking of light white wines like riesling, we look towards light food pairings to complement: cold fish, salads and semi-hard cheeses are the order of the day. The harmony of Riesling and semi-hard cheeses is what also makes it a great pairing for Caesar salad. For a more interesting pairing, though, consider that riesling's natural sweetness is balanced by its acidity: this characteristic makes for a certain, subtle sweetness that is remarkable at mellowing out the flavours of spicy cuisine. Stay light, but think chicken dishes with a kick, spicy tuna, Sichuan salads and Indian spices. Any of these servings will really be upgraded by a judicious pairing with riesling – something that is often lost on wines paired with spicy cuisine. 
If you want to really impress, bring out the mortar and pestle and grind up a paste for a Thai green curry pairing. This highly aromatic and incredibly flavourful dish will work wonders with a sweet or off-dry riesling that sits a little higher on the alcohol content scale. 
Types of Riesling wine
2.

Off-dry Riesling wine

Off-dry (somewhere between sweet and dry) rieslings have taken a lot of stick. As a popular beginner's choice, wine critics and aficionados have looked down their noses a bit at this particular type of riesling. But attitudes change, and off-dry rieslings are becoming famed for their minerality and acidity.

Again, Germany crops up as the main producer. There's a plethora of great varieties from there, but American productions like Standing Stones Vineyards Off-Dry Riesling do a great job too. For food pairings, savoury is better suited to these semi-sweet wines. 
3.

Dry Riesling wine

The term to know here is Grosses Gewächs, which roughly translates to 'lots of growth'. It's a mark of quality afforded to dry (trocken) German white wines that excel in quality and complexity. If you can get your hands on a German-produced riesling labelled with this term, such as Dr. Loosen Graacher Himmelreich Alte Reben Grosses Gewachs or Weingut Spreitzer Rosengarten Riesling, then you're in for a very special treat.  

Many new world rieslings are also produced dry. Although they come with less prestige than Grosses Gewächs bottles, Jacob's Creek Steingarten from Australia and Red Newt Dry Riesling from New York State have proved popular choices in recent years.  
4.

Sparkling Riesling wine

The world of sparkling riesling is not vast, but Germans and Austrians do a good job of raiding the shelves of sekt every weekend at the supermarket (apparently, Germans drink 300 million litres of the stuff every year). It's a sexy, fizzy, sparkling offer which sits well with sweet foods or on its own as an aperitif, with its fairly low alcohol content.

Australia has produced a lot of good sparkling rieslingin recent years, such as Pauletts Trillians Sparkling Riesling. Most sparkling riesling production involves a second fermentation in a pressurized tank, much like the method used for prosecco, which makes for large bubbles that go fizz!  
Alternatives to Riesling