Reading time:
8
mins
You fancy yourself a properly dressed Caesar salad on a cool Sunday afternoon, but you haven't any idea what wine goes perfectly with your healthy treat? Stick around, and we will show you. No matter the day of the week you choose to chum down your salad, the wines we will present in this article harmonize perfectly with this classic Italian dish.
The Caesar Salad: A Brief History
To better understand how to pair the Caesar salad, you need to know where it comes from. And it all started on the fourth of July, 1924. Italian immigrant and restaurant owner – Caesar Cardini – invents this rush hour dish during the annual US Independence Day celebrations. Little did he know that his salad would later gain such wide popularity and acceptance.
Cardini's invention features a righteous blend of romaine lettuce, parmesan cheese, anchovies, dijon mustard, minced garlic, worcestershire, lemon juice, olive oil, croutons and red wine vinegar combined with chicken or salmon – whatever your preference. This handful of ingredients harmonize religiously. They are the basis for this crunchy and creamy delight. And what better way to enjoy a hefty bowl of salad than with an equally delightful bottle of wine?
Where to Start Pairing Wine with Caesar Salad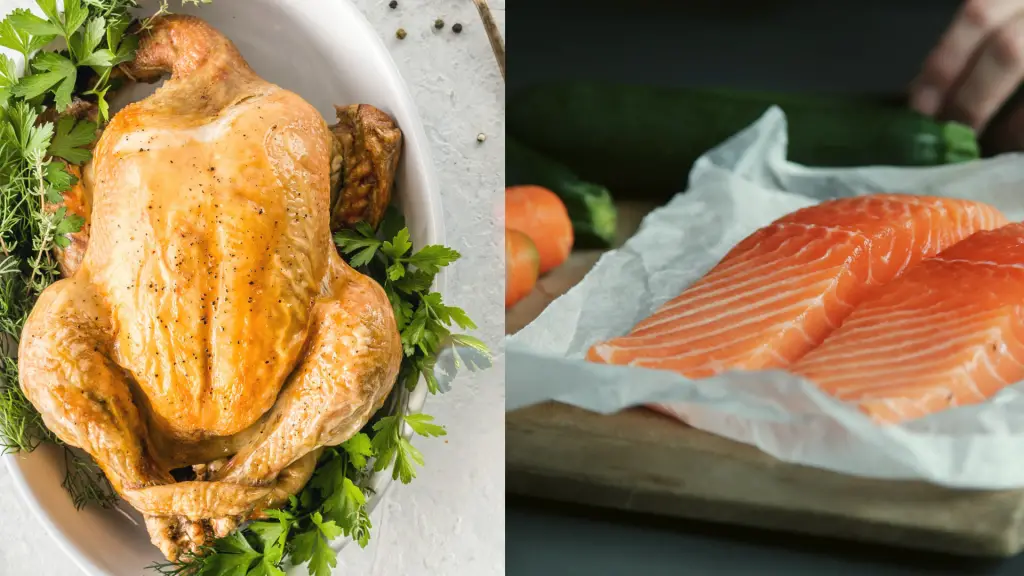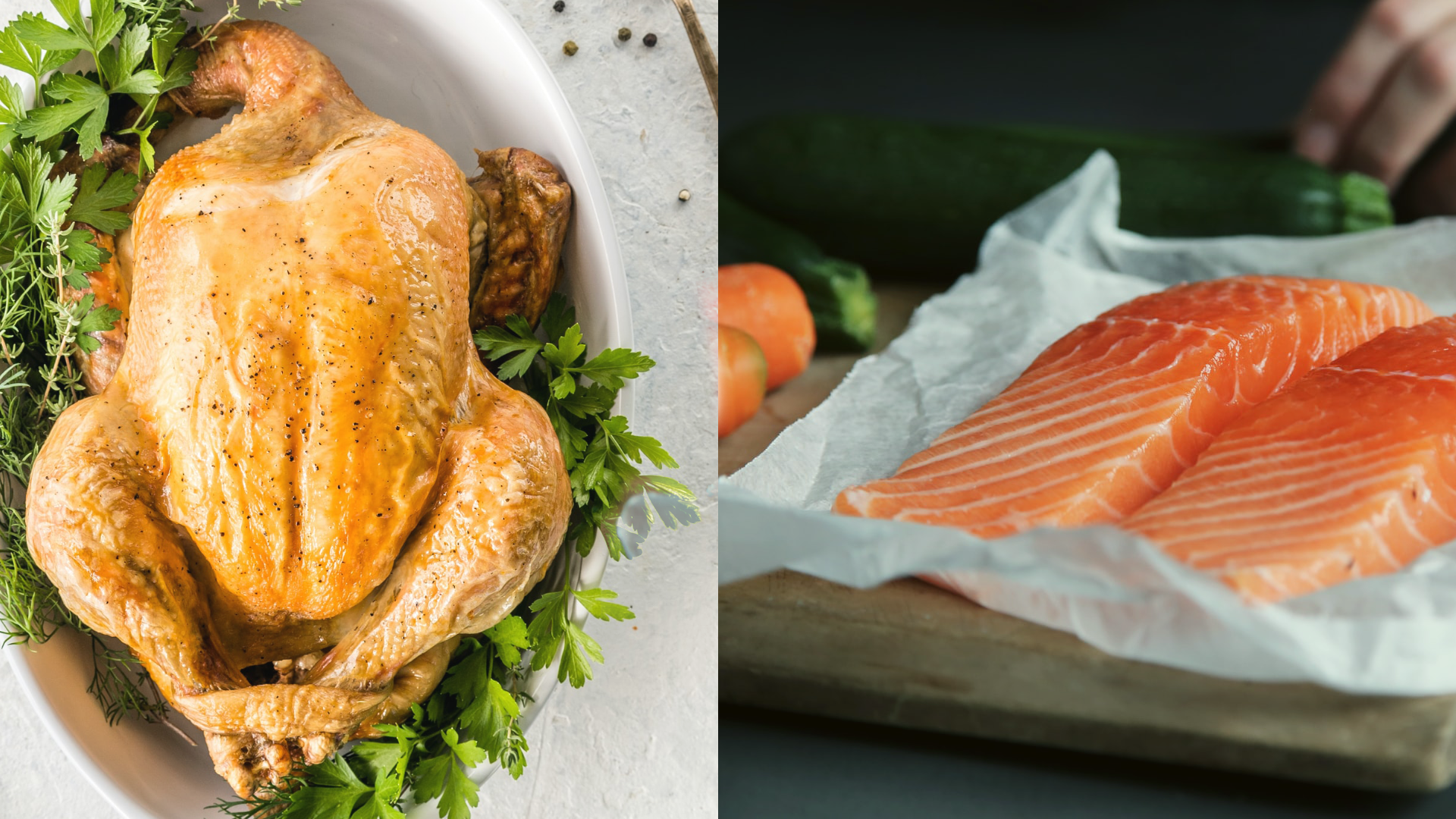 When pairing your Caesar salad with wine, you need to consider the ingredients used in your particular recipe choice. There are three distinct ways to make Caesar salad:
Greek 
With chicken
With salmon 
Whichever the variety you choose, you will immediately notice the characteristic taste profile of this salad featuring a distinct acidity, a creamy feel, and a crunchy texture. This is due to the different ingredients that go into making the Caesar salad.
There's a whole bunch of stuff that makes up the Caesar salad. Which is why it gives you the flexibility to pair with a handful of wines. A well-made bowl of Caesar salad (Greek, chicken, or salmon) offers a complex taste profile. It's got creamy, rich, and tangy idiosyncrasies with an acidic component as a result of anchovies, parmesan cheese, and lemon juice. The perfect wine pairing would be one that complements or accentuates each of these taste facets. 
The Traditional Caesar Salad Pairings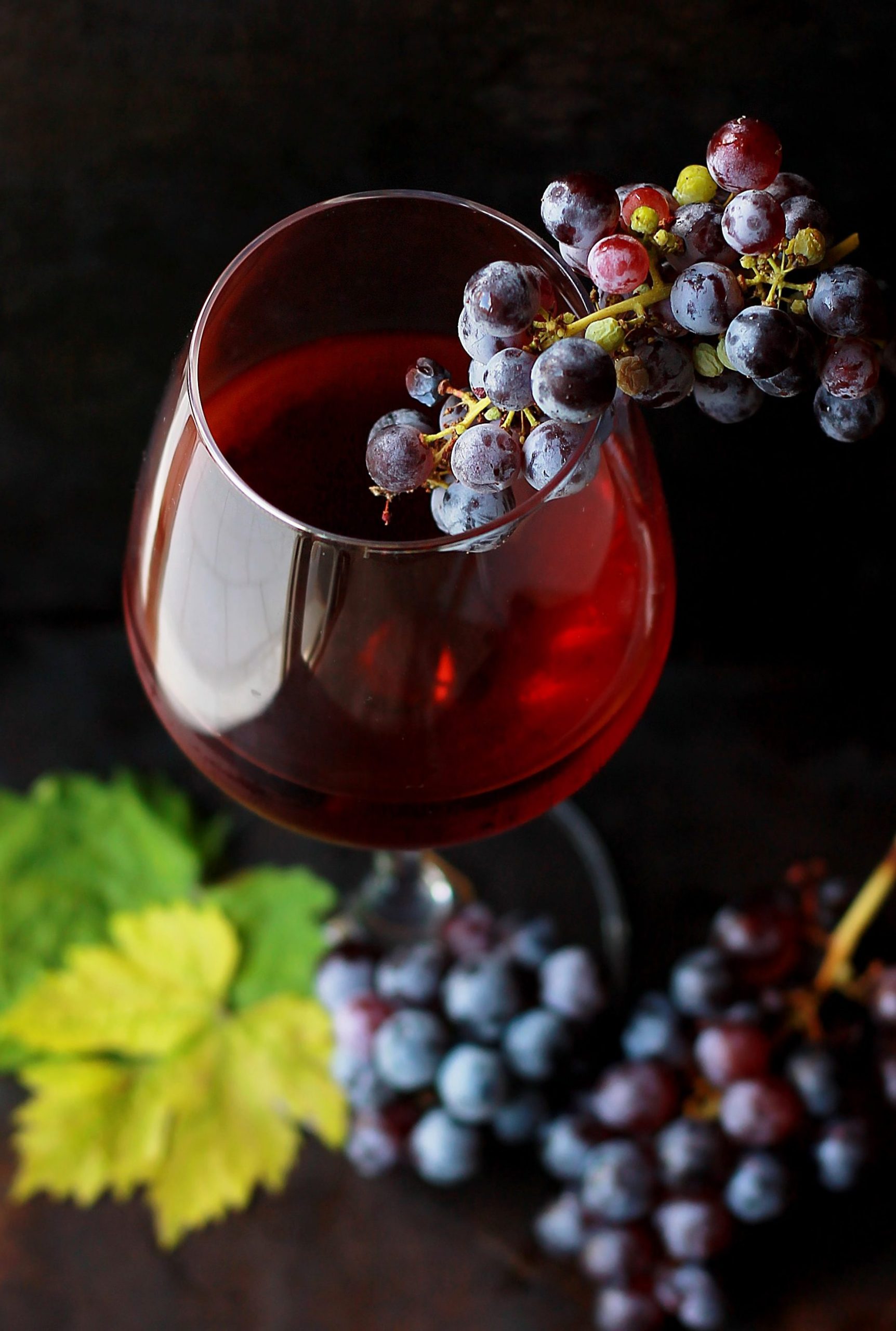 Traditionally, Caesar salad is paired with red wines. Pick a red wine with enough acidity to cut through the thick creamy texture and light enough to match its weight. This might come as a surprise. When learning the very basics of pairings, we're taught that salads are best paired with white wines. But unlike other salads, Caesar salad is heavier and higher in acidity, so it requires more body. The tannins in red wines make them suitable to match this heavier weight and complement the acidity, but let's not overdo it. 
A typical wine that fits this description would be a medium-bodied Merlot. Its moderate tannin levels give it a soft, velvety finish with notes of red fruit and a spicy finish. 
Rosés are another (fantastic!) option to pair with Caesar salads. Pick for example a white Zinfandel from California, a deliciously medium-bodied rosé with a light sweetness for a summer Caesar salad pairing.
Greek Caesar Salad Wine Pairing
There are a myriad of different ways to make Caesar salad, but a recipe that stands out is Greek Caesar salad. Richer and crunchier than a "normal" Caesar, the Greek Caesar salad includes olives, feta cheese, and sun-dried tomatoes. Usually, we use olive oil or Greek yoghurt to dress this salad, rather than the mayonnaise that is characteristic of chicken and salmon Caesar salads. It is also vegetarian and generally healthier, making it a great choice for those who are concerned about their wellbeing. 
For more Greek food wine pairings, check out guide to the best wines with Greek food.
If you are looking to pair Greek Caesar salads with wine, you should consider something crispy with a similar weight to match the salad. Light Greek red wines like Mavrotragano and Xinomarvo come to mind. These wines are well-balanced, full of flavor and feature an acidity that fizzes well with the salad's light texture. 
A bottle of chilled Gamay is no less of a great option. This food-friendly, light-bodied wine is known for its floral nuances, high minerality, and acidity. In other words, it's exactly what you want to be slurping down with your Greek Caesar salad.
Chicken Caesar Salad Wine Pairing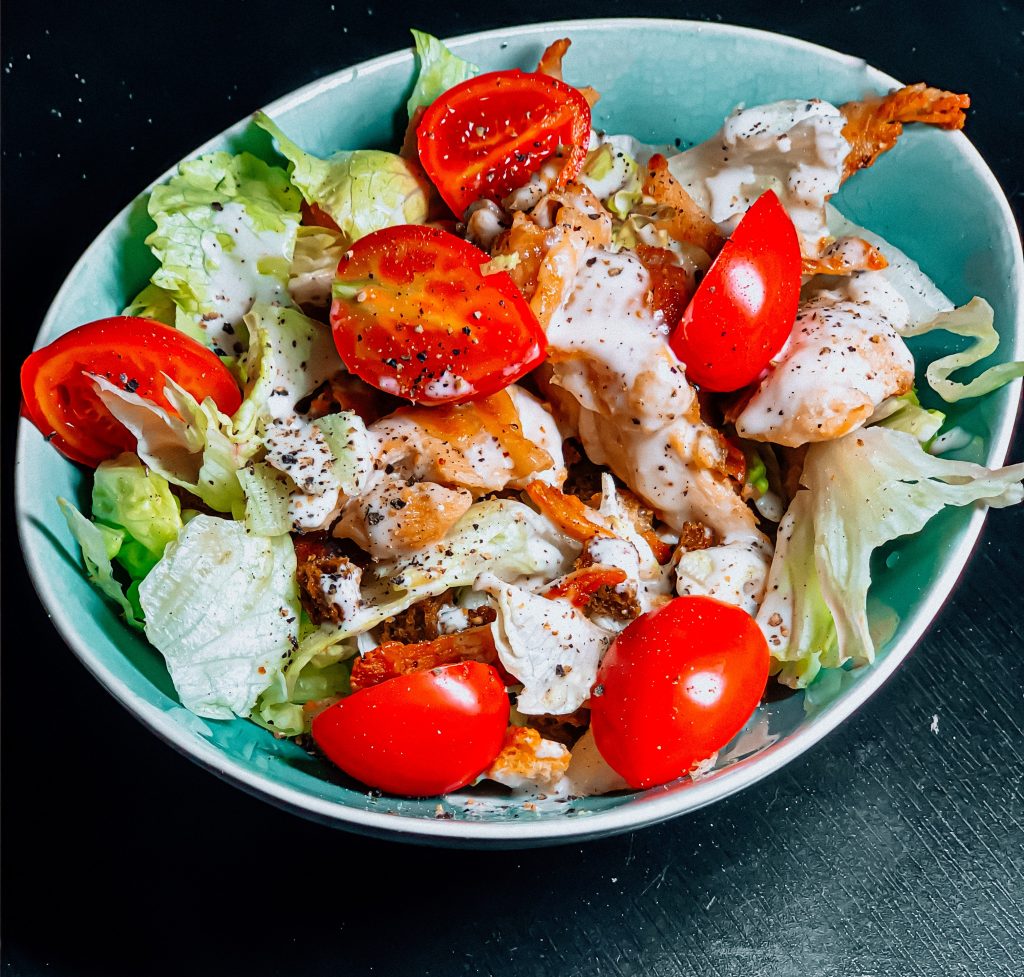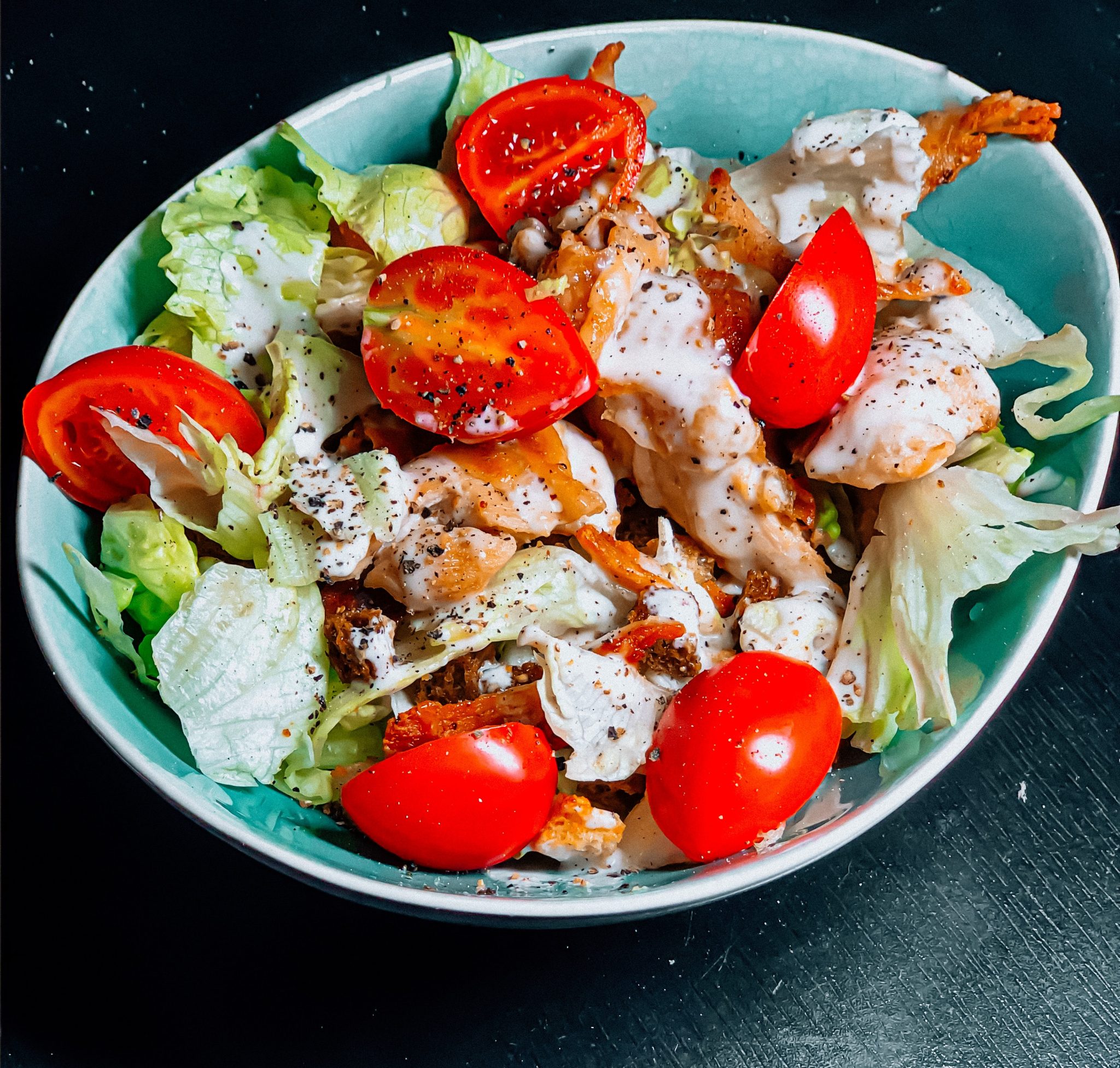 For chicken Caesar salads, you're going to want to think about the chicken when pairing. In classic wine pairing, we pair chicken with lighter red wines. Why? Because of the tannins in red wine that compliment the protein structure of the chicken. But chicken is not the only ingredient in Caesar salad. Let's take a closer look at what else we're going to want to keep in mind.
You will need something to harmonize with the savoury worcestershire, temper the garlic, and cut through the cheese. A red wine with rather high acidity is your best choice, something flavorsome to stand up to the Caesar salad taste. You also want to be looking at the tasting notes. Wines with spicy or fruity notes are preferable because they bring out the flavor of the lettuce, mustard and anchovies. 
Bring all of this together, and you find that Argentinian Merlot does the trick. It is known for its soft texture, especially the medium-bodied variety. At the same time, the tannic structure of the Argentinian variety is quite pronounced, making it a great pairing for Caesar salad. Merlot also features a moderate acidity with spicy notes – giving your salad a delightful spicy twist. 
Best Red Wines with Caesar Salad
Traditionally, Caesar salad is paired with red wines. Here, we've listed some of the best red wine pairings for this salad. Whether you're having it with salmon, with chicken or Greek, the best red wines to compliment your Caesar salad are:
1.

Pinot Noir

Regarded as the most famous of all wines, Pinot Noir makes its way into our list of red wines to pair with Caesar salads. Its silky tannins, bright acidity, and a broad range of tasting notes make it a good pair to most main courses, and Caesar salad is no exception. Try a chilled lighter pinot noir with salmon Caesar salad and you're in for a treat.
2.

Cabernet Sauvignon

For the most part, dry wines are paired with Caesar salad, but you can also choose a sweet wine – such as a bottle of delicious Cabernet Sauvignon. Although Cabernet Sauvignon can be anything from dry or off-dry to sweet, I'd like to focus on the sweet variety here. The taste profile of a sweet, full-bodied Cabernet Sauvignon complements the salty tang of the Caesar salad. You're best off pairing Cabernet with chicken Caesar salad as its berry and spicy notes enhance the juicy flavors of grilled chicken.
3.

Merlot

This dry red wine, known for its soft sensual texture on the palate, is another option to pair with Caesar salad. It is quite light, and its medium tannins pair well with chicken and vegetables. Yet another great option for chicken Caesar salad.
Salmon Caesar Salad Wine Pairing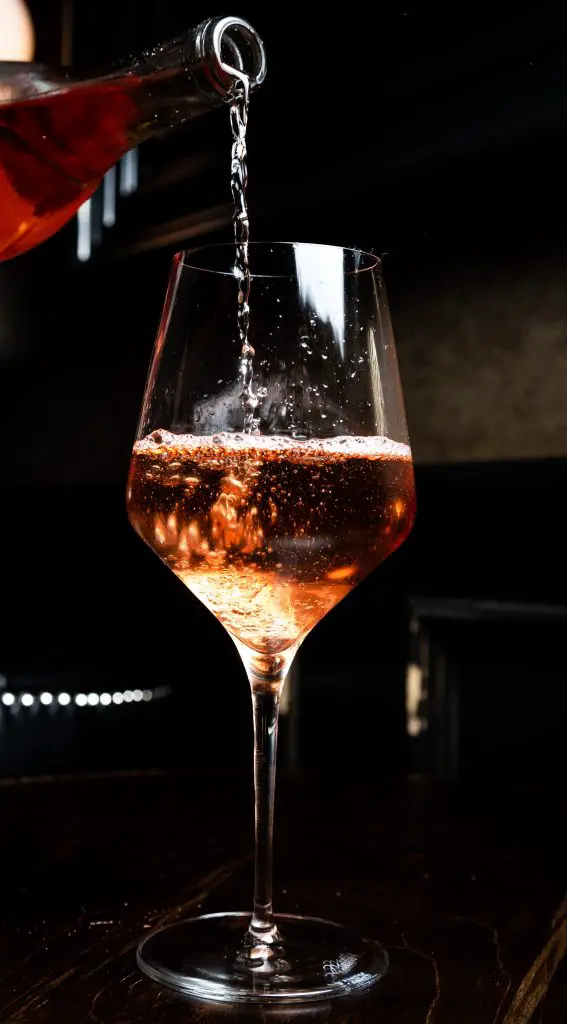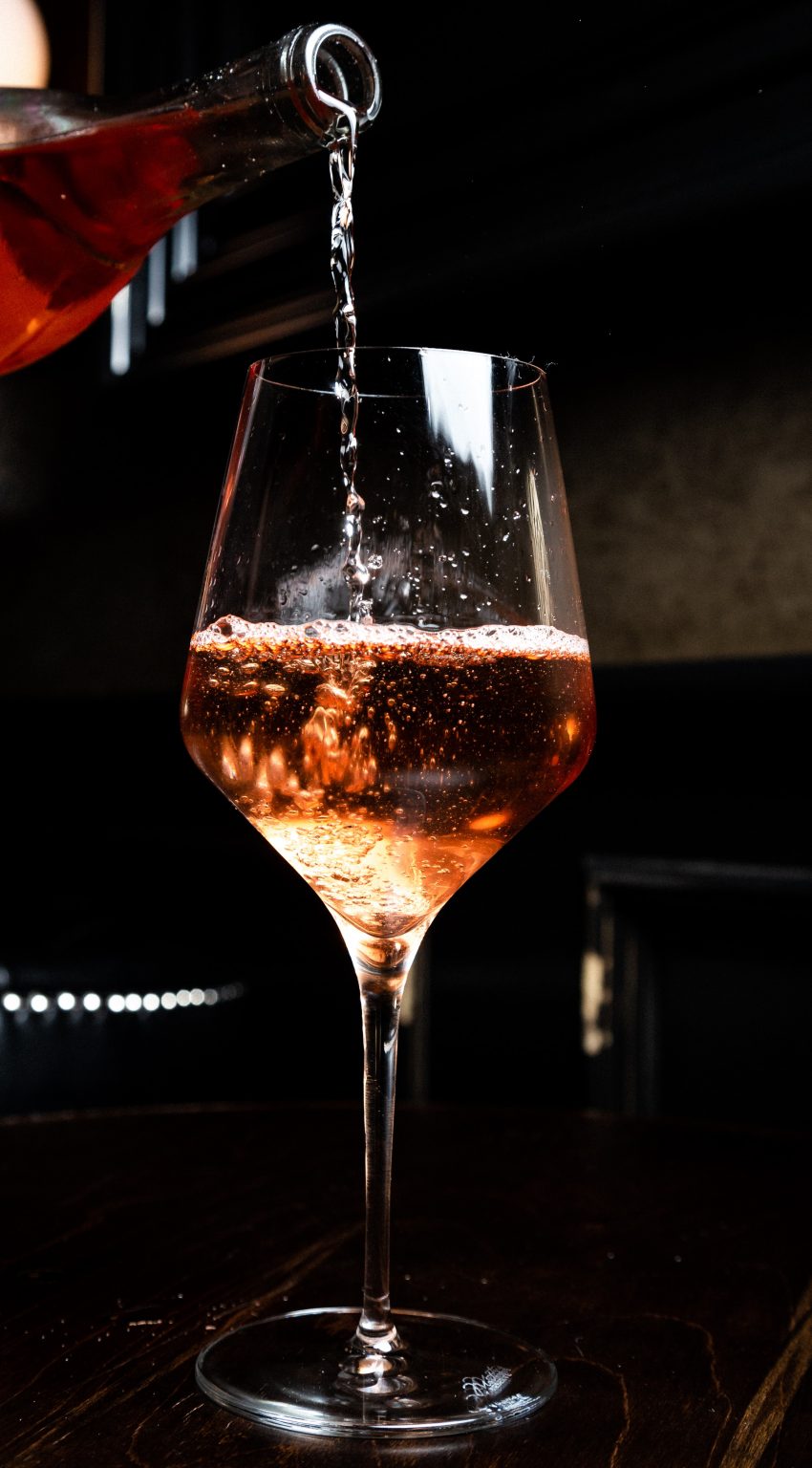 One of the beauties of Caesar salad is that it offers a lot of flexibility when pairing. So if you prefer to add a little salmon twist to your Caesar salad, there is something for you in the wine pairing department as well.
Salmon is a fatty fish, rich in omega-3 and incredibly good for you. As a fatty fish, you'll need a crisp enough wine with the right amount of acidity to pair. At the same time, the acidity can't be too high – after all, it is a salad. What a dilemma, eh? Well, not for rosés. 
If you are looking to pair your salmon Caesar salad with wine, we straight up recommend rosés. They have flavor profiles resembling a light red wine but with a crispier feel (because of their relatively higher acidity and notable minerality). They also feature more pronounced tasting notes. It's as if rosés and salmon Caesar salads were made for one another, don't you think?
Best Rosés with Caesar Salad
1.

Müller-Thurgau Rosé

This is probably the best pairing of all time with salmon Caesar salads…no cap. Honestly, this wine is tha best. It has Riesling characteristics – fruity notes, refreshing acidity, crispiness – but is somewhat heavier and drier. The Riesling characteristics come from its – you guessed it – Riesling parentage combined with the sturdier Silvaner grape. The rosé variety is even crispier and features red fruit notes that compliment the salmon in the salad. Moreover, Müller-Thurgau echoes the salty zest of the Caesar salad dressing making it the perfect combination.
2.

Sangiovese Rosé

Next on our list is an even more fruity rosé wine originating from Italy, Sangiovese rosé. It is medium-bodied and well-known for its cherry flavors and what tends to be described as a "tomato-like" acidity. As with most rosés, it is best served chilled and is somewhat on the heavier side of Müller-Thurgau.
3.

Rosé Zinfandel (White Zin)

White Zinfandel, also known as "White Zin" and sometimes referred to as Rosé Zinfandel is another good option to pair with your salmon Caesar salad – especially the dry variety. A very sweet rosé (there's even articles dedicated to what separates White Zin from other kinds of rosé), it is essentially the jack of all trades for Caesar salad pairing whichever kind of Caesar salad you're making this Tuesday.
Caesar Salads and White Wines: An Alternative 
If you are a white wine enthusiast, there is something for you as well. Conventionally, white wines are usually the best choice for light dishes like salads, but the Caesar salad poses an exception. They are heavier than other salads, and most white wines don't have the body to cut through or carry the dish. 
There are, however, some white wines that can stand up to the salad. Here we find wines such as Chablis and Chardonnay, Chenin Blanc, a medium-bodied Pinot Grigio, and Spanish Albariño. All of these are crisp with high enough acidity and body to match excellently with your Caesar salad if you're not a big fan of red or rosé.
Another wine variety that will do justice to this Italian salad dish is Red Riesling. Despite what the name implies, this is red-skinned grape used to make white wine. You probably haven't heard much about them as they are super rare. They weren't always rare, however: in the Middle Ages, Red Riesling grapes were planted with their white counterparts all over Europe. Over time, these vines all but disappeared due to a range of reasons like diseases and growing conditions. Resurfacing in the wine world in the early 2000s, Red Riesling has since strived to make its mark in the wine-drinking community and with great success.
Quite aromatic, highly acidic, and crisp on the palate, Red Rieslings are heavier than the light-bodied white Riesling, so they are perfectly suited to cut through the heavy creamy-ness of the Caesar salad with refreshing acidity.