Reading time:
6
mins
Olive oil, wheat and wine. This timeless trinity of Greek cuisine is a staple across the Mediterranean world. Pairing wine with Greek food offers great opportunity for experimentation, but there are some general rules to stick by as well. Here's the lowdown.
How to Pair Wine with Greek Food
Greek cuisine is a diverse affair. You'll find meat dishes, seafood, vegetable and bread-based dishes sitting alongside the usual assortment of fresh yoghurt, tzatziki, salads and herbs. There are street food options like the world-famous souvlaki, gyros and tzatziki, but there are also wonderfully fresh Greek salads peppered with feta cheese and olives. Then there are more hearty, home-based dishes, such as the much-loved moussaka.
Greek food, of course, pairs superbly with Greek wine. Grape varieties like Agiorgitiko and Assyrtiko are becoming an increasingly familiar sight on supermarket shelves in Europe and America. Sadly, Greek wine was overlooked for many years in favor of classic French vintages and trendy New World crazes.
Greek wine is the fruit of a land that has always been difficult to produce in. For me, this makes it taste even better. Pairing Greek wine with Greek food? It's an incredible experience. After all, they have been doing it for about 2500 years.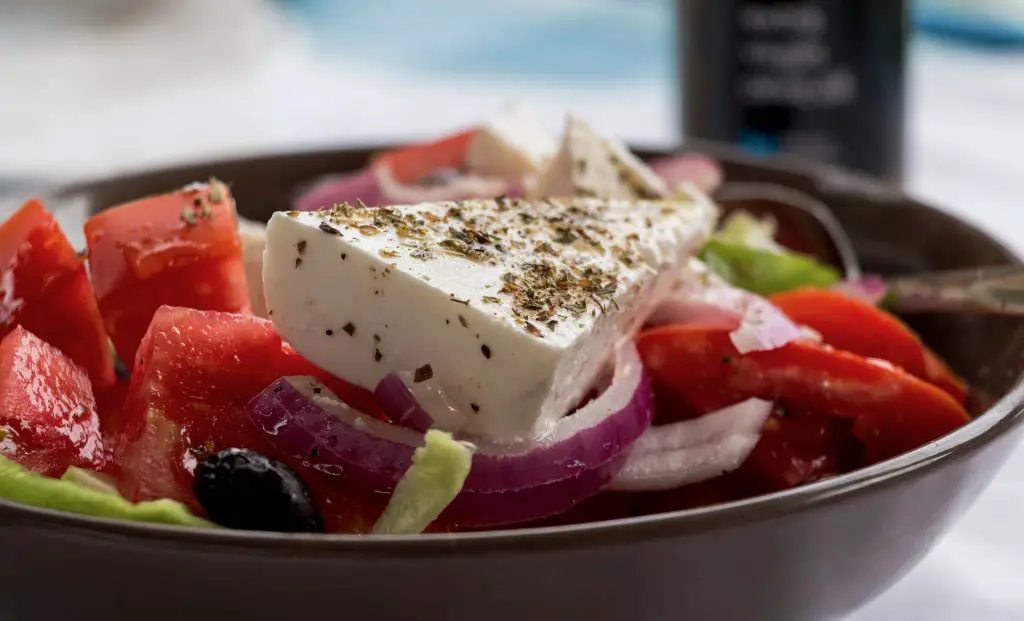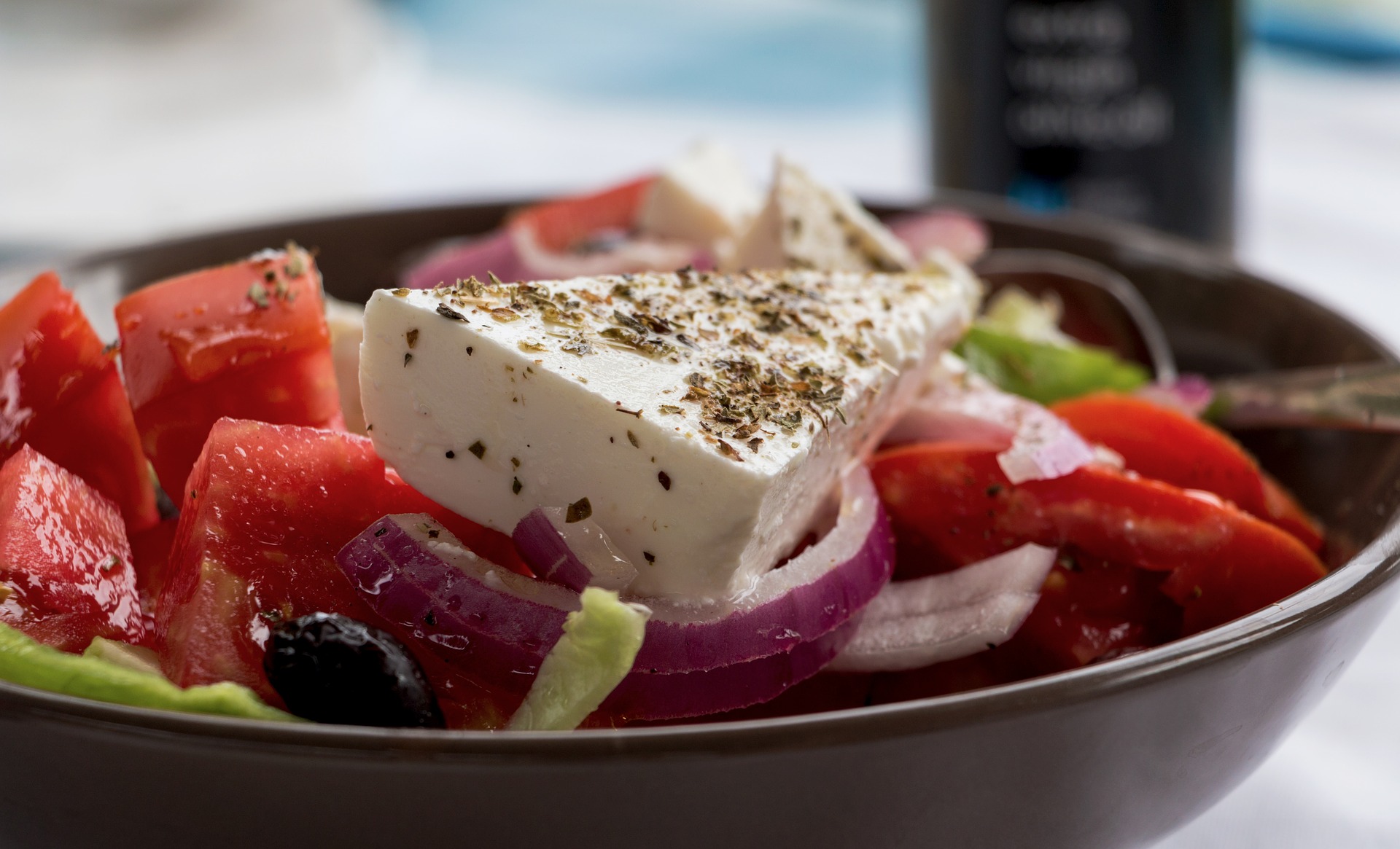 The unique red-berry bouquet of a full-bodied red Agiorgitiko wine makes a perfect pairing to the heaps of grilled meats served at Gyros joints around the world. Similarly, Moschofilero, with its biting acidity and aromatic bouquet, is a great counterpoint to the vegetables and herbs that are so present in traditional Greek cuisine.
Other Wines with Greek Food
That doesn't mean that you have to pair Greek wine with Greek food. With a little experimentation, you can come up with interesting pairings for Greek dishes based on wines in your local supermarket.
If what you're making is a light snack based on Greek cuisine, then opt for something light and easy, like a Moscato wine for example.
For heavy, meaty dishes like souvlaki, gyros and moussaka, go for a fuller-bodied red with a shorter finish, like Malbec or Shiraz. If you're cooking up a signature Greek vegetable dish – perhaps dolmadakia (stuffed vine leaves), or briam (roasted vegetables) – try pairing with German Riesling or zesty New World whites, like Chilean Sauvignon Blanc.
With such a diversity of foods to choose from, perhaps the first choice to make is whether you want to pair your food with the usual offerings available in most supermarkets, or whether you want to go strictly Greek. For the food pairings in this article, we've given an option for both, so the choice is up to you!
1.

Moussaka
Wine pairing: Xinomavro / Sangiovese
Moussaka is like lasagna. A juicier, more vegetal version of lasagna, with cinnamon, cloves and thyme. Greek lasagna.
A true Moussaka recipe is loaded with beef or lamb mince, potatoes, eggplants and spices, creating a juicy, softly-textured melange that goes perfectly with a ripe red wine like a Sangiovese or aged Montepulciano. You could also opt for an orange wine from Georgia – the exotic, tannic fruit flavors pair really well with eggplant. 
If possible though,a proper Moussaka wine pairing would go with the Greek options. In this case, I recommend Xinomavro. It's a red wine grape grown in the mountainous areas towards the North Macedonian border, and it pairs incredibly with Moussaka.
Sometimes called 'the bastard son of Nebbiolo and Pinot Noir', Xinomavro has eclectic tasting notes like sundried tomato, red berry and prunes. Pair it with the thick, meat-and-veg texture of a good Moussaka, and this combo really is a winner.
2.

Greek Chicken Gyros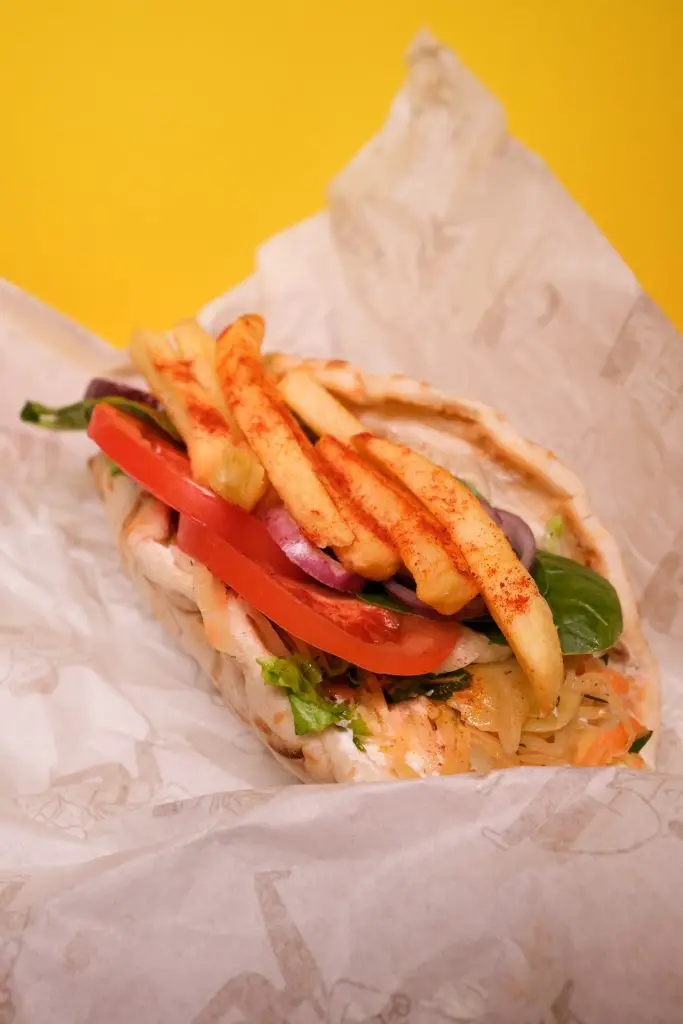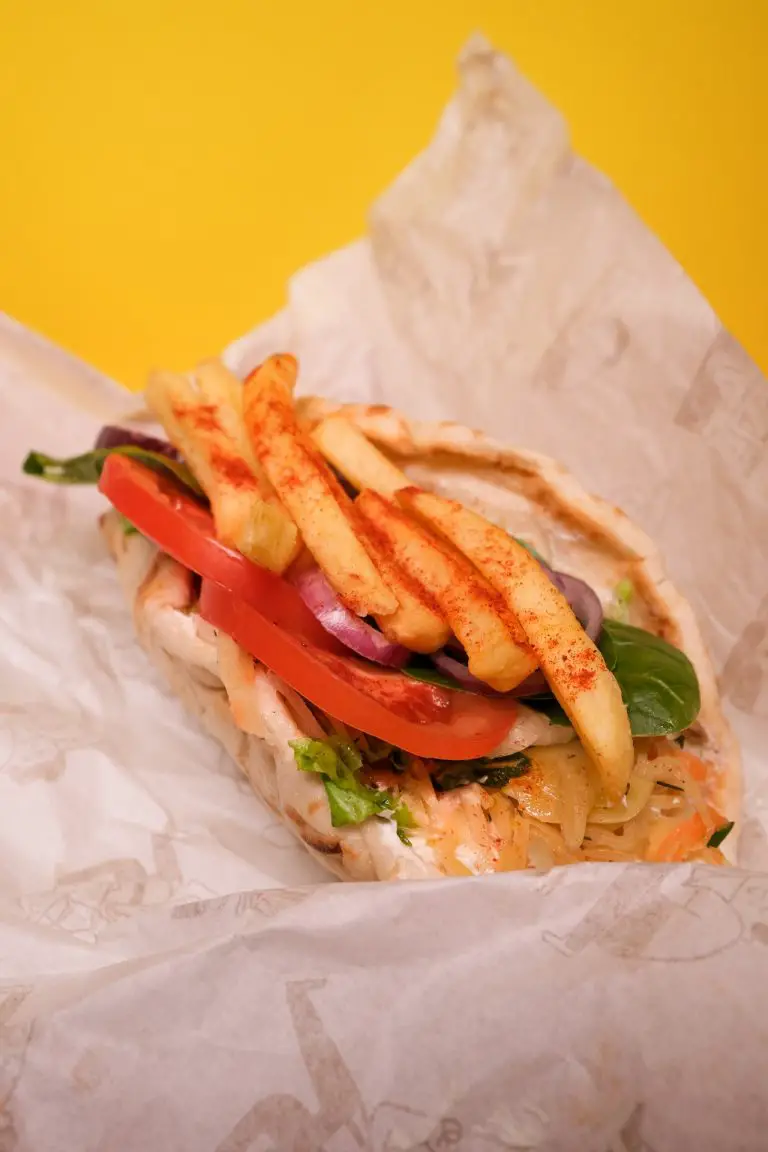 Wine pairing: Retsina / Vinho Verde
A real Greek chicken wine pairing will take into account the subtleties in how the Greeks prepare chicken. Lemon juice, olive oil, white vinegar, oregano, paprika and thyme all feature. This isn't unusual for Mediterranean-style chicken dishes. The difference here is that Greek Gyro also uses yoghurt, which really infuses the marinade within the meat.
Gyros is an aromatic chicken dish with a strong finish, so a complex Vinho Verde from Portugal, which can cut through the chicken in its fresh acidity whilst standing up the bold flavors – is a great choice.
On the Greek side of things, consider reaching for a Retsina. It's an ancient Athenian wine that was traditionally kept in resin-covered amphorae jars. Retsina has a uniquely salty, lime-like finish, which helps it stand up to the Gyros flavorings without overpowering the soft yoghurt-marinated chicken.
Recommended reading: Pairing Wine with Greek Gyros
3.

Greek Souvlaki
Wine pairing: Agiorgitiko
A real Greek chicken wine pairing will take into account the subtleties in how the Greeks prepare chicken. Souvlaki is similar to Gyros as a fast food staple, with one main difference: where Gyros is more like the Middle Eastern shawarma wrap, a souvlaki uses cubes of meat, typically cooked on a skewer over the grill. This adds a certain thickness to the dish – enough to make me reach for a medium-bodied red wine, rather than a white.
The very best wine pairings for souvlaki can match the charcoal intensity of grilled meat, without piling on top of the heavy, salty components of the dish. Souvlaki also comes with flatbread, starchy fries or potatoes and tzatziki – add all of this together, and suddenly you have a very difficult dish to pair with wine.
Enter Agiorgitiko, the red Greek wonder grape that dominates vineyards across the Peloponnese. Full-bodied, firm and bursting with notes of plum and spice, Agiorgitiko is the main contender for this staple of Greek fast food. Hints of cinnamon and nutmeg provide the perfect counterpoint to heavily grilled and barbecued meat, and the moderate weight is enough to match up to the muscular souvlaki. 
4.

Greek Octopus (Xtapodi)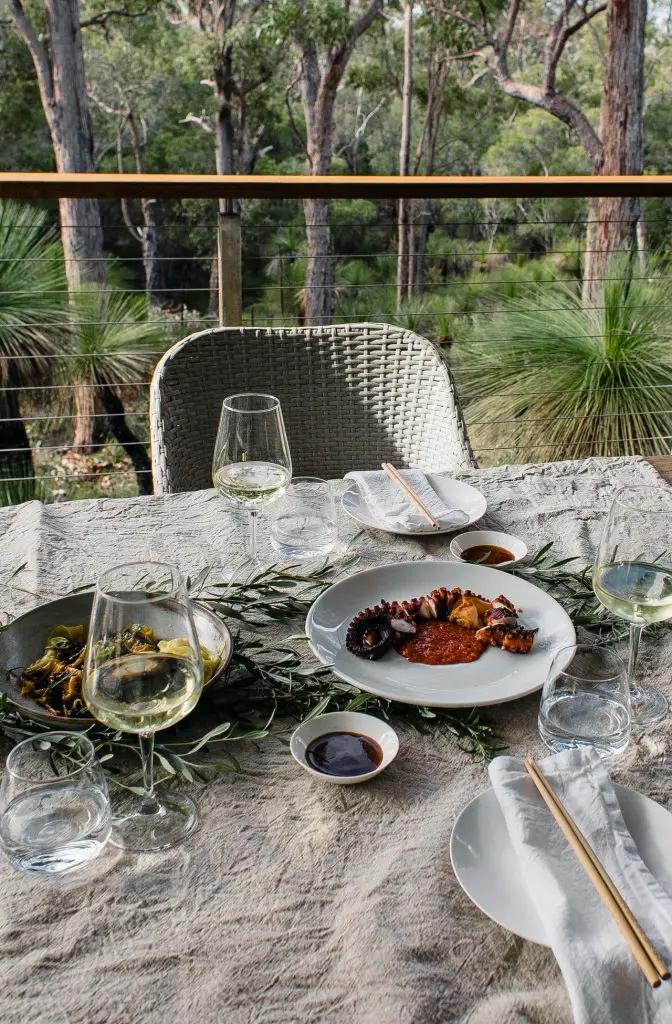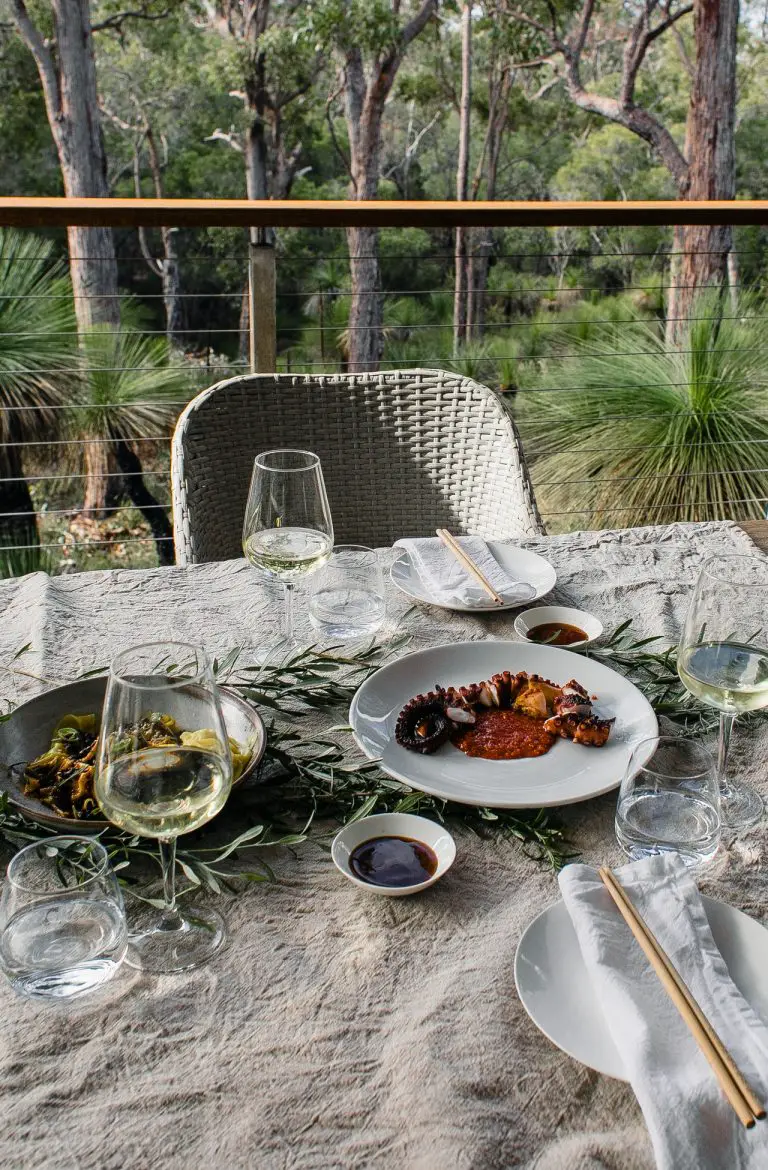 Wine pairing: Assyrtiko / Sauvignon Blanc
Xtapodi is a traditional octopus dish done very simply. Boiled, grilled and marinated, giving a loose, fleshy octopus taste with that crunchy texture and Mediterranean aroma. This kind of grilled octopus wine pairing goes perfect with a Sauvignon Blanc, but a more interesting Greek suggestion would be Assyrtiko, from the island of Santorini. 
Assyrtiko is a highly acidic white wine, which helps to cut through the fleshy octopus. Strong citrus notes sit alongside jasmine and ginger, with an earthy twang gifted by the volcanic soils of the island of Santorini. All of this means that Assyrtiko and Xtapodi-style octopus is a Greek wine and food pairing made in heaven – or Elysium, as the ancient Greeks would say! 
5.

Stuffed Vine Leaves (Dolmadakia)
Wine pairing: Moschofilero / Riesling
Dolmadakia is one of those classic Mediterranean vegetable-based dishes that makes all Greeks homesick. Spring onion, garlic, mint, dill and coriander wrapped up in fresh vine or grape leaves. Some recipes even call for minced meat. What's not love?
The sheer amount of herbs that take centre-stage in this dish make white wine the best pairing for dolmadakia. Especially floral, aromatic white wines. Think Riesling or Vinho Verde, or even a classic Sauvignon Blanc. 
If you're keeping it Greek, though, we strongly suggest Moschofilero.
Moschofilero comes from the region of Mantinia, towards the east of the Pelopponese. During the growing season it becomes very hot in the day, but quite cool during the night. This means that Mantinia wines are ripe, concentrated and somewhat sweet, whilst being able to retain their acidity thanks to the lower temperatures in the evening. Moschofilero is the most well-known example of Mantinia wines, and pairs wonderfully with Greek vegetable dishes like Dolmadakia. This is really one to be enjoyed on balmy summer evenings!
6.

Slow Roasted Lamb (Kleftiko)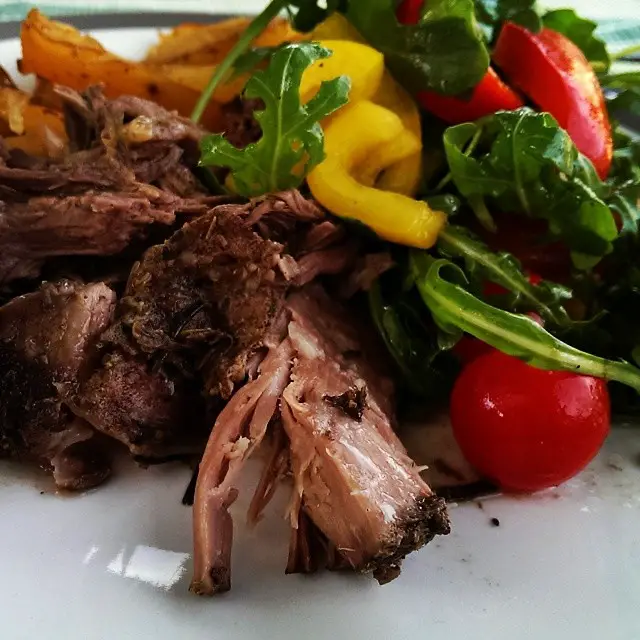 Wine pairing: Limniona / Primitivo
A quick history lesson: the famous Greek slow-roasted lamb dish, lamb kleftiko, actually translates to 'stolen' lamb. The story goes that Greek guerillas fighting against Ottoman occupation – known as Klephts – would raid villages and steal lamb to cook in underground ovens, avoiding the Turkish rulers. Hence the world kleptomania!
Lamb kleftiko is a beautiful, succulent dish when done correctly. With a simple marinade of garlic, olive oil, oregano, salt and pepper, the lamb is oven baked with vegetables and potatoes for about two hours in a roasting tin. The result? Soft, flavorsome lamb that gels incredibly with the brawny flavours and short finish of a good Italian Primitivo.
To keep your wine pairing strictly Greek, I'd recommend a Limniona from Thessalia. It's a strong, concentrated red wine in flavor that manages to retain a lightness and finish on the palate not unlike a Primitivo. The high acidity of Limniona is a good match for the fattiness of the oven-baked lamb.