Reading time:
5
mins
Oh, the eternal Souvlaki – as old as Greece itself! Well, not quite. But when I was a child, at least, I remember the charcoal aromas of succulent meat and vegetable skewers grilling over the fire, just waiting to be bathed in heaps of fresh Greek tzatziki. 

Now I am an adult, and I still love souvlaki. And because I am an adult, I like to enjoy my souvlaki wrap with a glass of wine. But which wine should I pair with my souvlaki? That question has been on my mind. And the answer lies on this page.
What is souvlaki?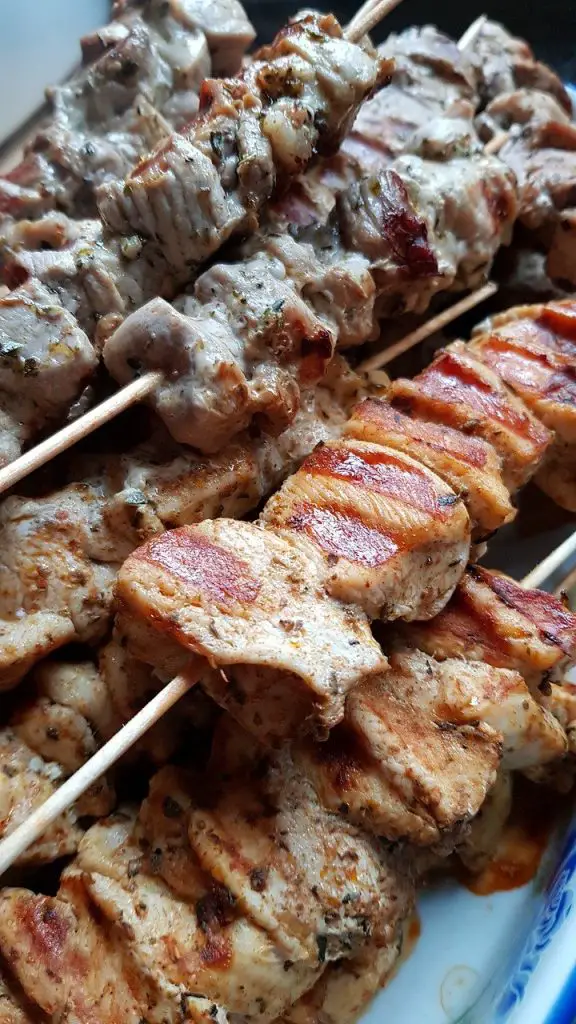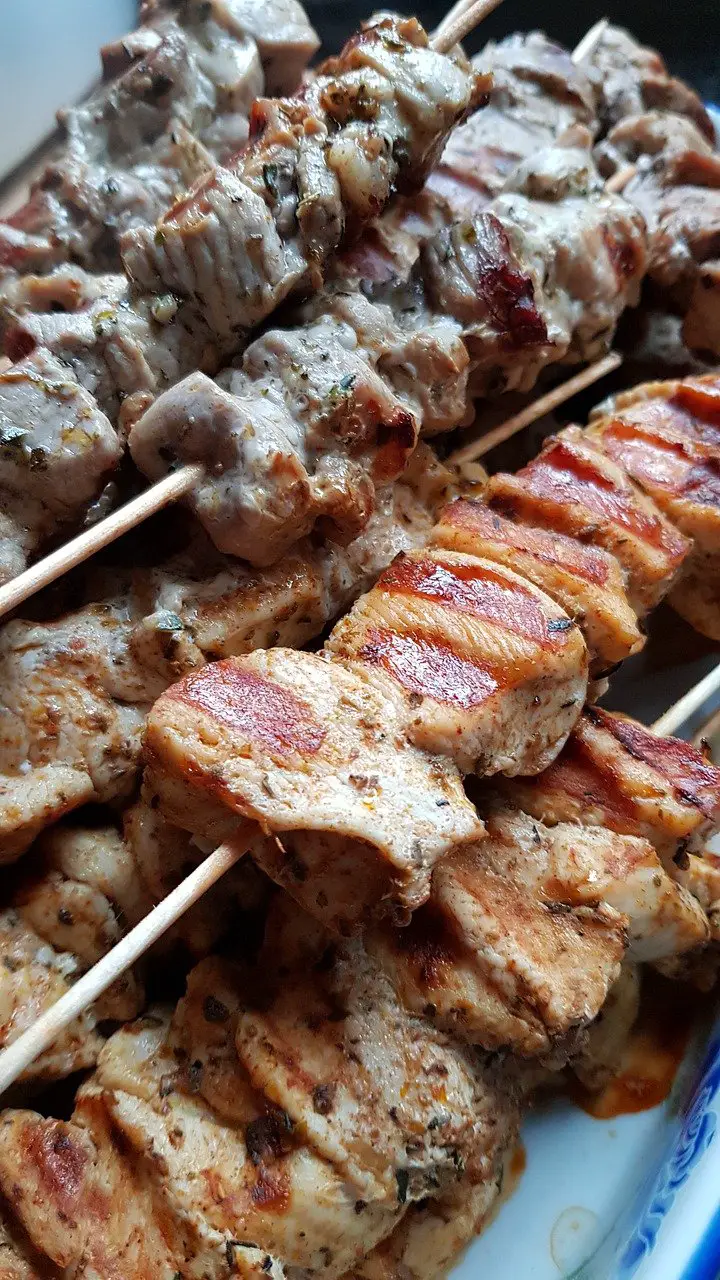 The first known appearance of souvlaki on the Greek food scene was not actually that long ago. Today, it is a pillar of Greek street food sold all over the country (rivaled in popularity only by gyros). But the humble souvlaki began life in the small town of Livadia in central Greece, about 90 kilometres north-west of Athens, in 1951.
 
Imagine small cubes of meat or vegetables marinated in lemon juice, oil and a lively crowd of thyme, paprika, garlic, salt and pepper. Lay it to grill over high heat and find a typical Greek pita bread. Then add some more bread, or a portion of Greek fries, or sliced potatoes, and then some salad, then add your tzatziki, maybe some onions, and marvel at the living incarnation of Greek fast food perfection that you have lovingly created. And Greek food perfection requires a perfect Greek food wine pairing.
It's a bit similar to a chicken shawarma, but with potatoes and Greek herbs. Sounds tasty, right?
Looking for a completely vegetarian option to souvlaki? Check out these fantastic wine pairings for falafel!
Greek food with Greek wines… or not? 
If it grows with it, it goes with it. Well, that's what they say. Greece has a long and overlooked tradition of fantastic wines and vineyards, and some of these, such as the citrus-led Assyrtiko from Santorini, or Xinomavro wine from northern Greece, are wonderfully fresh offerings that make for excellent pairings with Greek food (Xinomavro in particular is a great wine pairing for Moussaka).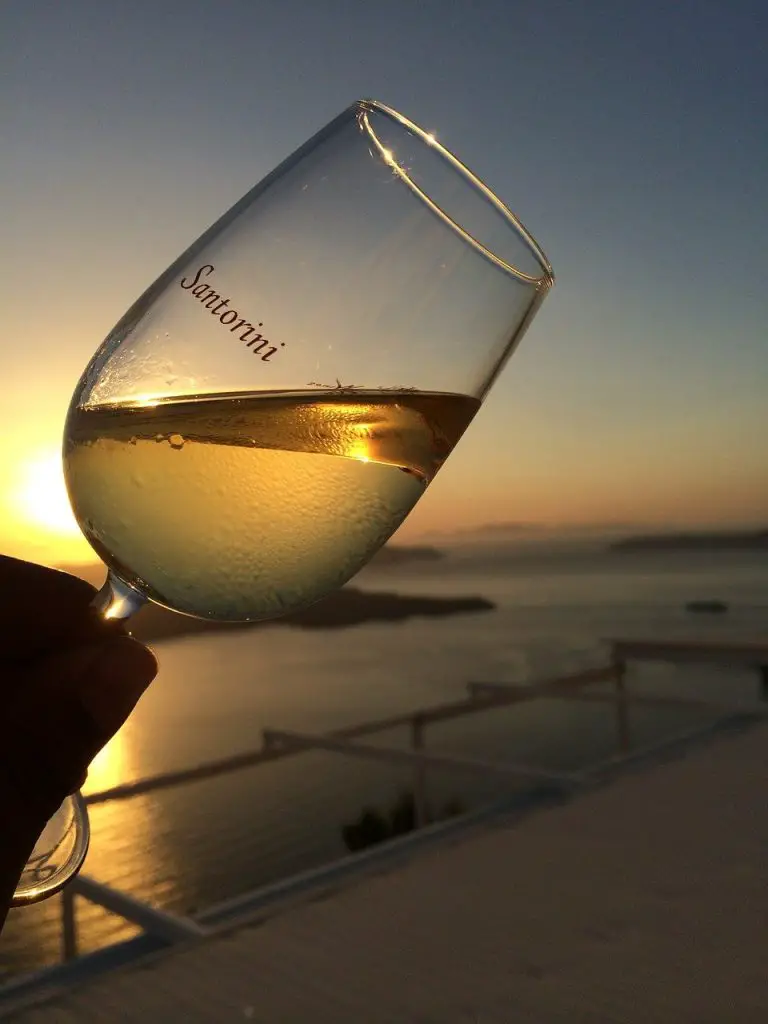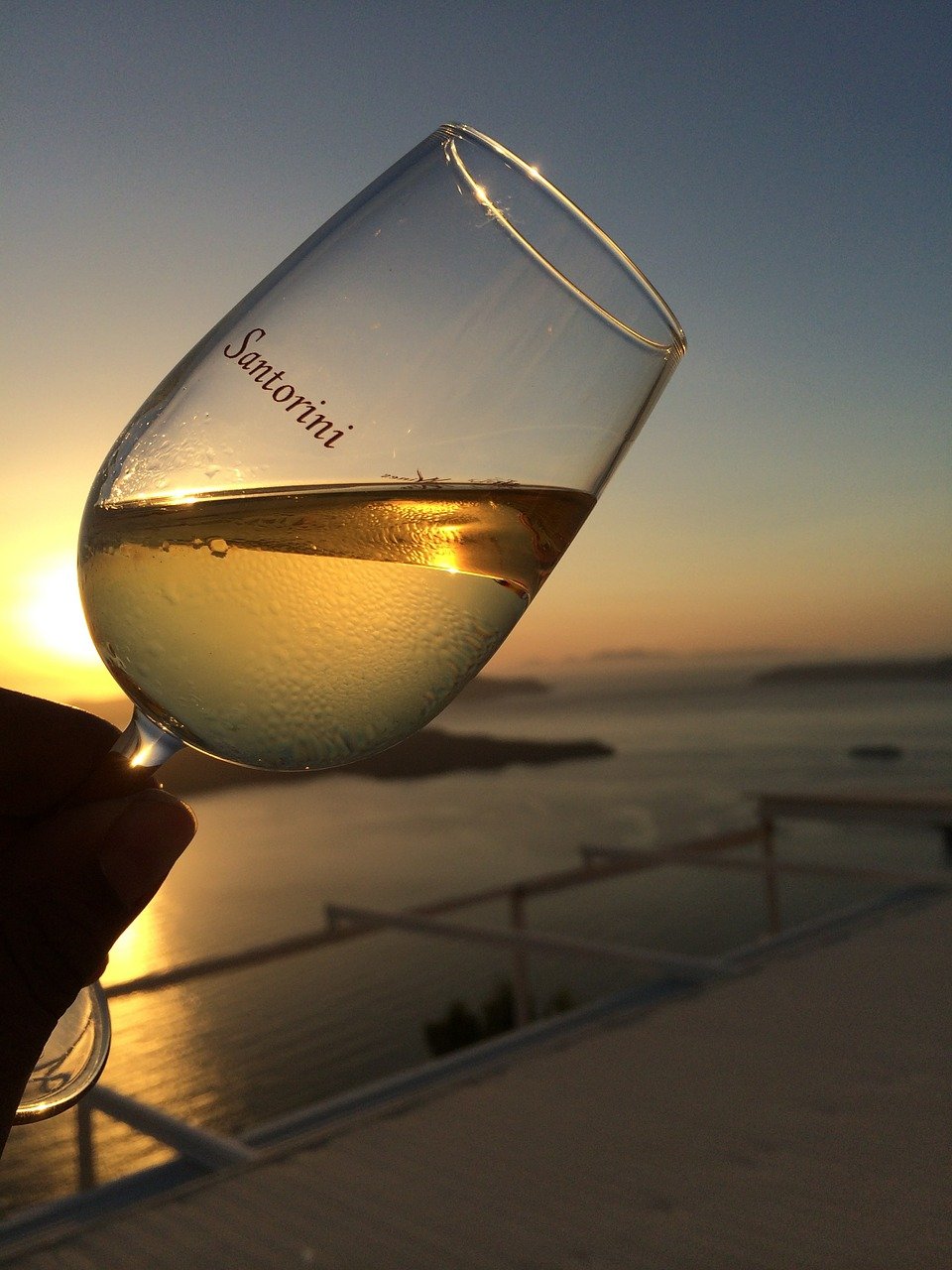 The problem with pairing these wines with souvlaki is that souvlaki tends to be quite a heavy dish. And the citric, mineral tones of these classic Greek wines can be lost in the righteous fire of grilled meats and potato.  Remember – when pairing heavy, salty dishes with wine, you should be looking to balance out the flavors and textures of the food you are eating. 
With that in mind, the usual range of Greek wines are more suited to the herbs and salads of Greek cuisine, such as briami (greek ratatouille), prasorizo (sautéed leeks, rice, herbs and lemon), or a simple Greek salad with feta, onions, olives and oregano. These kinds of vegetables and herbs are present in souvlaki, but the headliner here is most definitely grilled meat. And grilled meat requires a different approach. 
How to pair souvlaki with wine
You can probably find the best wine to pair with souvlaki on the shelves of your local grocery store. When I started thinking about which wine goes best, the first characteristic that came to mind was obvious. The rich, smokey flavors of BBQ'd pork. I wanted a wine that could stand up these strong flavors, and so I looked for bold, full-bodied reds like Syrah and Cabernet Sauvignon. 
These types of wine definitely do the dance with souvlaki. The starchy potato element in the dish, however, means that a very full-bodied wine can sometimes be overkill.

And so I looked for a red wine that was a tad lighter on the tannins, but with an edge. That wine was Grenache. These low-tannin, slightly spicy wines are a bit lighter on the palate. This means they are able to cut through the strong impression that souvlaki leaves in the mouth. 
For white wine lovers, fuller-bodied whites are a perfect complement. Look especially for white wines that have been aged in oak, which imparts a toughness to the typically acid-led white wine. These kinds of whites bring out the best of both worlds: a full body that can match grilled meat, plus a zestiness that fuses wonderfully with the assortment of salad and tzatziki in the wrap. 
Rosé gets an honourable mention, too. Especially dry rosé, which has a more complex flavour profile than most other rosé wines. It is less sweet than most but has a long, complex finish on the palate. This allows the perky salad element to shine whilst accentuating the succulent flavours of marinated meat. 
Recommended reading: Pairing Wine with Greek Gyros
The Best Souvlaki Wine Pairings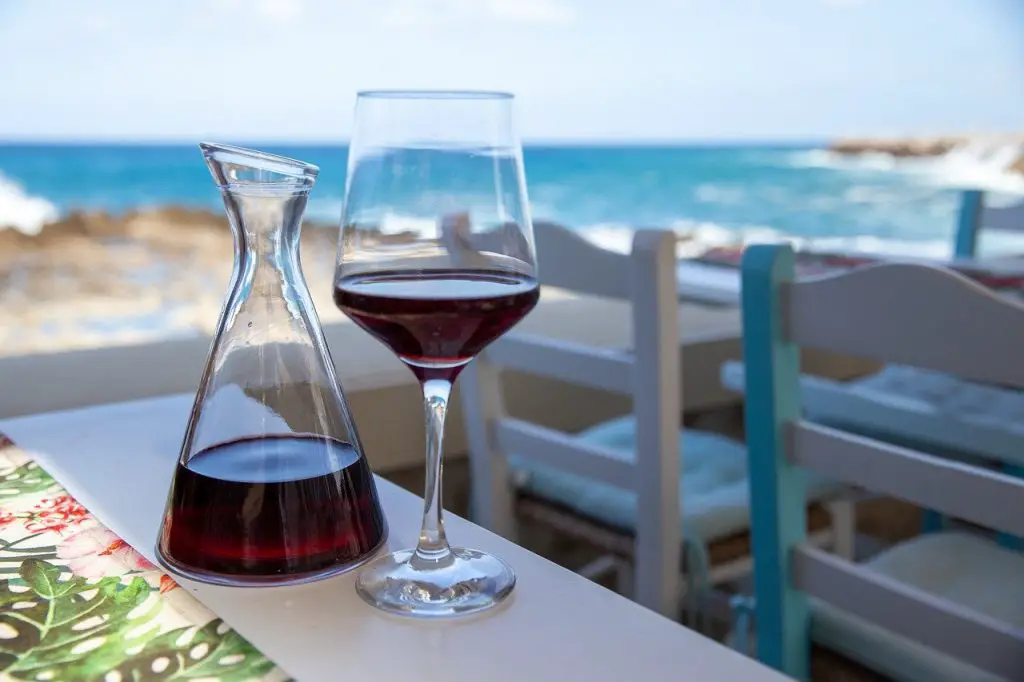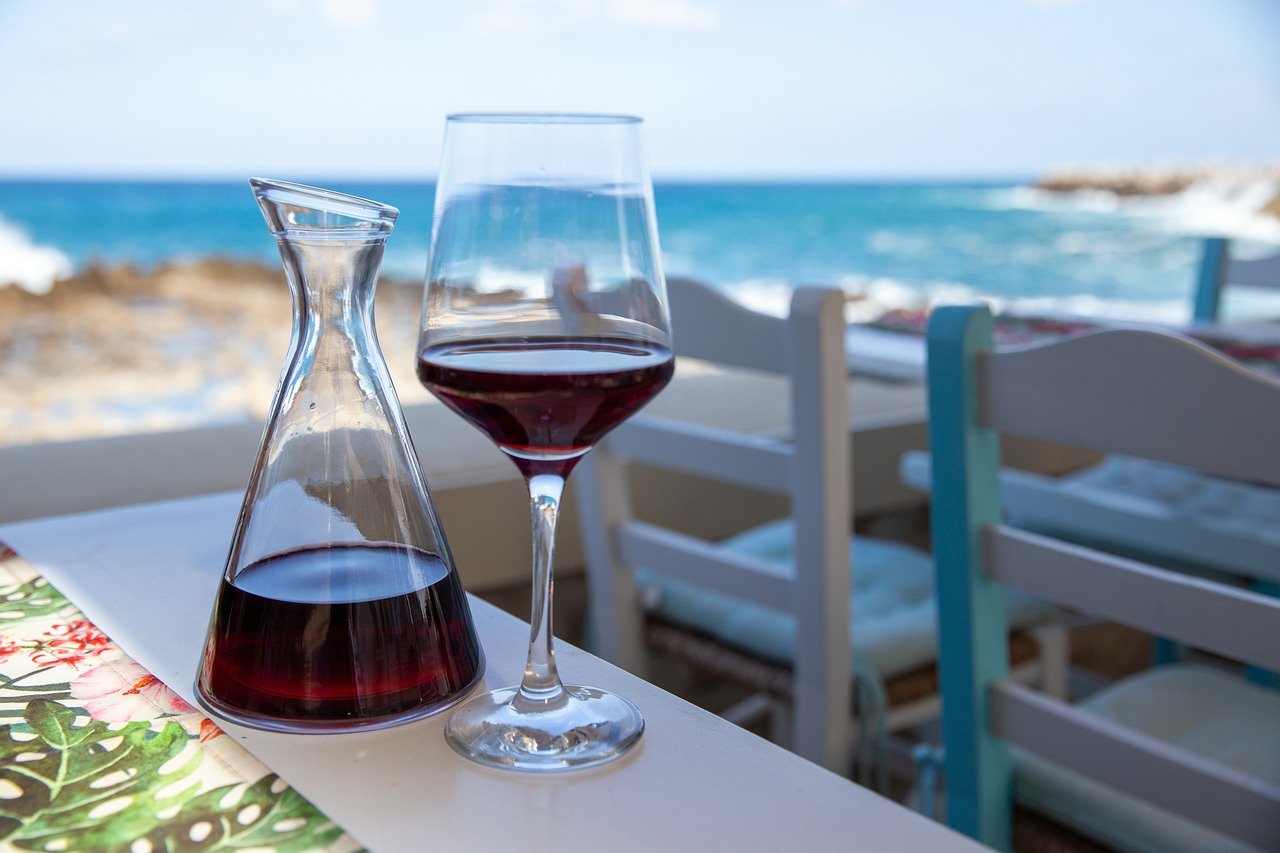 Light and low in alcohol, Pink Moscato is a great choice for the salty, weighty Greek souvlaki. The brawny flavors of grilled meat are given room to shine, whilst delicate tones of cherry and pomegranate will linger on the palate post-sip. This is a fantastic sweet wine to pair, especially if you are just beginning your journey into wine. 
2.

Pinot Noir Dry Rosé

This wine is a bit of an outlier in the world of rosé, not only because it is made from Pinot Noir, which is usually a red grape, but because it lacks the characteristic sweetness of rosé wines. 

Despite this, Pinot Noir Rosé has an intensely fruity bouquet, bursting with orange zest, strawberry and cherries. This makes it great for pairing with souvlaki – particularly souvlaki that has been well-marinated and goes a bit heavier on the salad. The crispness of Pinot Noir Rosé will cut through any overly-assertive BBQ flavours, whilst adding a long fruity finish to bring out the best in your herbs and spices.  
3.

Chardonnay

Chardonnay is a classic white wine for good reasons. Full-bodied, oak-aged chardonnay is even better: the slight creaminess of the body matches the texture of souvlaki in a mouth-watering way, and the tree-fruit aromas provide a gorgeous counterpoint to the salad-and-meat combo inside the wrap. 
4.

Grenache

For some, Grenache is the only choice when it comes to grilled meats. With good reason, too – aromas of ripe dark fruits and a touch of spice make this a hit. Grenache is high in alcohol and low in acid, which makes it difficult to pair with lighter dishes. With souvlaki, however, you get a perfect storm, with the strong dark fruit flavors bringing out the best in the fat of the grilled meat. 
5.

Agiorgitiko

Ok, despite what I said earlier, it would be rude if I didn't let one Greek wine slip into the list. More the point – this might even be the best souvlaki wine pairing. 

Agiorgitiko is a red wine grape that grows in Neméa, on the Peloponnese peninsula south-west of Athens.. It produces reds that, at least in terms of Greek wine, are remarkably full-bodied. It is well-structured, so can stand up the powerful flavours of a souvlaki. Barrel-aged Agiorgitiko grown in the mountainous hills of Neméa is the best choice here – firm, full of flavour and grippy tannins that can match souvlaki like the best of them.