Reading time:
4
mins
Moussaka is a classic dish from Greek, Egypt and the Balkans, typically made from potatoes, aubergines, tomatoes and minced meat. Yet from its local origins it has become a well-loved dish worldwide, and makes for a hearty wine pairing on a cold winter's eve – especially with a local red wine.
As with other Greek food wine pairings, choosing the perfect wine for moussaka presents a few different challenges. Firstly, there's the 'layered' nature of the dish. Potatoes, aubergines and your minced meat (or vegetable) of choice all share center stage in moussaka, making it difficult to identify one specific flavor to harmonize or counterpoint with.
So, while an aubergine-complementary white like Pinot Grigio or Grauburgunder may well provide a good acidity to the slight bitterness of the aubergine, a different pairing – say, a hearty, mid-bodied red – will counter the savory meat and tomato element with finesse, in the same way as when pairing wine with souvlaki.
Then there's the question of local, of course. If it grows with it, it goes with it, says the old mantra. For this reason, the right moussaka wine pairing really depends on your personal preferences, the selection of wines available in your area, and just how adventurous you're willing to be. Read on for our 6 unique tips.
1. Agiorgitiko
Readers of wine-pages.com seem to agree on one thing: the best wine pairing for moussaka is Agiorgitiko. It's the most planted red wine grape in Greece, perhaps because of its versatility and adaptability to the terroir it grows on.
Choose an Agiorgitiko that emphasises the grape's trademark ripe plum and fruit qualities. With its medium-weight bite and low acidity, Agiorgitiko is an easy-drinking pairing wine that will really help to bring out the flavors in your Moussaka.
2. Malbec-Shiraz
Continuing with the theme of weighty reds, a Malbec-Shiraz blend is another interesting choice for pairing with moussaka.
The reason is threefold:
It has the weight to contend with the characteristically heavy moussaka
It has a typically short finish, allowing the savoury aspects of the dish to shine through without dominating the palette
Depending on the amount of Shiraz in the blend, this pairing will impart a peppery, almost tobacco-laced finish, which matches wonderfully with your moussaka, should it contain cinnamon, cloves and nutmeg.
Some would discount Malbec-Shiraz as too heavy for a proper food pairing, but for us, this blend has just the right combination of characteristics to do the dance with moussaka.
3. Retsina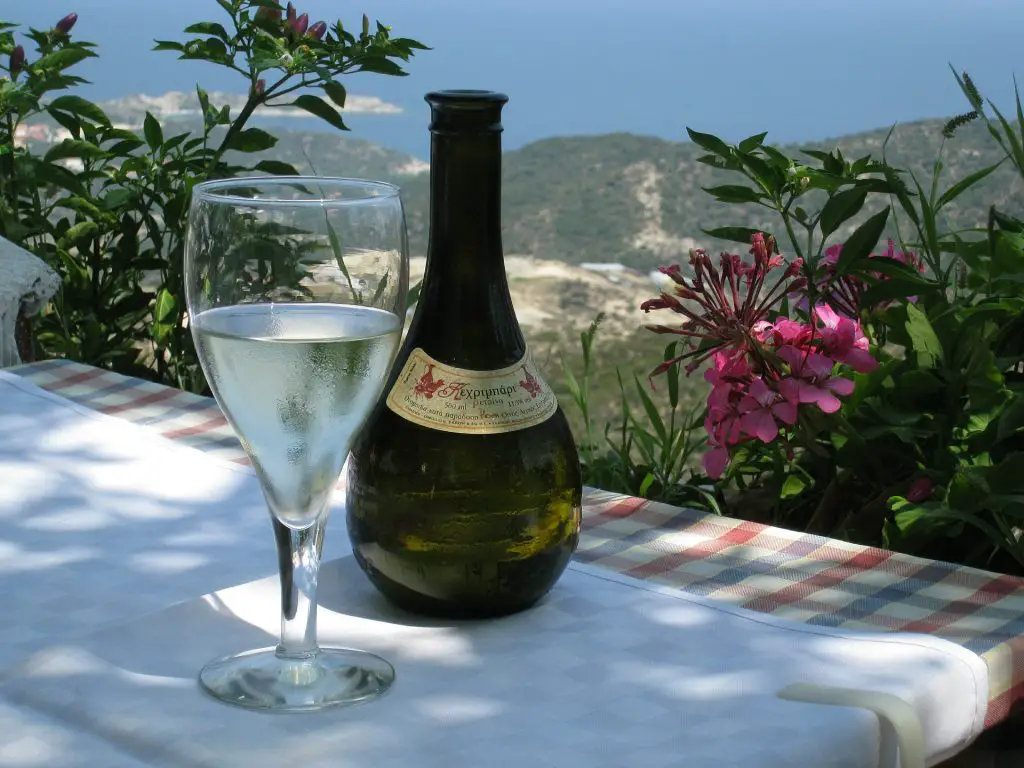 Our first white wine of the list, Retsina is another local Greek staple that dates back to ancient times. It has recently come into its own again, experiencing a resurgence thanks to the proliferation of a new generation of producers.
Retsina has a very specific flavor, thanks to the addition of pine resin to the blend. This lends it a sharp, distinguished bouquet – the kind of wine that you normally wouldn't think to pair with food. But Retsina and moussaka is a classic combination that dates back many years.
One reason for this might be that the astringent qualities of the aubergine snuffs out the less desirable flavors of the retsina. This makes for an interesting wine pairing experience, with herbal aromas and spicy, savory textures co-existing in harmony. If you can get hold of a bottle of retsina, this is a moussaka wine pairing you should definitely try out!
4. Barbera
Barbera is a medium-bodied Italian red that goes wonderfully with lighter moussakas. The reason for this is that Barbera tends to be aged less, while also retaining a higher acidity than regional counterparts like Montepulciano or Sangiovese.
This makes Barbera a fresh yet robust red that can cut through the acidity of the tomatoes in moussaka, cleaning the palate without overwhelming it with tannins. Choose Barbera wisely though, because heavier, fattier moussaka might prove too strong for this young Italian delicacy.
5. Pinot Grigio
Pinot Grigio is one of the classic food pairing whites. For pairing with moussaka, though, we definitely recommend a sweeter Pinot Grigio – preferably one from Alsace in France. Locally, this is known as Pinot Gris.
You might have heard that Pinot Grigio should be matched with light foods, like seafood and aperitifs. This is good advice, but Pinot Grigio food pairings don't end at the entrée. Sweeter Pinot Grigio, such as Pinot Gris d'Alsace, tends to carry a bit more weight than its Italian counterpart. This provides a well-matched counterpoint to the moussaka, while retaining the versatility that makes Pinot Grigio a great food pairing wine.
6. Xinomavro
We couldn't finish this article without mentioning one more Greek wine, and it had to be Xinomavro.
This much-loved, medium-bodied red is grown in a mountainous area of Greece towards its northern borders, and brings a range of diverse tasting notes. Red berry, coffee, cedar, prunes and liquorice are the order of the day, and if your moussaka is liberal with its use of spices – traditionally garlic, cinnamon, cloves, bay leaf and nutmeg – then Xinomavro will make for a truly eclectic moussaka wine pairing experience that will transport you straight to the high plains of Greek Macedonia. Top tip!