Reading time:
5
mins
Continuing with our series on pairing wine with Greek food, this week we're looking at gyros, a much-loved street food staple hailing from Greece and Cyprus. Street food is notoriously difficult to pair with wine, but the pairings we've come up with are sure to take your gyros game to the next level. Read on!
What is Gyros?
Gyros (pronounced gee-roh) is one of the most famous Greek dishes worldwide. It's a classic Greek sandwich, which you might consider similar to souvlaki; in essence, gyros consists of grilled meat with vegetables wrapped in bread. The meat is usually pork, but it can also be beef, chicken or lamb.
It's thought that gyros first arrived in Greece by way of Armenian and Greek refugees, who fled what is present-day Turkey following the 1922 Greco-Turkish War. From 1922, gyros stores began opening up across Greece. As the Greek diaspora began to move across the globe in the twentieth century – particularly to the US, Canada, Australia, Germany and the UK – they brought gyros with them, planting the seeds of the tens of thousands of gyros joints that exist worldwide today.
How To Pair Gyros with Wine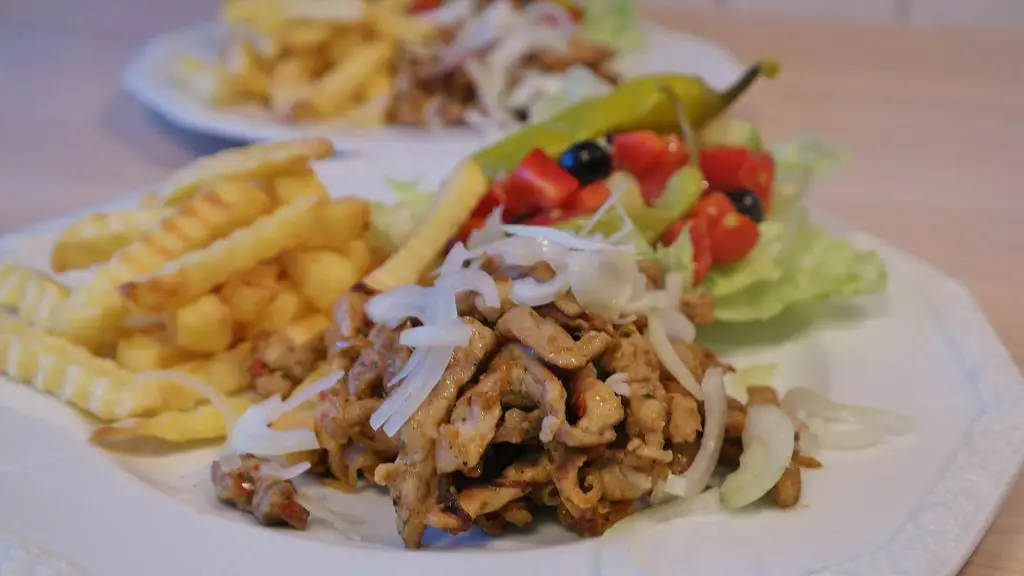 Let's deconstruct a traditional Greek or Cypriot gyros. Its a simple dish, really: grilled meat (traditionally pork) rolled into a pita bread with onions, tomato, lettuce or parsley and fries, and topped with a generous helping of tzatziki. The meat is typically sliced thin and grilled over a rotisserie for several hours, before being assembled in the wrap.
As is the case with lots of Greek food, a proper gyros wine pairing would really benefit from a Greek wine. However, its well known that street food is meant for a quick and filling bite while on-the-go, and is usually not paired with wine at all. To that extent, you could really choose from whichever types of wines you want for a proper pairing with gyros – the only limit is your creativity.
Pairing with gyros might be considered similar to pairing wine with chicken shawarma, but with a couple of differences. First of all, a typical Lebanese shawarma will come with an array of colorful pickled vegetables, such as pink turnip, beetroot, carrot and garlic, making it a good option for acidic whites like Sauvignon Blanc that can match up to the sour-ish taste.
Gyros is an altogether less sour dish, however, so we don't suggest hard, acidic whites. Rather, this dish works well with off-dry whites that contain a touch of sweetness – think German Riesling, for example.
Another dish that gyros draws a lot of comparisons with is souvlaki. While there are definite similarities, the main difference is that a souvlaki is prepared with large chunks of grilled meat, rather than thin-sliced, slow-cooked rotisserie meat. As such, a souvlaki wine pairing should play on this, whereas a gyros wine pairing should instead accentuate the texture of the thin-sliced meat.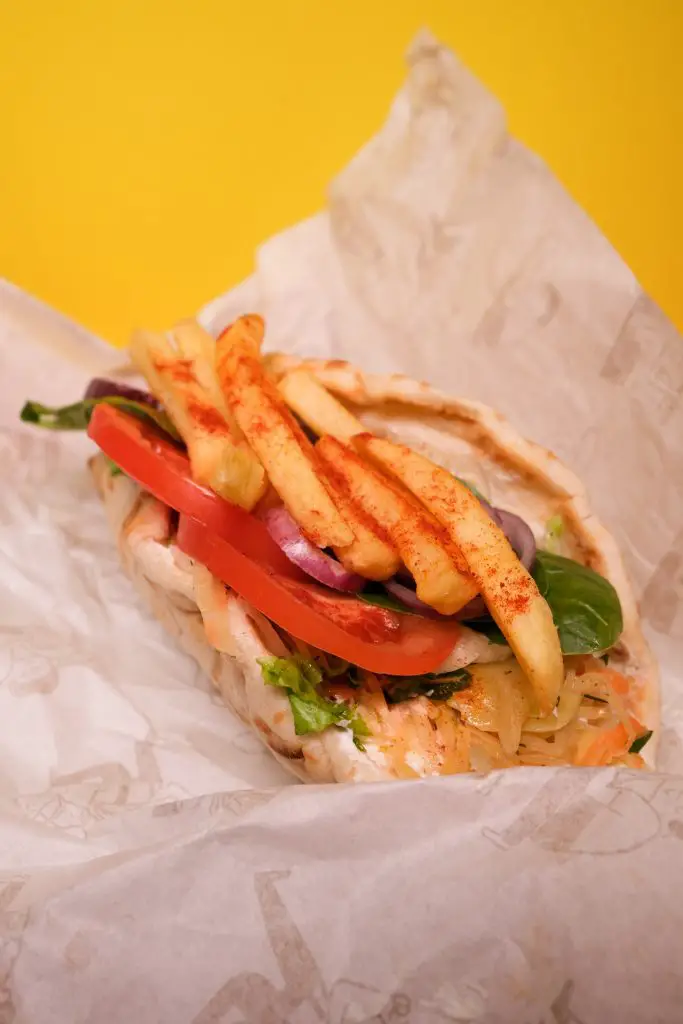 Finally, its worth mentioning that, in Greece, chicken is often used instead of pork – and for chicken gyros we almost certainly suggest a white wine. Other versions of gyros around the world use beef and lamb, so we've included for these in the list.
Related reading: 6 Hearty Moussaka Wine Pairings
The Six Best Gyros Wine Pairings
1. Pork Gyros and Limniona
We're kicking off with an elegant Greek offering from Thessalia, a region sandwiched (pardon the pun) between Thessaloniki and Athens. Unlike the full-bodied Agiorgitiko, Limniona is a red that weighs in lower on the tannin level. This makes it a great choice for gyros; a heavier red is at risk of overpowering the flavors and texture of thinly sliced pork that characterise the dish.
Bright notes of cherry harmonize with earthier tones like mushroom, wood smoke and herbs, making Limniona an interesting up-and-comer in the Greek wine world, and a brilliant choice for a nuanced gyros wine pairing.
2. Pork Gyros and Riesling
Pivoting over to white wines, we suggest a Riesling as another great pairing for pork gyros. Riesling is one of the quintessential pairing wines thanks to its bright acidity, and an off-dry Riesling from Germany will certainly do the dance with gyros.
Off-dry Rieslings have a touch of sweetness that mingle marvelously with fresh tzatziki, and Riesling's light touch and tree fruit notes create interesting palette combinations with the medley of onions, tomato and lettuce. Furthermore, the inherent acidity is great for cutting through the fat of the grilled pork. To be honest, you can't really go wrong with Riesling – that's a hack to follow with most wine pairings, especially for dishes that center around chicken and herbs. Top tip!
3. Chicken Gyros and Savatiano (Retsina)
Retsina is white (or rosé) wine that's somewhat unique as far as Greek wines go, not least because its produced by adding extracts of pine resin during fermentation. This lends the dish a bitter aftertaste that, while it might sound off-putting, makes for a great counterpoint to chicken gyros – especially if your wrap contains tzatziki.
Savatiano is one of the main grapes used for producing Retsina wines, with notes of citrus and a floral palette working to emphasize that delicate contrast between the bitter pine resin and grilled chicken.
Check out this article on The Wine Folly about how retsina is making a comeback. There are a surprising number of high-quality, modern retsina wines available from independent winemakers across Greece, so don't overlook this one for an interesting Greek pairing!
4. Chicken Gyros and Pinot Noir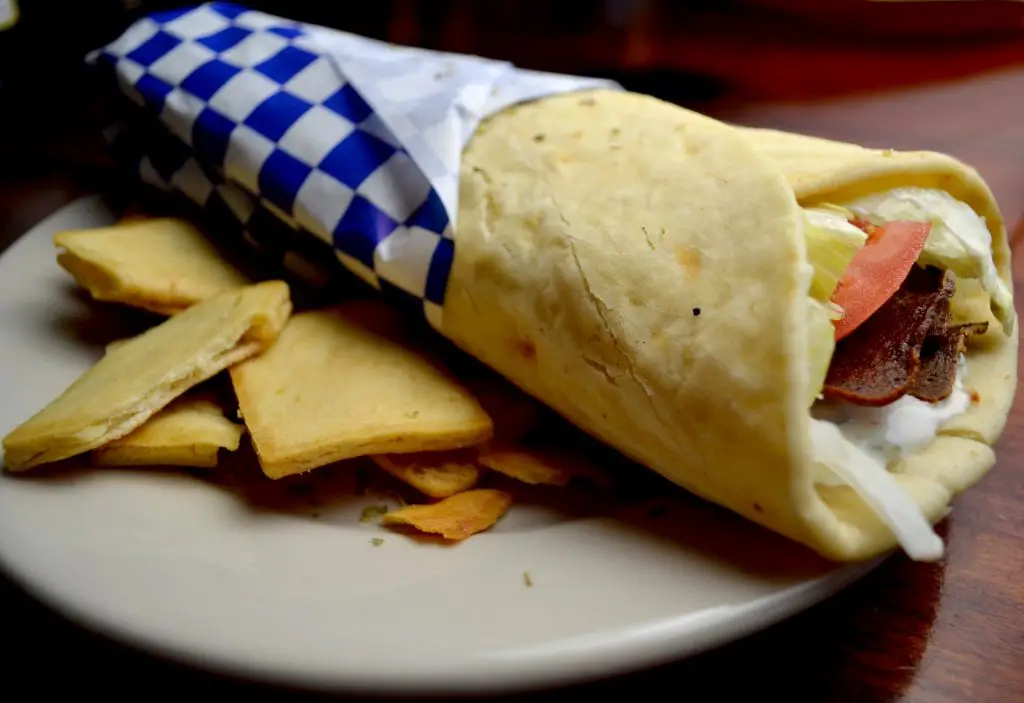 For red wine lovers, a fruity pinot noir is our recommendation with chicken gyros. While red wine isn't the most obvious choice with chicken (whites like chardonnay and Riesling are far more common) chicken gyros is a bit of an exception. The reasons for this is that the chicken is usually the thigh part of the bird, marinated well and cooked over a rotisserie for multiple hours. This lends the meat a fattier, more intense flavor than, say, poached or grilled chicken breast.
Therefore we recommend a pinot noir, with its earthy notes, silky tannins and light-bodied complexion. It won't overpower, but its also sturdy enough to not be overpowered. A great choice for a gyros wine pairing with balance and finesse.
5. Lamb Gyros and Xinomavro
Xinomavro is an intense red wine hailing from the highlands of Greek Macedonia, in the extreme north of the country. This wine is famed for its eclectic tasting notes, but its also heavy on both tannins and acidity. Lamb gyros, then, is the best option here, which is heavier and fattier than its pork and chicken counterparts.
A well-placed Xinomavro will cut through the fattiness of tender marinated lamb, but the lamb can also stand up to the heavy tannins of the grape. The resulting pairing is one of energy and balance, accentuated with notes of pepper, olive and tobacco that bring a lively contrast to raw onion and parsley.
Xinomavro ages well, so look out for something produced at least 5 years ago, if you can find it!
6. Beef Gyros and Zinfandel
Finally, the beef gyros. This is not something that you'd typically find in Greece or Cyprus, but gyros joints the world over do feature beef in their signature recipes.
Zinfandel is a notoriously bold red wine with a reputation for pairing with beef, and this stands true with gyros. Look for oak aged zinfandel, with notes of dark berries, spice and liquorice, which will make for an enticing wine pairing. The tannins and thickness of zinfandel match perfectly, so this is a go-to pairing for those who prefer bold and forward reds with their meal.