Reading time:
8
mins
A classic yet complicated grape variety, the Montepulciano wine grape grows on the low hills in the eastern parts of the Abruzzo, Molise, and Marche regions in central Italy. Enjoying the cool climate of the Adriatic coast, Montepulciano is among the most widely planted grapes in the country, and is used for some of Italy's most famous wines.
An overview of the Montepulciano grape
The Montepulciano grape is harvested late, allowing the grape time to ripen and give an impressive, complex extract to balance its considerably high acidity. It is this late harvest that gives Montepulciano its fruitiness, revealing flavors that evoke of sour cherry, red plum, boysenberry and other red fruits.
Notoriously, Montepulciano is a very versatile grape; it can easily be adapted to traditional and modern winemaking styles alike. This results in a range of often fascinating dark, red and dry wines. Among them are the rustic red wine Montepulciano d'Abruzzo, and the lighter, cherry-colored Cerasuolo d'Abruzzo.
Connoisseurs appreciate medium-bodied Montepulciano wines for their bold color, soft flavor, moderate acidity and mild tannins. They gives wines that are easy to drink and to pair, with lighter wines making for perfect aperitivos and heavier styles great for pairing with roasted meats and grilled vegetables.
The natural aroma of Montepulciano wines resembles spice, game meat, and pepper – which is why it compliments foods rich in flavor. 

There are two main vinification methods for Montepulciano: either released soon after bottling, or aged in oak barrels for several years. The former gives a classic red Italian wine – the one you'd have with a pizza – while the ageing process gives the wine an even richer taste.
It's worth noting that the Montepulciano wine grape has nothing to do with the Italian town Montepulciano, in Tuscany, and it does not grow there, either. The town produces Vino Nobile di Montepulciano wine, which is actually made from Sangiovese grapes. Researchers believe that Sangiovese is Montepulciano's closest relative, but with higher acidity and a lighter body.
Abruzzo and the history of the Montepulciano Wine Grape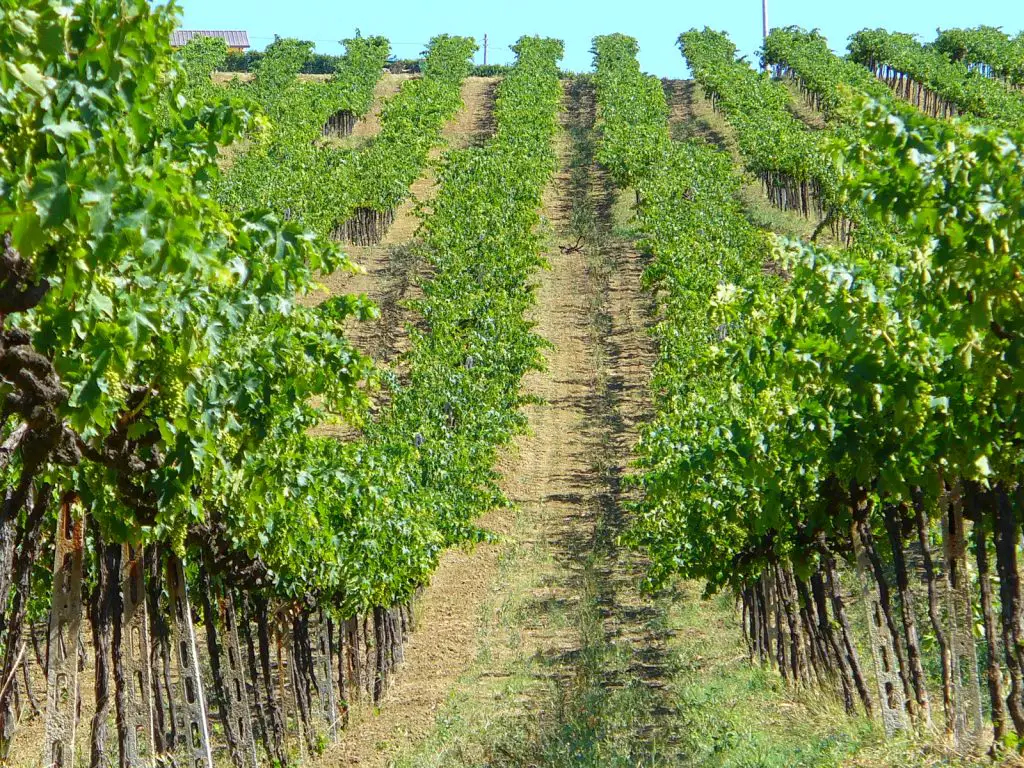 The first record of the Montepulciano wine grape was in 1793, but it took until the turn of the 21st century for the grape, and its wine, to become widely drunk and exported. Today, Montepulciano is among the most popular grapes in Italian red wine export lists, second only to Sangiovese (with which it is sometimes blended). The high yields of the grape and the pleasant wine it produces strike a delicate balance between acidity and fruitiness, making it very popular among both consumers and producers. 
Montepulciano is planted in 20 provinces in Italy, mostly concentrated along the Adriatic coast and in the regions of Abruzzo and Marche in the central parts of Italy, as well as near Puglia and Molise in the South. These regions are best suited to the grape's long growing process of ripening, as it needs the climate of these sunny and fertile regions; when harvested too early or grown with not enough sunlight, the grapes turn sour and acidic.
The Montepulciano grape also has a great resistance mildew diseases, making it a popular variety in regions with a history of ruined harvests due to olive and vineyard bacterial epidemics.
Apart from being used in blends with Sangiovese, the most widely grown grape variety in Italy, Montepulciano is also the main grape in the Denominazione di Origine Controllata (DOC) wines Montepulciano d'Abruzzo, Montepulciano d'Abruzzo Colline Termane, Offida Rosso and Rosso Conero. 
It is Abruzzo that is home to the most exquisite Montepulciano wines: the climate, terroir and vinification processes of the region are considered the most favorable in revealing Montepulciano's taste potential. Local producers specialize in biological and organic Montepulciano wines with more complex flavors than the average Montepulciano. They are best enjoyed after ageing, which adds a vanilla aroma to the chocolate and black cherry flavors of the Abruzzo variety of Montepulciano.
Characteristics of Montepulciano
| | |
| --- | --- |
| Sweetness | Dry |
| Acidity | High |
| Alcohol | 11.5 – 13.5% |
| Fruit | Red plum, boysenberry, sour and black cherry, earth |
| Aroma | Chocolate, oregano, black pepper, tobacco, vanilla |
Montepulciano wines have a deep and rich red color and range from medium to full body. Their strong aroma and robust structure gives the wine the necessary complexity to be enjoyed aged for several years. Apart from its home in Italy, the grape can also be found in the sunniest wine regions of Australia, New Zealand and the United States.
What does Montepulciano wine taste like?
Montepulciano wines, just as other medium-bodied Italian red wines like Sangiovese, Dolcetto, and Nerelo Mascalese, taste of plum, black cherry, and boysenberry. They also reveal notes of oregano and thyme, as well as hints of dried tobacco and earthiness. Higher quality Montepulciano wines have a higher concentration of tannin and fruit flavors, which are complemented by clove, chocolate and vanilla notes that come about from ageing in new oak barrels.
Can Montepulciano be considered sweet wine? No, it is a typically dry wine with medium to high acidity and soft tannins when consumed young, and a stronger and more complex flavor when aged.
The vinification process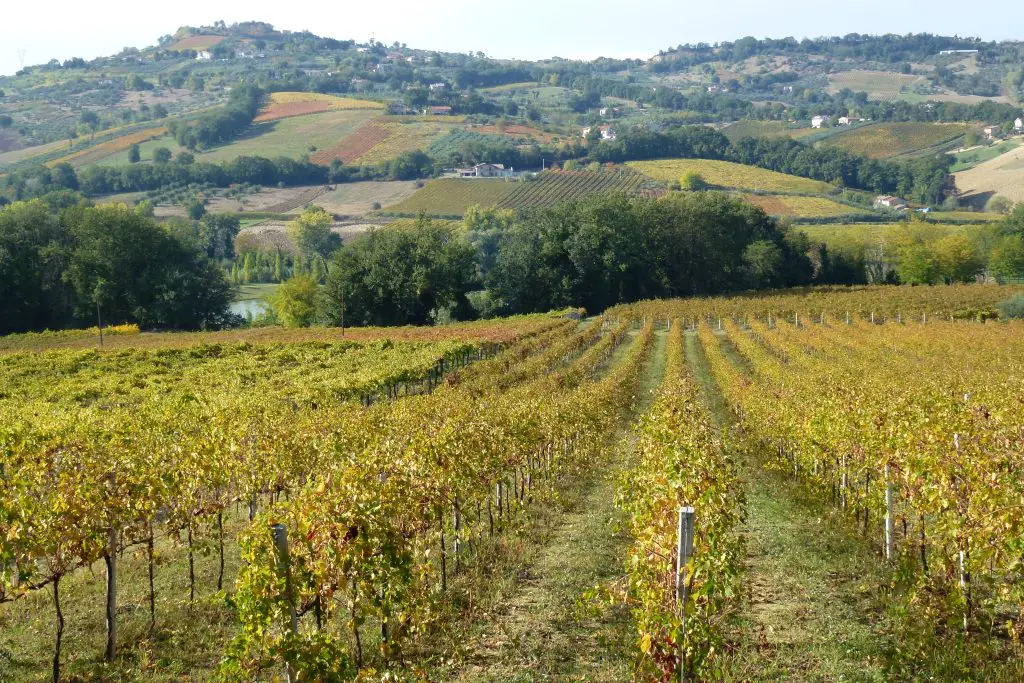 Montepulciano's winemaking process follows the standard steps of grape growing, harvesting, pressing, and fermentation. The grapes are plump with a low ratio of skin to juice, giving ample of room for experimentation with the vinification and maceration process. The skin has many pigmented tannins and color-producing phenols, and based on the ratio, this results in deep red wine or deep pink wine.
During the fermentation process, the sugars in the grape are converted to alcohol. If the fermentation process is interrupted before all the sugars are consumed; the wine becomes sweeter. When the fermentation is fully completed, the wine becomes drier and has almost no residual sugar.
Ageing Montepulciano
The aging of Montepulciano wine happens in two ways: either in small oak barrels or casks for the high-quality varieties, and in stainless steel barrels for table wines. Montepulciano oak-aged wines are known for their rich, deep flavors with oaky hints of vanilla and cocoa. These wines are best aged for at least four years, and have a strong tannic presence. 
Since the Montepulciano grape bears a lot of anthocyanin in the skin, wine producers make a lighter variant – a neutral-aged Montepulciano wine, which can be red or rosé. During the fermentation, the grapes have less contact with the skins and thus these wines have cranberry, raspberry, cherry, and plum flavors, as well as notes of dried herbs and violet.
The three best types of Montepulciano wine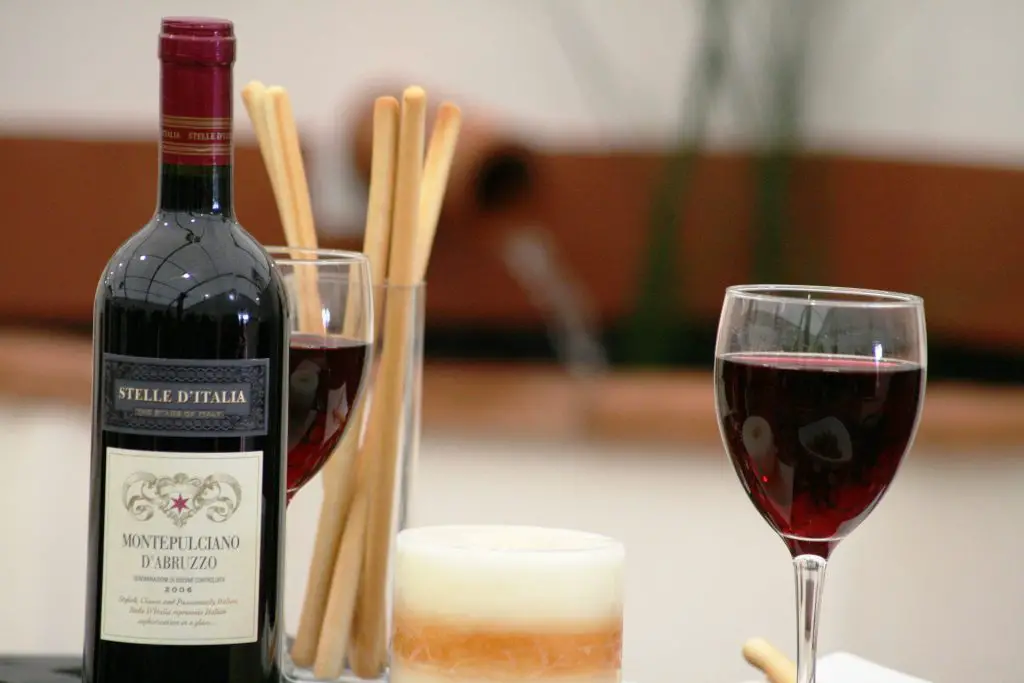 There are several types of wine made with Montepulciano grapes and which abide by the wine laws in Italy, known as Denominazione di Origine Controllata (DOC). The three most popular varieties are:
1.

Montepulciano d'Abruzzo DOC

This wine blend is made of a minimum of 85% Montepulciano grapes, and up to 15% Sangiovese grapes. There is also a variety called Montepulciano d'Abruzzo Colline Termane DOCG, with minimum 90% Montepulciano grapes, as well as Contoguerra Rosso DOC with minimum of 60% Montepulciano grapes.

Montepulciano d'Abruzzo wines can be consumed while young, appreciated for their gentle tannins and fruit flavor, and when aged in oak barrels they turn into complex wines of excellent quality with notes of clove, peppery spices, and chocolate.
2.

Montepulciano Riserva

Montepulciano wines with the Riserva label are aged for at least three years, where at least six months of ageing is done in oak barrels. This makes for more tannic wines with complex flavour structures. Wood ageing brings notes of vanilla and spices, which are allowed to mature over the subsequent years required to attain the Riserva title. A bottle of Montepulciano Riserva is certainly one to try if you're looking for the more exquisite end of Montepulciano wines
3.

Cerasuolo d'Abruzzo

Cerasuolo d'Abruzzo is a rosé wine made almost exclusively from the Montepulciano grape. It has a DOC all to itself, created as recently as 2010, which speaks for the growing popularity of this Abruzzian rosé export.

With Cerasuolo, there is very little contact between the skins and the grape juice, creating the signature rosé blush that gives the wine its name: cerasuolo means cherry in Italian.
Is the Montepulciano Wine Grape used in Vino Nobile?
Believe it or not, there is no usage of the Montepulciano grape in Vino Nobile di Montepulciano produced in the town of Montepulciano. Instead, this wine is made mainly from Sangiovese grape (min. 70%), combined with Canaiolo Nero (approx. 10-20%) and some small percentages of other local grape varieties, like Mammolo.
The association between the name of the grape (and wine) and the name of the town is linguistic, but not genetic.
How to Serve Montepulciano Wine
Montepulciano wine can be best enjoyed if some basic guidelines are followed:
Ideal temperature: serving red wine at room temperature is not the best case scenario. The wine can end up too warm, resulting in an unbalanced and bitter taste. Montepulciano wine reveals its taste best at a temperature of around 60-65 F° (16-18 C°). Younger wines are best served on the cooler side of the spectrum, while older and high-quality varieties should be served a tad warmer.
Tip: chill the wine in the fridge for 30 – 60 minutes, then decant it for 30-60 minutes more before serving to really extract the taste of the Montepulciano grape. 
Correct stemware: choosing the right wine glass also helps to make most of the wine. Montepulciano wine is best served in a glass with a wide bowl, allowing the wine enough room to breathe and oxygenate, to release its aromas, and to improve its flavor. A standard red wine glass is ideal.
Montepulciano Food Pairing
The robust herbal and tobacco flavors and the natural acidity of medium body Montepulciano wines show their best when served with savory foods. As such, Montepulciano wines pair well with hearty dishes such as barbecued beef, roasted veal, and roasted or smoked pork. Other ideas include sheperds pie, meatloaf and ragu, tomato-based pasta, and deep-dish pizza. For fish, think salmon, mackerel, and tuna.
They can also go well with winter dishes such as ratatouille, stuffed potatoes, and roasted mushrooms, as well as wild rice and winter beets. Herbs that complement the inherent phenols and flavors of the Montepulciano grape include basil and oregano, rosemary, and thyme. If you are a cheese fan, cheddar and parmesan also make for delightful combinations with a glass of Montepulciano.
In terms of dessert, blackberry or cherry crumble desserts are perfect for a Montepulciano d'Abruzzo wine, while dark chocolate pairs ideally with a longer-aged Riserva.
Finally, try to avoid light, simple dishes, spicy food, and non-fat fish or salads – these generally won't do a great job with the complex flavors of Montepulciano.
Alternatives to Montepulciano
All Italian wines are labeled by region, and there are some good alternatives to Montepulciano within the Abruzzo region itself. Some local alternatives include Montepulciano d'Abruzzo Colline Termane DOCG (min 90% Montepulciano grapes) and Controguerra Rosso DOC (min 60% Montepulciano grapes).
Other good options are Rosso Conero DOC (min 85% Montepulciano grapes), Rosso Piceno DOC (min 30-70% Montepulciano grapes), and Offida Rosso DOCG (min 85% Montepulciano grapes), all from the region of Marche on Italy's Adriatic coast.
Another nice choice is Biferno DOC (min 60-70% Montepulciano grapes) from the region of Molise, as well as San Severo Rosso DOC (min 70% Montepulciano grapes) in the south-westerly region of Puglia. 
Last but not least, if you're after something with a lighter palate, give Moscato a try – the red wines made from Moscato have a similar production method as Montepulciano wines. However, they're also significantly sweeter and lighter!
Header photograph by RaBoe / Wikipedia, licensed under a CC-BY-SA-3.0 license