Reading time:
4
mins
Gewürtztraminer (or in its shortened form 'gewürz', 'vertz' or even 'traminer' as it is known in Australia) is an aromatic, complex white wine grape variety with pink skin. It is a sweet, off-dry white wine with passion fruit and floral notes. Often slightly sparkling, Gewürtztraminer is notable for its bright flavor – a perfect pairing for sweet-and-spicy Thai and Malaysian cuisine.
The Noble White Wine of Alsace
Gewürtztraminer is often referred to as the 'grown-up' version of Moscato, with the two sharing many similarities – although Gewürtztraminer has a higher alcohol content, lower acidity, and a more dashing aroma. It is also bolder and more textured on the palate. Furthermore, Gewürtztraminer tends to be compared with the German wine Riesling – although they are different grapes completely, they are often blended together in varietal wines due to their complementing characteristics.
You might be surprised to know that there are few Gewürtztraminer vines in existence, hence them rarely being produced in large quantities – there are no more than 20,000 acres of Gewürtztraminer grapes currently planted worldwide.
Where did Gewürtztraminer originate?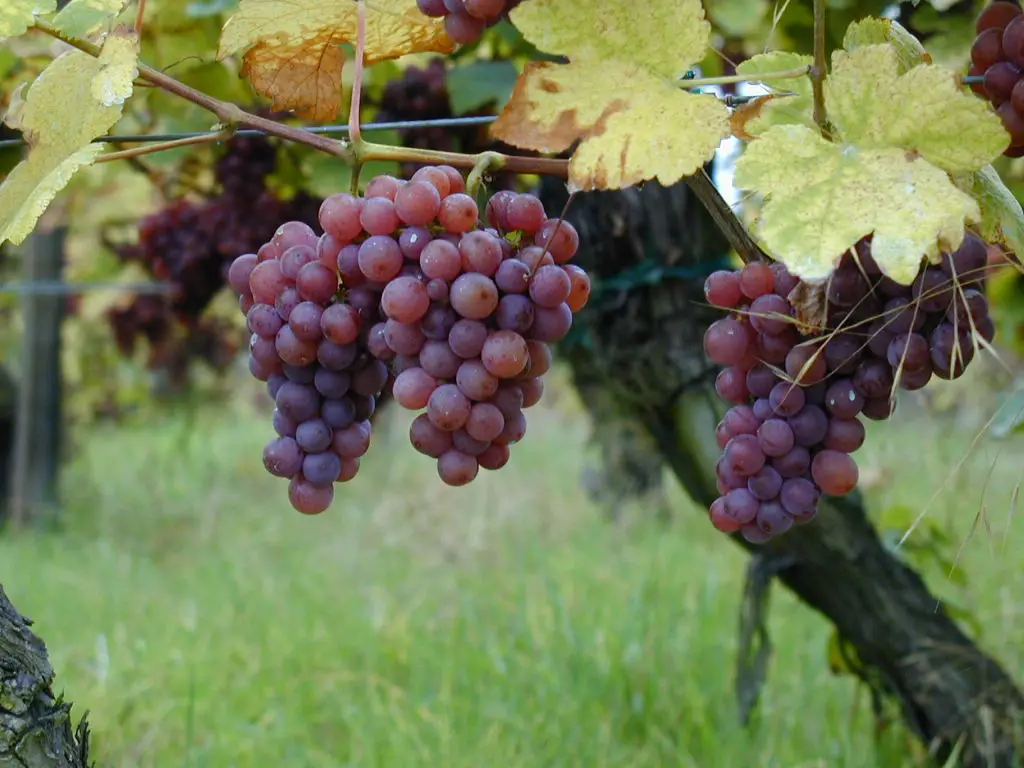 Contrary to most beliefs, Gewürtztraminer's ancestral home is actually Northern Italy, and not Alsace, France. The grape traveled from Italy through the Pfalz in southern Germany before being planted in Alsace, where today's most famous Gewürtztraminer wines originate.
Just like its pronunciation, <ge-wu-rts-tra-mee-ner>, the history of Gewürtztraminer is complicated. Translated literally from German, Gewürtztraminer means 'Spiced Traminer' or 'Perfumed Traminer'. Traminer is one of the ancient grape varieties of Italy, and the word 'Traminer' references the commune where the first Gewürtztraminer was supposedly grown – Tramin an der Weinstraße in northern Italy (they even have an annual Gewürzrtaminer festival there).
The grape is a mutation of either the green-skinned Savagnin blanc grape, the ancestor of Sauvignon blanc, or its cousin, the Traminer grape. The difference between the two is difficult to trace as the growers in the German-speaking South Tyrol region of Northern Italy, where the commune of Tramin is located, often refer to both grapes simply as Traminer. In Germany, however, there is, to this day, no distinction between Gewürtztraminer and other Savignin mutations such as Savagnin rose, although the Gewürtz tend to be less aromatic.
This bold grape variety traveled from Tramin to Pfalz in Southwestern Germany. From there, in the 19th century, it crossed the French border into Alsace. The Gewürtztraminer from this region is the most well-known, being one of the four noble grapes of Alsace and grown in the grand cru vineyards of the region. The cool climate of Alsace, combined with the rich clay soil, makes it the ideal environment to grow this low acidity wine variety, producing the most aromatic terroir variations of Gewürtztraminer.
Gewürtztraminer is also grown in places like Austria, Spain, Eastern Europe, New Zealand and even Pennsylvania. Gewürtztraminer grapes grown in Alsace, however, are the standard to which grapes grown in these other regions are judged.
Gewürtztraminer Technical Information
| | |
| --- | --- |
| Sweetness: | Off-dry – semi-dry |
| Acidity: | Medium-low |
| Alcohol: | 14% |
| Notes: | Mango, peach, apricot, ginger, cinnamon |
| Aroma: | Lychee, rose petal, Turkish delight, tropical fruit, and perfume |
Vinification Process and Characteristics
The vinification of Gewürtztraminer wine starts at the very moment the grapepicker reaches for the mature grapes. This process has to be handled with care. Just as apples will oxidize immediately if the flesh meets the oxygen in the air, so will the quality of Gewürtztraminer grapes deteriorate if not handled properly. The grapes are picked in the morning, as this is when the temperature is coolest. The cool temperature at this time of day preserves the freshness of the must, preventing it from becoming sour before the fermentation process occurs.
Although each producer has their own wine pressing sequence, the generally accepted way is to press the grapes for about 4 hours and cool down to 39.2℉. The secret of each producer lies in the fermentation process. Grand cru Alsace Gewürtztraminer wines are fermented by consistent manipulation of the temperature during the fermentation process.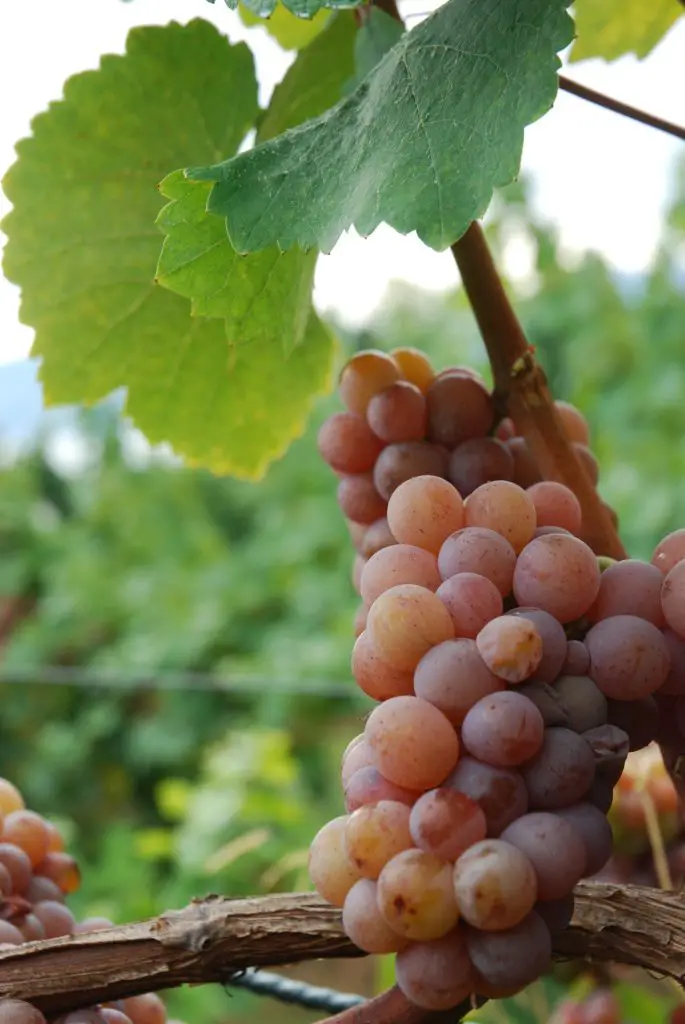 Some keep the temperature low during the initial stages and increase it as the fermentation proceeds, some use a different strategy by controlling the temperature to give an equal rate of fermentation over a period of time. Some do not even reveal their secrets at all (we can't blame them really – they say a true magician never reveals their secrets)!
This fermentation process takes about 4 – 6 weeks, after which the wine is aged or maturated in barrels before it is bottled. Some producers age the wine in stainless steel, giving it a slight metallic taste that sharpens the flavor, but a more traditional method is to use foudres (big wooden vats) as the wood allows the wine to lose unwanted esters.
What food goes well with Gewurztraminer?
Gewürtztraminer wines go well with bold, spicy food. Think exotic, because these wines are best enjoyed when you step outside the confines of continental dishes and into the territories of oriental cuisines. A bold Thai green curry pairing is an excellent choice.
Gewürtztraminer wines can be paired wonderfully with Morrocan and Middle Eastern dishes, especially those containing nuts, dried fruits, and roasted meats. Its higher alcoholic content also makes it a good pair with complex Asian cuisines that combine spicy and salty flavors, and it's a very good match for Szechuan dishes.
Marrakesh vegetable curry, vegetarian kofta kebabs and Thai red curries are other good examples of dishes you can pair with your favorite Gewürtztraminer wine.
Alternatives
Alternatives to Gewürtztraminer wines include:
Torrontés
Loureiro
Malvasia
Bianca