Reading time:
5
mins
Marsala wine <mar-sah-lah> is a type of fortified wine that originates from the city of Marsala, in Sicily. It's usually fortified with a distilled spirit, such as brandy, which increases the alcohol content and shelf life of the wine.
Marsala is often referred to as 'the cooking wine', thanks to its prominence in classic Italian-American dishes such as – you guessed it – chicken marsala. It is not strictly a cooking wine, however, and a glass of chilled Marsala wine makes for an excellent aperitivo or Italian dessert wine.
Find out more about the best entry-level sweet wines in our guide!
How Marsala Is Made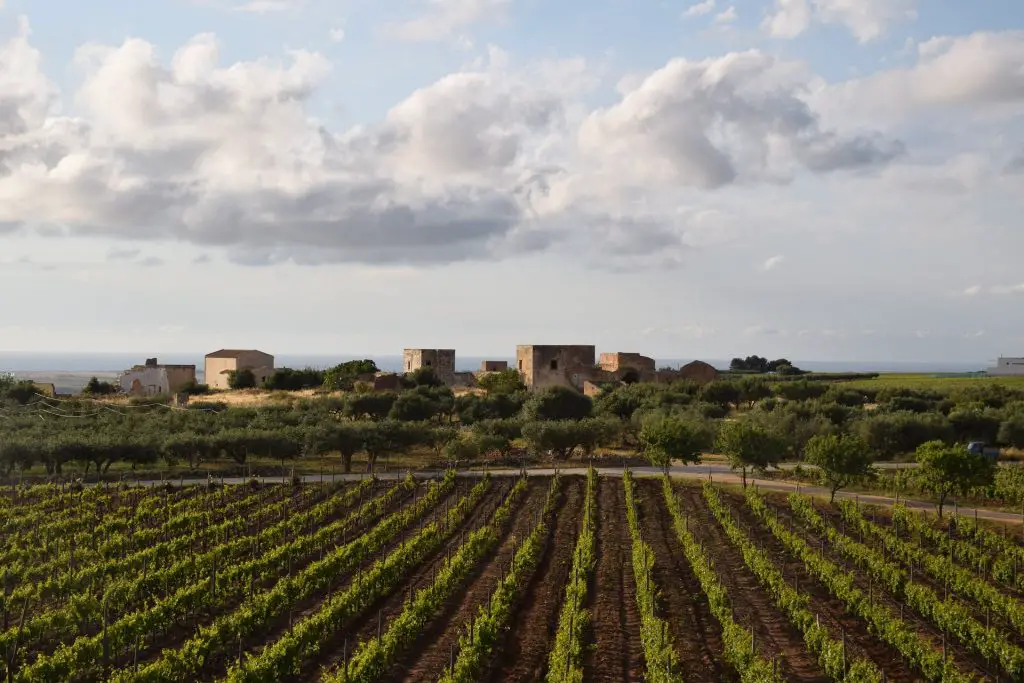 The distinctive Marsala notes – almonds, liquorice, honey, dried fruits, nuts – are a result of a unique blend of local Sicilian grapes, produced in the classic Marsala style.
Typically, it's a blend of different white wine grapes. The usual grapes are ​​Damaschino, Grillo and Inzolia, which are grown in Western Sicily. The grapes are crushed, fermented and then fortified with brandy.
The sweetness of Marsala wine, and whether or not it will be used for cooking, depends on the point at which the distilled spirit is added. Marsala wines where spirit has been added before the fermentation is complete are noticeably sweeter. This is because adding the spirit stops the alcohol from fermenting into sugar.
On the other hand, adding spirit towards the end, or after, the fermentation process will yield a noticeably drier wine, perfect for reduction in sauces.
Some producers also sweeten Marsala using a type of grape must, known as mosto cotto. It's essentially a syrup made from all the bits of the grape that don't get used. 
The method that producers choose to sweeten their Marsala wine is important, because it will dictate the style and color of the resulting wine. The levels of sweetness in Marsala wine range from secco (dry), to semi-secco (off-dry) and dolce (sweet). Secco Marsala will be better for cooking, and dolce great to be served as a dessert wine. 
Technical information
| | |
| --- | --- |
| Sweetness: dry as a cooking-wine, sweet as a dessert wine | |
| Acidity: medium-high | |
| Alcohol: 15-20% ABV | |
| Fruit: medium | |
| Aroma: dried fruits, nuts, almonds, honey | |
Marsala Wine Alcohol Content
Like most fortified wines, Marsala wine comes in high on the alcohol percentage level – that's the point of fortifying, after all!
Expect Marsala wine to contain around 15-20% ABV. Compare that to, say, the 12.5% alcohol level in a glass of Pinot Grigio, and you have a potent concoction on your hands. But even still, 15-20% is not a ridiculously high alcohol level. For that reason, you can drink Marsala wine directly!
Marsala Colors: Red, White and Gold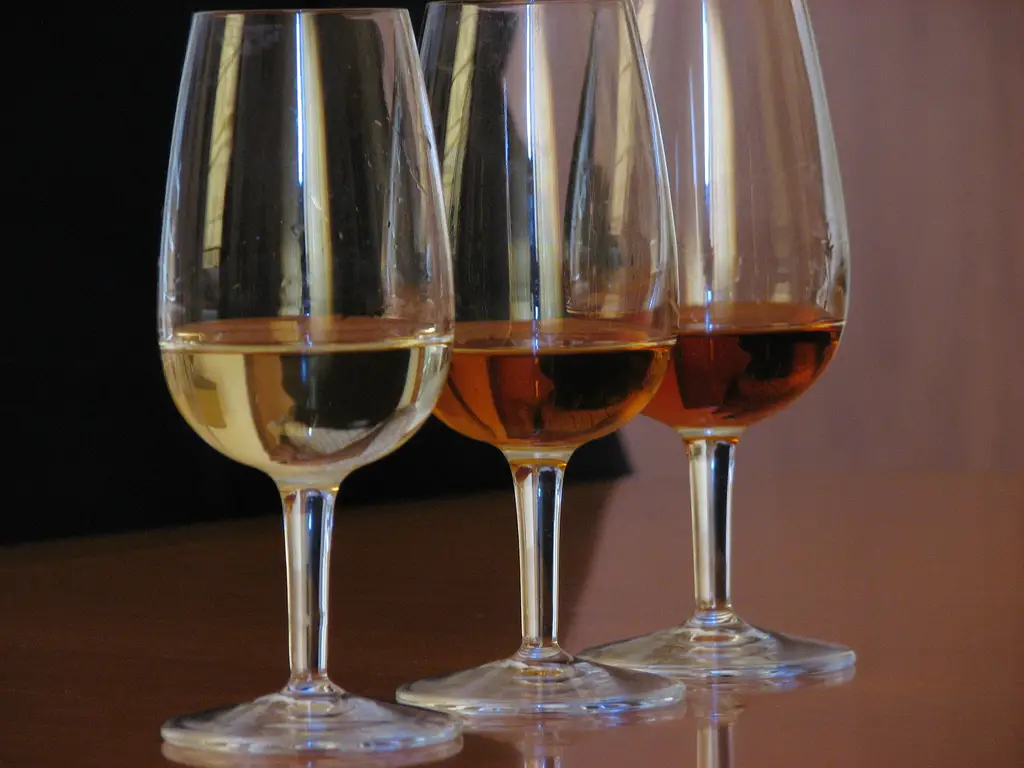 There are three main colours of Marsala wine, each with their own distinctive features. When people talk about 'white Marsala wine', they are most likely referring to Oro or Amber Marsala, since these are produced with white grapes. Ruby, or 'red' Marsala, on the other hand, is produced with local Sicilian red grapes.
Gold Marsala
Gold is the type of Marsala you've probably seen at your local Italian deli. It's the classic, made with white Sicilian grapes and typically left to age in oak barrels.
It is usually drier than Amber, the other type of 'white Marsala', which makes it a secret weapon in the kitchen. Sauces, soffrittos and cream-based dishes will all benefit from a reduction and glaze with Gold Marsala wine.
Amber Marsala
Amber Marsala is the same as gold, but with the addition of the sweetening mosto cotto mentioned earlier. The grape must is added after the fermentation of the white grape blend, making it darker, sweeter and richer than its Golden counterpart. Best application? As a dessert wine, served slightly chilled. 
Ruby Marsala
Sometimes known as 'red' Marsala, Ruby or Rubino is made from a blend of red grapes such as the Sicilian stalwart Nero d'Avola, or Perricone from Western Sicily. The use of red grapes means that Ruby Marsala contains more tannins than the other types of Marsala.
For this reason, you should exercise caution when using Ruby Marsala for cooking – it will impart a more tannic flavor than the other types. This can be good for thicker sauces, but might be overpowering for lighter, reduction-based dishes.
Marsala Wine Substitutes
The best option for substituting Marsala wine in cooking is a fortified wine that packs a punch but retains some sweetness. There a few good options:
Madeira
Port
Sherry
Vermouth
Try to figure out the relative sweetness of your substitute compared to Marsala. Drier options are generally better for cooking.  
If you're looking for a Marsala substitute for drinking, then you can't go wrong with another classic Italian dessert wine! Check out our guide to choose the right one for you.
Does Marsala Wine Go Bad?
Marsala wine typically lasts for half a year after opening. After that, it will degrade in taste and character. That doesn't mean that expired Marsala wine is unsuitable for cooking. In fact, you can use it in your cooking long after the expiry date.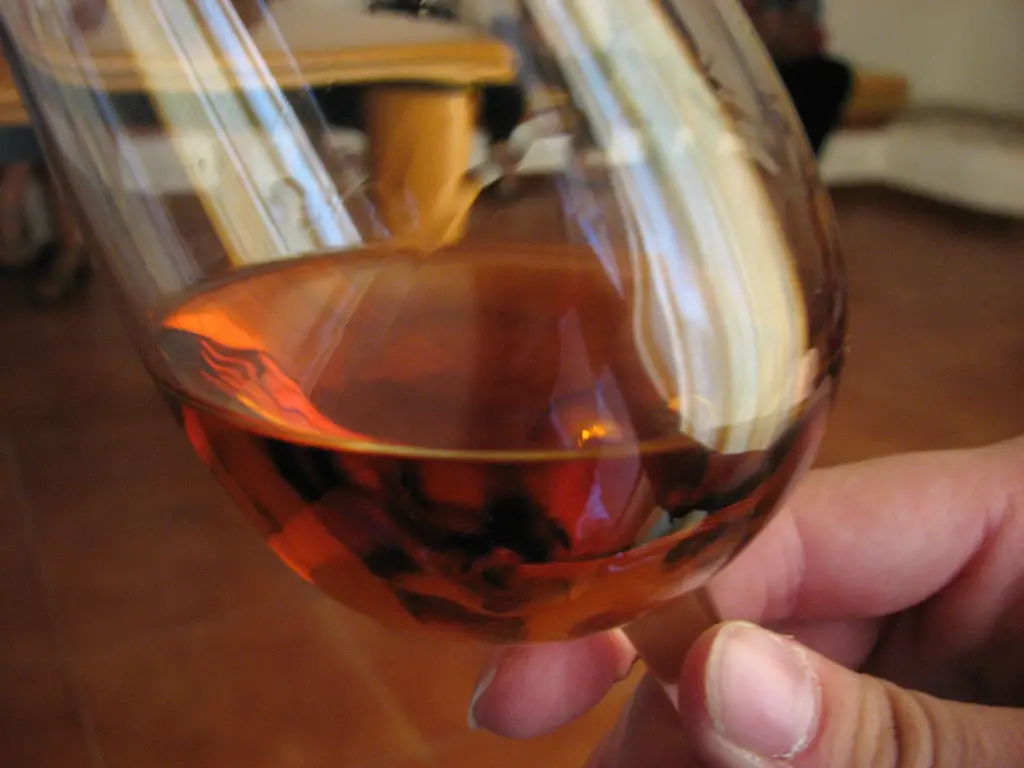 There are enough sugars to preserve Marsala wine for a really long time. Even if your Marsala does go bad, it will still be perfectly fine to cook with. The worst that can happen is that it doesn't taste that great.
Who knows? Using expired Marsala in your cooking might even help you to come up with a new recipe! 
The Best Marsala Wines
1.

Pellegrino 1985 Dry Marsala Superiore Riserva

Pellegrino 1985 is a dry Amber Marsala from the Cantine Pellegrino winery in the town of Marsala itself. This mature Marsala is imbued with aromas of nutmeg, oak, nuts and cloves, and makes for a choice introduction to the finer side of Marsala wine.
2.

Targa Riserva 1840 Marsala Superiore Semisecco N.V.

Notably high in alcohol, this Targa Riserva 1840 is an off-dry Amber Marsala that ticks all the boxes of fine Marsala whilst retaining an affordablity that is lost on other mid-2000s vintages.
3.

Cantine Pellegrino Fine Rubino-Ruby Marsala

A fine Ruby Marsala made from Nero d'Avola grown on the western Shores of Sicily. Expect cherries and pomegranate on the palette, with a sweet, lingering aftertaste perfect for the end of a long, rustic dinner.
Marsala Wine Food Pairings
If you intend to pair Marsala with food, we suggest sticking to desserts. Amber Marsala will go great with sweet Italian desserts like panacotta or tiramisu. Also consider figs, dried fruits and pastries, as these will complement the earthy flavors of the Amber Marsala blend.