Reading time:
5
mins
Chinon (pronounced shee-non) is a French red wine variety produced around the town of Chinon in Central France. But what makes Chinon so compelling for French wine enthusiasts? Read on for our complete guide to Chinon wines from France and the AOC region they are produced in.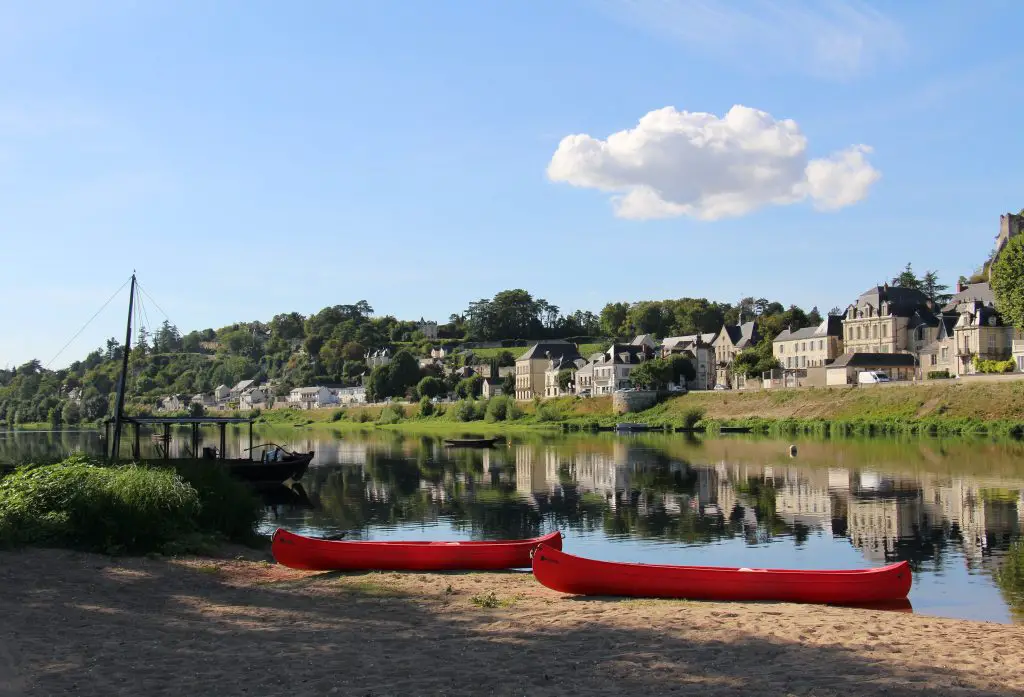 First of all, Chinon is a town in the heart of France's Loire Valley, and it's the region around this town where wine labelled Chinon is grown.
What does Chinon wine taste like?
Black fruits, herbs, tea, anise and venison are the notes that immediately come to mind, and with highly aged bottles, expect hints of spice. The grape used is Cabernet Franc, which, as famous as it is, is rarely seen as a single variety. Chinon makes an exception to this rule by allowing Cabernet Franc to express its own wines on the distinctive terroir of the region; it is usually employed as a blending grape for a Merlot or Cabernet Sauvignon in Burgundy and Bordeaux. 
That being said, some Chinon producers in the valley do add Cabernet Sauvignon to the blend, but the standout grape here is certainly Cabernet Franc. 
In terms of alcohol content, Chinon red wines contain about 12.5% ABV. 
How do you serve Chinon wine?
Younger Chinon should be served a tad cooler than more aged bottles – aim for around 57°F (14°C) – cool but not cold, as this is still a fairly complex red wine. The more tannic varieties of Chinon Blanc are served better a little closer to room temperature, somewhere around 62°F (16-17°C), to help bring out their distinct structure.
Technical information
| | |
| --- | --- |
| Sweetness | Dry |
| Acidity | Medium-high |
| Alcohol | 12.5% ABV |
| Fruit | Medium |
| Aroma | Black currant, anise, venison |
Chinon Technical Info
The Chinon AOC region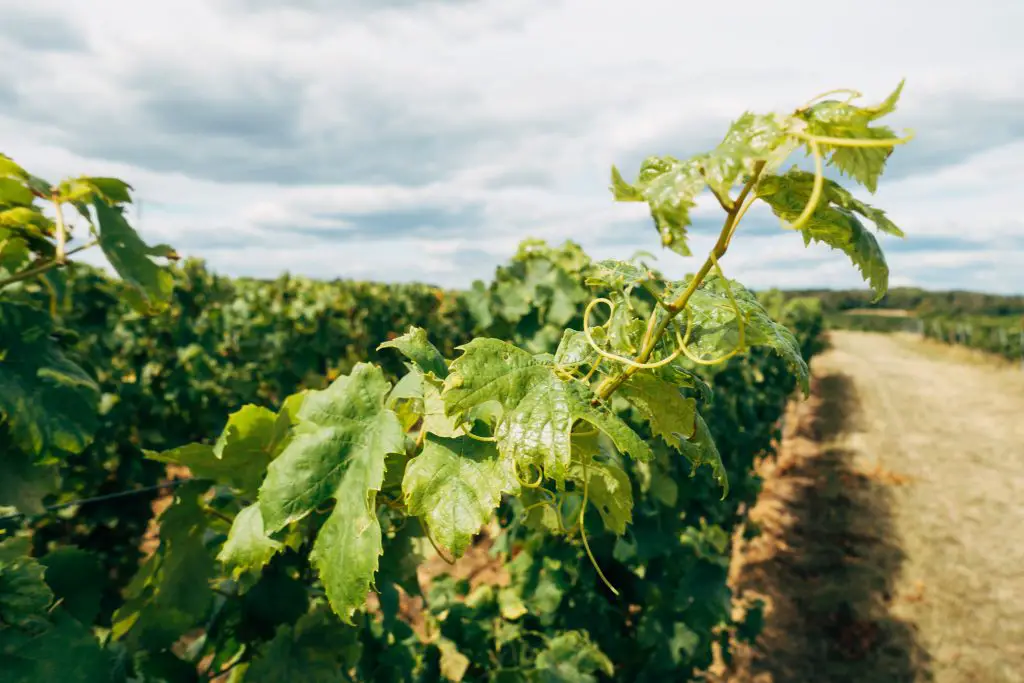 Chinon is an Appellation d'origine contrôlée, which means that the rights to use the Chinon name on a label in France is protected. The Chinon AOC label is only possible if the wine is produced in the specific region around Chinon, using traditional production techniques. The AOC, in producing mainly red wines, is an exception among the other appellations within the Loire Valley, which are conventionally known for their white wines. 
Much of this is down to the unique microclimate present within the AOC region. Atlantic winds blow through the valley, keeping moisture and mildew at bay and allowing the grapes to ripen to maturity (under-ripe Cabernet Franc has been a problem in California, for example). Many of the vineyards are located on high hills that slope westwards, allowing for ample sunlight at different exposures. The result is wines that vary greatly from one part of the region to the other, between neighbouring vineyards, and sometimes even within individual vineyard plots themselves.     
The soils of the Chinon region are quite distinctive. We can break down them down into four main types:
The town of Chinon is located at a confluence of the Vienne and the Loire rivers. There are vineyards on the stony slopes that separate these two famous rivers, and vines grown here bring about highly tannic, full-bodied wines that are unusual for the region. They have a mineral alkalinity and a potential to age for ten years or more to enrich their complex structural makeup.
Closer to the town itself, vineyards located along the sandy banks of the Vienne will express lighter, more aromatic wines that tend to be bottled younger. In that respect, these wines are more in-keeping with the tradition of light red wines from the wider Loire Valley region.    
Vineyards located directly on the confluence of the two rivers are built on yellow tuffeau limestone deposits, which also produce light-bodied, delicate wines. (This terroir is especially prevalent in wines from Saumur (link), the next region along). 
The town of Ligre, south of Chinon, is known for producing rare white Chinon varieties. Here, limestone subsoil is again utilised to produce concentrated, well-balanced grapes for the production of 'Chinon blanc'. 
The unique climate and soil makeup of the Chinon AOC region make for a great distinctiveness in wine production, allowing for the complex, unique wines that are expressed here. Indeed, it is not uncommon for the same vineyard to produce two or three different kinds of Chinon, each using different vinification processes, to reflect the diverse terroir of their plot. 
Types of Chinon Wine
1. Chinon
The most common Chinon is the red variety, which ranges from young and fresh bottles to highly tannic, structurally complex and well-aged wines. The best aged Chinons, such as Charles Joguet Chinon Clos de la Dioterie 2015 can cost up to $70 or more a bottle. Alternatively, you can pick up a Chateau de Coulaine Chinon Bonnaventure 2018 for a more reasonable $20 – $25.  
2. Chinon blanc
If you come across a white variety of Chinon, known as Chinon blanc, you have found a rare treat that makes up only 2% of all Chinon production. The limestone soils once again come into play here, with the province of Ligre on the Western slopes of the Vienne, south of Chinon, being the main area of production. Chinon blanc is typically medium-bodied with complex aromas of green fruit and baked sweets. 
The elusive nature of Chinon blanc is reflected in its price range – a bottle of Bernard Baudry Chinon Blanc La Croix Boissee 2019 will set you back around $50. A price worth paying, in our opinion. 
3. Chinon rosé
Cabernet franc with macerated skins? That's Chinon rosé, a crisp and refreshing take on classic Chinon grown on the banks of the Loire and Vienne rivers. Alluvial sands impart a decidedly riverstone touch to this unusual wine, and you can pick up a bottle of Charles Joguet Chinon Rose 2019 for a modest $20 – $25.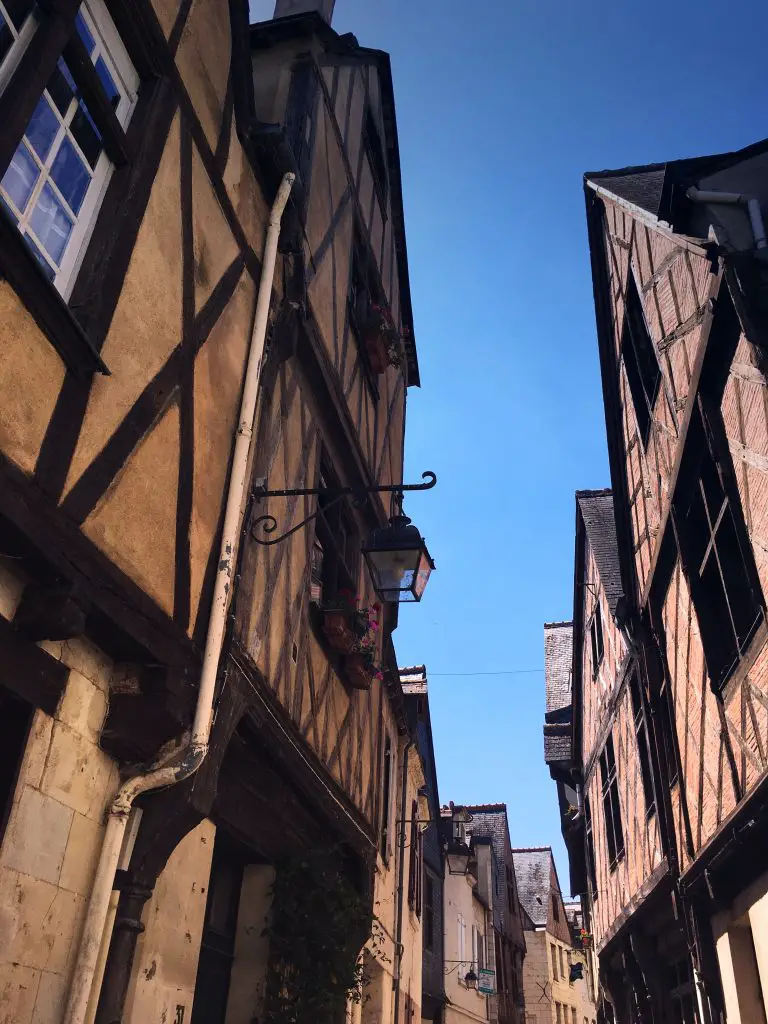 Chinon Wine and Food Pairings
What should you eat with Chinon wine? Well, Chinon is one of the classic French reds that's renowned for pairing incredibly well with food, so that's encouraging. A good place to start is by taking advantage of the unique gamey notes of a good Chinon. A complementary pairing with venison, lamb or beef would be a simple but classic combination. Similarly, duck breast or rabbit would do an excellent job. 

With a younger, lighter Chinon, think pan-seared salmon or roasted vegetable dishes like ratatouille. And if you want to get really local, poulet en barbouille –  brandy-cooked chicken served in blood, cream and liver sauce – is a Loire Valley speciality that will certainly give you an authentic taste of the local terroir.
Finally, in case you manage to get hold of a rare bottle of Chinon blanc, we would heartily recommend an octopus salad wine pairing. Dry, fresh Chinon blanc plus zesty octopus salad dressing is a match made in wine heaven.
Alternatives
Primitivo, a rustic red wine variety from Italy
Cabernet sauvignon, which is sometimes blended with Cabernet franc, the Chinon grape
Merlot, a classic red from Bordeaux
Pinot noir, a red grown widely in the Loire Valley and indeed all over the world
Sancerre (for Chinon blanc), a classic Loire Valley white 
Chablis or Chardonnay (for Chinon blanc), staple white wines from Burgundy