Reading time:
8
mins
Portugal is small. Well, compared to Spain next door and France around the corner, at least. But despite the country's size, Portugal has some of the greatest dynamic variety of red wines in the world. A heavy influence of Atlantic, Mediterranean and continental climates has created a distinct variety of indigenous grapes. It comes as no surprise that this small country has over 230 native varieties. And guess what… more than half of these are red! Read on for our beginner's guide to red wines from Portugal.
Portugal's wine history
Portuguese wine history dates back to the Roman period, when wine was being cultivated in the Tejo Valley, around 40 minutes north of Lisbon. Multiple conquerors have come and gone since then, each one leaving an influence on Portugal that has helped to craft the unique flavors you can find in each region today.
The history of Portuguese wine has not been the easiest. Despite a  boom in the 18th century, the Phylloxera epidemic (a disease in the grape vines) massively impacted Portugal's wine production. Paired with economic depression, for a long period it was difficult to produce sustainable levels of high quality red wine.
Before Portugal joined the European Union in 1986, the wine trade was heavily restricted. Loans and grants, however, have helped to upgrade vineyards and create a suitable quality of infrastructure across the whole country for producing wines. 
Today, the Douro Valley is renowned for being one of the most prestigious wine cultivation areas in the world. As a result, over half of its annual wine production is exported. This recognition is slowly spreading to other regions.
A note on climate and terroir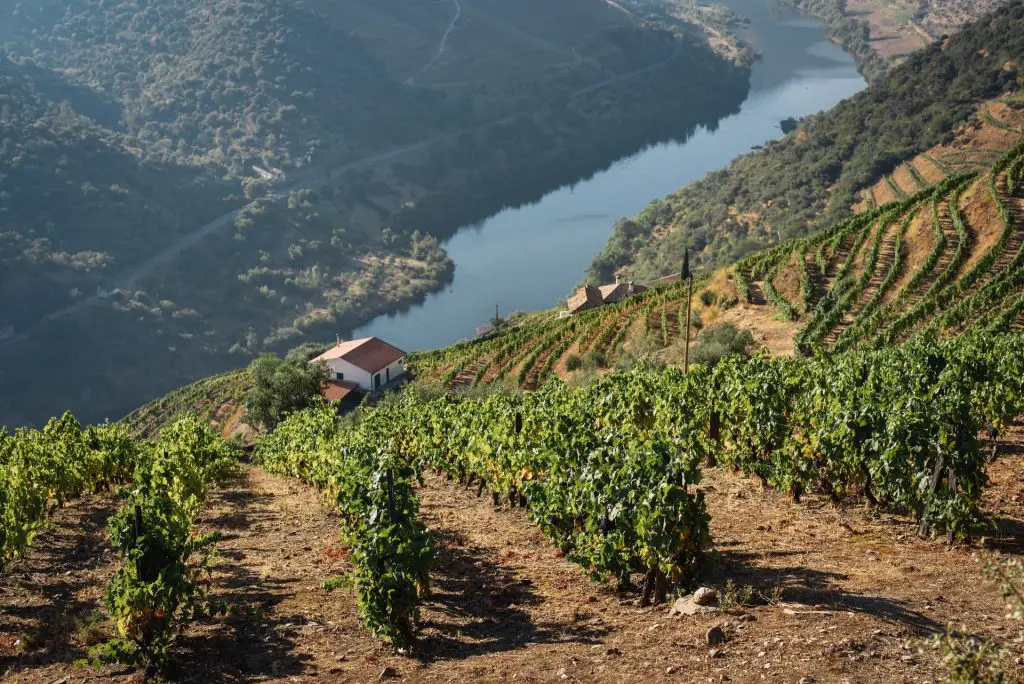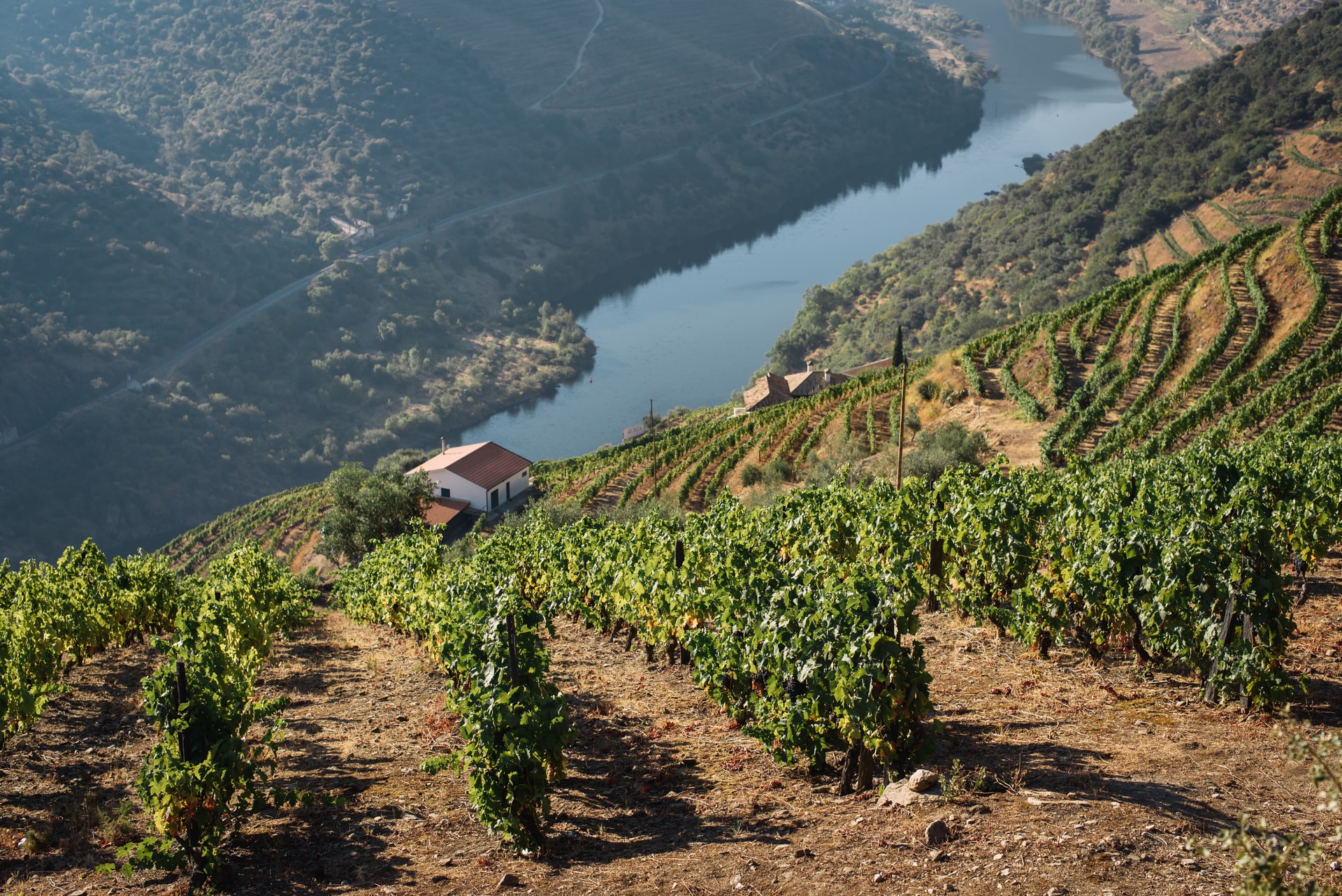 Portugal's dynamic landscape gives it a great wealth of terroir for wine cultivation. The country is thus able to produce a diverse variety of exceptional red wines. Overall, mainland Portugal's wine regions have a Mediterranean climate, with warm, dry summers and mild autumns that have some rainfall. Northern and coastal areas have a strong Atlantic influence, which brings great acidity to the wines grown there. The inner region of Portugal is where temperatures are at their hottest, and scarcity of water can present some problems when seasons are particularly dry.
There are two main types of soil in Portugal, and the country still has evidence of sand and clay-based soils, particularly in the Lisbon and Bairrada regions.
Portuguese red wine types
The two most planted grape varieties in Portugal are both red varieties: Aragonez and Tinta-Roriz (also known as Tempranillo). You can find both of these, typically, in all the wine regions of the country. That being said, they produce unique and distinct characteristics depending on the region they are grown in. 
Wines in Portugal are typically blended. It's rare that you'll find single-varietal bottles – unless you're sampling a Baga from the Bairrada, that is! Regarding production, the harvest season usually takes place between late August and early October in Portugal.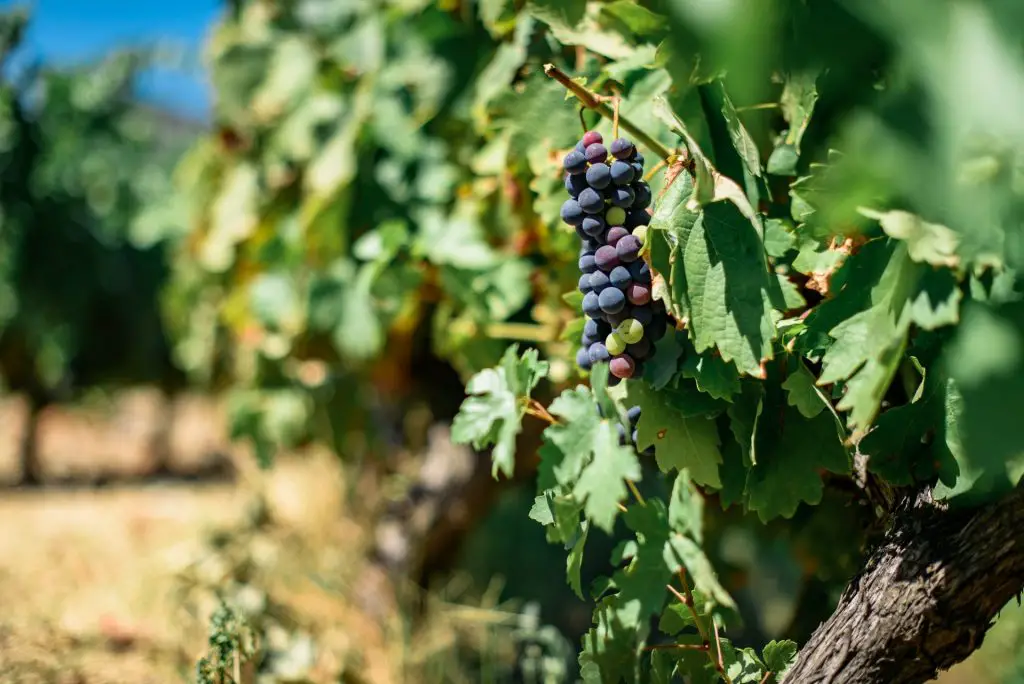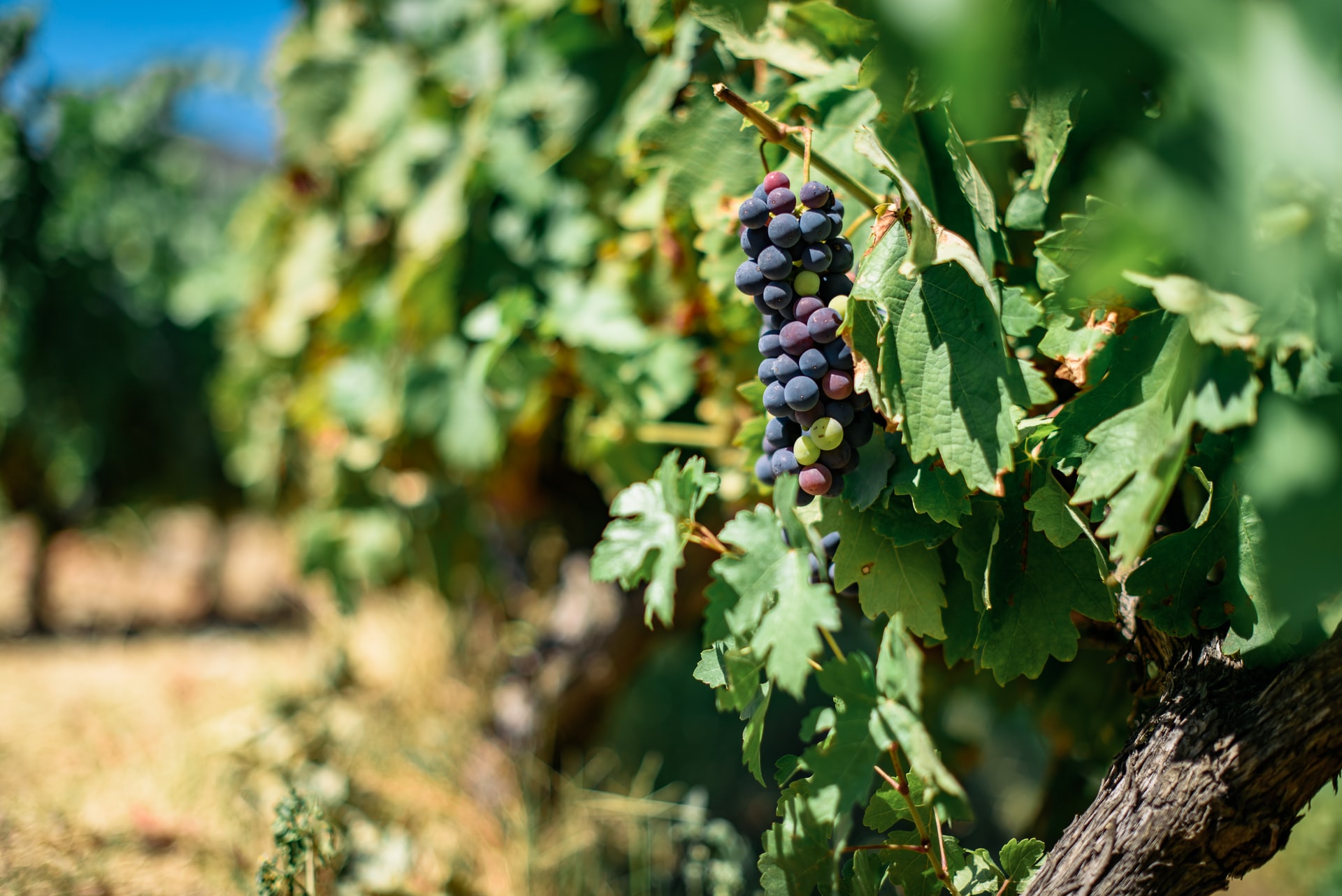 Flavor-wise, each region offers a distinct characteristic, which we'll go into more detail on later. In general, though, look to the  interior of the Alentejo (Portugal's desert) for rich, ripe and fruity reds which tend to undergo heavy oaking. If you're looking for a lighter red, then it's best to stick to regions along the coastline, such as the Bairrada, where the maritime coastal influence offers a fresh kick of acidity.
Red wines from Portugal by region
Red wines from Douro
The Douro Valley is arguably Portugal's premier wine region, thanks to its reputation for Port production. The DOC is actually split into three sub-regions, all of which offer a different style of red wine from the Douro: you have the Douro Superior, Cima Corgo (the most highly regarded) and the Baixa Corgo. Principal grape varieties in Douro include Bastardo, Tinta Amarela, Tinta Barroca and Touriga Nacional. 
Perhaps slightly old-fashioned in its production, in recent years the Douro has seen a revamp in modernized wine-making techniques,with exciting projects driven by the younger ancestors of longstanding Port House families. Most noticeably, the Symmingtons have been at the front of the charge, and they are certainly a producer to watch for upcoming projects. 
Bastardo is native to the Douro; you might know it by its French moniker, 'Trousseau'. It has a short growth cycle and ripens early, so it's great for increasing sugar levels in the colder climates found in mountainous areas of the Douro. It's got a vibrant red color and offers rich forest berry flavors on the palette.
Tinta Amarela is a common grape used in Port production, and is also referred to as 'Trincadeira.' It's notoriously difficult to grow as it's very susceptible to rot, which makes it a challenge in the Atlantic maritime climates. 
Regarding wine characteristics, a typical Douro blend is big and bold in flavor. It's very dry, full-bodied and with medium tannins and acidity. Douro reds notoriously offer a fine finish, and are best when enjoyed with a meal. You can check out our food pairing suggestions below.
Red wines from Alentejo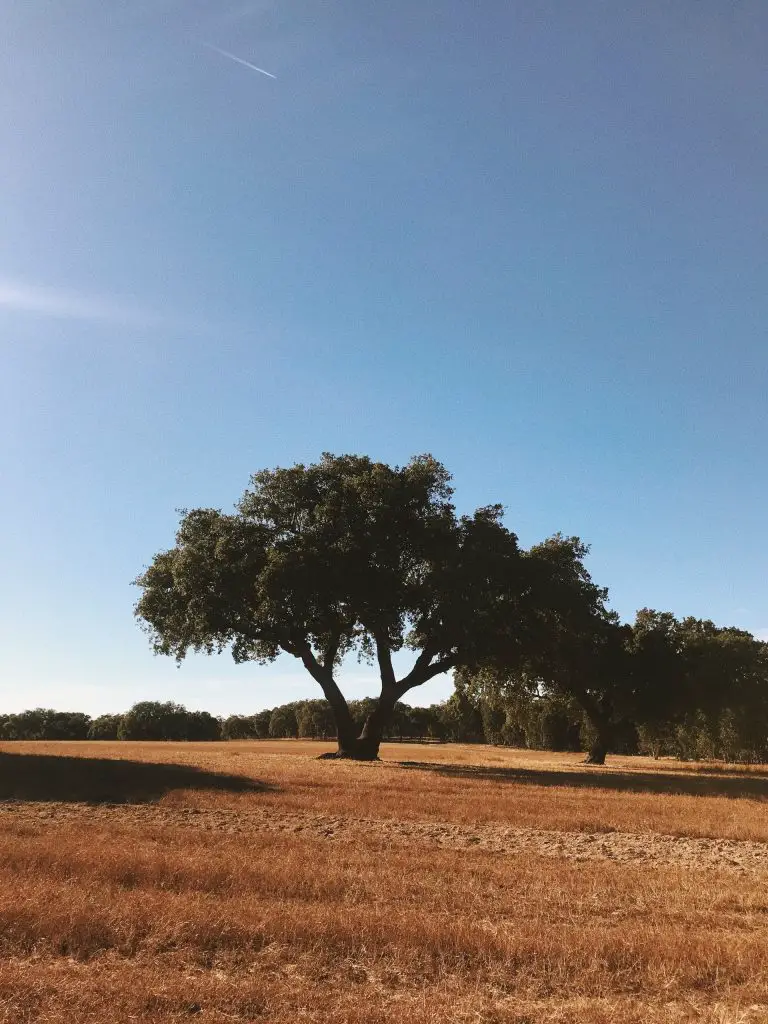 Alentejo covers one third of Portugal's total land-mass, and for the locals, it's easily the most favourable Portuguese red wine. Also referred to as Portugal's desert, long,  vast plains characterize the region, and the climate is relatively hot and dry. Gently sloping hills protect the land from cooling Atlantic breezes. In turn, this produces one of the more rich, jammy and easy-drinking red wines from Portugal, with grapes that have reached full ripening potential.
Alentejo is notorious for its red blends. Typical grape varieties include Syrah, Cabernet Sauvignon and Alfrocheiro. The tannins are often soft, and the flavours remarkably fruity. Oaking is common with these blends, which adds a nice spice to finish off a perfectly balanced wine.
Red wines from Dão
The Dão is a region of many contrasts, which, as a result, creates an exceptional variety of wine. It is nestled amongst pine forests with altitudes of up to 1,000 metres in the Serra da Estrela, the highest point in mainland Portugal. The region is surrounded completely by mountains, which acts as a defensive shield from the maritime climate. 
Exceptional balance is the first thing that comes to mind when thinking of a Dão. Whilst Douro wines have more of a bite, and Alentejo is rich and juicy, the Dão is the perfect medium. If you're looking for a good all-rounder with excellent ageing potential, the Dão is definitely your best option! 
Again, you're most likely to find blends here, with Touriga Nacional and Alfrocheiro being the star varieties. More recently, Dão has proven a popular region for finding unoaked red wines from Portugal, where the natural quality of the grape is able to shine without any other influences.
Baga from Bairrada
The Bairrada wine region is located by the western coastline, and so coastal breezes bring a hit of acidity to the wines. It's a region renowned for innovation. With young wine producers setting up plots of land here to get creative with their wine-making process, the Bairrada offers the best chance for finding single-varietal wines. 
Whilst Bairrada has a plethora of red varieties both native and global, Baga is the most notable one. With a notorious history as a high-yielding, low-quality grape, Baga has recently emerged from its negative spotlight and is fast becoming one of the most popular red wines from Portugal. 
The grippy tannins and fresh kick of acidity one can expect from a Baga mean that it's got great ageing potential. If you're looking for a red variety that you can stock in the cellar, keep your eyes peeled for a Baga from Bairrada!
Moscatel de Roxo from Setúbal
Moscatel is a Portuguese variant of the globally known 'Muscat' grape, which includes Moscato d'Asti. It's most typically found in two major regions in Portugal: the Douro Valley (where you find Moscatel Galego Branco) and Setúbal (Moscatel de Alexandria).
Moscatel offers a high degree of sweetness, especially in the Setúbal region. This is thanks to the rich flavour that comes from the skin, which is kept on the grape throughout the fermentation period. It's a bit of a problem for the grape: the sweetness attracts birds whilst it's ripening. It's not uncommon to find Setúbal's vineyards dotted with scarecrows when visiting! 
The Moscatel de Roxo is a unique mutation found in Setúbal, which is a wine-producing region located just south of Lisbon, across the Tagus river.  This variety is so rare that it was once at risk of extinction. It's an incredibly delicate mutation, meaning it's only possible to produce in low quantities. The bunches are small and compact and the grapes have a distinct pink hue. It's got a similar flavour to the Moscatel de Setúbal, but with a richer, more pronounced flavour. 
A Moscatel de Setúbal de Roxo must contain at least 85% Moscatel grape to receive its label. The brandy added has to be vinous and range between 52-86%. This means that the Roxo sits comfortably within a 16-22% alcoholic degree. Flavor wise, one can expect the same that comes from a moscatel, but with a greater degree of complexity. Tangerine, apricot and melon are the prominent fruity notes, followed by delicious honey and caramel notes. Acidity and tannins are present, but well balanced. A Roxo has more of a prolonged finish and greater ageing time.
Ramisco from Colares
Colares is the second oldest demarcated wine region in Portugal. The vines of Colares are referred to as being invincible, and for good reason. Geographically speaking, it's the most western-pointed winery in Europe, subject to strong Atlantic winds and a maritime climate. Furthermore, after battling the phylloxera plague that wiped out most European vineyards in the 19th century, Colares is now facing a battle with urban expansion. Only 50 acres of this unique production exist today. 
How did it survive? Deep roots and sandy soils are what have protected this region for so long. The signature red grape here is called Ramsico, and it offers a distinct flavour you won't find when produced outside of the region. Cherry, mint and a cool minerality characterize the longevity of Colares wines – arguably its most special quality. It's not a commonly consumed wine for locals in Portugal given that it's a far cry from the rich and opulent styles executed in other regions. But if you're hunting for an alternative and dynamic red, then you have to get your hands on a Colares Ramisco!
Food pairings for red wine from Portugal
A dry Douro red that features Tinta Amarela goes great with red or savoury meats such as pork or veal. If you're looking to pair this with a cheese, we'd suggest something medium sharp such as a pecorino or aged provolone. 
The big and bold flavours of Alentejo red wines call for a similar food pairing. Renowned for its exceptional cuisine, a local Alentejo delicacy pairs best with these wines. We'd suggest getting your hands on Alentejo's famous 'porco preto' (black pig) to enjoy with an aromatic red.
The Dão is a region of balanced contrasts, so it comes as no surprise that the same stands for food pairings. Dão reds are great for balancing out heavy meals, so if you're fancying a cream-based dish, then a young Dão is an excellent pairing. Locals will always argue that Dão pairs best with pork meat varieties. 
Being so close to the Atlantic ocean, it comes as no surprise that a Baga from Bairrada pairs wonderfully with fresh seafood. Freshly grilled octopus in garlic is a popular dish in Portugal, and we'd suggest sampling a portion of this alongside a Baga red. The contrast of a thick garlicky olive oil sauce against the biting acidity is the perfect pairing!
The Moscatel de Setúbal de Roxo is a great aperitif or dessert wine. It's best served at 10-16ºC. One of our favourite combinations is to serve it with the traditional Portuguese dessert, the Pastel de Nata. The fat from the pastry and acidity from the Roxo pair excellently! 
A Ramisco from Colares pairs best with white fatty meats thanks to its fresh kick of acidity cutting elegantly through the flavour. Want to pair it with something a little more traditional? Salted Cod (also referred to as Bacalhau) is a great combo with this coastal number!